Are you looking for a dog crate nightstand that will allow your dog to sleep next to you all the while using the crate as furniture that will save you space?
We can help you find one. Not only that, but we can help you find the best one that fits your needs. That it way this isn't just an article with reviews of our top picks, this is an article with reviews of a lot of different types of crates that are all nightstand. Here you'll find crates that are large, medium, small and so much more than just that.
The Summary
Best 6 Dog Crate Bedside Tables
BEST OF BEST DOG CRATE NIGHTSTAND
Casual Home Indoor Pet Crate
Chew-Resistant Wood
Since we know that typically, indoor dog crate furniture isn't exactly chew-resistant, we had to begin with reviewing this one because its solid wood build makes it durable enough to be a chew-resistant dog crate nightstand. Keep in mind that persistent chewing problems might still damage the crate visually.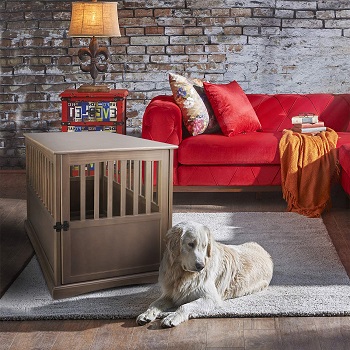 Noticeable Features
This crate will both go unnoticed and noticed inside your home. Firstly, it blends so well because of its furniture style top that makes it look like it's not there but it's stained with a beautiful taupe gray finish that just has to be noticed. The top has a weight limit of 120 lbs so you can get creative with what you put on top.
Not Relying On Weight Limits For Size
Its measurements make it fit for use by medium-sized dogs that weigh up to 40 lbs. The fact that the weight limit for the inside is 120 lbs as well is a great example of why you shouldn't rely on weight limits too much when it comes to picking out the right size of the crate. The crate is too small to fit inside a 120 lbs dog that is typically considered a giant dog breed.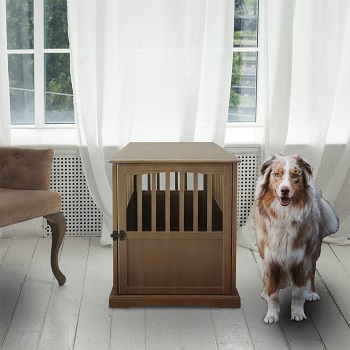 Entrance And Ventilation
There's a single entrance on this dog kennel nightstand and it's conveniently located in the front. You won't have to block out the entrance when you place the crate next to your bed. It can be locked with a single hasp latch lock. The crate's size feature vertically positioned wooden bars that will help ventilate it properly.
In Short:
The crate is made with solid wood
The wood is chew-resistant
Has a beautiful taupe gray finish
Can house medium dogs
The top makes it function as a furniture piece
The top's weight limit is 120 lbs
Features a single entrance door in the front
BEST LARGE DOG CRATE BEDSIDE TABLE
New Age Pet ecoFLEX Pet Crate
What Is EcoFlex
We are really impressed with the material that makes this crate and you will be too when you hear about its features. It's called ecoflex and it's really a wood and plastic-polymer composite material. Composite means that two materials were combined together to create a sturdier material than the two when separated. That's why ecoflex won't crack, split, or warp.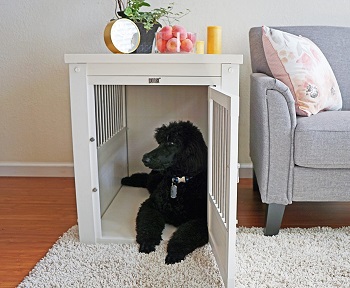 2 Point Cleaning Access
The furniture-style wide top on this dog crate nightstand can be taken off so you'll have access to the crate for cleaning it. Of course, you don't have to use it since you can also get in all the nooks and crannies by accessing it through the single door in the front that can be locked using 2 hasp latch locks shaped like dog bones.
Metal Parts Properties
Every metal part on this crate is made out of stainless steel, This includes the two locks for the single door and the bars that are placed all around the crate except for the back that will ventilate it properly. Its dimensions are large enough so it can house large dog breeds.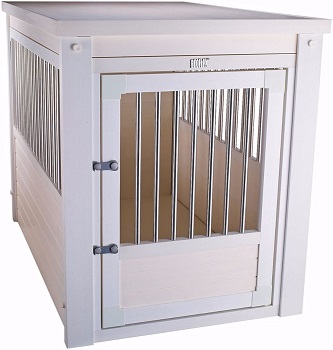 Prolonged Use Benefits
Another thing about ecoflex as a material is that it doesn't absorb moisture so you won't have to worry about the crate absorbing nasty odor and smells and staining after prolonged use. Even though it's a durable material, it is advised you only get the crate for an already crate trained dog
In Short:
Uses ecoflex as its primary build material
Ecoflex doesn't absorb moisture or odors
Fit for housing large dog breeds
Should only be used for crate trained dogs
The wider top makes it function as furniture
The top can be taken of for cleaning
Features a single access door
BEST WOODEN DOG CRATE NIGHTSTAND
Newport Dog Crate Kennel
Placement Possibilities
You really don't have to limit your placing options onto just using it as a dog crate bedside table. There are a lot more placement options and one of them is using the crate as a side table in your living room or anywhere else that you might see fit. Just make sure ou place it so that you don't block out the single access door located in the front.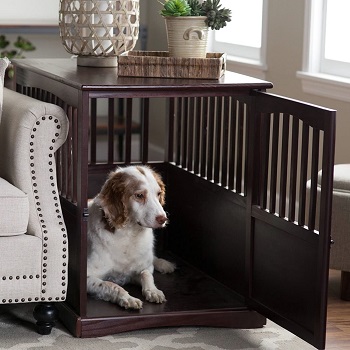 Durable With A Twist
It's built out of solid wood so you're guaranteed to get a durable dog crate but this can only be true if the dog you're planning to buy the crate for is well behaved and crate trained. Wood usually isn't a material to endure this type of behavior no matter what type of crate you get.
All Around The Crate Ventilations
The front door located in the front as a single entry point features a single lock that's a sliding bolt one. This is yet another reason why you should get it for a well-behaved dog because this lock is not meant to hold down chewers and escape artists. You'll find wooden bars all around the crate that are here to ventilate the crate throughout.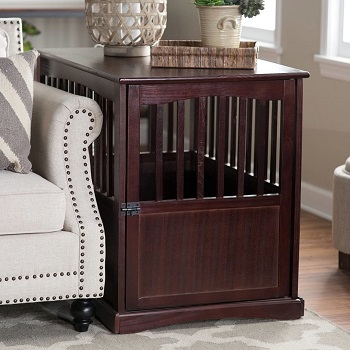 Size Category
Large furniture style dog crates like this one are usually around 36-in long and around 30-in tall. Typically, this length of a crate is categorized as an intermediate dog crate that's somewhere in the middle between a medium and a large dog crate so your best bet to figure out the size is to measure out your dog to see if he can fit inside comfortably-
In Short:
Made with solid wood
It's advised you use it for a crate-trained dog
Can fit inside some medium and large dog breeds
Comes with a single door that locks with a sliding bolt lock
Has wooden bars all around it for proper ventilation
Can be used as more than a nightstand furniture piece
BEST MEDIUM DOG CRATE NIGHTSTAND
Unipaws Pet Crate End Table
Somewhat Chew-Proof
If you were to find a medium wood dog crate like this one that has sides made out of metal, again like this one, chances are you're looking at a crate that's partially chew-proof. We say partially because the rest of the crate is wooden and wood can't be chew-proof. It is said that the crate can survive a puppy chewing on things excessively.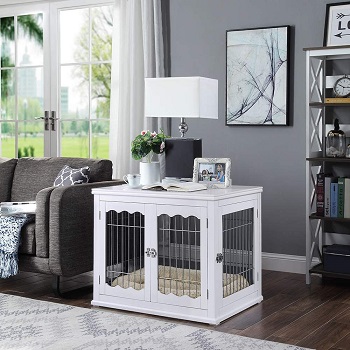 Placing Choices
Placing options will be almost limitless with this crate. This is due to the fact that it has 3 doors in total ad 2 entry points. i has a double door on the side and a single door in the front. When you're assembling the crate, you can even choose to place these panels differently to better fit your wants and needs for placement.
Top Ability, Bottom Accessory
The top is slightly wider to really give that furniture feel and you'll be really impressed with just how much stuff you can put on top without breaking the weight limit since the weight limit is large. The maximum weight of things put on top can be 150 lbs. FO the bottom you'll ge a waterproof bed that you can remove to wash when needed.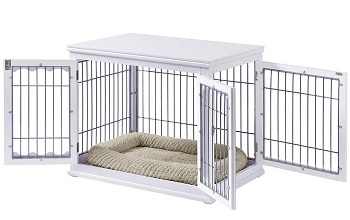 Weight Bearing
The dog crate nightstand certainly can't bear 150 lbs of weight on the bottom. it might but if we're talking dog weight, you can only house a dog that weighs up to 40 lbs. This is due to the crate's dimensions since a 150 lbs dog would be a giant dog breed and wouldn't fit inside a 26-in tall crate if he's let's say 51-in tall.
In Short:
Made with wood that's not chew-proof
Has metal sides that are chew-proof
Comes with a washable waterproof bed
Can house dogs up to 40 lbs
The top is wide and has a weight limit of 150 lbs
Has a double door and a single front door for access
BEST FURNITURE STYLE DOG CRATE BEDSIDE TABLE
Crown Pet Crate Table
Bottom Liquids Absorption
We wouldn't usually start off a review with how a crate's bottom works but since we are reviewing dog crate nightstand we had to. It's because the bottom that's made out of MDF wood is covered with melamine that will eliminate the possibility of liquids or odors getting absorbed by the crate.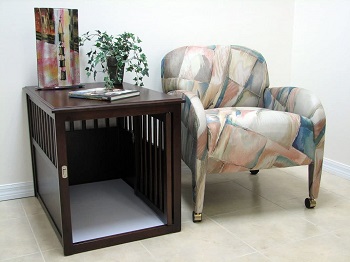 Color Varieties
The crate is made with hardwood that looks like teak and it's stained with a lovely chestnut finish and lacquered as well. If you happen to want a darker colored crate you can choose to get this modern dog crate furniture piece stained with an espresso color which is a more common color for these crates.
Strong Connecting Joints
Although it's made of wood that is not that durable when it comes to aggressive dog behavior, this dog crate still manages to be it because the door panels are connected with mortise and tenon joints, and if you know a little bit of something about them you'll know that they're amazingly durable and the most commonly used joints in furniture building.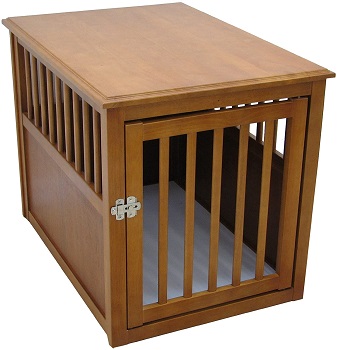 Door Versatility
The dog cage nightstand crate features one more amazing thing and it has to do with its single front door. When you open it, you'll get to push the door on the inside so it doesn't bother you if you want to leave the crate open for your dog to exit and enter freely. It's another medium-sized crate able to house medium-sized dogs that have been crate trained.
In Short:
Made with hardwood that looks like teak
Stained and lacquered with a chestnut finish
Made to house medium calm dogs
The bottom is made out of melamine covered MDF wood
The bottom won' absorb liquids or odors
The door can be opened and pushed on the inside
BEST INDOOR DOG CRATE BEDSIDE TABLE
BarkWood Pet Crate End Table
Crate Color And Material
We had to make sure we include a large variety of crate colors so we chose to review this gray-colored crate as well. Not every crate color will fit inside every home so it's important to include more colors. The crate is also made with solid wood so you can count on it being durable.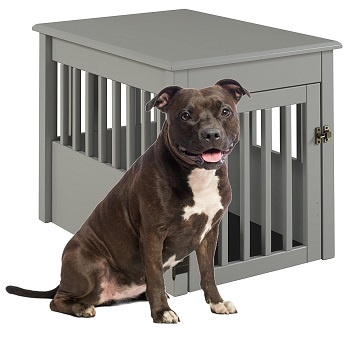 Stiffness Indicator
Another indication of its durability are the joints that connect the crate panels. They are mortise and tenon joints and they happen to be the most typically used in furniture building because they are reliable and quite frankly the best. You definitely won't be getting a flimsy crate.
Door Type And Build
The single door of this dog crate bedside table that's placed in the front is mainly built out of wooden bars that will, along with its sides, ventilate it. It can be locked with a hasp latch lock and when you open it, you can open it all the way to one of its sides and attach it there so the crate can stay open without the door taking up a lot of precious space.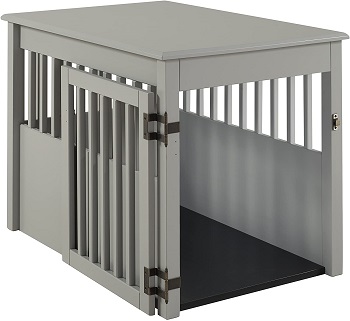 Bottom Supplies And Size
You'll find two distinctive features on the bottom. These two are the rubber feet that will prevent the crate from slipping or sliding and its floor that's rubberized to minimize liquids absorption. This si medium indoor dog crate furniture so you should get it for a medium-sized dog that has, of course, been crate trained.
In Short:
Has a gray-colored finish
Constructed with solid wood
Features rubber feet on the bottom for slip and slide prevention
The inside bottom is rubberized for minimized liquid absorption
The door opens fully to one of the sides
It is a crate built to house medium-sized dogs
How To Pick A Dog Crate Bedside Table
There are plenty of benefits of getting your dog to sleep next to you inside a dog crate bedside table. At the top of our mind, we can think of at least three but we will go into detail about what these crates should have, possess, and how they should be made. To top it all off, we'll accentuate some of their differences so you can figure out what's the right crate for you and for you to easily find and pick one out.
Limitless Furniture Use – You don't really have to limit their use to just a bedside table. These crates are known for having a wide top that can hold your personal things so if you ever decide to change it up a little bit you can use the crate as end tables, side tables and so much more.
Bedside Table Benefits – There are a lot of benefits to getting your dog to sleep next to your bed. Constant monitoring is just one of them. If your dog is one to be slightly anxious, you being close to him at all times might help him calm down. This is especially true for puppies and dogs that haven't gone through crate training yet.
A Slight Twist – We did say that a dog that hasn't yet been crate trained will benefit a lot from sleeping next to you. The only issue with that is that these crates are not exactly training cages for dogs. Wood usually can't handle a chewing dog well although that might not be entirely true if you do get a crate that has metal sides.
Shapes And Sizes – These dog crate nightstand models don't come so much in all shapes as they do in sizes. You can easily find a crate that will be fit for use by any size of dog. To figure out what size of crate you should get, you shouldn't rely on weight limits too much but instead, you should focus on the crate's height and length to figure it out. Typically, a crate should be 4-in bigger than the dog in both proportions.
To Sum Up
We decided that we should go with the safe choice when recommending a dog crate bedside table and that is why the Unipaws Pet Crate End Table is the one we picked. It has chew-proof metal sides, ga multiple entrances and it even comes with a  bed that's waterproof and washable. If you want exclusively white crates check out the article about white dog crate furniture or if you're looking for a specifically smaller crate check out the article about small dog crate furniture.