Are you tired of regular wire and metal crate and you want to freshen up your household look with a small dog crate furniture?
We've got the answer for you because in this article we reviewed the prettiest and altogether best ones we could find and we've even gone a step further to place them into categories like wooden, indoor and so much more so make sure you continue reading because you are almost guaranteed to find something you will like.
The Summary
Best 5 Small Dog Crate Furniture
BEST OF BEST SMALL DOG CRATE FURNITURE
Casual Home Wooden Pet Crate
Sturdy Wood Build
If you've ever wondered if a wooden crate can be a sturdy dog crate then this is your answer. The reason why is simple, it is made out of solid wood that can withstand chewing that not many small dog crate furniture can.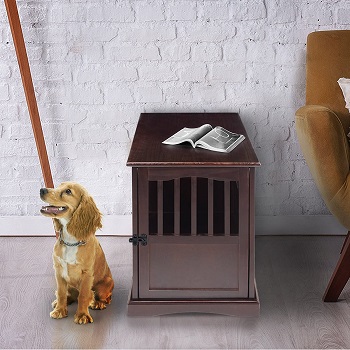 Inside And Outside Dimensions
The inside dimension of the crate are, of course, a bit smaller than the outside dimensions because for it to be stable and function well as an end table dog crate the wood needs to be thicker. We're talking about a difference of around 3 inches with the inside dimension being 24.25-in in length,16.5-in in width, and 21-in in height.
Measuring Your Dog
You have to make sure you measure your dog before putting him inside the crate. The way you'd do it for this crate is to take its inside dimensions and see if it's 3-4 inches below in height and length of your dog.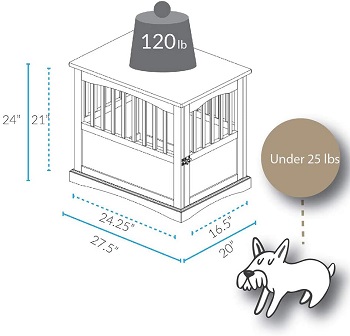 Crate Top And Color
The crate is colored in an espresso color so think about that before you buy to blend in with your household well. the crate's top can serve well as a table for you to put your personal stuff on it. the top can handle the weight of up to 120 lbs.
In Short:
Made out of solid wood
The top can hold the weight of up to 120 lbs
The inside and outside dimensions have around a 3-in difference
Can handle a chewing dog
BEST INDOOR SMALL DOG CRATE END TABLE
Zoovilla Medium Slide Aside Crate
Black Wood And Wire
The wood is not all that there is to this small dog crate furniture because of the steel wire sides that it has. It is painted black including the wire and the wood it uses for its build is medium density fibreboard or MDF wood in short with added wood veneer.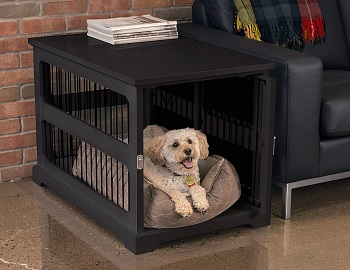 Crate Top Info
It has a wider top so that it can fulfill the function of an end table better. you can easily use the top to place magazines, vases, pictures, and anything you can think of putting on a regular end-table on top of it.
Color Options
If you don't feel like the crate will fit well inside your household with a black finish, you can easily get it as white dog crate furniture as well. It has amazing ventilation properties and good enough visibility because of the metal wire sides.
Sliding Single Door
The single door on the crate that's located in the front locks safely with a metal hasp latch lock and it will save you a lot of space if you choose to leave the door open for your dog to enter and exit whenever he feels like it because the door slides aside.
In Short:
Built out of MDF wood and wood veneer
Has steel wire sides
Has a single door that slides aside
It's colored black
Can store your personal belongings on top
BEST HEAVY DUTY SMALL DOG CRATE TABLE
New Age Pet ecoFLEX Pet Crate
Wood And Plastic Build
Before you start thinking that this is not durable small dog crate furniture just because it's a small plastic dog crate we have to explain why it's plastic. It's made out of Ecoflex which is a wood and plastic polymer and it is durable enough so that it doesn't crack, split, or be warped.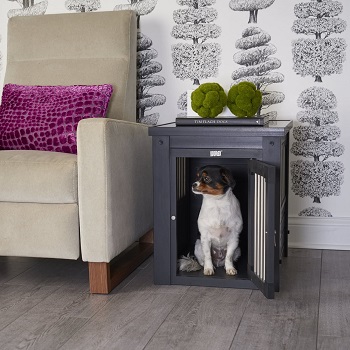 Stainless Steel Rods
It has steel rods on all sides of the crate, except for the back, that serve as ventilation and visibility windows. They are also located on the door of the crate. They are made from stainless so you don't have to worry that they will stain or corrode.
Top Of The Crate
The crates' top, like the rest of these crates, can hold your personal belongings on it. This and the crates' color which is espresso will almost make it seem like the crate is not there because it blends perfectly with the rest of your furniture.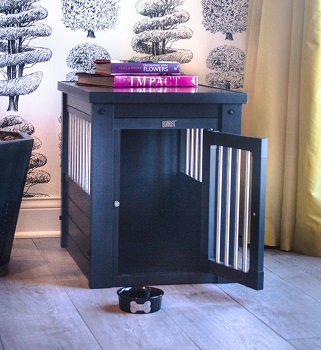 Crate Door And Lock
There's one access door so you won't have many options when it comes to the position of this small dog crate in your house but you can be sure that it locks safely with a hasp latch lock shaped like a dog bone because it is unreachable to your dog.
In Short:
Made out of wood and plastic polymer called ecoflex
Colored in an espresso color
Has a single door for access
The hasp latch lock on the door is shaped like a dog bone
BEST WOODEN SMALL DOG CRATE END TABLE
PawHut Natural Diagonal Dog Cage
Environmentally Friendly Materials
The wood that makes the entirety of this small wooden dog crate is fir wood and you can be sure that this is an environmentally friendly crate if this is something you worry about when picking wooden dog crates.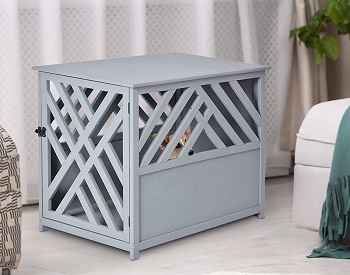 Slanted Bars
What makes this small dog crate furniture stand out from most end-table dog crates is its slanted design. Its ventilation windows have slanted wood bars and the door also has them and it forms the shape of an X. It's definitely a breath of fresh air especially if you want it to look nice in your household.
Large Entrance
The door, unlike some of its competitors, is a large one and it locks with a single hasp latch lock. Since the door is large it will be much easier for you to clean the crate when you need to since it doesn't have a tray on the bottom that you would otherwise be able to pull out to clean.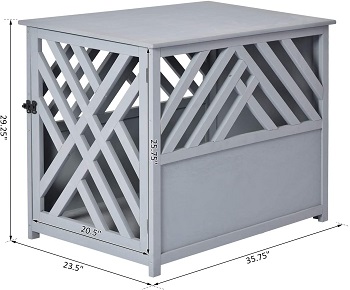 Weight And Assembly
It's easy to assemble and it doesn't weigh much so you'll have no problems moving the crate around if you decide it's time for a change. It can primarily house small dogs but it can also be a crate for medium-sized dogs. Just make sure your dog is crate trained before buying.
In Short:
Made out of fir wood
The bars on ventilation windows and the door are slanted
Can house small and medium-sized dogs
It is colored gray
Easy to assemble and light
BEST METAL SMALL DOG CRATE FURNITURE
Simply Plus Wood & Wire Dog Crate
Frame And Sides Material
The top and frame of this small dog crate furniture are made out of MDF wood and for the sides, the manufacturer used steel wire sides. This is really smart because the crate gives you the visibility and ventilation of a regular small wire dog crate.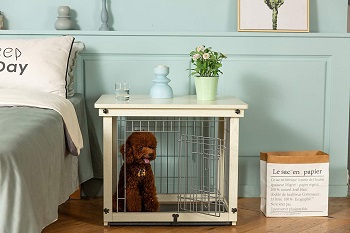 2 Locks, 1 Entry Point
There's a single door on the side of the crate for your dog to access this small dog crate end table. to lock it, you'll get two slide bolt locks which should prove to be enough safety to prevent your dog from unlocking the door on his own and eventually escaping.
Cleaning Tray
There's another thing that makes this crate more of a wire crate than a wooden furniture crate and it is the tray on the bottom that you can pull out to clean. The tray won't slip or slide out because it can be blocked with a stopper shaped like a dog bone.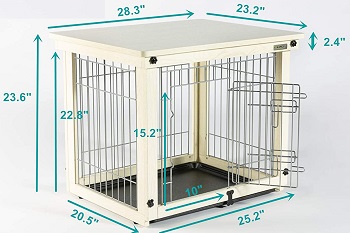 Cute Screws
Apart from the bone-shaped tray stopper, it also has screws shaped like dog paws to make it extra cute for your small dog to be in. Of course, the top can be used for you to place your things on it.
In Short:
Has steel wire sides and a wooden frame
The single door has 2 locks
Has a tray on the bottom to clean the crate easily
The tray won't slide because of the side stopper
Uses paw-shaped screws for decoration
How To Pick A Small Dog Crate Furniture
Before deciding to buy small dog crate furniture there are a few things you should know about this type of crates. You should know what types of dogs they're for, how you clean them, how they are sized, and much more so make sure you read these tips for buying.
Calm Dog Crates – Typically, small and XL dog crate furniture will always be made for that calmer dog. That means that your dog shouldn't be a chewer or be too aggressive because they can easily damage the wood that is just not as durable as metal.
Crate Sizing – Although small dog crates are typically targeted at small dogs that could mean a lot of things since there are so many dog breeds in general so it's hard to draw the line between small, medium, large and extra-large dogs so the best way to make sure you get the right size is to measure your dog and add 3 or 4 inches to see if it matches the crates' length and height.
Cleaning The Crate – These crates' will be a lot harder to clean because they usually don't come with a tray specifically designed to make cleaning easier. What you'll wanna do is take a damp cloth and clean the inside of the crate so if that's not your thing you should probably opt for a different kind of crate like a wire one.
Crate Locks – If your dog is one to always manage to escape his crate because he unlocks it you should equally worry and not. These small dog crate furniture models usually position their locks in a way that it is hard for your dog to reach but on the other hand they're not really reliable so you should maybe opt for a sliding door dog crate.
To Sum Up
Small dog crate furniture will always do one thing est and that is to be a beautiful addition to your home but you have to think about the crate art as well and the one to shine the most when thinking about this is definitely the Casual Home Wooden Pet Crate. The solid wood construction that makes it chew proof is enough for it to be the best. If you want more freedom when it comes to positioning the crate inside your home the definitely read the article about triple dog crate furniture but if your main focus is just to have white then read the article about white dog crate furniture.