Does your sense of style indicate that you would really love it if you had a mid-century modern dog crate?
If that's the case you'll be quite satisfied if you continue to read this article since we were able to get our hands on some models that fit the description and review them for you but that didn't stop us from making it even easier for you to choose the one you will simply adore and we've done that by further placing the crates in categories like wooden, furniture style and more.
The Summary
Best 5 Mid Century Modern Dog Crates
BEST OF BEST MID CENTURY DOG CRATE
Staart Radius Wooden Dog Crate
Materials It Has
Apart from being beautifully designed with a vintage note, the crate functions excellently. It has a solid wood build and has metal mesh windows on the sides and door but not in the back that will provide the grade with ample airflow and visibility.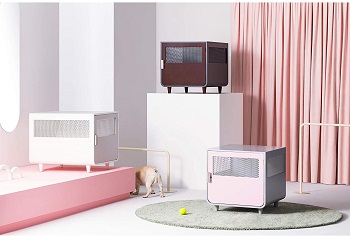 Crate Functions
Although the crate is made with solid wood, this does not mean that it is chew proof. You and your dog will benefit the most out of this crate if your dog is calm and crate trained. The top of the crate will allow for it to function as a side table, end-table, or even a nightstand, the choice is entirely up to you. It also looks like and is a minimalist dog crate.
Unique Door Lock
The lock on the single door located in the front is very well hidden at least when it comes to its mechanism.The way it works is that you'll have to slide a lever and release with a push of a button. You will be able to open it quite easily while your dog will not, but still, this will only be true for calm dogs.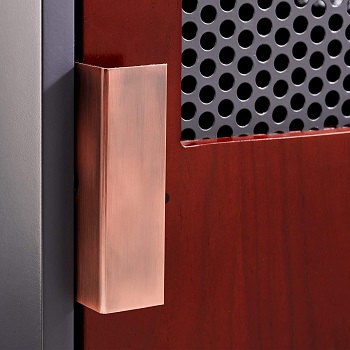 Interior Features
What the inside of this mid-century dog crate features is nothing short of amazing. The bottom corners are rounded to keep your dog safe while the entirety of the inside is coated with a waterproof coat so that if any urine gets inside, the crate won't absorb it and get damaged. You can use this crate to house large dog breeds.
In Short:
Made with solid wood
The crate is made for calm dogs
It can house large dog breeds
the inside of the crate is waterproof
Has rounded bottom corners for dog safety
Has a single touch door lock on the single door
BEST WOODEN MID CENTURY MODERN DOG CRATE
Casual Home Wooden Pet Crate
Solid Wood Facts
You will be surprised but pleased to hear that this crate's solid wood construction makes it handle some light chewing coming from your dog. This does not mean that there won't be some physical damage on the inside if it does happen but it will be minimal.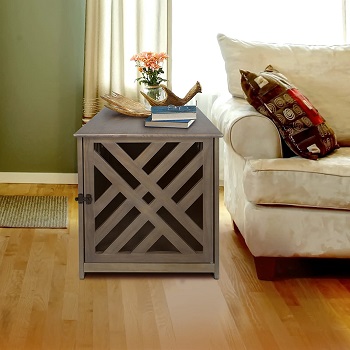 Wooden Bars Positioning
What makes this medium wood dog crate stand out when it comes to its looks is the diagonal wooden bar placement. You'll find these on the windows for ventilation and the door. There's only one door and it is located in the front and you can lock it with a simple hasp latch lock.
The Things It Can Be
Since the crate looks so nice and because of its strong solid wood construction, you can even choose to use it as an end-table inside your home. What this will do for you is that it will save you space and the crate will not look like an eyesore inside your home.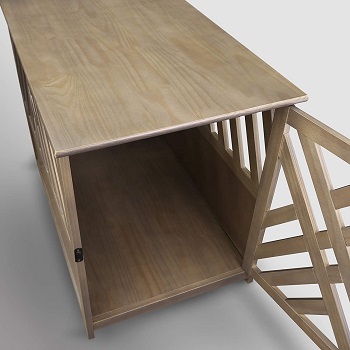 Design Coordinated With Size
This mid-century modern dog crate has a taupe gray color and we have to add that you'll get the diagonal bar design only if you buy it in this particular size that can house medium sized dogs up to 40 lbs. The rest will have the classic vertical bar design.
In Short:
MAde out of chew-resistant solid wood
Can house medium dogs up to 40 lbs
Has diagonal bars on windows and the door.
Has one door for access
The top allows it to functions as an end-table
BEST FURNITURE STYLE MID CENTURY DOG CRATE
Unipaws Pet Crate End Table
Wood And Wire Build Benefits
The crate is made with wood and wire. The wood is there for the frame while steel wire is used for the sides. I practical terms, this means that the steel wire is chew-proof while the wood is not. The steel wire sides will also provide the crate with good airflow just like a regular wire crate would.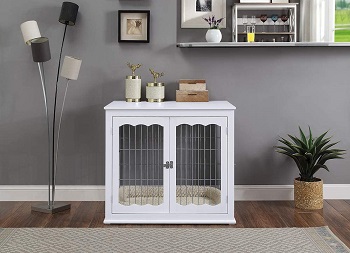 Multiple Door Locks
This mid-century dog crate is a triple door dog crate with a double door located on the sides and one door located in the front. You can choose to position the door panels any way you'd like you like when assembling it but the best part is definitely the fact that you'll be able to lock the door using 3 different locks.
Door Placement And Lock Quantity
The top of this crate is wider so that you get more space for storing your personal things on top. I short, this means that you can use it as an end table as well. The maximum weight the top can hold is 200 lbs so you can really get creative with what you want to put on top.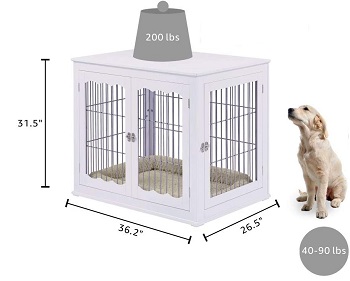 Extra Comfort For Large Dogs
This can be an incredibly comfortable crate for your dog to be in for one simple reason. With the crate, you'll also get a waterproof bed for the bottom that can be easily washed. The crate itself can house dogs that weigh up to 90 lbs which means that it can house large dogs.
In Short:
Made with wood and wire sides
Has a double door and a front door
The doors have three different locks
Made for large dogs up to 90 lbs
The wire sides are chew proof
Comes with a washable waterproof bed
You can use it as a piece of furniture
The weight limit for the top is 200 lbs
BEST MEDIUM MID CENTURY DOG CRATE
Merry Pet 2-in-1 Configurable Pet Crate
Crate Or Gate
If you're someone that wants to keep their dog contained inside his crate but also wishes to barricade him inside your living space like a living room you'll definitely find this dog crate playpen to be very useful since it can function as a crate or as a divider gate.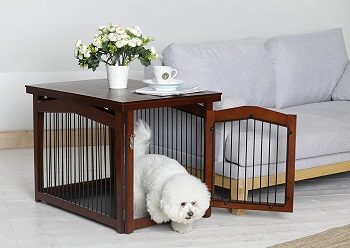 3 Functions
The frame is made with MDF wood that's durable but not chew-proof, the top is made out of wood veneer and the sides have metal wire. You can use the top for it to function as a piece of furniture while also functioning as a mid-century dog crate but you can also detach the top to use it as a gate.
Keeping The Crate Clean
The bottom, when it is used as a crate, will feature a useful bottom pan that will make cleaning the crate much easier all the while keeping your floors free from accidents. You can access this tray through the single door that locks with a single hasp latch lock.
Adjustable Panels
There are four panels in total but you can choose to remove them for it to better fit the size of the space that you might want to place the crate to functions as a room divider. You can also adjust the shape of the panels since they are connected with pins that are hinged. When you're using it as a crate, make sure your dog is medium-sized.
In Short:
Тhe sides are made out of MDF wood
The top is made out of wood veneer and is removable
Has metal wire sides
Can function as a piece of furniture
Can functions as a gate room divider
Has 4 panels that can be adjusted and removed if needed
Has a single door for access
Made for medium-sized dogs
Comes with a cleaning tray for the bottom
BEST LARGE MID CENTURY MODERN DOG CRATE
Richell Richell Wooden End Table
2 Space Saving Features
If the fact that this dog crate can function as furniture isn't enough space-saving for your taste, then surely, it will be enough for you that the way that the door opens will also save you space. It is made possible because the door features a  stopper on the side to keep the crate open without the door getting in your way.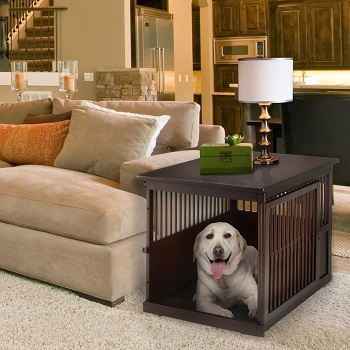 Cleaning Like No Other
Unlike with most indoor wooden dog crates, you won't have to go through the trouble of cleaning the crate by using a damp cloth for the inside because this crate comes with a slide out tray for the bottom so if any accidents do happen, you won't have to worry about crate getting damaged.
Keeping It Undamaged
We have to add that this dog crate is entirely made out of wood and even though the wood is durable, it is still wood which means that you will only ever be able to use it for calm dogs if you want to keep this mid century modern dog crate undamaged.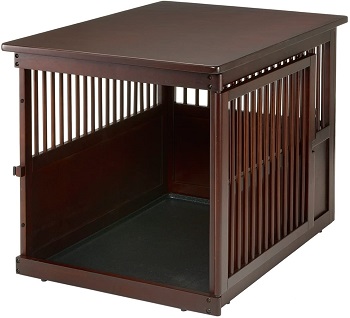 Time Spent Inside The Crate
What you also shouldn't do is keep your dog contained inside for too long, this is part of the reason why it's so good that you can use it as an end table as well, Inside the crate, you can house large dogs that weigh up to 88 lbs.
In Short:
The door can be opened fully to not get in your way
Made for large but calm dogs
Can be used as a furniture piece
Features a cleanig tray that slides out
How To Pick A Mid Century Dog Crate
There are a lot of repeating features when it comes to mid century modern dog crate and we just have to point htem out to you so that you can easily find a crate like that that's just right for you. Some repeating features lie in the crate's build materials, functions and more.
Furniture Feature – You don't have to look hard to find a mid cetury modern dog crate because usually they're hidden in plain sight. Most, if not all of these crates can function as indoor dog crate furntiure and what this will do is that it will save you space and make the crate blend seamlessly inside your home.
Common Build Materials – The most common build materials features with these crates is wood or at the very least some kind of wood polymer. The crate will automatically be more durable if you get a solid wood one but if you want a crate that's made with a wood polymer like MDF wood but is still durable try to look into crate that have steel wire sides.
Wood Durability – You will get the most wood durabiltiy if you choose to get a solid wood crate. This only means that the crate ill handle light chewing though. other wood types and wood type polymers won't even do that but sometimes you can get a chew-proof feature if you have steel wire sides. This won't compromise the way that the crate looks.
Desired Dog Conduct – If you're getting a mid century dog crate you wll just have to make sure that your dog is crate trained because although some can handle agressive dog behavior, they won't last a very long time if that's the case. If you find that your dog fits this description maybe you'll find heavy duty metal dog crates to be the answer to your troubles.
Sizing Explanation – Since these crate's sizes vary we must teach you the proper way to size any dog crate. What you'll need to do first is measure your dog's length and height and compare it to the crate. If your dog is 4 inches smaller than the crate you've found the perfect size of crate for you. We should also add that you should ever focus on the weight limit of the dog.
To Sum Up
What we found to be the best mid-century modern dog crate that we'd recommend is the Unipaws Pet Crate End Table and there is a simple and clear answer as to why we did. The first reason is that the wire sides of the crate are chewproof, the second one is that it has three different locks and the third one is that it comes with a washable and waterproof bed. If this crate peaked your interest then you'll love finding out about white dog crate furniture and if you need something a bit more durable but still white then the article about white wire dog crates is the one we recommend you check out.