Do you think you might need a military dog crate for your highly active dog?
If you do, by continuing to read this article you might just find what you're looking for since we've gathered and reviewed what we see as the best ones that you can find. We went on to review medium, large and many more crates that fit into this category so there's something for everyone.
The Summary
Best 5 Military Dog Crates
Best Of Best: Homey Pet Heavy Duty Cage
Coating Finish
This military-grade dog crate is made out of heavy-duty steel tubes and wire and it's coated with a hammer spray finish that gives the whole crate an anti-rust property. Apart from that, it also gives it a nice and smooth look.
Plastic Bits
The only part of the crate that's not made out of heavy-duty steel that's made out of plastic. The reason why is so that your pet can walk inside this crate more comfortably and keep his paws safe from harm. Below it, you'll find a deep ABSplastic tray so you can conveniently clean the crate.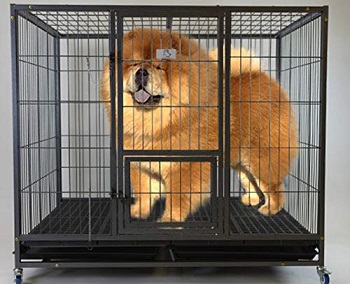 Moving The Crate
The whole crate weighs quite a lot. To be more specific it weighs around 87.5 lbs so moving it might be an issue but there are caster wheels on the bottom for easier movement and if you want stability, you can even lock the wheels in place.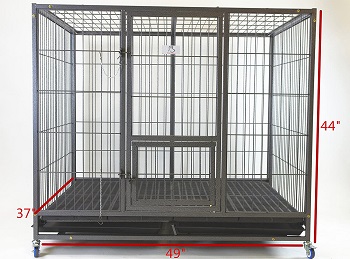 Secure Door Locks And Stacking
If you have multiple dogs and really like this crate you will love it even more after we tell you that this is actually a stacking dog crate. The door on the crate locks securely and you'll even get a metal chain with a hook to really make sure that your dog can't escape it. There's also a feeding door on it that's a part of the front entrance door.
The Size Of It
The crate is quite big with its interior height of 37 inches and length of 49 inches. This means that you can house extra large dogs inside it that weigh up to 150 lbs but don't focus on the weight limit that much.
In Short:
Made with heavy-duty steel
Coated with a hammer spray that makes it anti-rusting
Can house extra large dogs up to 150 lbs
Has a single front door and a feeding door
Comes with a deep ABS plastic tray for cleaning
The floor grid on the bottom is made out of plastic
BEST MEDIUM MILITARY GRADE DOG CRATE
SmithBuilt Heavy Duty Dog Crate Cage
2 Types Of Metal
There are two segments that we need to mention when it comes to the crate's build materials so you can understand how durable it is. The first one is the crate's frame that's made out of 0.75-inch thick metal and the second one is the 20 gauge or 0.5-inch diameter steel tubing that's welded and ensures top and bottom strength and stability. Every metal part of the crate is coated with a hammer spray finish to make it corrosion and rust-resistant.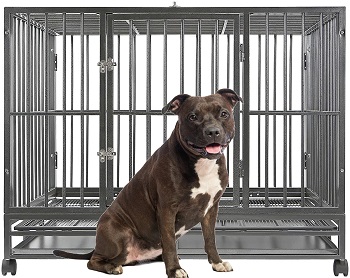 Convenient Top Access
This military working dog crate does not feature a feeding door that would be rather useful but what it does have with the addition of the front access door is top access so you can still interact with your pet without using the front door is which case he might try and escape.
Lock Durability
The crate's locks are durable and you'll get two of them for the front door and one for the top. The locks are sliding bolt locks so they might not be the best anti-escape locks around if your dog is a bit more aggressive and energetic.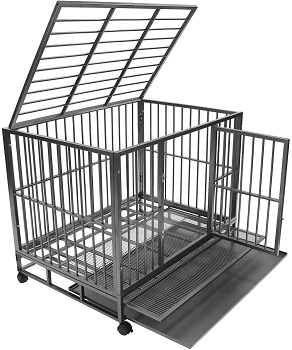 Crate Weight And Dog Weight
This sturdy dog crate weighs 58 lbs but you can move it easily with the provided caster wheels that can also be locked to set the crate into place. As for the weight of the dogs that can be kept inside, there isn't any information on that because you should focus on the dimensions to figure out which dogs can be kept inside. Generally speaking, you can house medium-sized dogs inside it.
In Short:
Made with 0.75-inch thick metal
Reinforced with 20 gauge welded steel tubes
Has front and top door access
Made for medium dogs
Weighs 58 lbs
Can be moved with lockable caster wheels
The doors lock with slide bolt locks
The crate is corrosion and rust-resistant
BEST LARGE MILITARY WORKING DOG CRATE
Furuisen Heavy Duty Dog Crate
High Carbon Steel Build
The steel that's used to make this heavy-duty large dog crate is carbon steel which means that the crate is tougher and more durable since the bigger the carbon content, the stronger the steel is. The steel is corrosion resistant while the non-toxic coating finish makes it anti-rusting.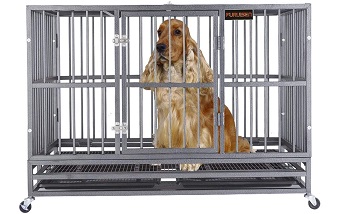 Reinforced Locking
Both the top and the front access points can be locked with hasp latch locks but the manufacturer realizes that sometimes that is not enough so they added climbing buckles to make the locks more anti-escape than they already were.
Keeping It Clean
You won't have problems with cleaning this crate since the pullout plastic tray on the bottom that's located below the gridded flooring will assist with cleaning. You will only have to clean the tray when it comes to dog excrements and dirt while the crate itself might need cleaning every once in a while but not as often.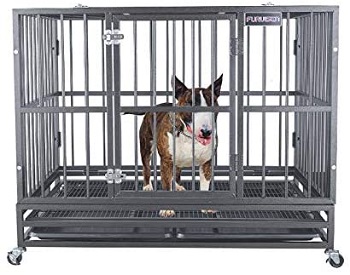 Size And Movement
The metal caster wheels that can be rotated at a 360 degree angle will help greatly with moving this 83.6 lbs military grade dog crate. the crate can house large dog breeds that are prone to aggressive behavior with ease.
In Short:
Made with corrosion-resistant carbon steel
The non-toxic hammer coating makes it anti-rusting
Can be moved with lockable caster wheels
Made for large dog breeds
Has double anti-escape locks
Can be cleaned easily because of the slide-out tray
BEST HEAVY DUTY TACTICAL DOG CRATE
Keren Military Pet Kennel
Corrosion-resistant And Anti-Rusting
The steel that makes the entirety of this tactical dog crate is corrosion resistant while the coating finish that's non-toxic gives it an anti-rusting property. The non-toxicity will prove to be quite useful since our dog's health won't be in danger if he chews on the steel bars.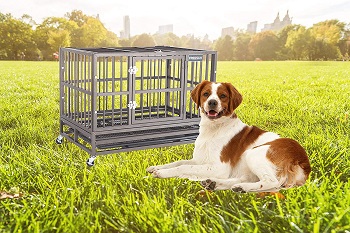 Crate And Pet Access
The front door that can be locked with two hasp latch locks will make your dog access the crate with ease all the while keeping him safely contained while he's inside. There's also a top door for access that you might find useful if you need to access the crate and your dog.
Easy Cleaning
As with most large metal dog crates, this one can also be cleaned very easily since you don't really need to clean the crate. You just need to clean the plastic tray located below the bottom grided flooring. The tray is not as deep but will still do well when it comes to preventing liquids from overflowing and ending up on your floors.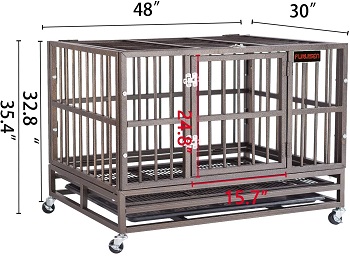 Dogs You Can House
You can put caster wheels on the bottom that come with the crate. you can also lock them if you want to keep the crate in place and to make it more stable. Keep in mind that this crate is made to house medium or large dogs like Akitas, Doberman pinchers, or eve rottweilers.
In Short:
The crate is corrosion resistant and rust-proof
Made with metal steel tubes
Made to house medium and large dogs
Can be moved using the provided caster wheels
Cleaning it is easy because of the provided slide-out tray
Has a top and front door for access to it
BEST FOLDING MILITARY DOG CRATE
Extreme Consumer Products Dog Crate
Folding Build
This crate is a bit different than the rest since it has some features that typical XL metal dog crates don't usually have. The first one on the list is definitely the foldable construction. You can be sure that the crate won't accidentally collapse since it's supported with metal bars that can be locked onto the sides of the crate to make it hold its shape well.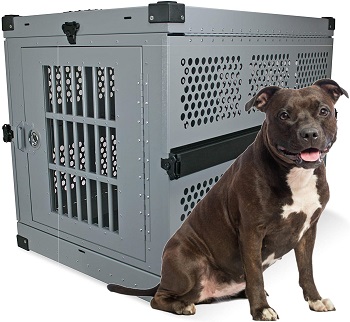 Carrying The Crate
When this military-grade dog crate is folded down, you can use the heavy-duty handles to carry it like a briefcase but even it's assembled, you can still use the handles to carry and transport it. It is a bit lighter than the rest with only 40 lbs to it so it'll be much easier to carry.
Doesn't Heat In The Sun
Although it offers holes for ventilation along the sides of the crate and this doesn't look or feel like much, trust us it is. It's even better since if the crate is exposed to the sun, it will provide your og with shade and keep him cooler while he's inside.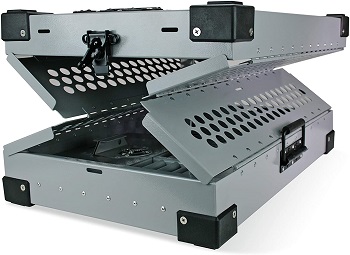 Size And Stacking
The corners of the crate are protected with padded plastic caps. Another thing that they do is make the option of stacking multiple crates available as well. Although the crate is extra large, it doesn't mean you can house extra large dogs inside. Instead, you can only house large dogs.
In Short:
Made out of reinforced metal
It won't heat in the sound and will keep the dog cool
Corner pads allow you to stack crates
Can be used to house large dogs
Can be folded down
Has carrying handles
How To Pick A Military Dog Crate
It's quite simple to determine whether or not you're getting a crate for military dog or with hard construction as military crate. The first thing to focus on is materials, then how the crate locks and will they prevent your dog from escaping. Another thing you should worry about is sizing and what dog behavior a crate can stand. We go into depth to give you some pointers on how to get the perfect one.
How To Recognize One – The crates that are most likely to be military grade are definitely heavy-duty metal dog crates. They'll usually be corrosion resistant and rust-proof as well. The important thing to remember that these crates don't use wire, rather, they use metal steel tubes as they build material of choice.
Why Should You Get One – Not everyone needs these tough dog crates but if your dog is one to suffer from separation anxiety, is incredibly active, aggressive, or knows his way around a door lock and can easily escape his, for example, large wire dog crate it might be time to get one.
No Place For Small Dogs – If you're after one of these crates and you're looking to get it for your small dog you will, unfortunately, have no luck finding one. If you need something a bit tougher for your small dog a small wire dog crate will work fine.
Transportability Problems – If you're getting one of the tactical dog crate to travel with them or to move them around a lot you might want to reconsider getting one since these crates are incredibly heavy and hard to lift. This is the reason why most of them have caster wheels on so that you can move them with a little more ease but that's about it.
Sizing Tips – You should ever get a dog crate according to the weight limit or weight capacity. What you should focus on is the dimensions of your dog, specifically, his height and length. Once you know that you can compare it to the crate's interior dimensions and see if it's 3-4 inches below the crate's height and length. If it is, you have found yourself the right size.
To Sum Up
We thought about locks, materials and size when we chose to recommend the FURUISEN Heavy Duty Dog Crate as the best military dog crate. The locks are anti-escape locks, it has a carbon steel construction that makes it more durable and it's made for large dogs with aggressive tendencies. If you realized that you don't really need that tough of a dog crate you can go a step below and get an XL wire dog crate by reading the article about it and if you happen to need a crate that can be transported easily then the article about large portable dog crates is the one we recommend you check out.