Have you found yourself searching through the internet for sturdy crates for dogs to fit your dogs' strength and behavior well?
We've got something for you then because in this article we've gone through the best ones and reviewed them so you can know exactly what kind of crate you're about to buy. Every dog crate is better for something than the other and we know that so we've categorized them according to what they're best for. Categories that you are sure to find include the puppy category, stackable category, heavy-duty category and so much more.
The Summary
Best 6 Sturdy Crates For Dogs
BEST OF BEST STURDY CRATE FOR DOGS
Homey Stackable Heavy Duty Cage
Firm Stackable Build
The fact that this is a stackable dog crate speaks for itself when you think about how much of a sturdy dog cage it is because not all crates can hold the weight of another. It's made out of heavy-duty steel and it is coated with a hammer spray finish which makes it rust-resistant. You can stack the crates up to three tiers and there is a difference between the upper and lower levels because the lower level is taller.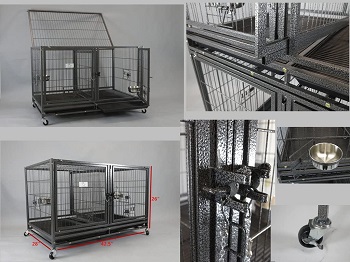 Dividable Into Two
You'll get one crate if you decide to buy it but it does come with a divider that you can use to divide the crate into two crates. What helps it to be a car for multiple dogs is that it has a door for each side and they lock separately. Each side of the crate also has 2 feeding doors and you'll even get two doors for it.
Differences Between Them
You can stack the crates up to three tiers and there is a difference between the upper and lower levels because the lower level is taller. This is a lower level cage and on the bottom of it, you'll also find wheels to move it around more easily. With two lower crates, you can stack two of them but with other combinations, you stack up to three.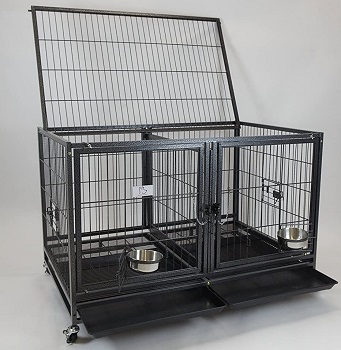 Crate Dimensions
The crate is 26-in tall, 42.5-in long, and 28-in wide. Because of this, you can fit a large dog inside but if you're using the divider to house 2 dogs inside, you can use it for 2 medium-sized dogs. To clean the crate with ease, you'll get a pullout pan below the gridded flooring that will collect any dirt.
In Short:
Made out of heavy-duty metal
Coated with a hammer finish that makes it rust resistant
Can house one large dog or two medium-sized dogs
Has wheels and a plastic cleaning pan on the bottom
Stackable up to three tiers
BEST HEAVY DUTY STURDY LARGE DOG CRATE
ProSelect Empire Dog Cage
How Sturdy It Is
The diameter of the steel tubes that make this crate a stainless steel dog crate is 0.5-in. Another thing that speaks about how much this dog crate is sturdy is the fact that it's a 20 gauge steel. Steel gauge speaks of the thickness of steel and the higher it gets, the lower the thickness but this doesn't mean that this crate isn't sturdy, it's quite the opposite.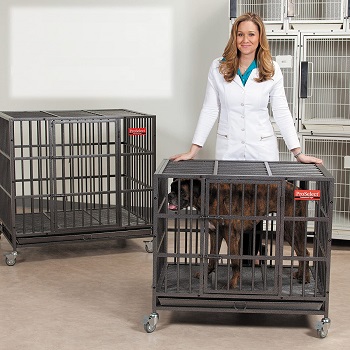 The Way It Stays Clean
To keep this sturdy large dog crate as clean as possible at all times, the crate has a gridded metal floor on the bottom and a slide-out pan below it. The pan will collect any dirt that might be produced while your dog is inside it so you can clean it with ease.
Moving The Crate
This crate is quite heavy which is just another thing that might say how much of a sturdy crate for dogs it is. The weight of around 90 lbs would be very inconvenient for you because it would be hard to move it if not for the caster wheels on the bottom. You can remove them if you don't want them but it's good to have options.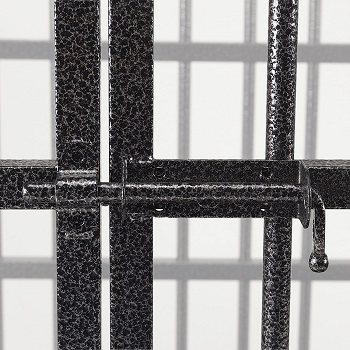 Dogs That Fit Inside
Your dog should not be taller than 38-in and longer than 26-in. Otherwise, he will not fit comfortably inside. His weight should be around 41 to 70 lbs. This makes the crate fit for medium and some larger dog breeds.
In Short:
Made out of 20 gauge steel and reinforced with steel tubes
The crate is easy to clean because of the slide-out tray
Fit for use by medium and some large dog breeds
You can choose to have it on wheels
BEST COLLAPSIBLE STURDY DOG CRATE
Impact Collapsible Dog Crate
Dog Behavior It's Good For
This crate might not be worth it for most people because of its price but it's well worth it if you have a dog that's a bit aggressive or just doesn't behave well. It will definitely keep any dog inside. Part of the reason for it is because it locks with stainless steel locks that are marine-grade.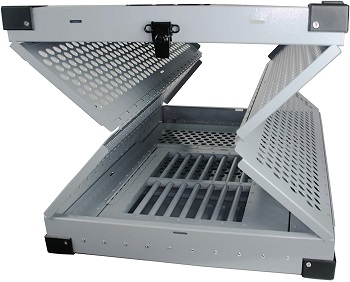 Strong Design And Build
Another reason why this sturdy crate for dogs can even be considered an unbreakable dog crate is because of the materials that make it and some other features. The crate is made entirely out of aluminum, it's coated with a rust-resistant finish, it has crush-proof corners and because you have padded corners, you can stack multiple crates.
Crate Weight
The sturdy dog cage can easily collapse into a briefcase-like shape and can be carried in that way as well because of the handle on top. You shouldn't have any issues with carrying it since it weighs around 33 lbs. Ventilation is provided across all sides of the crate through multiple holes.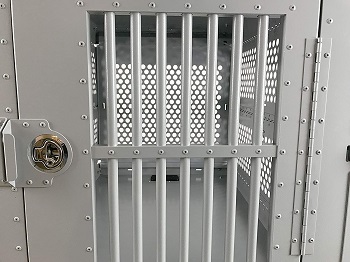 Recommended Dog Size
No matter how strong a crate for dogs is, there's always gonna be a limit to what dogs can fit inside mostly because of the dimensions of the crate. This one is great for dogs that weigh up to 70 lbs which means you can use it for medium and some large dogs. Just make sure your dog fits comfortably inside the crate.
In Short:
Entirely made out of aluminum steel
It has a stackable feature
Can be collapsed to store or transport
Made for medium and some large-sized dogs
BEST PLASTIC STURDY DOG KENNEL
The Other Door Steel Crate
Heavy Duty Plastic Build
XXL plastic dog crates like this one can still be sturdy and durable. The crate is made out of heavy-duty plastic and steel wire. Another thing that makes it so durable is that the base is insulated to prevent it from cracking when it is cold.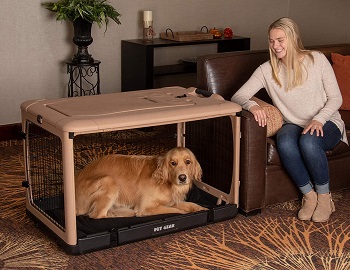 Additions To The Crate
The crate comes with some useful additions that will save you some money. They are plush bedding to keep your dog cozy when he's inside and you'll also get a travel bag where you can put it and carry it when it is collapsed.
Easy to Transport And Move
You can easily move this sturdy crate for dogs because of its handle on top and wheels on the bottom that are built into it. This makes this sturdy crate for dogs good for travel. Another thing that speaks about how good for travel it is is the fact that the top can hold the weight of up to 100 lbs. You can put other cargo on top without having to worry if it'll break.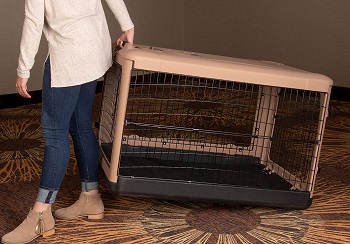 Access To The Crate
The crate will give you 4 door access. there's two side door, one large front access door that opens like a garage door and a top access door. It can easily hold and house a pet weighing up to 90 lbs.
In Short:
Built of heavy-duty plastic and steel wire
Has an insulated base to prevent cracking in cold weather
Can house dogs weighing up to 90 lbs
Comes with plush bedding and a travel bag
Can be collapsed
Has built-in wheels and a handle on top
Can be used as a travel crate
BEST FOR PUPPIES STURDY DOG CAGE
Diggs Revol Dog Crate
Multiple Purposes
Apart from being a sturdy dog cage because it is made out of durable aluminum wire and for the frame, the manufacturer used reinforced plastic, the crate can also serve you well as a training cage for dogs because of the divider it comes with, multiple door access and plastic tray on the bottom for cleaning.
Great For Puppies
The crate has rounded corners and is made with baby industry standards in mind. This means that you can use it with a puppy that is at the beginning of his crate living journey. Your puppy will be kept completely safe inside.
Multiple Entry Points
You'll get access to your dog through more than just one door. There's a front entrance door that you can open by pushing the lock up to open it, there's a side entrance door that you can open upwards so that it doesn't get in your or your dog's way, and there's a top access door.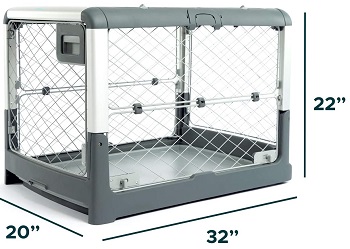 Grown Dogs That Fit Inside
You can easily collapse this sturdy crate for dogs to make it small and compact. This is perfect for storing or traveling because the crate also has a handle on top. On the bottom, there are wheels for you to carry without having to hold it. When your dog grows up, he can be a medium-sized dog to fit comfortably inside.
In Short:
 The materials used are aluminum wire and reinforced plastic
Can house a puppy because it's made with baby industry standards
Has 3 access points
Can be collapsed to carry with a handle
Has wheels on the bottom for easy transport
When fully grown, the dog it can house can be a medium-sized dog
BEST OUTDOOR STURDY CRATE FOR DOGS
DEStar Heavy Duty Dog Crate
PE Rattan Woven Steel Frame
This crate is made a bit different than most. The frame is still made out of heavy-duty steel but the frame is woven with PE rattan wicker. PE rattan wicker is usually used to make outdoor furniture and it blends in really nicely into your home whether it is outdoor or indoor.
Properties Of PE Rattan
PE Rattan Wicker is a synthetic material that is environmentally friendly because it is recyclable and it's made to resemble natural rattan wood. It's better than the natural version because it can withstand humid and damp weather conditions.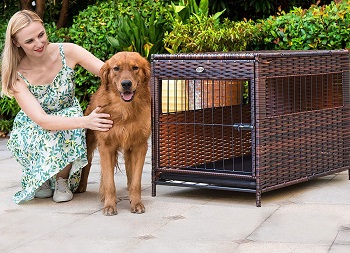 Superior Air Flow
The sturdy dog cage is not only well ventilated because of the sides that only feature a steel frame but also because the PE rattan can allow air to flow through similar to a regular XL wire dog crate. The crate has only one door access on the front side and it locks with a sliding bolt lock that is welded into the metal frame.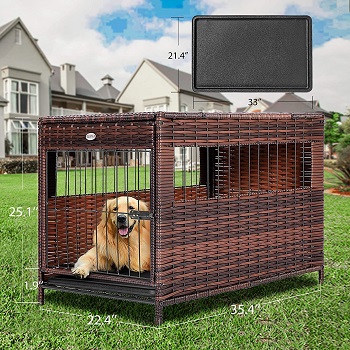 Weatherproof Additions
Although PE rattan is waterproof on its own, you will get a crate cover made out of polyester to double ensure that the crate stays out of contact with rain. It will also give your dog some shade during sunny days and it's non-abrasive if you choose to use the crate outdoor.
Crate Cleanliness And Other Properties
You will keep the crate clean with ease for your 66 lbs dog or less. It is because of the plastic bottom tray that you will succeed in doing that because it comes out easily for cleaning. The crate is also chew-resistant so no matter your dog's behavior, this crate will last.
In Short:
Has a steel frame that is woven with PE rattan wicker
The crate comes with a polyester cover that is weather-resistant
Made for dogs up to 66 lbs
Can be used outdoor and indoor
The crate locks with a welded sliding bolt lock
How To Pick The Sturdy Crates For Dogs
You can easily confuse some crates for sturdy models. On the other hand, you can just as easily confuse other crates for not quite sturdy ones. It's important to pay attention to materials they are made out of but that's not the only thing to keep in mind so keep reading to really know what to focus on when buying these crates.
Materials That Make it Sturdy – Typically, the sturdiest and most durable crates will be made out of heavy-duty or reinforced materials. This is not exclusive to metal dog crates because you can easily find plastic crates that are just as durable because they are made with reinforced or heavy-duty plastic.
Metal Or Plastic – If you opt to buy a metal crate you can be sure you're going to pay more for it than you would for a plastic one. Small plastic dog crates and plastic crates in general are not exclusively made out of plastic. They usually have some steel wire parts like the sides of the crate.
Chew-Proof – There's not much to talk about when you're thinking about if these crates are chew proof but keep in mind that all metal crates will be more chew proof than crates that are partially made out of plastic so if you have a dog that chews excessively, it might be better for you to get an XXL metal dog crate or a regular-sized metal one.
Sturdy Dog Crates VS Kennels – Although you might think that sturdy crates for dogs can match the strength and durability of kennels they undoubtedly can't even though some are made for outdoor use. Dog kennels have to be made to withstand harsh weather conditions and they are made large so that they can hold a dog crate inside of them. Think of dog crates as a sleeping area and of kennels like houses.
To Sum Up
The sturdy crates for dogs will last for a long time but some models are always better than others so the one that we'd recommend is definitely the Diggs Revol dog crate. It's especially safe for puppies and it is also quite sturdy because of the aluminum wire and reinforced plastic build. If you'd like to make sure you still get a sturdy crate but want something simple and bigger the unbreakable dog crate article is the one for you to read and if you'd rather be able to travel with your dog and want to makes sure the crate is safe then you must read the article about SUV dog crates.