Have you been searching high and low for a good stainless steel dog crate but had little to no luck in finding one?
We can change that because we did our research and reviewed the best ones we could find? Here you'll find stainless dog crates made for large dogs, stackable ones, and more so continue reading if you want to finally get one.
The Summary
BEST OF BEST STAINLESS STEEL DOG CRATE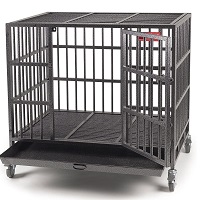 ProSelect Empire Dog Cage
The steel tubes, apart from the 20 gauge steel that is used to make it, reinforce this crate to make it even more durable and sturdy.
Jump To Review
BEST LARGE STAINLESS STEEL KENNEL CAGE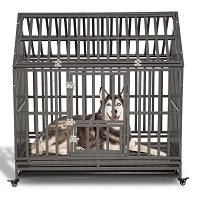 LUCKUP Heavy Duty Dog Crate
The crate has a narrow roof shape on top so it resembles a house which will make it seem like it takes up less space even though it's 48-in tall.
Jump To Review
BEST HEAVY DUTY STAINLESS DOG CRATE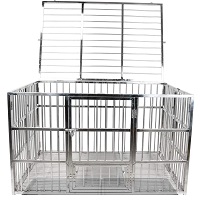 Confote Heavy Duty Dog Cage
Every part of this crate is welded together to really make it heavy duty and it is also wider than most crates so your dog can live comfortably inside.
Jump To Review
Best 3 Stainless Steel Dog Crates For Sale
BEST OF BEST STAINLESS STEEL DOG CRATE
ProSelect Empire Dog Cage
Reinforced Build
This crate is made out of steel and reinforced with 0.5-in diameter tubes that have a gauge of 20. As gauge increases, the thickness of steel decreases but it is a pretty good thickness for a sturdy dog cage. it is coated with a hammer tone powder finish.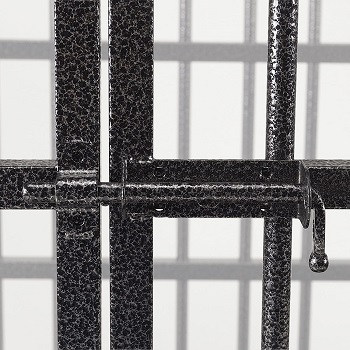 Crate Weight And Movement
The crate is pretty heavy, but it's no wonder that it weighs around 75 lbs. How you're gonna move it might have worried you if there weren't for caster wheels that will allow you to move it with ease. You can easily take them if you want the crate to be more stable
Easy Cleaning
You don't have to worry about how difficult it's going to be to clean the crate since it only has one access door and it locks with a sliding bolt lock because below the floor that is gridded, you'll find located pullout pan that will contain dirt and dirt particles for you to easily clean.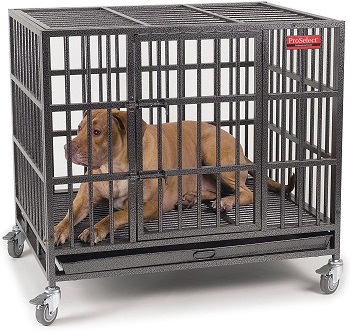 Durable But Medium
Although this stainless steel dog crate will easily last through the excessive chewing of even the most aggressive of dogs you can only fit inside medium dog breeds because the crate is 33-in high and 25-in long so larger dogs couldn't fit inside.
In Short:
Made out of 20 gauge steel and steel tubes
Weighs around 75 lbs
Can have caster wheels on the bottom for moving it
Can fit inside medium-sized dogs
BEST LARGE STAINLESS STEEL KENNEL CAGE
LUCKUP Heavy Duty Dog Crate
Space-Saving Design
The crate's design will save you space, at least by the looks of it because although it's 48.5-in tall, the top narrows down so the whole thing looks like a house. This will give you the option of housing a larger dog without the crate being a large eyesore in your home.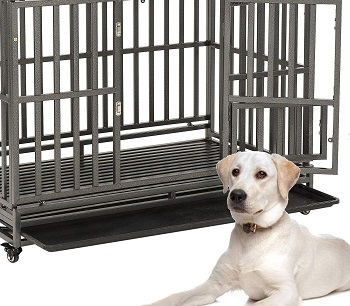 Clean Living Space
The crate will be kept clean because the pullout tray below the floor will catch any dirt, hair, or dog food that falls onto it. All you have to do to clean the crate is pull out the tray and clean that.
Top And Side Access
You will be able to access your pet through two access points. One is a door that locks with a lock that will prevent your dog from escaping the crate and the other access point can be found on one of the sides on top.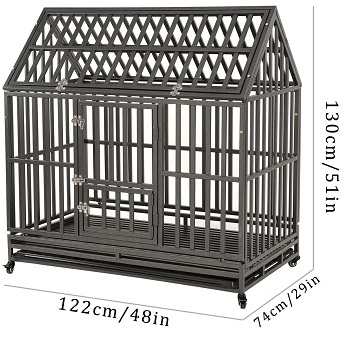 Assembly And Dogs That Fit Inside
All you need to do to assemble it is attach the wheels on the bottom and screw in 8 screws that come with this stainless steel dog crate. YOu can easily house larger dog breeds like German shepherds, rottweilers, and other similar sized dogs.
In Short:
Has a tall and house like 48.5-in tall design
Can house large dog breeds
Comes with two access points
The door locks with an anti-escape lock
Cleaning the crate is easy because of the bottom pullout pan
BEST HEAVY DUTY STAINLESS DOG CRATE
Confote Heavy Duty Dog Cage
Large, Strong, And Durable
Every part of this stainless steel dog crate is welded together which will give you even more durability and it might even make it an unbreakable dog crate. It is good for large dog breeds and will endure chewing and scratching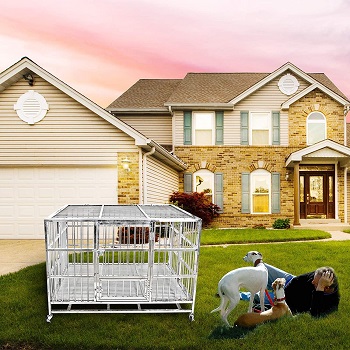 Wider Design
The height and width of this crate are both 31-in with the length being 48-in. Because the width and height are the same, the crate is a bit wider than most and it gives your dog more space to move around but the width isn't taken into consideration when thinking about what dogs can fit inside.
Easily Cleanable
The clean the crate, all you need to do is wipe down the plastic tray located on the bottom below the floor where dog food and other excrements will fall. As for the assembly, everything you need is already included and the locks come preassembled.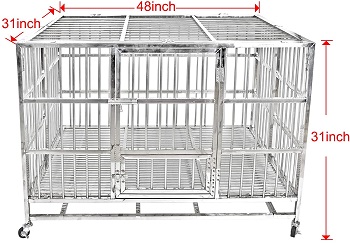 Access To Your Dog
You can gain access to your pet through the two doors. One is located on the side and the top conveniently opens as a whole. The lock on the door is better in design than a sliding bolt lock than dogs can easily figure out and make their way out of the crate.
In Short:
Made out of stainless steel and every bar is welded
The bottom tray keeps the crate clean
Has two-door access and they lock with escape-proof locks
Made for larger dog breeds
How To Pick A Stainless Steel Dog Crate
Since there are very few stainless steel crates on the market, you're going to be working with what you get but that doesn't mean you should settle for less when buying the crates. It's just a matter of knowing what to look for because these crates still differ in builds, safety, and durability.
Coating Finish – Apart from the stainless steel, another thing that could make these crates corrosion and rust-resistant are the finish coatings. Although this might not be necessary, you'd want to make sure that the finish is non-toxic and that it's durable as to not make the crate look damaged even if it's not.
Crate Locks– What's a durable and tough dog crate without good locks. If the crate is made to be chew and scratch-proof but lacks in the locking department, it defeats the purpose of a safe crate because your dog can get out so getting a crate with locks specifically made with anti-escape features is important
Reinforced Builds – To truly make sure that stainless steel dog crates are durable and long-lasting, they will usually be made heavy-duty or be reinforced with steel tubes. These are typical features of XL metal dog crates If that's not the case, the crate might not be as durable as you might expect from a stainless steel crate.
Chewing And Scratching – You don't have to worry about chewing and scratching that might come from your dog like you would usually have to worry with XL dog crate furniture because these crates won't mind it. Even if the coating finish is not scratch and chew-proof, the stainless steel definitely is.
To Sum Up
Although the stainless steel dog crates we've found are all well made, one has to shine better than most so the one that we'd recommend is definitely theProSelect Empire Dog Cage. The 20 gauge steel makes it incredibly durable and firm and will, without a doubt, keep your dog properly contained inside. If you don't really care if the crate is made out of stainless steel but still want it to be a metal we suggest you read the article about XL metal dog crates and if that isn't your cup of tea and want the crate to serve more than just a purpose of a crate definitely check out the article about white dog crate furniture.