Have you found yourself searching for a sturdy and highly durable XL metal dog crate?
Not to worry, cause we have reviewed the best ones we could find. Continue reading if you want to learn more about these crates and if you want to see what makes each metal crate stand out because we've put them into categories such as stackable, heavy-duty, and many more so it will be easier for you to focus on your needs and what you're searching for.
The Summary
Best 5 XL Metal Dog Crates
BEST OF BEST XL METAL DOG CRATE
Extreme Consumer Products Folding Dog Crate
Simple Criteria For Dogs That Can Fit In
This XL metal dog crate doesn't mind the weight that your dog has. It only cares for his height and length. The criteria with which you will measure your dog to see if he fits inside this cage are the dimensions of the cage which are 28.6-in height, 23-in width, and 40.5-in length.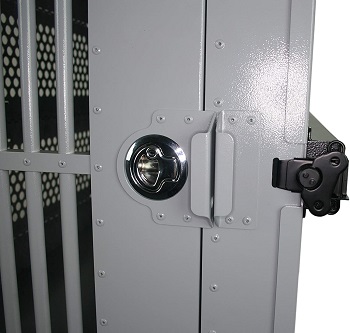 Briefcase Folding Shape
The weight of this cage comes at around 40 lbs which is heavier than most but not nearly as heavy as it should be considering its reinforced metal construction. For you to carry it with ease it folds into what seems like a briefcase.
Useful Features
Even though it's a metal crate if hit by direct sunlight the temperature inside the crate won't get higher. For ventilation, you've got plenty of holes on each side of the crate and the pads on each of the corners will allow you to stack more than one crate up and prevent damage to your floors.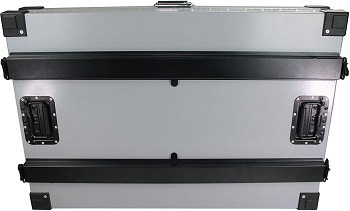 Who Should Buy It?
Talking about the price of this cage is a must since it's so high so the question who should buy it must be answered. These cages are usually used by professionals that have police dogs, breeders and it would be well advised to have it with dogs with highly destructive tendencies.
In Short:
It fits inside dogs that are 36-in long and 24-25-in high
It weighs 40 lbs
Made out of reinforced metal
You can stack multiple crates on top of one another
The pads on the edges prevent damage to floors
can be folded into a briefcase shape
BEST HEAVY DUTY GIANT METAL DOG CRATE
Itori Heavy Duty Metal Dog Crate
Welded Reinforced Steel Frame
The frame of this crate is made out of reinforced steel and not only that but each part is fused together by applying heat to them meaning they're welded. this makes the cage extra durable and sturdy with little to no chance of your dog ever escaping it without you wanting him to.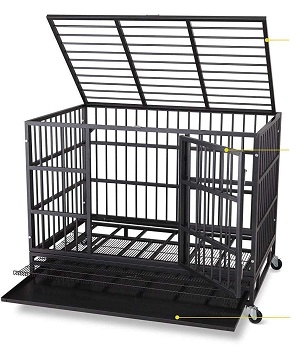 Access Doors
It has 2 doors, one on the side of the cage and one on top. the top door extended throughout the whole length of the top part meaning that you'll have good and convenient access to your dog as well as on the entrance door.
Smart Features Of The Crate
Smart features that this XL metal dog crate has to offer are the finish coating that is non-toxic and rust and corrosion-resistant, a sliding bolt lock which gives you the option of only opening it from the outside, a collapsible construction just like an XL wire dog crate, a removable metal tray on the bottom and even 4 wheels, two of which are lockable.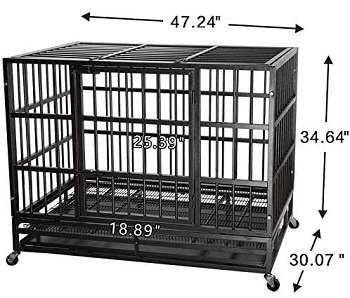 Partial Assembly And Its Dimensions
The crate comes to you assembled but not all the way through so it should be easy to finish with just a few screws and bolts. As for dogs that can fit inside, your main focus is the dimensions of the crate since the crate is entirely made out of metal and can stand a lot of weight. The dimensions are 47.24-in in length, 34.64-in in height, and 30.07-in in width.
In Short:
Gives you access from the top and from the side of the crate
Comes partially preassembled so assembly is made simple and easy
The frame is made out of reinforced steel
Can be collapsed to store away or move
BEST ON WHEELS XL METAL DOG CRATE
Haige Pet Dog Crate
The Frame And Coating Finish
The steel used that makes this cage heavy duty is resistant to corrosion and rust while the finish coating is not toxic and highly durable which makes it hard to be damaged if your dog is a chewer.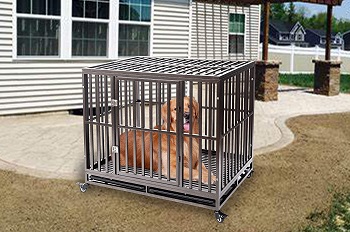 Pullout Tray And Wheels Info
The tray on the bottom can easily be pulled out to clean without having to set apart the whole cage. this is a useful feature if your dog accidentally urinates or drops his food or if he sheds hair a lot. The crate sits on 4 wheels so it's easy to move around the house and they can be locked to keep the crate in place.
Patented Double Lock
The 2 locks on the door are patented and even have safety buckles to better ensure that your dog will not unlock the door on his own and escape. The door is a bit narrow but large dogs can easily pass through it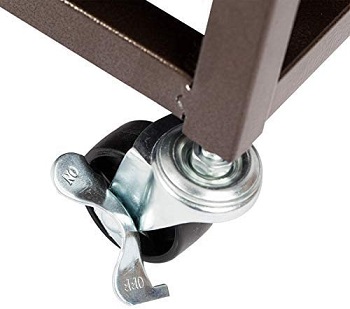 Inside Cage height And Overall Dimensions
The height of the cage inside is 33-in and the overall length and width come at 45.5-in and 29.5-in. The inside height of the cage means that this XL metal dog crate can easily hold large dogs inside like a german shepherd, golden retrievers, and other dogs of similar size.
In Short:
 Sits on wheels that can be locked into place
Can withstand the weight of large dog breeds like German shepherds
Has a slide-out tray on the bottom that can easily be wiped clean
The steel frame is corrosion and rust-resistant
The door has 2 patented locks that are secured with safety buckles
BEST STACKABLE HUGE METAL DOG CRATE
Homey Pet 43-in Stackable Heavy Duty Cage
Stackable Up To 2 Cages
With this crate, you will be able to stack two crates of the same model on top of each other. When that's the case, The height of the two cages stacked will come at 5'8" which comes right down the middle of an average woman and man height.

Solving The Problem Of A Heavy Cage
A problem might occur when you're trying to stack an XL metal dog crate on to the other seeing as one crate weighs around 60 lbs. So to make it a bit easier, the crate comes collapsed so you can easily place it one top of an already assembled one and then assemble the other one.
Access Doors And A Feeding Door
You'll get one cage if you decide to buy it, every other Homey XL metal crate has to be bought separately. the doors you'll get are a top access door a door on the side, and within that door, there is an included feeding door. The side door has two locks and an additional simple lock for the feeding door.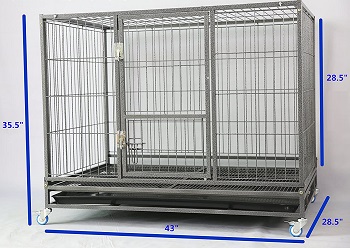 Dogs To And Not To Fit Inside
The crate's dimensions are 43-in Lenght, 28.5-in Width, and 35.5-in height. This means that it's suitable for large dog breeds. Another indicator of this is that it can hold the weight up to 90 lbs. The cage might not be suitable for smaller dogs seeing as they might easily come out of the feeding door.
In Short:
Large dog breeds can fit inside but not small dog breeds
Has an access dor on top and on the side
Additionally, you get a feeding door with the side access door
2 crates of the same brand and size can be stacked on top of eachother
Comes collapsed inside a box for easier assembly
BEST FOLDING XL METAL DOG CRATE
Pet Gear 4 Door Steel Crate
Combined Plastic And Steel Construction
This is an XXL plastic dog crate but seeing as a lot of the parts are made out of steel and steel is a type of metal, it's just not pure because of the added carbon, it well fits the category of an XL metal dog crate if you're looking for something a bit different.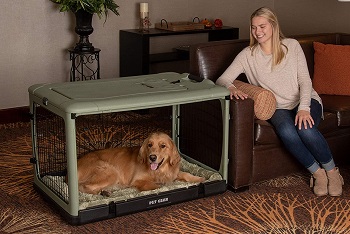 Different Types of Access Doors
The crate has 4 access doors in total. 1 on top, 2 on the sides, and the door that gives you front access opens in a way that you slide the door up. This eliminates the hassle of the door being opened like a regular door which would then get in the was and take up more space than needed.
The Base Of The Crate
The base of this crate is insulated meaning that it is covered in a protective material that prevents it to lose heat. This way the crate will no break when it's cold. For the base, you'll also get plush bedding to give your dog more comfortable when he is inside the crate. The edges are round so that your dog doesn't hurt himself like he might if the edges were sharp.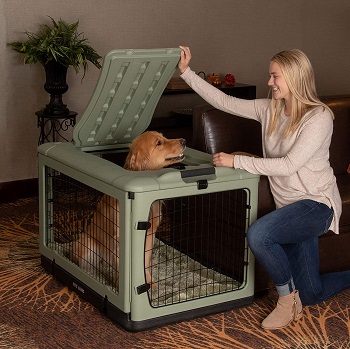 Dogs To Fit Inside It
To set it up, you don't need any tools for it. It's also collapsible and you'll get a travel bag to store it when collapsed. The dogs that can fit inside the crate can weigh up to 90 lbs and can be around 38-in long and 25-in tall.
In Short:
Has 4 access doors with one opening like a garage door
The base is insulated and for it you'll also get a plush bedding
It's easy to assemble and can be collapsed
You get a travel bag to store it whenever you need
Can fit inside dogs that weigh up to 90 lbs
How To Pick An XL Metal Dog Crate
XL metal dog crates are always gonna be sturdier than the rest so it's important to know why you should buy them before deciding on one. The price of these crates is also a bit higher than that of wooden or wire crates so here are a few things you should think about before you decide that metal crates are a good fit for you and your dog.
Heavy Duty Crates – With metal crates, it's rare that you'll find one that is not made out of heavy duty metal. The heavy-duty material design makes them a lot more stronger and durable which is good for dogs that are prone to heavy chewing and other similar behaviors.
Crate Weight – These crates can be very heavy so if you're a person of average strength carrying them in your hands might be a difficult task. luckily enough, some of them sit on wheels so you can easily move them around the house when need be.
Figuring Out What Dogs Fit Inside – Often enough you will not need to rely on your dog's weight to figure out if the crate is suitable for him. Mostly you'll only have to focus on the dimensions, specifically the height and length of the cage, and add 3 to 4 inched to your dog's height and length to figure out if he can fit inside.
Benefits Of A Metal Crate – Metal crates can really last you a long time even if your dog is a heavy chewer and has tendencies to go on the aggressive side of things so it is what you should focus on if you're thinking about these crates. If your dog is not like that, he will do just fine in a wire cage.
To Sum Up
Even though sometimes the price is a good indicator of the quality of a product, this might not be the case with XL metal dog crates. They are all pretty well rounded when it comes to their quality but the one that sticks out most and has a decent price for what it offers is the Homey Pet 43-in Stackable Heavy Duty Cage. You can stack the cages on top of one another, it fits well larger dog breeds and it even has a special door just for feeding. If you don't want to or need to go so extreme with the cage material but still want it sturdy, read the article about XL wire dog crates but if you just want a crate that will fit into your home decor because metal ones arguably don't, read the article about XL dog crate furniture.