Has XL dog crate furniture been lately ringing in your ear like a good option for your household?
Well, you're in the right place because we reviewed crates of exactly that type. We took it a step further and even placed them into categories like best for chewers, best of best, and so on so that it would be easier for you to read through the article without having to read something that doesn't interest you.
The Summary
Best 6 XL Dog Crate Furniture
BEST OF BEST DOG CRATE FURNITURE XL
New Age Pet ecoFLEX Pet Crate
Recycled Material Build
The crate is made out of ecoFlex.  It is a wooden and plastic polymer made by recycling them into a consistency resembling flour. These parts would usually get burned and rendered useless. EcoFlex is biodegradable so it's much safer for the planet.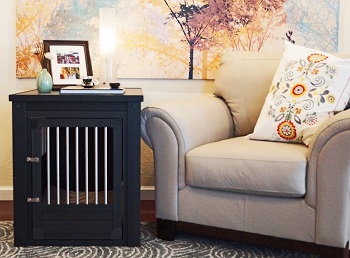 Stainless Steel Parts
Even though this XL dog crate furniture is mostly made out of ecoFlex, there are some parts made out of stainless steel. These parts are the rounded rods that help with ventilation inside the crate and also visibility and the double locks on the door.
Access To The Crate And Top Function
This sturdy dog crate has only one access door and the top can be used to place on top of it things like vases, pictures, and anything else that you can imagine. This means that it functions well as a table as well. It is espresso colored so think about that if you want it to blend in with your home.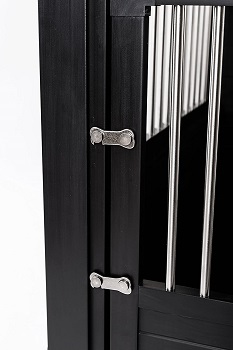 What Type Of Dog Can Use It
The crate can easily hold the weight of a 100 lbs dog. You shouldn't go over that. The dimensions of the crate inside are 39.8-in Length, 24.6-in Width, and 29.1-in Height. Altogether, this means that you can buy it for large dog breeds like a german shepherd or a rottweiler.
In Short:
Made out of wood and plastic polymer called ecoFlex
The ventilation window rods are made out of steel
Features double locks on the door for added safety
Made for large dog breed up to 100 lbs
BEST CHEW-RESISTANT XL DOG CRATE FURNITURE
Casual Home Wooden Pet Crate
Solid Wood Construction
If your dog chews a lot on things, this tough dog crate will do you good. It is made out of solid wood which is a material often used in making furniture. It is more durable than other wood polymers that you might find in these types of crates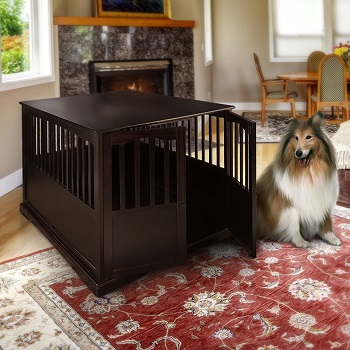 Double Door Access
The XL wooden dog crate furniture has one access door but it is a double door that locks with a single hasp latch lock. The double door will give your dog plenty of space to enter and exit the crate and will make cleaning the crate inside with just a damp cloth for you much easier.
Crate Top
On top, you'll find a single piece of solid wood panel that can serve you well as an end table. This will save space and create more storage room for you.  The maximum weight that the crate can hold on top is 200 lbs which should be more than enough.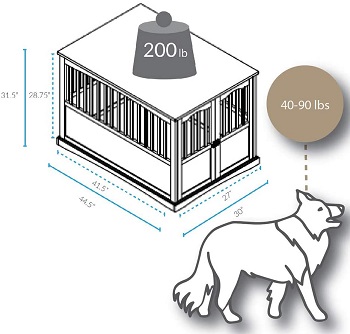 Outside Dimensions And Weight Limit
If you're wondering what the outside dimensions of the XL dog crate furniture to see if the crate fits well into your household the crate is 44.5-in long, 31.5-in tall, and 30-in wide. The inside is of course a bit smaller but it can hold a dog weighing up to 90 lbs.
In Short:
Completely made out of solid wood
The door can be locked with a single hasp latch lock
Fits dogs up to 90 lbs
The crate top can handle weight up to 200 lbs
BEST WOODEN XL FURNITURE DOG CRATE
Richell Wooden End Table Crate
Material Durability
This XL dog crate furniture is made for the calm type of dog. Specifically, the ones that don't chew and are crate trained. It is made of wood so it wouldn't match the durability of a wire or XL metal dog crate.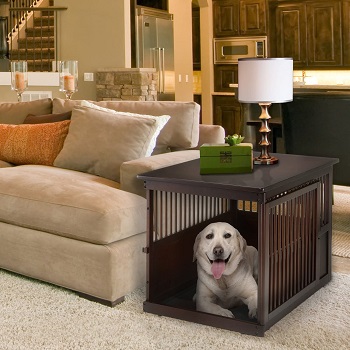 Crate Design And Top
The top of the crate can serve you well as an end table. It is colored in a dark brown color so it will blend nicely into most households. This feature will most definitely save you space and create more storage room.
Space Saving
Another reason why this Xl dog furniture crate is so good at saving space is because of its door. the door locks with a simple lock but you can open it fully, and attach it to this side of the crate so that it doesn't get in your or your dogs' way. The way this is achieved is with a side stopper.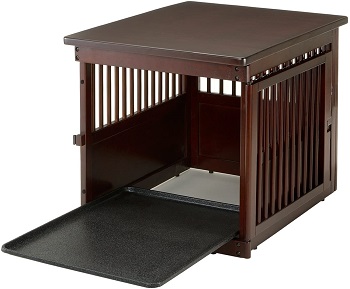 Crate Bottom And Dogs That Fit Inside
On the bottom, you'll find a slide-out tray that you can clean easily and that will keep the crate clean and make it long-lasting. The dogs that can fit inside shouldn't exceed the weight limit of 88 lbs. This crate is great for medium and larger dog breeds.
In Short:
Has a side stopper for the door so that it doesn't get in your way
Has a tray that comes out for easy cleaning of the crate
Made for dogs under 88 lbs
Doesn't do well with chewing dogs
BEST METAL DOG CRATE END TABLE XL
Merry Pet 2-in-1 Pet Crate
A Bunch Of Materials
A whole lot is going on when you're looking into the building materials of this XL dog crate furniture because it's made of MDF wood and wood veneer but it's also built out of metal wire that provides you with good ventilation and visibility and it even has a bit of plastic because the bottom pan is made out of it.
Multiple Functions
It functions as a dog crate and an end table. In crate mode, you can place the plastic tray on the bottom that you can easily clean if your dog litter inside, and you can put the top of the crate on it so that you can easily use it as an XL dog crate end table.
Room Divider Function
Another function of this pretty dog crate is that it can be used as a gate and room divider when you want your dog to stay in one specific room. You can use all 4 panels for this or you easily remove the panels to better fit the space where you want to put it.
Dog Size And Type Use Recommendation
Although its target is at large dog breeds, it might be best to use it with medium and smaller dog breeds seeing as the top easily comes off because of the added function as a gate divider. It is also recommended to use it with dog breeds that don't chew that much
In Short:
Made out of MDF wood and wood veneer
Ventilation is achieved with metal wires on the sides
Can function as a room divider as well
Best for medium-sized dogs and non-chewers
BEST INDOOR XL DOG CRATE END TABLE
Polar Beart's Pet Shop Pet Crate
Materials Used
The XL dog crate furniture is made of MDF wood and even though it's lower in quality than solid wood it has its advantages. It is made by combining different wood fibers and resin and wax, it doesn't crack or split when you put it to the test in extreme temperatures or humidity.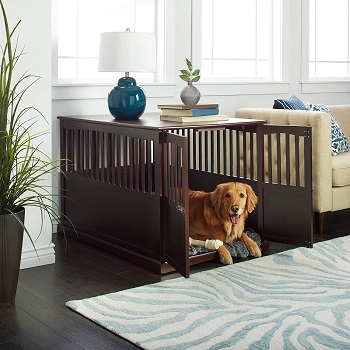 Double Door And Its Lock
The door functions as a double door and can be locked with a sliding bolt lock. Even though your dog might usually be able to escape if you're using a sliding bolt lock, it is well-positioned and the rest of the crate won't allow the dog to reach it and figure his way out of it.
Ventilation Rods
For ventilation, you'll get wooden rods along every side of the safe dog crate. This is good because dogs who might have separation anxiety will see you clearly so they'll feel more comfortable inside the crate. The crate is best suited for dogs that are calm and don't chew through.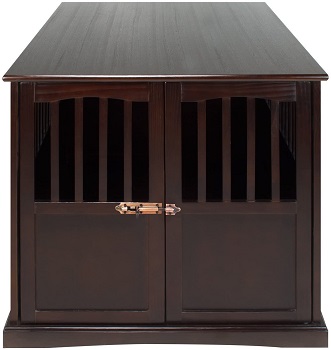 Dogs That It is For
The crate is really large because its dimensions come at 30-in in height, 31.5-in in width, and 44.5-in long. Your large dog can easily and comfortably use it. This means that it's made for dog breeds like German shepherds, golden retrievers, and other similar sized dogs
In Short:
Built out of MDF wood
The double door can be locked with a sliding bolt lock
Can be used by large dog breeds
Allows to be used as furniture as well
How To Pick An XL Dog Crate Furniture
It is difficult to find an XL furniture dog crate but when you do find one, you still have to think about whether it does well when functioning as a crate and a piece of furniture. Here we will mostly focus on the crate part of things because we want what's best for your dog. These products can differ in size, material, and much more so it's important to know what to focus on.
Wood Construction – Furniture style crates are usually made of wood or some kind of wood polymer. It is done so to truly resemble a table and so that they better blend into your household. Solid wood is the most common one in making furniture but not furniture style crates. If you find one though, you are most definitely getting a good quality crate although other wood-type crates can be as sturdy and longlasting as solid wood ones.
Dogs That It's For – Even though XL dog crate furniture are made strong and durable they are not meant for dogs that are prone to chewing and that are not crate trained or calm. For dogs that are this extreme, you are better of getting an unbreakable dog crate.
Crate Size Standard – Although these crates are extra-large, they are not made for extra large dogs like Great Danes perhaps. Different crate types will have different meanings behind their size chart. For example, if you were to get an XL wooden dog crate and an XL wire dog crate, you would not be able to fit inside a dog of the same size.
Crate Ventilation – A very important thing that might get overlooked is ventilation. If your dog must be able to see you at all times and has separation anxiety, getting a crate with wire metal sides instead of wooden ones might be better.
To Sum Up
Of course, there has to be a clear winner in this category of XL furniture dog crates, and that one just might be the New Age Pet ecoFLEX Pet Crate. The reason for it is simple. Not only is the ecoFlex material more environmentally friendly but it is also quite durable so you definitely won't go wrong by choosing this crate. If these crates, on the other hand, are too big for you consider reading the article about small wooden dog crates, and if you prefer your crates to be more durable altogether then check the post about unbreakable dog crates.