are you searching for a beautiful XL wooden dog crate to fit him and maybe even your home decor?
This is your final stop because we've reviewed the best ones on the market and put them into categories like cheap, furniture style and more to make it easier for you to find something specific and not waste time on others that you don't want to read about.
The Summary
Best 6 XL Wooden Dog Crates
BEST OF BEST XL WOODEN DOG CRATE
New Age Pet ecoFLEX Pet Crate
Plastic And Wood Build
Even though it looks like it's made from wood it's not made of it entirely. It's made from a plastic and wood polymer. The plastic is recycled and non-toxic so it's safe for your dog to be in it. This gives it a more elegant and modern look.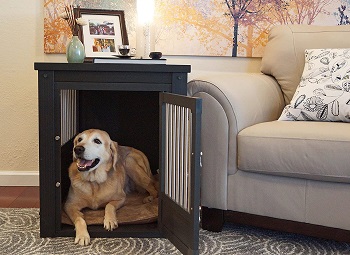 Stainless Steel Parts
The metal tubes that provide visibility from inside and outside of the cage and give your dog the airflow that he needs are made out of stainless steel. The locks are also made out of stainless steel.
Stainless Steel Locks
The locks that are, again, made of stainless steel are located on the outside of the sturdy dog crate, and seeing as it's a wooden crate, there's no way for your dog to access them and accidentally open the crate by himself. This large crate has two locks while smaller models have only one.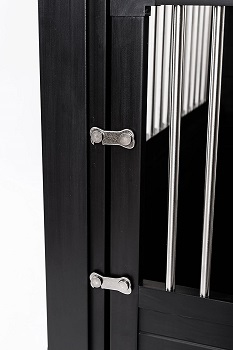 Easy Assembly And Its Dimensions
To assemble this XL wooden crate, you'll require no tools to do so. The cages' dimensions are as follows: 42.5-in in length, 27.6-in in width, and 30.9-in in height. It can withstand the weight of a dog weighing up to 100 lbs.
In Short:
The metal tubes and locks are made out of stainless steel
Can withstand the weight of a dog that weighs up to 100 lbs
Made from recycled plastic and wood-polymer
Blends well into the house decor
BEST INDOOR XL WOODEN DOG KENNEL
Richell Richell Wooden Crate
Construction Material And Coating Finish
This crate is made entirely of wood. It's colored in a dark brown color. It has vents on all sides of it to provide your pet with a well-ventilated crate and good visibility outside of it. The finish coating makes it stain-proof.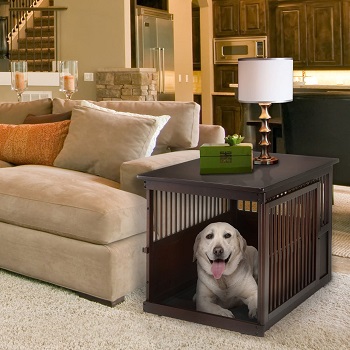 2 Functions
This XL wooden dog crate doesn't have to be just that. It can serve the purpose of an end table as well. The reason for it because it's made to look like one. The top is fully closed and built out of thicker wood to resemble a table where you can put your personal belongings.
How The Dog Size And Weight Works
The dimensions of this crate are 29.9-in in length, 41.5-in in width, and 29.5-in in height. This is important to know because although it can hold the weight of a dog weighing up to 88 lbs which would be equal to a standard weight of a grown german shepherd you need to know your dog's height and length and add 3-4 inches to his measurement and see if it matches the dimensions of the crate.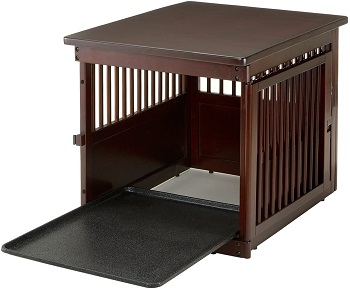 Door That Doesn't Get In The Way
As for the door, it can be opened fully meaning it won't get in the way of you or your dog because you can attach to one of the sides of the crate with a side stopper. The tough dog crate also comes with a removable tray that is easy to clean if needed.
In Short:
Fits inside dogs of up to 88 lbs
The door can be opened and attached to the side with a stopper to not get in the way
Can serve the purpose of an end table as well
Entirely made out of wood
BEST FURNITURE STYLE GIANT WOODEN DOG CRATE
Wooden Furniture XL Pet Crate
Sliding Bolt Lock
It has a sliding bolt lock on the outside of the crate and seeing as your dog can't reach it because of the wooden construction and doesn't have access to it like would in an XL wire dog crate, it will keep him locked inside when you want it that way.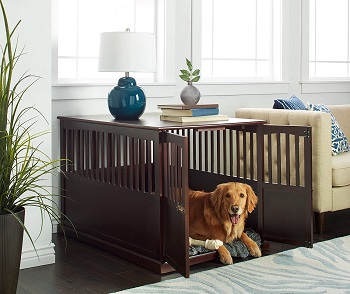 Wood Type And Construction
The crate is made out of MDF wood meaning that all the panels are made out of thin panel layers of a combination of resin, wax, and wood fibers. It is stronger and durable than for example plywood so it's no wonder that is used in the making of this crate but is not as durable as normal solid wood is so this crate will not be the best one for a dog that chews a lot on things.
Multiple Functionality Options
You will need to assemble this XL wooden dog crate and clean it from time to time with a cloth that is damp. It doesn't only need to be used as a crate even though that is its primary function. You can also use it as a table and put things like pictures or vases on top of it.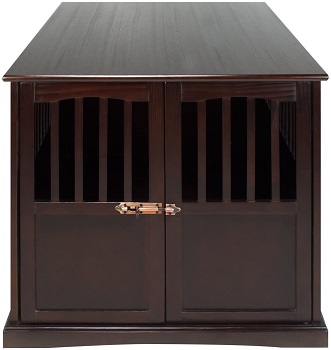 Dogs That Fit Inside
Its dimensions are 30-in height, 31.5-in width and it's 44.5-in deep. Because of its height, it means that it can fit inside dog breeds like German shepherds, rottweilers, and other dogs of similar size but make sure to measure your dog before buying the crate.
In Short:
The doors lock with a sliding bolt lock
Dogs that can use it are German shepherd, rottweilers and similar sized dogs
Made out of MDF wood
Can be used as an end table
Wipes clean with a damp cloth
BEST CHEAP EXTRA LARGE WOODEN DOG CRATE
Casual Home Wooden Pet Crate
Solid Wood Construction
The crate is built from pine wood and is espresso colored. The wooden material is chew resistant so there will be no problems with the unbreakable dog crate if your dog is a chewer. It also functions as an end table and the maximum weight it can hold on top is 200 lbs.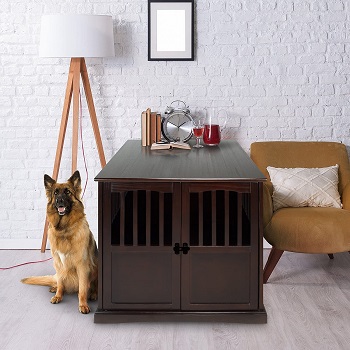 Double Doors
The access door features a double door design and they both get locked with a single metal lock similar in function and looks to a bolted lock. The door is made out of solid wood to enhance the feeling like your dog will not be able to escape or wreck the doors.
Hardware For The Assembly Included
To assemble this crate, you will not need to worry too much about it. Everything needed for the assembly comes with the crate. The XL wooden dog crate also allows your pet to see from a 360-degree point of view. this is made possible because of the wooden bars. They also provide good ventilation and airflow inside the crate.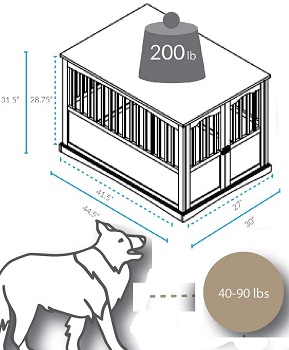 Dog Height And Weight
The inside of the cage's dimensions are 27-in in width, 44.5-in in length, and 31. 5-in in height. When you leave out the 3-4 inches that the dog needs to move around with ease and that he's not cramped inside, you're left with a dog height of 27-in that can fit inside. the crate allows for dogs up to 90 lbs to be inside it.
In Short:
Has ventilation windows on every side of the crate
Comes with everything needed for the assembly
Able to withstand the weight of a dog weighing up to 90 lbs
For access, you get a double door that locks with a single metal lock
BEST OUTDOOR XL WOODEN DOG KENNEL
DEStar PE Rattan Wicker Pet Dog Cage Crate
How The Crate is Made
This XL wooden dog crate is not really made of wood although it's made to look like it and act like one but with much better functionalities. This is actually an XL metal dog crate that is heavy duty for the frame construction and woven PE rattan wicker.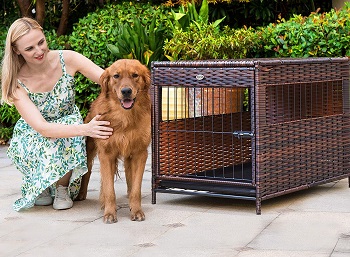 PE Rattan Wicker Explanation
PE rattan wicker is made out of polyethylene. It is a synthetic material and it's made to look like natural rattan wood. It is mostly used in making outdoor furniture so it blending in with the furniture will be seamless. It is large but small enough to be placed indoors as well.
Elevated Construction
It stands on four legs so it's elevated. The reason for this is because if the crate is outside and it's raining, there will be no build-up of water underneath that might damage the crate. It's well ventilated because of the steel tube windows on the sides of the cage and a large entrance door and it has a slide-out bottom tray that you can easily clean and put back in its place.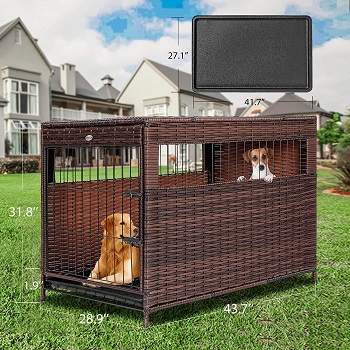 Crate Safety
As for safety, the door locks with two sliding bolt locks and it comes with a cover to protect your dog and the crate from sunlight and overheating if you choose to place it outside. It comes together easily because every bit of hardware that you might need comes with the crate to easily assemble it. It is able to hold dogs that are not heavier than 110 lbs.
In Short:
Made out of a solid heavy-duty steel frame and PE rattan wicker
Stands on feet to prevent water build-up when used outside and it's raining
Can withstand dogs that are not heavier than 110 lbs
Comes with a cover to protect from sunlight
The door is locked with two sliding bolt locks
How To Pick An XL Wooden Dog Crate
There surely is a place on the market for XL wooden dog crates. They blend well into your household and can even be multifunctional. There are downsides to these types of crates but they can be avoided if you're prepared and know what you're buying so be sure to check out these tips on how to choose wisely.
Material Build Comparison – In comparison to wire dog crates, most wooden crates would be no match, The important thing would be to buy a crate that is made of solid wood seeing as it will then hold nicely and not be damaged so easily if your dog is a bit of a chewer or if you are in need of a training dog crate.
Multi-Purpose – Wooden crates will almost always have more than one purpose. Usually, the second purpose will be that it can act as an end table. Even if you don't need one, space-saving and being able to use the crate for more than one thing is always a nice thing to count on so if you're already being a wooden crate, make sure it can act as a table as well.
Dogs That Can Use It – Even though solid wood crates are solid and durable enough to handle dogs that chew a lot and heavier dogs, they come with a price so a lot of the crates will be made from some kind of wood polymer or a combination of wax, resin, and wood fiber. This means that they are probably not the most suitable for crowd dogs.
XL Wooden Dog Kennel VS Crate – It might be confusing at first to think that there are solid wood crates and kennels as well but when you know the crucial difference it's easy to figure out which is which crates can't handle harsh weather conditions while kennels can. The reason for it is because kennels are made to be located outside while crates are built for the indoors. Even if ou would find a crate that can be outside, it's primary place of functioning would be indoor.
To Sum Up
XL wooden dog crates can be a great addition to your household all the while giving your dog a quality-made place of his own and the one that we'd definitely recommend that you consider buying is the New Age Pet ecoFLEX Pet Crate. The plastic and wood-polymer build material make it look great while also making it perform well in other areas. We've mentioned already that these crates can't compare with the durability of a wire crate so if you want to find out more about those read this article about XL wire dog crates and if you were more focused on the furniture part of these crates definitely look into the article about XL dog crate furniture.