Want to get your dog a medium dog crate but are confused with all the types available out there?
We made sure to include almost all the common crate types out there but we chose the best from each so keep on reading if you want to get a full understanding of each type, like wooden, wire, metal, heavy-duty, and many more crates. In the end, if you're still confused, we will simplify everything in the buying guide at the end of the article.
The Summary
Best 15 Medium Dog Crates
BEST OF BEST MEDIUM DOG CAGE
MidWest Medium iCrate
Standard Crate
This crate is the perfect example of standard medium crate sizing. It's 30-in long and made out of wire. It comes with a divider for potty training puppies and can generally be used for crate training. The bottom roller feet protect floors and the pan stopper prevent the cleaning pan from sliding out accidentally.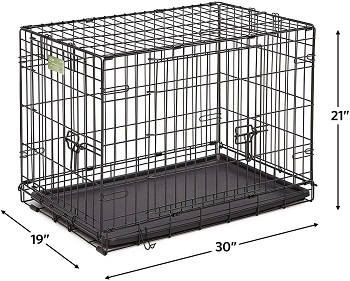 Safe Corners
On the corners of this crate, you'll find corner clips that help make the corners rounded for puppy and dog safety It's got one entrance that locks with a sliding bolt lock so for ones with more entrances, check out the article about medium wire dog crates next.
In Short:
Made out of wire
Has the standard 30-in long size
Comes with a puppy divider
Has rounded corner clops for puppy and dog safety
The roller feet protect floors
The pan blocker stops the pan from sliding out
BEST END TABLE MEDIUM DOG CRATE
Casual Home Wooden Crate
The crate is 36.5-in long which allows you to house medium and large dogs inside it. If you'd like to get a smaller size you're sure to find a truly dog crate end table in the article about medium wood dog crates. It cleans easily with a damp cloth.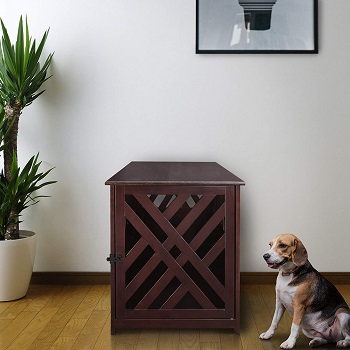 Modern Looks
The crate is pet safe because of its chew-resistant solid wood build. We'd advise against housing uncrate trained dogs inside it though. It's got an espresso finish and the top can hold up to 150 lbs of your items like magazines and potted plants. The ventilation points are covered with diagonal bars
In Short:
Made with chew-resistant solid wood
Has an espresso finish
Features diagonally placed wooden bars
It's 36.5-in long
Has a 150 lbs top weight limit
Features one entrance
BEST COLLAPSIBLE MEDIUM SIZE DOG CRATE
Jespet Soft Pet Crate
Build And Interior Comfort
Due to the metal tube frame, you'll get to fold this crate down. It has a blue 600D oxford fabric cover that you can take off and wash as well. It features 5 mesh fabric windows for proper ventilation and also has two doors that close with zippers. On the bottom, you'll find a fleece bed for comfort.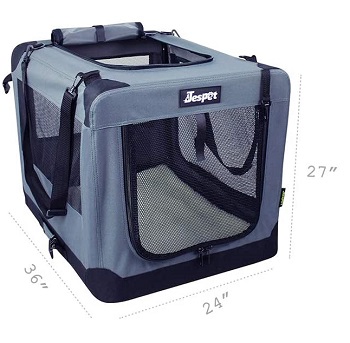 Use Recommendation
Just as the before crate, you can house medium and large dogs inside due to the 36.5-in length. Now, more than ever is important that your dog is crate trained for this medium collapsible dog crate since it's a soft collapsible dog crate made for traveling. If you want to travel, you read about more of them next.
In Short:
Has a folding metal tube frame
Features a 600D oxford fabric cover
The cover can be washed
Has 5 vent windows and 2 entrances
Designed for traveling
Can only house crate trained dogs
It's 36.5-in long
BEST WITH DIVIDER MEDIUM DOG CAGE
Diggs Revol Dog Crate
Quality Build And Safety
Nothing is cheaply made on this crate. It has high-grade aluminum wire sides and a reinforced plastic frame. It's exceptionally safe for puppies since it's made with baby industry standards. The divider that comes with will help you potty train your medium-sized dog puppy.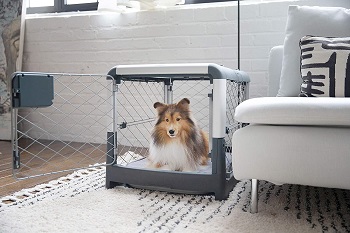 Entries And Size
It has 3 dog safe entrances and one can even slide open to save space. It's collapsible and can be used for traveling as well. This is not the only medium dog crate with a divider out there that's a 32-inch dog crate so read about them all if you're interested. It even features wheels for easy pulling.
In Short:
Has a high-grade aluminum wire build
Features a reinforced plastic frame
Made with puppy safety  baby industry standards
Comes with a potty training divider
Has 3 entrances, one slides open
Can be collapsed and dragged on built-in wheels
BEST TRAVEL MEDIUM DOG CRATE
A4Pet Soft Collapsible Dog Crate
Car Safety
Traveling with a dog is more likely done in a car. The bottom of this crate is leakproof for that reason so that your floors don't get dirty. It also has rounded corners to protect the car's interior as well. This is one safe medium dog travel crate so for more stable and durable ones, you can check the article linked below next.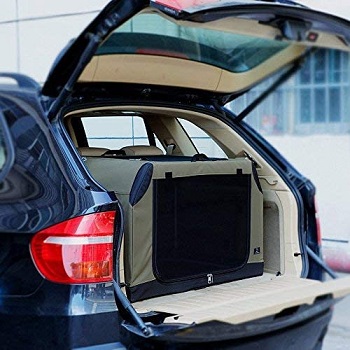 Weight And Sides
You'll travel incredibly easily with this crate since it only weighs 5.8 lbs. This includes the weight of the metal and foldable frame and the oxford fabric cover. It features 4 large mesh fabric windows and 2 of them act as doors. In the back, you'll find an accessory pocket.
In Short:
Made with oxford fabric
Has a folding metal tube frame
Has 4 vent windows and two are entrances
Features a back accessory pocket
Has a leakproof bottom
The top corners are rounded
BEST HEAVY DUTY MEDIUM SIZE DOG CRATE
ProSelect Empire Dog Cage
Who It's For
For dogs that destroy all their wire crates, a heavy-duty dog crate for separation anxiety is needed so if you see your dog in this description, you can read more about them. It doesn't feature wire parts and is exclusively made out of reinforced steel tubes.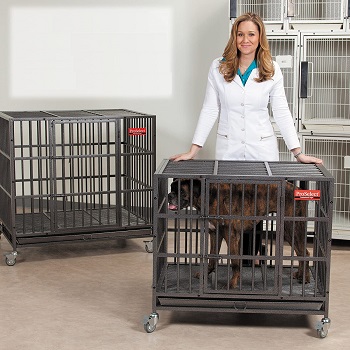 Metal And Cleaning Details
The steel tubes have a 0.5-in diameter and are made out of 20 gauge steel. The medium heavy duty dog crate weighs around 75 lbs so it has 4 wheels for easier moving indoors. The cleaning tray is located below the metal grid so your dog can stay inside while you clean it out. Its outside dimensions make it 37-in long.
In Short:
Made with reinforced 0.5-in diameter steel tubes
The metal has a 20 gauge
It weighs 75 lbs
Sits on 4 wheels for moving it easily
Has a slide-out cleaning tray below the gridded floor
It has an exterior length of 37-in
BEST LARGE/MEDIUM DOG CRATE
Gunner Kennels G1 Intermediate
Plastic Durability And Use
The plastic used to make this crate is a double-wall roto-molded plastic. The crate is crash-tested for dogs up to 75 lbs and it's escape-proof as well. The plastic frame makes it resistant to UV rays, cold, and even humidity. The door is metal and custom welded and it's reinforced with a metal frame and features escape-proof locks.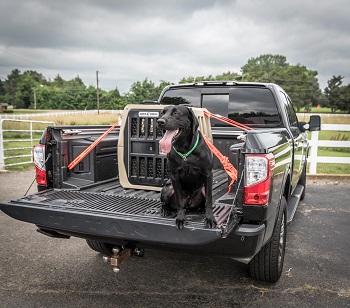 Size Explanation
This is a medium-large dog crate which tells us that this is an intermediate dogs crate. What also tell us is the 36-in in length and if you're confused about whether your dog belongs into this category, check out others in the article linked below.
In Short:
Made with roto-molded double wall plastic
The plastic protects dogs from the cold and UV rays
Has a custom welded door
The doors feature 3 escape-proof locks
It's crash-tested for dogs up to 75 lbs
It's 36-in long
BEST METAL MEDIUM SIZE DOG CRATE
Extreme Consumer Products Crate
Light But Metal
Surprisingly enough, this fully metal crate weighs only 30 lbs, and even more surprisingly, you can fold it down and carry it like a briefcase with the provided handle. The plastic corner protectors will allow you to stack multiple crates on top, and the whole crate won't heat up in the sun.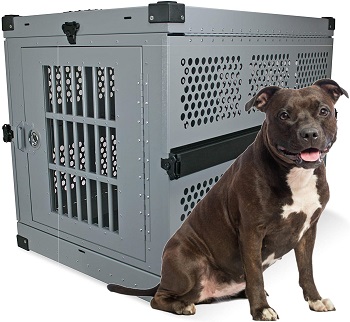 Size And Carrying
You'll get to move it either folded down or with the two carrying handles on top. it's precisely 30-in long which makes it a standard medium metal dog crate. For more durable crates such as this one, you can next read the article we linked below.
In Short:
Fully made out of metal
Doesn't heat in the sun
Weighs 30 lbs
You can fold it down
Can be carried folded or with 2 top handles
Has corner protectors that allow for stacking
BEST PLASTIC MEDIUM DOG CAGE
Pet Gear The Other Door Crate
Construction Details
It's got plastic corners, a top, and a bottom while the rest is covered with steel wire. The plastic is heavy duty and its interior has rounded corners and no sharp steel wire edges exposed. The bottom base is insulated so that it doesn't crack in cold weather.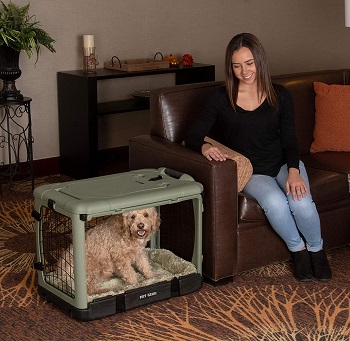 Travel And Indoor Design
The great thing about is the 4 door design which includes the sliding up the door as well. You can collapse it and store it inside a travel bag and you can even drag it with built-in wheels. A medium plastic dog crate is often a great travel tool so for ones that can go aboard an airplane, read the article about them.
In Short:
Has a plastic frame top and bottom
The sides are made out of steel wire
Has 4 entrances
Can be collapsed
Has built-in wheels
Comes with a travel bag
BEST WIRE MEDIUM DOG CAGE
Lucky Dog 36 Whiper Slide Crate
Plastic And Wire Details
The finish coating on this full wire crate is rust and corrosion-resistant e-coat. It has plastic corner stabilizers and a plastic cleaning pan. The corner stabilizers reduce rattling noise as well. Commonly enough, it comes with a divider for housing puppies inside.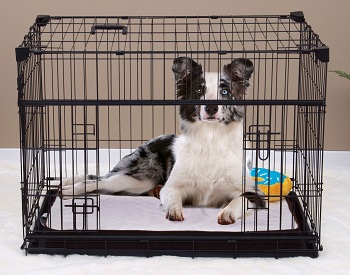 Indoor Space Saving
It's 36-in long which allows it to house medium and large dogs. The side double door slides open to save space but it's not that common so to find a standard door medium wire dog crate, read more about them in the article linked.
In Short:
Fully made out of wire
Has plastic corner stabilizers and a cleaning pan
Produces less rattling noise
It's 36-in long
Has a double sliding door
Comes with a puppy divider
BEST WOOD MEDIUM SIZE DOG CRATE
Unipaws Furniture Style
Primary Build
Primarily, this crate is made out of MDF wood and only features wire sides. The wire is chew-resistant and the wood is not. It has a white finish so it's sure to blend in well as a medium wooden dog crate furniture. Most wooden crates are furniture pieces so if you're interested in learning more, check other models out.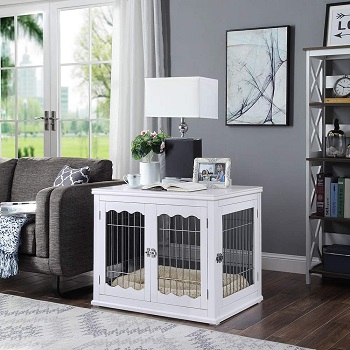 Bottom And Top
On top, you can put your stuff and you'll get to go up to 150 lbs of weight. On the inside, you'll get to place a waterproof bed that comes with it and you can wash it inside a machine. It has one double door entrance ad one single door entrance that locks with hasp latch locks.
In Short:
Built out of MDF wood and wire
the wire is chew-resistant, MDF is not
Comes with a waterproof washable bed
Has a double and a single door
The top can hold 150 lbs worth of stuff
It's colored white
BEST PINK MEDIUM DOG CRATE
Pet Life Expandable Crate
Crate Expansion
Thanks to the zipped closed, mesh fabric-covered sides you can expand this crate for a cozier interior. Even the soft cushion expands with them. Without the expansion, the crate is around 32-in long and 22-in wide so you can house medium dogs inside it.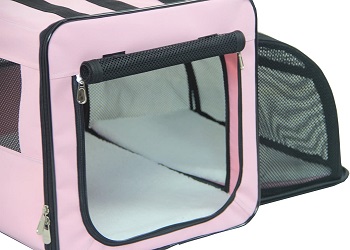 Material And Use
The material it's made out of is heavy-duty ballistic nylon fabric. It's a soft dog crate and can be folded down for storage when you're not using it for traveling. it has 3 doors and one accessory pocket in the back. It's said to be large but it's a medium pink dog crate for truly large pink dog crates read the article below.
In Short:
It's around 32-in long ad 22-in wide
The left and right sides expand
Comes with an expandable soft cushion
Has 3 entrances
Made with heavy-duty ballistic nylon
Can be folded down
BEST CAR MEDIUM SIZE DOG CRATE
4pets ProLine Crash Tested Crate
Crate Potential
To fully use this crates' abilities, you'll want to use it as a car crate for a medium dog. Why? Because it's crash-tested so you can be sure your dog will be safe when traveling and if you want to check out more, read our crash-tested dog crates article next and you'll also learn a few things along the way.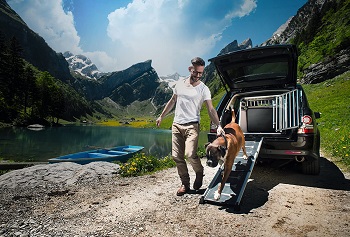 Reinforced Bits
This medium crate is made out of aluminum so it won't rust or corrode and has plastic corner connectors reinforced with fiberglass for dog safety. it comes with a floor mat that's easy to remove and it's around 36-in long and able to house both large and medium dogs. The crate's back is reinforced and the door hinges self lubricate so there will be less noise produced.
In Short:
Made out of aluminum
Has reinforced fiberglass plastic corners
The back wall is reinforced
It's around 36-in long
It's independently crash tested
Has a single door with self-lubricating hinges
BEST CHEAP MEDIUM DOG CAGE
Amazon Basics Heavy Duty Crate
Iron Metal Build
It's easy to find a cheap soft crate but it's not easy to find a heavy-duty cheap dog crate what this crate is. It's made out of iron tubes and wire and you can stack multiple crates on top as well. There, you'll also find a top, dog interaction entrance along with the front entrance.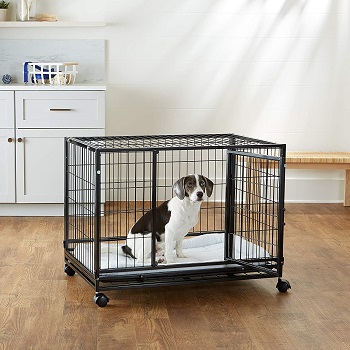 Weight And Moving
Overall, this cheap dog crate medium model is 37-in long but the interior is slightly smaller so it is to be considered medium still. It weighs around 38 lbs and has 4 wheels on the bottom so you can move it easily. If you don't want want to skim and want to get a more expensive unbreakable dog crate, there are more of them that are sure to be more expensive and durable.
In Short:
Made with iron tubes and wire
You can stack more crates on top
The top holds an entrance as well as the front
Sits on 4 lockable wheels
Weight around 38 lbs
It's 37-in long
BEST AIRLINE APPROVED MEDIUM DOG CRATE
Petmate Sky Kennel
Crate Material Deconstruction
As its primary build material, the crate uses heavy-duty plastic. This plastic makes up the two shells that you can connect with non-corroding winged nuts. This medium airline-approved dog crate has wire windows on the left and right sides and also a sturdy wire door. This door features a vault type of lock.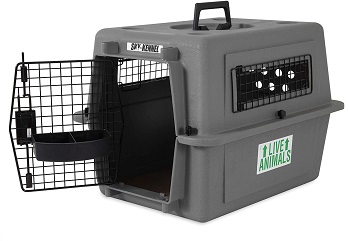 Air Travel Details
It comes with ID stickers, live animal stickers, and bowls to be airline-approved and adaptable. On top, you'll find a carrying handle and it's 32-in long but that's because it has to be airline approved for medium dogs. For more 2-in larger crates than the standard medium, read the 32-inch dog crate article next.
In Short:
Has 2 heavy-duty plastic shells
They connect with non-corroding winged nuts
Has a sturdy wire door and windows
The door lock is a vault type lock
It's 32-in long
Comes with ID and live animal stickers, but also bowls
How To Pick A Medium Dog Cage
Picking out a medium-size dog crate is tough work primarily due to the vagueness of what type of crate you're looking for. That's why we compiled this simple guide explaining all of the major crate types and their abilities, size, and a lot more so keep on reading.
Medium Dog Kennel – Although medium dog kennels do exist, they're surely not only up to 36-in long. They're far bigger and can't even fit inside most homes. They're made so that they can withstand outdoor weather conditions and are most commonly used by dog care professionals.
Medium Dog Crate Size – The standard medium-sized dog crate is 30-in long but of course, there are some size variations between them as well. They can climb is to 36-in in length and then, they're made to house dogs that don't quite fit into the medium category but not the large one either.
Indoor Crates –  An indoor crate should be reliable enough to house your dog without your constant supervision. Of course, this is achieved by crate training but you can0t always predict your dog's behavior. reliable indoor crates are wire crates and plastic ones that use a combination of wire and plastic in this case, A wooden crate looks amazing and it is made for indoor use but you should only house crate trained dogs in them just because your dog could easily damage it.
Travel Crates – Many crates can be travel crates, but we're here to talk about the ones only made for traveling and those are soft crates. They're lightweight and easily foldable which makes them highly portable. The materials that the crates are made out of are fabrics that aren't always reliable in indoor housing situations since they rip apart fairly easily.
Metal Crates – Heavy Duty metal crates are often made to house dogs that destroy the wire crates they're inside of that are the best crate training crates. The problem is that they're quite heavy and don't look astounding inside homes, especially if they're larger.
How To Measure Your Dog – Getting a medium crate for your dog based on how much the dog weighs should be the last priority when deciding on size. The priority should be your dogs' proportions, specifically his length and height. To those measures, you should add at least 3-4 inches and those measures should be your guidelines on figuring out what crate is right for you.
To Sum Up
We'd love to recommend one medium dog crate to you but you've seen it yourself, they're very different and are good for different things. Make sure you get the type that fits your dog's behavior and be careful with your dog's and the crate's proportions to figure out the size your need. If you'd like to check out more crate training crates, check out the wire dog crates article, and if you'd prefer a travel crate, check out our soft-sided dog crates article. to get the full size and crate type range of dog crates from the market, you can find them all in the article linked.