Are you looking for a specific size of dog crate that's hard to come by and consequently it's a 32 dog crate?
If you are that's really good because all you need to do now that you're here is to continue reading this article. You'll find reviews of our top picks that we've carefully chosen. We will review them so you can choose the right model that is 32 inches or nearly 32 inches big.
The Summary
Best 6 32 Dog Crates
BEST OF BEST 32 DOG CRATE
Diggs Revol Dog Crate
Not Your Average Build
This is more than just your everyday dog crate in every aspect including the materials that are used to make it. The plastic that makes up the frame of this crate is reinforced and durable while the wire sides are actually made out of high-grade aluminum wire so you can be sure it's a durable dog crate.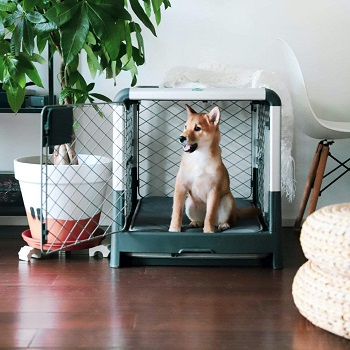 Safety Equals Durability
If you don't believe us that it's is tough and durable, you might believe the fact that this is a perfect training cage for dogs. Not only is this true because it will survive all sorts of abuse but because it's safe for puppies and dogs. It's made with baby industry standards kept in mind so that your puppy or dog can't hurt himself.
Puppy Training
We mentioned that this 32-inch dog crate is fit for use by puppies but we haven't mentioned the other reason why. The reason is that it comes with a puppy crate divider that will enable you to both potty train and house train your puppy by simply adjusting to his size.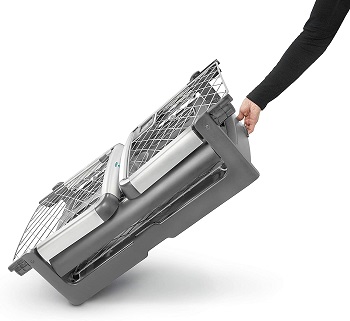 Indoor Use And Traveling
You'll get to use it both indoor and for travel purposes. The travel bit is true because it has built-in wheels, a handle and it's easy to collapse and transport. The indoor bit is true because it features 3 entrances, one on top, in the front, and one on the side. The side door opens up like a garage one so it's space-saving.
In Short:
Made with high-grade aluminum and reinforced plastic
Completely safe for dogs and puppies
Can potty train puppies because of the divider
Has built-in wheels, a handle, and collapsible design
Has 3 entrances, one opens like a garage door
BEST PLASTIC 32 INCH DOG CRATE
Lucky Duck – Lucky Kennel
Safe Travels
If you're one to travel with your dog, you must know how important crate durability and safety are in terms of car accidents. This crate will definitely fulfill you because it has been rated 5 stars from the center for pet safety that crash-tests dog crates. This crash-tested dog crate will keep you and your dog safe if a crash were to occur.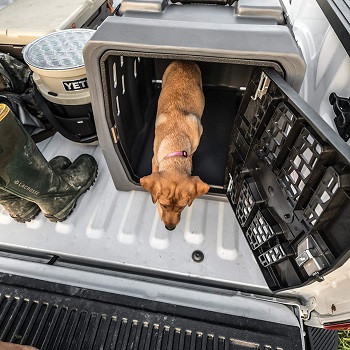 With What It's Made
Since it's crash-tested you can be sure that it's made with strong materials. It uses plastic as its build material that has been roto-molded. This means that there are no pieces that need connecting but also means that you can't collapse this crate. You will easily get to carry it since it weighs only 38 lbs and has 2 heavy-duty handles on top.
Door Specifics
The door on this 32 dog crate is a reversible one. This means that you'll get to open it in more than one direction. This is an excellent feature if stuff were to get in your way and possibly stop you from opening it. You'll get to lock this door with a key but also with 2 additional locks on top and the bottom.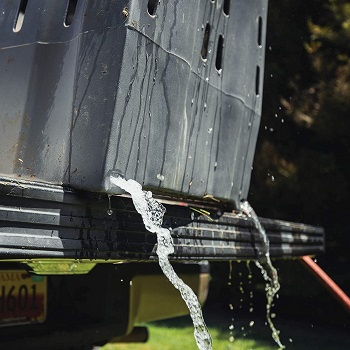 Weather Protection
The vents found on the sides of this 32-inch plastic dog crate are strategically placed so that they keep your dog cool during warm weather when it's exposed to the sun. The elevated floor will do the same but also allow for drain channels to be placed inside. They will collect dog urine until you flush it out by unplugging it in the back.
In Short:
The crate is crash tested
Made with roto-molded plastic
The door is reversible and locks with a key
You'll get to lock the door with 2 additional locks
Weighs 38 lbs and can be carried with 2 handles
The vents keep your dog cool in warm weather
BEST TRAVEL 32 DOG CRATE
Petmate Sky Kennel Pet Carrier
Airline Compliant Build
This is a medium dog travel crate that you can use to travel both by air and by car. It's especially good for air traveling because it's made to be airline compliant in terms of how it's built. This means that it's made out of rigid plastic, has a single entrance, and gets ventilated from 4 sides.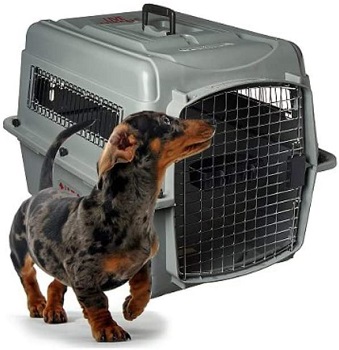 Smart Lock
The lock on the single steel wire door found in the front is a vault type of lock. Usually, locks that are made for indoor crates would slip and slide but with the lock on this 32-inch dog crate, it's a thing of the past. This is excellent because you won't have to worry about the crate opening since it will be traveling as cargo.
Build Contents
We did mention that the Petmate sky kennel 32-inch model is a heavy-duty plastic dog crate but what we didn't mention is how it's made. It consists of 2 plastic pieces, the top and bottom she'll that you'll get to connect with nuts that are winged and non-corrodible.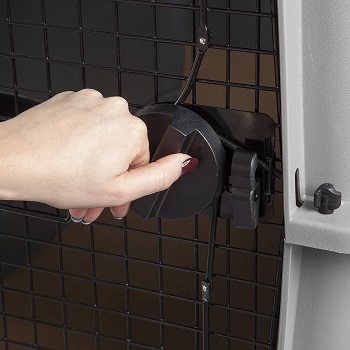 Air Travel Musts
There is a basic air travel kit that this crate comes with. It's definitely a thing that should be found on all of these crates but it's mostly not and is to be bought separately. These things include "live animal" stickers and ID stickers, nuts and bolts, water bowls, and holes for tying it down with bungees. For other possible requirements make sure you check with your specific airline before traveling.
In Short:
Made with rigid plastic shells
The shells connect with non-corrodible nuts
Can be used for traveling by air
The vault type lock won't slip and shift
Comes with basic air kit necessities
BEST 48 X 30 X 32 DOG CRATE
BestPet 48 inch Large Dog Crate
Indoor And Outdoor Use
Typically you'll find that XL wire dog crate or wire crate of other sizes have a coating finish that makes them rust-resistant but that's not the caste with this one. In fact, it's even better because the metal wire itself is rust-resistant. This could encourage you to use it outdoors from time to time.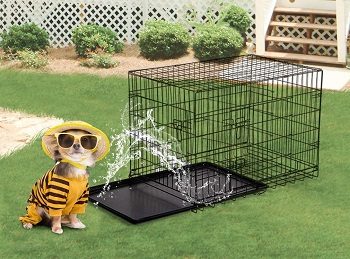 Tray Specifics
The tray on the bottom of this 32 dog crate is anything but ordinary. It's made out of ABS instead of regular plastic and because of it, it won't warp, stain, corrode, or even absorb pet odors. If any of these things happen eventually from long-term use, you can easily replace it with a new dog crate plastic liner.
Actual Size
This 48 x 30 x 32 dog crate is not made for use by medium dogs. Its height is 32 inches while the length that determines the size of it is 48-in. 48-in long dog crates are designed to house extra large dog breeds. A good example of a dog that can fit inside is a rottweiler.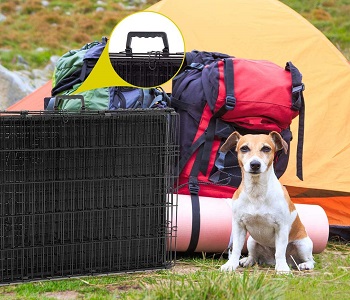 How The Doors Lock
There are 2 doors on the crate that will help you with positioning inside your home. You can even place the crate in a corner without blocking out another entrance. These door locks are 2 sliding bolt locks for each door that take 2 steps to both unlock and lock for more safety.
In Short:
Made with rust-resistant metal
Able to house extra large dogs
The doors lock with 2 step sliding bolt locks
The cleaning tray is made out of ABS plastic
Allows for versatile indoor positioning
BEST WIRE 32 INCH DOG CRATE
Unipaws Pet Crate End Table
Material Mix
Although the crate is made out of wire that is definitely not entirely true. It's partially made out of wire and partially out of wood. The woo can be found as its frame, top and bottom, while the wire covers only its sides. The wood is not chew-proof but the steel wire actually is.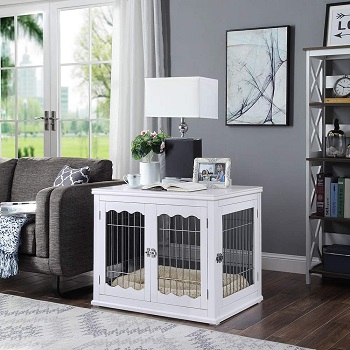 Dimensions Mix Up
Sometimes, depending on the door positioning, a crate's length might get confused with its width so it's important that you check all of its dimensions to figure out if it truly is a 32-inch dog crate. Although this crate's width is 32-inches, it's actually its length.
Door Panel Number And Placement
It has three entrances in total that will make you think that indoor crate placement is a piece of cake. These entrances are found in the front and on the side. The side one is a double door and you'll get to place each of these door panels however you'd like when you're assembling the crate.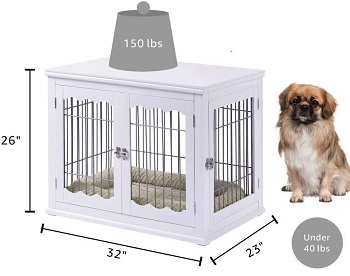 The Looks And Functions Of It
The wood is stained in white and makes this 32-inch wire dog crate look like a piece of white dog crate furniture. It doesn't only look like it, it also functions as one due to the wide top it has. You'll get to place a lot of your personal stuff on top of it as long as it doesn't go over the weight limit of 200 lbs. The bottom is equipped with a waterproof and easily washable bed.
In Short:
Made with steel wire and wood
The steel wire is chew-proof
Has a double door and a single door entrance
The bed it comes with it is waterproof and washable
Can function as furniture
The weight limit for the top is 200 lbs
BEST SOFT 32 INCH DOG CRATE
EliteField Soft Dog Crate
Spacious Interior
You wouldn't usually find a soft-sided dog crate large with a height of 32 inches. These crates are typically much smaller both in height and width but this one is designed to be 2-in wider and 4-in taller so it's much roomier and comfortable inside. For even more comfort, the bottom is equipped with a soft bed that's easy to wash.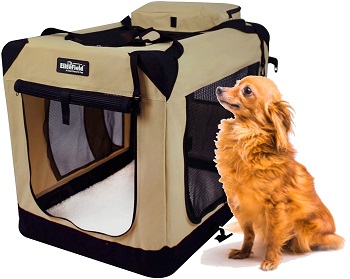 Cover Color Options And Details
It might as well be a fashion dog crate because of the fact that its 600D oxford fabric cover comes in a total of 16 color combinations. The cover can be removed and washed but because it's fabric, you should crate train your dog before using it since he'll easily destroy it otherwise.
Easy Transport Features
The thing that makes it hold its shape is the steel frame that you can also easily fold down. The 32 dog crate weighs 18 lbs so it's easy to transport. This will be useful since it's recommended you use it as a travel crate. The carrying bag that has a shoulder strap will make it easy to transport as well.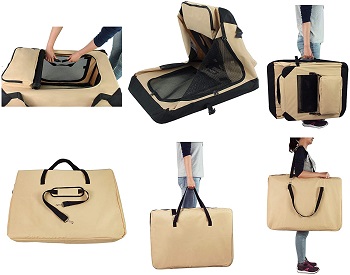 Contents Of The Cover
The cover consists of a few things as well. The first are its mesh fabric windows that you'll find on all 5 sides. Three of those five are also entrances. The top also holds carrying handles and a built-in accessory pocket while the features an easily removable one.
In Short:
It's 32 in tall and 42 in long
It's 2-in wider and 4-in taller than most
Made out of a fabric cover and steel tube frame
Can be folded down and carried inside its own bag
Has 5 vent windows and 3 entrances
Should only house crate-trained dogs
Features 2 accessory pockets
How To Pick A 32 Inch Dog Crate
It's easy to confuse what a 32 dog crate exactly means so we're here to clear the air out and answer some of the things that you might be wondering. We'll dive a little deeper and determine what makes them the way they are, and even shed some light on the different types of crates found here.
What 32-Inch Means – If you were to say "this is a 32-inch dog crate" or "this is a 48-inch dog crate" you would typically be referring to the length of the crate. Crate length is the most typical indicator of crate size and if a crate were to be 32-in long it would be sized as a medium dog crate.
Dimension Mix Up – Not every crate we reviewed here is a medium-sized one. That's because not every crate is 32-in long. Some are 32-in wide and some are 32-in tall. A 32-in tall dog crate will typically get to house either a large or an extra-large dog while the width can be looked at as the crate's length.
Finding The Right Size – Determining what crate size you'll get depends on you. You'll have to measure out your dog and compare him to the crate. If your dog is at least 4 inches smaller than the crate in both height and length you can safely assume that you're getting the right size.
Dog Behavior According To Crate Function – There are a lot of travel crates here and if you are to travel with your dog, he or she should be crate-trained first. A soft travel dog crate would always have to have a well-behaved dog because they're flimsy while the rest might endure some lewd behavior. Wire crates except for medium wood dog crates tend to be excellent training cages for dogs meaning you can use them to crate train your dog.
To Sum Up
The 32-inch dog crate we find to be the best because of how versatile and adaptable it is is definitely the Diggs Revol Dog Crate. There are multiple reasons why we're recommending it but some of them are that it can be used to crate train and potty train adult dogs and puppies, It's perfect for indoor use since it features 3 entrances and can be used for traveling because of its built-in wheels, a handle, and collapsible design. If you're looking for a slightly larger crate you might find one if you read the article about intermediate dog crates and if you're looking for a truly medium dog crate, then your best bet is to read the article about medium wire dog crates.