Does your dog not fit into the large nor medium dog category so you need an intermediate dog crate that would fit him perfectly?
We researched this to find out what exactly is an intermediate-sized dog crate to bring you reviews of our top picks. We reviewed crates that are fit for traveling, puppies, and of course, we didn't stop there. By continuing to read this article you can be almost certain that you'll find a crate for your dog.
The Summary
Best 5 Intermediate Dog Crates
BEST OF BEST INTERMEDIATE SIZE DOG CRATE
Life Stages Folding Crate
Coating And Build Benefits
The coating for the steel wire that makes the entire crate is an electro coat that gives the crate rust-resistant properties. Since it is a crate built exclusively out of steel wire it gets the best airflow and visibility which is a really good thing for a crate to have if you want to use it as a training cage for dogs.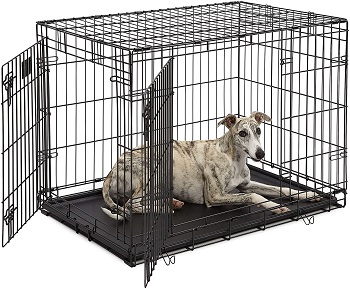 Positioning Possibilities
The intermediate dog crate has 2 doors that will give more possibilities as to how you're going to place it inside your home. Each door has 2 sliding bolt locks to create a safe and inescapable enclosure for your dog. Of course, this might not be true for dogs that are clever in this sense.
Baby Training Crate
This is not just a training cage for dogs. You can actually use it to house train puppies as well. The main reason why this option is available is the fact that it comes with an adjustable divider panel that will help with potty training your pup because it can adjust the crate's size to your growing puppy. The inside will also be quite safe since it has rounded corners.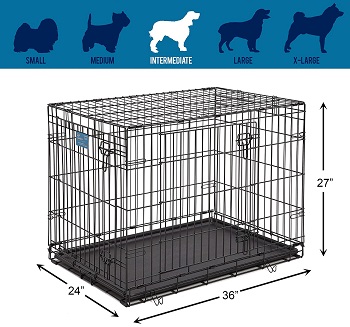 Cleaning And Carrying
Transporting this crate will not be a problem since you can fold and carry it using the provided handle If you're worried about how you're going to clean it you don't have to since it comes with a plastic liner that will make cleaning easy and will also keep your floors free from accidents.
In Short:
The coating on the steel wire makes it rust-resistant
Has rounded corners
Can house puppies because of the divider panel
Features a Cleaning plastic pan
Can be folded down to store or transport
BEST CHEAP DOG CRATE INTERMEDIATE
Carlson Pet Products Metal Dog Crate
Price And Color
This might seem like a simple wire dog crate but it's far from it. It is made using steel wire and is coated with a black finish. It might not be the nicest looking dog crate out there but considering its price of around $60 it's definitely worth it seeing as these crates are usually black dog crates.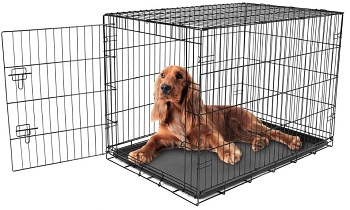 Standard Certified Crate
The intermediate dog crate is actually certified to JMPA and ASTM standards. We want to focus on the JPMA since it concerns itself with juvenile products' safety which means that it has all the things needed to make it safe for puppies to be contained inside it.
Gate Quantity
The only limitation is that it comes with only one door which means that you'll have fewer options for how and where you're going to position this intermediate size dog crate inside your home but you can be sure that it locks safely since it has multiple points from which you can lock it.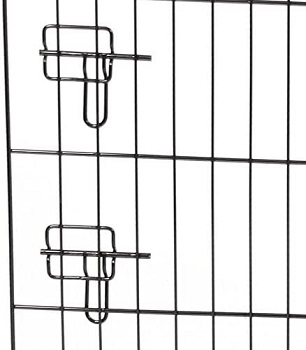 Quick And Easy Folding
All you have to do to assemble this crate is unfold it and set it up. This won't require any tools and you can also fold it back down if you ever need to tuck it away so that it doesn't take up too much of your storage space or if you want to travel with it.
In Short:
Made with black coated steel wire
Has a single door for entry
The door can be locked from multiple points
Certified to ASTM and JPMA standards
Can be folded down for storage
BEST AIRLINE INTERMEDIATE SIZED DOG CRATE
SportPet Designs Plastic Kennels
Actual Crate Size
While this is an XL dog travel crate its dimensions tell us that it is in fact an intermediate dog crate. It is 35-in long and 24-in tall which means that it can contain dogs that are up to 32-in long and 24-in tall. This is the size that intermediate dogs typically have.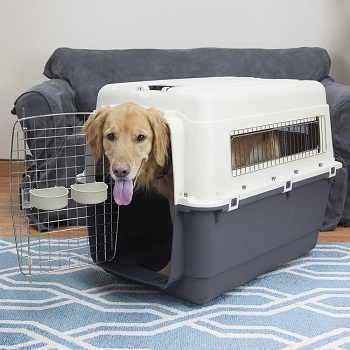 Made For Air Travel
The crate is IATA approved which means that it complies with most airline requirements for you to travel by air with your dog. You'll actually get some needed accessories that you must have for air travel like detachable water bowls, stickers that say "live animal", nuts and bolts, and tie-down holes for bungees.
Two Piece Build
It is made out of durable plastic and it comes in two pieces. The first piece is the top shell and the second one is the bottom shell. ou have to connect the two and you can do that with plastic locking clips. If you want to reinforce the two connected pieces you can screw them together with nuts and bolts as well.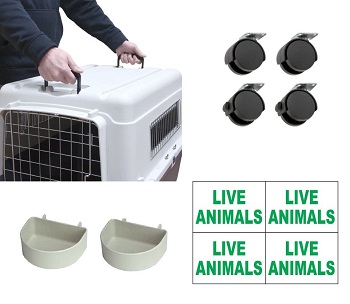 Ventilation And Entry
There's only one door to access the crate but that is a requirement for a crate to be airline approved. It's made out of steel wire and also doubles as a ventilation window along with the rest of the ventilation windows located on the sides of the crate.
In Short:
Made out of durable plastic
Can be used to travel by air
It's sized as XL but fits intermediate-sized dogs
The two plastic shells can be connected using plastic clips
Comes with water bowls, animal stickers, and nuts and bolts
Has tie-down holes for bungees
BEST FOR TRAVEL INTERMEDIATE DOG CRATE
Gunner Kennels G1 Dog Crate
Plastic Construction
The crate can be used as a hunting dog crate for trucks because it's so sturdy but you can use it to travel with your dog in a car or SUV as well. The main reason why is because it will keep your dog safe even in the event of a crash since it is crash tested. The crate is a bit expensive but it is worth its price.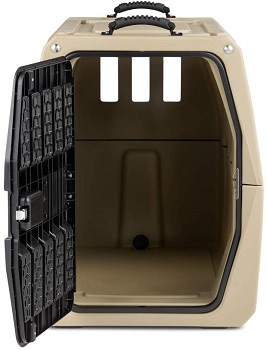 Safely Locking Door
The door is also reinforced with an aluminum frame and it is welded. It has a hexagonal shape and the door lock requires from you to unlock it with a key. The door on this intermediate dog crate can really ensure you that your dog won't be able to escape on his own.
Weather Protection
There are multiple ways in which this crate ensures that your dog is protected from all sorts of weather conditions. The first one is the elevated design that will reduce transmission of heat from other surfaces and the other one are the ventilation windows made to repel water from going inside it.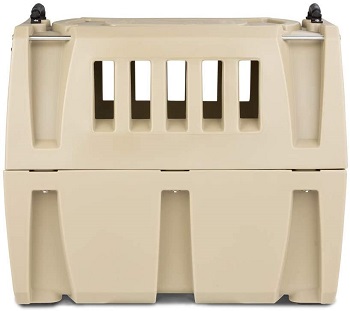 Stainless Hardware And Cleaning
Each piece of hardware found on this crate is made out of stainless steel. THe crate even has back wheels for you to transport it easily and if you're the type of person to carry the crate, you can do that with 2 provided handles on top. The crate can also be cleaned quite easily because it has drain holes and  drain plug.
In Short:
Made with roto-molded double wall plastic
The hardware on the crate is made out of stainless steel
Has an aluminum frame for reinforced construction
Comes with drain holes and plugs
The door can be locked with a key
The crate is crash tested
Made to keep your dog safe from different weather conditions
BEST INDOOR DOG CRATE INTERMEDIATE SIZE
Casual Home Indoor Pet Crate
One Material Build
The crate is made out of only one material and that is solid wood. This means that the indoor wooden dog crate is chew-resistant but be careful since you might get some visible damage marks if your dog is one to che excessively on his crate.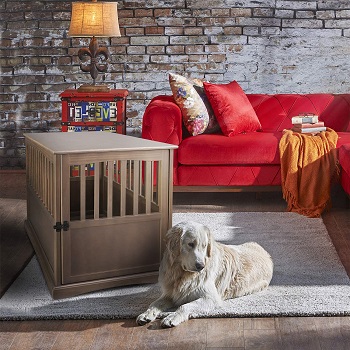 The 2 Weight Limits
There are two weight limits that we need to mention. The first one is the bottom weight limit that is 120 lbs and the second one is the top weight limit that is also 120 lbs. You shouldn't focus on the bottom weight limit as much since the crate, like the rest of these, can only house intermediate dogs and a 120 lbs dog is usually an etra large dog.
Bonus Function
You might be wondering why the top has a weight limit and the answer is fairly simple and uniquely useful. The top makes the crate function as a piece of furniture as well which means that you'll be saving a lot of space all the while making the crate blend perfectly into your home.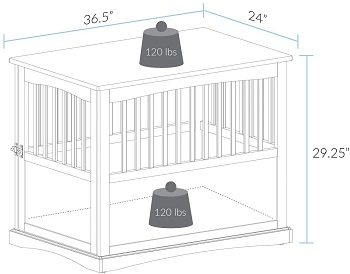 Cleaning Entrance
There's a single door located in the front for your dog to enter and exit the crate. This is also the entrance that you'll use to clean the intermediate dog crate every once in a while. ALthough the crate is chew-resistant it is recommended that you use it for crate trained dogs.
In Short:
Made with solid wood
The crate is chew-resistant
Can couble as a piece of furniture
The weight limit for the top is 120 lbs
Has a single door for access in the front
Best for crate trained dogs
How To Pick An Intermediate Dog Crate
The thing with intermediate size dog crates is that a lot of them don't even have the intermediate size mark so you'll be left with trying to figure out on your own whether or not it is actually intermediate. Other differences include materials and durability and we will go through them all in this guide on how to pick a great one right from your first pick.
Major Price Differences – Since all crate types are sure to have an intermediate dog crate the differences in the types come with major differences in price. You'll be spending the least amount of money on wire dog crates while you might spare a lot more on travel dog crates that allow you to safely travel with your pet
Intermediate Sizing – The size of these crates is right in the middle between medium and large dog crates. They are usually 36-in long so be sure to check the dimensions of the crate rather than relying on the size because a crate that's branded as an XXL plastic dog crate can still very well be an intermediate one.
General Crate Sizing Method – Since we've already explained what an intermediate size dog crate is you might be wondering wether or not your dog is large or small enough for these. The way you determine that is simple. All you need to do is take your dog's height and length and compare it to the crate's. The crate should be 4 inches larger in both aspects to be the right fit for your dog.
Crate Type Middle Ground – If you want the perfect middle ground crate we suggest you go with the wire crates. small, medium, intermediate, and large wire dog crates are perfect crates for training dog and they are not as expensive. If you have a more aggressive dog you should go with a sturdier dog crate while if you have a calm dog you can easily pick a crate that's not chew-proof like most furniture style crates.
To Sum Up
The intermediate dog crate that we have to recommend is definitely the Life Stages Folding Crate. You won't be paying much for it but you'll be getting a sturdy and durable crate that can house puppy because of the divider it comes with. If you figured out that your dog is a little to small for these crates then you should have a look at the article about medium wire dog crates and if he's a little to big then we suggest you turn to the article about large wire dog crates.