Are you tired of dog crates that just don't fit inside your home so you're looking for an indoor wooden dog crate?
You can rest after you finish reading this article because, in it, we reviewed truly the best we could find. You can be sure that finding a crate won't be a problem as well since we made sure to review different crate types like large, small and medium to meet the needs and wants of most dog owners.
The Summary
Best 6 Indoor Wooden Dog Crates
BEST OF BEST INDOOR WOODEN DOG CRATE
Casual Home Wooden Pet Crate
Physical Traits
We have to start off this review by mentioning the build materials of this indoor wooden dog crate. It is made out of solid wood and while that might not mean much to you, what might interest you is that this makes the crate chew-resistant to an extent of course.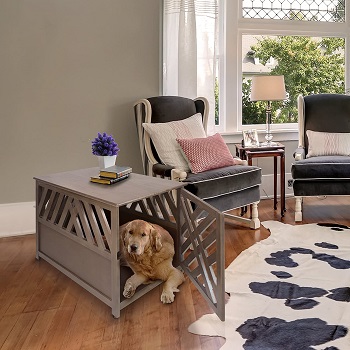 Color And Other Options
The color of this small wooden dog crate also can't go noticed since it's a beautiful taupe gray. If you're not particularly fond of this color or it just doesn't blend well into your home you can choose to get the crate in 4 other colors and they are black, espresso, walnut, and white.
Bar Style Placement
You will notice some change in the way that the crate looks if you choose to get a larger or a different colored model. That one change is that this crate has diagonally placed wooden bars o the windows and door while other models have vertically placed bars.
Cleaning Access And Size
The crate has a single door and a lock for your pet to enter and exit the crate. Through that same door, you'll be able to access it for cleaning. The crate is intended to house small dog breeds up to 40 lbs and can also be used as a piece of furniture like an end-table for example.
In Short:
Made with solid wood that's chew-resistant
Has s single door for access
Has diagonally placed wooden bars on windows
The top functions as furniture
Intended to house smaller dogs
Colored in taupe gray but comes in 4 other colors
BEST SMALL INDOOR WOODEN DOG KENNEL
Internet's Best Decorative Dog Kennel
The Sides And Frame
You might find it troubling that this crate is made out of MDF wood since although it's a durable material, it won't survive chewing. The simple solution to this problem is that the sides are made out of steel wire. Overall, if your dog is one that excessively chews on his crates, you might want to get a small wire dog crate instead.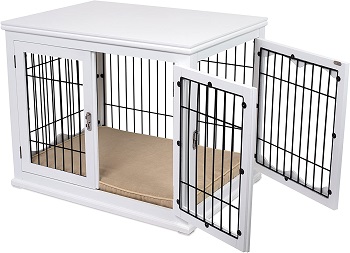 Blending Ability
The indoor wooden dog crate is stained with a white finish while the steel wire is coated in black. The white color will definitely pop off in your home and make the crate fit naturally inside it and another thing that will assist with that is definitely the fact that it can be used as an end-table because of its top.
Number Of Entires, Doors, And Locks
This indoor wooden dog kennel actually has 2 entry points but 3 doors since the side entrance is a double door while the front is a single door. Both entrances can be locked with hasp latch locks made out of nickel hardware that will contain your dog nicely, but again, only if your dog is calm and crate trained.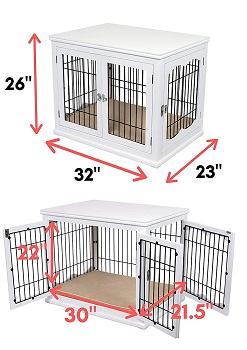 Comfortable Bonus
If you were planning on getting your dog a bed to go with the crate you don't have to do it if you purchase this one since it will come with one that can easily be removed and washed when needed. The crate's dimensions make it so that it can house small dogs and dog breeds.
In Short:
Made with MDF wood and steel wire
The crate is not chew-proof
Made to house small dogs
Has a double side door and a single front door
Comes with a removable bed
The top functions as furniture
Coated with a white finish
BEST MEDIUM INDOOR WOODEN DOG CRATE
Crown Pet Products Pet Crate
The Looks Of It
You might confuse the wood that makes this crate for teak but it's only intended to look like that. The crate is actually made out of hardwood and is stained with an espresso finish. The crate is also lacquered to give it that special shine that furniture often has.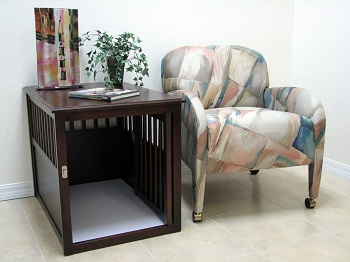 Bottom Material And Coating
This medium wood dog crate is not entirely made out of rubberwood. The bottom is made out of MDF wood and is covered with melamine that's waterproof so that if accidents ever happen inside this crate you won't have to worry about the liquids getting absorbed by the crate.
Tucking Away The Door
The crate features a single door for access but we are really impressed with it since it can open and get tucked away on the inside of itself. That way, the door won't get in your dog's way when you leave the crate open. The door is not the only thing that will save you space. Another thing is that the crate's top can serve the function of an end-table.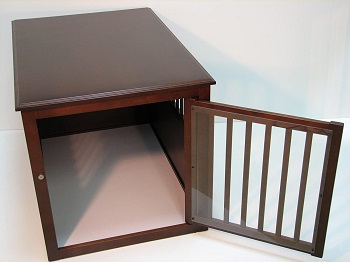 Height And Length
The crate is around 30-in long and 24-in tall. What this means is that your dog shouldn't be taller than 21-in and longer than 27-in to fit comfortably inside this indoor wooden dog crate. Generally speaking, it ca house medium-sized dogs.
In Short:
Made with rubberwood
The door can be pushed inside the crate
Intended for housing medium-sized dogs
The melamine covered bottom won't absorb liquids or odors
The top makes it function as furniture
BEST LARGE INDOOR WOODEN DOG KENNEL
Unipaws Pet Crate End Table
Chewing Resistance
The metal wire sides not only make this crate partially chew-proof but they also make it so that the crate gets enough airflow and so that your dog has enough visibility on the outside while he's inside. The wooden frame on the other hand is not chew-proof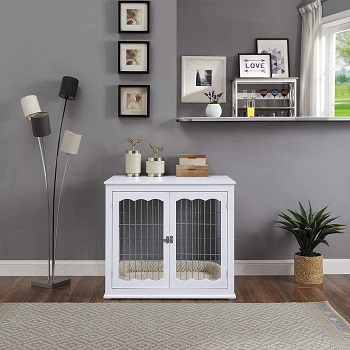 Crate Placement Options
This large white dog crate has a double side door and a single front door. This will give you more options on how you're going to position this indoor wooden dog crate inside your home. When you're assembling it, you can actually choose to place the door panels differently for even more placement options. The furniture-style top with a weight limit of 200 lbs will also aid with that.
Entry, Door, And Lock Quantity
We had to give extra attention to the way that you can lock the doors since for each entrance point you'll get three different types of locks so that you don't have to worry about your dog opening the crate on his own and eventually escaping.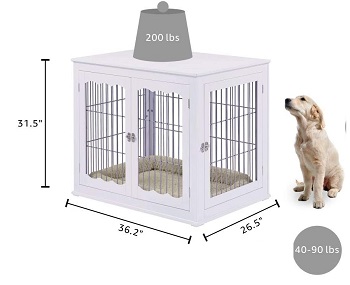 Weight And Dimensions Recommendation
Your dog can easily weigh up to 90 lbs and still fit inside this crate but of course, you should check the dimensions of the crate and your dog to decide on a size. Generally speaking, you can house large dogs inside and you'll get a comfortable and waterproof bed that you can wash for the dog as well.
In Short:
Has chew-proof metal wire sides
Has a double and a single entrance door
The doors lock with 3 types of locks
Can house large dogs up to 90 lbs
The top makes it function as furniture as well
The weight limit for the top is 200 lbs
BEST FURNITURE STYLE WOODEN INDOOR DOG CRATE
BIRDROCK HOME Decorative Dog Kennel
MDF Explanation
There have been plenty of mentions of MDF wood so far and since this crate's frame is also made out of MDF wood we have to explain what it is. MDF wood or medium-density fibreboard is a material that connects wooden fibers with a type of glue, like resin or epoxy.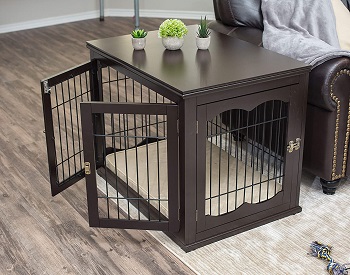 Double And Single Door Design
You will find that this is triple dog crate furniture since it has three doors for access. One door is a double door and the other one is a single door. You can find the double one on the side of the crate while the single one is located in the front. The doors can be locked with hasp latch locks made of brass.
Cozy Extra
The crate will come with a useful accessory that will provide your dog with more coziness while he's inside and that is the padded bed that you can easily remove if you don't want to use it or you just need to wash it. It is advised to use the crate for housing small dogs.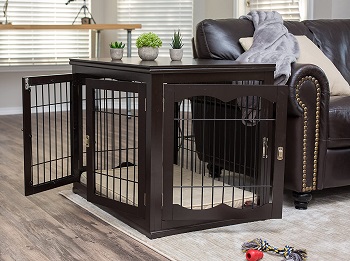 Top Storage
The top, like on all crates prior to this indoor wooden dog crate, will create more storage space inside your home and make the crate blend better since you can use it as an end-table where you can put your personal belongings like plants, magazine, pictures, and anything you can think of.
In Short:
Made with MDF wood
Uses metal wire for the sides
The crate is not chew-proof
You'll get a removable padded bed for it
Can house small dogs
Has a double and single door for access
The top makes it function as furniture
BEST FOLDING INDOOR DOG CRATE WOODEN
Lovupet Wooden Foldable Pet Crate
Uncommon Space-Saving
This crate is definitely the winner when it comes to space-saving indoor wooden dog crates. The reason why is fairly simple and not so commonly found in small wooden dog crates. It's that the crate can be folded down for you to store away when you don't need it or to transport it.
The Way It Folds Down
You don't have to worry about the crate accidentally collapsing on your dog since the way you fold it is by removing the bottom floor and top and then bending in the right and left side of the crate. You can even carry the crate since it comes with handles for it.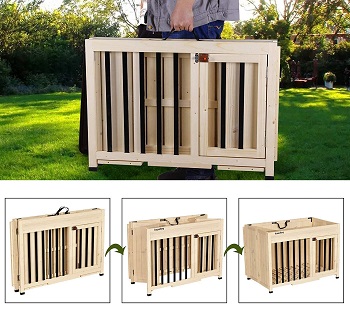 Cleaning Pan Placing Options
The crate also comes with a deep plastic pan for cleaning out dog messes and you can either choose to place the tray inside the crate on the floor or below it. Dog dirt and excrements will still fall onto the pan because the floor has is made with wooden bars so it has holes where dirt will go through.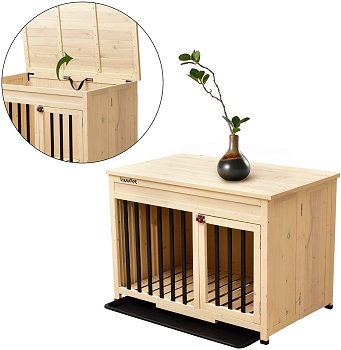 Single Side Ventilation And Entry
The lock on the door located in the front is a sliding bolt lock but your dog won't be able to open it on his own because the lock is unreachable for him. The crate will be ventilated through only one side because there are metal bars placed only on one side where the door is located as well
Medium Size
You can use the top to put your personal items on it. The crate is made out of solid wood but it's still recommended you use it for crate trained and calm dogs that weigh up to 45 lbs. What this means is that you can use the Lovupet wooden portable foldable pet crate to house medium-sized dogs.
In Short:
Gets ventilated from only one side
Made out of solid wood
The plastic pan can be placed below the floor or on it
The crate can be folded down
You can place personal items on top
Made to house medium-sized dogs
How To Pick an Indoor Wooden Dog Crate
Indoor wooden dog crates can be a great addition to your home but there are some thing you should know before deciding to purchase one. You should concern yourself with the crate's design, whether or not it has a double function and of course how durable the crate is. We will provide an answer to your worries so that you can get the right crate with your first purchase.
Indoor Use Bonus – If you ever happen to stumble upon a wooden dog crate that doesn't function as XL dog crate furniture or any other size for that matter, you should skip it and find another one because almost all wooden crates can function as furniture as well. This feature will save you a lot of storage space and make the crate look even nicer inside your home.
General SIzing Technique – Since we reviewed all sorts of sizes of these crates and provided you with the weight limit information you should know that the weight limit is not the way you size a crate. You should always take the crate's height and length and compare it to your do's size. Any crate you buy should be at least 4 inches longer and taller than the dog so that he can fit comfortably inside.
Training Crate Options – If you want the benefits of a training cage for dogs with these crates unfortunately you won't find them. Some crates will be chew-resistant if they're made out of solid wood or if they have chew-proof steel wire sides but generally, you should get these crates only if your dog has already been crate trained and is calm.
Indoor Wooden Dog Kennel VS Crate – If you check, some of these indoor wooden dog crates are said to be kennels but that's far from the truth for one simple reason. Although wooden kennels do exist you won't find an indoor kennel. They are really big, so big in fact that they can't fit into most homes and they can easily house a crate inside them. They are made to be used outdoors as well.
To Sum Up
It was very easy to recommend the Casual Home Wooden Pet Crate as the best indoor wooden dog crate since it's made out of solid wood that makes it chew-resistant, functions as furniture, and overall looks incredibly nice. If you need a crate to train your dog but want it look a bit nicer then your best bet is to check the article about white wire dog crates and if your dog is a bit more aggressive then reading the article about heavy-duty metal dog crates might help you.