Have you been scouring the internet in hopes to find a puppy training apartment crate?
You can now get your hopes up if you continue to read this article where we will go through some of the best on the market right now. What we've done is that we did our research, place them into categories like best wooden, best overall, small, etc.. and reviewed them. It will be quite difficult for you not to find what you're looking for.
The Summary
Best 5 Puppy Apartment Training Crates
BEST OF BEST PUPPY APARTMENT CRATE
Life Stages Folding Crate
Primary Material
The crate's primary, but not only, build material is strong steel wire. The crate is coat with a beautiful black satin e-coat. What e-coat does is make the coated material resistant to rusting so this crate has this property as well.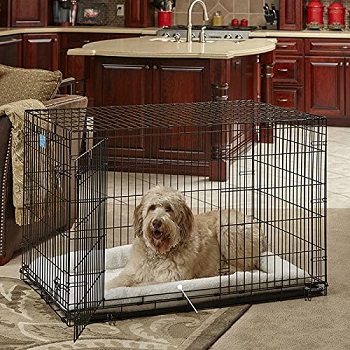 Puppy Training Middle Ground
Wire crates are known for being the perfect middle ground when choosing a puppy training apartment crate. They can handle chewing, they are quite sturdy, they provide the best visibility and airflow, they are not that expensive and this one, in particular, can grow with your puppy since it comes with an adjustable divider.
Safe Rounded Corners
One problem that sometimes might occur with wire crates is that your puppy might get hurt because of the sharp steel wire edges but this crate has rounded corners which eliminated the possibility of sharp edges, the crate has two doors for access and they each lock with 2 slide bolt locks.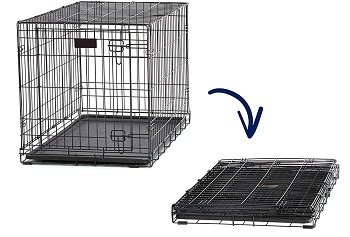 Crate Sizes And Cleanliness
The plastic pan on the bottom is the only reason why this crate is not completely made out of steel. You will be able to clean the crate by taking it out and cleaning just the pan. It won't slip or slide because it has a pa stopper. This crate is made for medium and some large dog breeds but you can choose to get it in 5 different sizes raging from small to extra large.
Transporting The Crate
If you wish to travel with the crate when you properly crate train your puppy and he grows up a little, you can easily use it as an SUV dog crate or place it in any vehicle. you can even collapse it to store when you're not using it or you can carry it with the provided top handle when it is folded down. Just make sure that it fits inside of your vehicle.
In Short:
Made out of steel wire
Has a durable plastic pan on the bottom
The pan won't slide out because of the pan stopper
Made for medium to large dogs
It has rounded corners
Comes with a divider
Has 2 door access
Can be collapsed and carried with a handle
BEST SMALL POTTY TRAINING APARTMENT CRATE
Petmate Puppy 2-Door Training Crate
Color And Finish
The crate steps out from the boring boxed in feel that the color black usually gives these wire crates because it's a blue dog crate. The powder finish that's used to coat the wire of the crate makes this puppy apartment crate resistant to rust.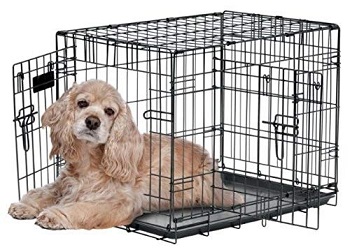 Included Training Supplies
What this crate includes in its packaging that will be very useful to you for training your puppy is the black polypropylene pan that you can remove to clean and the divider panel that will make adjusting the crate's size to your growing puppy easy.
5 Point Door Lock
The crate does feature 2 doors for access and they will prove to be quite durable and useful. The reason why is the way that the doors lock. More importantly, it's about the number of locks since there are 5 locks in total located on all edges of each door.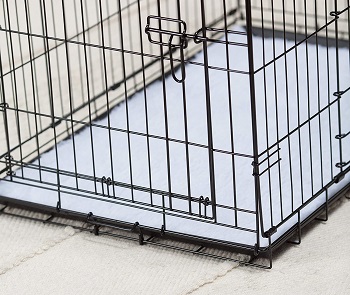 Small When Collapsed
You shouldn't be using the crate all the time especially in the early stages of a dog's life so the collapsible construction will prove to be useful since you won't be using up a lot of space to store it. When your dog grows up he should be a small dog breed to be able to fit inside.
In Short:
Маde with steel wire
Coated with a blue powder coating
The crate is rust-resistant
Made to house small dogs
Comes with a divider and bottom pan
Can be collapsed to store away
The 2 doors lock from 5 different points
BEST FOR TRAVEL PUPPY APARTMENT DOG CRATE
Diggs Revol Dog Crate
Crate Voyages
The small plastic dog crate can be used to travel with your puppy because of its durable but safe build, collapsible construction, built-in wheel on the bottom and a top handle for transporting the crate with ease but you shouldn't do that before you get your puppy used to living in a crate because of safety reasons.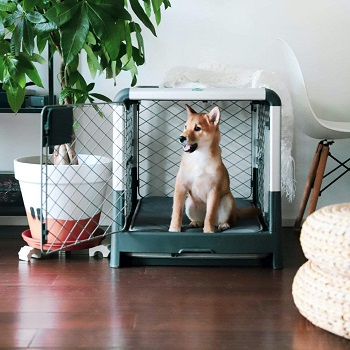 Materials Info
This puppy apartment crate, apart from looking incredibly nice, has some quality materials to it. It's made with a reinforced plastic frame and for the sides, it uses a diamond-shaped aluminum steel wire that is high grade.
Crate Interior
The interior of the crate is incredibly safe for puppies because of the baby industry standards that were taken into account when the manufacturer designed the crate. What this means in technical application is that your dog won't get his paws pinched or get hurt in any other way.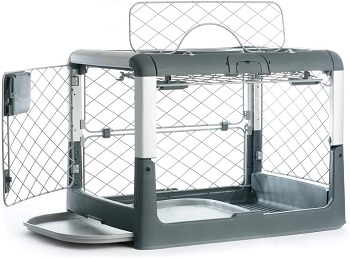 Crate Entry And Cleaning
The crate also comes with a divider panel and a bottom slide out cleaning tray. It features three doors in total for access. The front door opens easily but your pup won't be able to do it and the side door slides up to open like a garage door.
In Short:
Made with reinforced plastic and aluminum wire sides
Incredibly safe for puppies to be inside
Can be folded down
Has built-in wheels and a top handle
Has three doors for access
Can be used for traveling
BEST WOODEN POTTY TRAINING APARTMENT CRATE
Casual Home Wooden Pet Crate
Wood Properties
If you haven't already been introduced to dog crates that can function as pieces of furniture and make great puppy training apartment crates let us introduce you to this one that is the absolute best for it since it's made out of solid wood that can handle chewing coming from a puppy.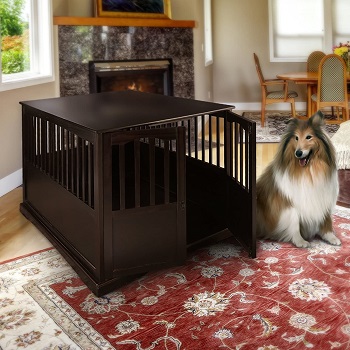 Beautiful External Design
Please note that although this crate can endure a chewing puppy, it is still a small wooden dog crate so it might take some visible damage but only on the inside. The crate will still look really nice on the outside with its espresso color and top that has a weight limit of 200 lbs for your stuff.
Access For Entry And Cleaning
The crate has only one door to access the crate but that should be enough even for cleaning the crate. It locks with a single hasp latch lock so if you properly train your puppy, the crate will be useful to your for years to come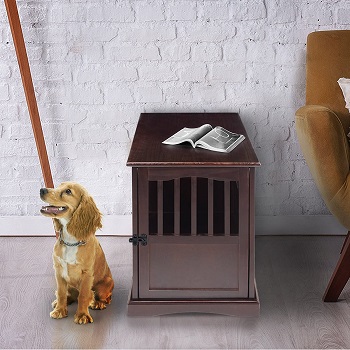 Ventilation, Visibility, And Size
It might not have the perfect visibility but it will get good airflow coming from all the sides of the crate with its ventilation windows that have wooden bars on them. The crate can house puppies and small grown-up dogs.
In Short:
Made with chew-proof solid wood
Has one door access
The door locks with a hasp latch lock
Can house puppies and small dogs
Functions as a piece of furniture as well
BEST FURNITURE STYLE PUPPY APARTMENT CRATE
Simply Dog Crate
2 Material Design
The crate does feature a wooden frame but the sides are what makes it stand out. They are made out of steel wire which means that the crate can survive, to an extent, a growing puppy that tends to chew on his crate. The wood color makes it a white wooden dog crate.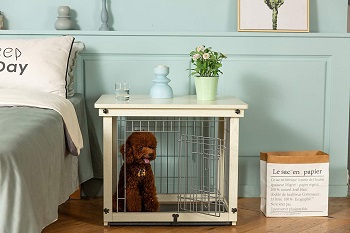 Easy Way To Clean It
It doesn't come with a divider but it does have a slide-out cleaning tray that will keep the crate undamaged since it won't get into contact with the dog's urine. The pan won't slip or slide out because of the pan stopper that's shaped like a dog bone.
Small Side Door Access
This puppy training apartment crate has one door for access that's located on the side of the crate and you can lock it with a slide bolt lock. The entrance is rather small but it will prove to be big enough since the crate can only house puppies and small dogs.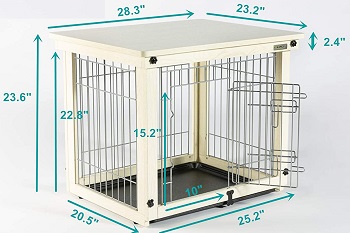 Saving Room Space
The crate is also compact because it features a top that you can use as an end-table to place your personal belongings on it so it will save you a lot of space inside your home and it will blend in well. The crate doesn't have ay visible screws since, for them, it used paw shaped ones.
In Short:
Has a wooden frame
The sides are made out of steel wire
Can house small dogs
Has one door for access
Features a slide-out pan for cleaning the crate
The bottom has a pan stopper shaped like a bone
The screws for the crate have a paw shape
The top can be used as an end-table
How To Pick A Puppy Apartment Training Crate
If you want to make a puppy apartment crate work you have to take care of some thing as well as reconsider a few like crate's materials, size, additions, and many other things so if you're not sure and want to make your buying experience a lot easier be sure to read a few tips on this.
What Else You Need Training – To really ensure the best living experience for you and your puppy you should definitely think about getting puppy crate bedding and puppy pads in crates. The bedding will allow for a smooth transition when it comes to crate training and the puppy pads will prevent any accidents from going onto your floors.
Getting Crafty – If you purchase a crate that has a divider like an XL wire dog crate if you're feeling confident you can get crafty and cut out a hole in the divider to make the crate have two separate room just like a regular puppy training apartment crate would. Just make sure that you smooth out the wire edges if you do this so that you puppy doesn't get hurt when switching rooms.
Important Sizing Tips – We didn't mention weight limits for any of the crates and with good reason. You shouldn't rely on weight limits when choosing a crate size. You should always get a crate that is 3 or 4 inches longer and taller than your estimated adult dog size.
Materials Durability – Of course that you want a crate that is incredibly durable but still looks nice inside your home but in a lot of cases that's just not possible. Wire crates will do the job best or crates with wire parts in them, while with wooden crates, you will have to take extra care when training your dog since they will easily be damaged if not.
To Sum Up
Sometimes it is better to go with the safe choice and we chose to do this when we decided to recommend the Life Stages Folding Crate as the best puppy apartment training crate. It has all the standard things needed to make puppy training easy and it will prove to be durable enough while your puppy is still in the process of learning. If your plastic bottom tray isn't holding up and you need to change it or your crate simply doesn't have it we suggest you read the article about plastic dog crate liners and if what you need is a divider then check out the post about puppy dog crate with dividers.