Have you recently thought about getting a white wooden dog crate to blend in with your home design?
You can now put your thoughts into action because we've reviewed the best ones we could find and categorized them by what they are made to be best for. By reading the article you will come to find ones that are suitable for small dogs, puppies, the ones that are chew resistant, and more.
The Summary
Best 6 White Wooden Dog Crates
BEST OF BEST WHITE WOODEN DOG CRATE
New Age Pet Pet Crate
EcoFlex Material Build
It is made out of ecoFlex. It is a wooden material made by mixing plastic and wood scraps. In its beginning stages of making, it has a flour-like consistency and after that, it is molded to the desired shape. Ecoflex materials are resistant to moisture and humidity and rot and insect-proof.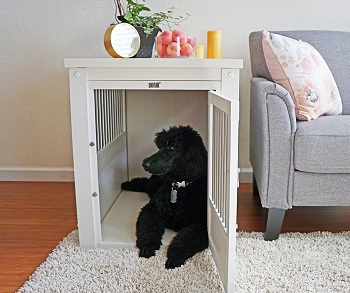 Crate Ventilation And Outside Visibility
To ventilate the crate properly, it uses steel tube rods to do so. You'll find them on each side except for in the back and it gives your dog good visibility on the outside of the crate to make him feel more at ease when he sees you.
Door And Its Locks
It has one door for your pet to enter this white wooden dog crate and for you to access him when you need to. The doors on this XL wooden dog crate can be locked with double hasp latch locks that are shaped a bit like dog bones to give you an even more aesthetic feel.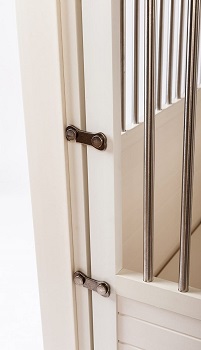 Assembly And Double Function
To assemble this crate, you will need no tools to do so and it can also function as a piece of furniture. Its dimensions come at 42.5-in length, 27.6-in Width, and 30.9-in Height. It can easily hold the weight of an up to 100 lbs dog.
In Short:
 Dog weight can be up to 100 lbs
Made out of ecoFlex, wood, and plastic polymer
Ventilation is provided with steel tube rods
Has one access door that locks with 2 hasp latch locks
The top of the crate can serve as furniture
BEST FURNITURE STYLE WHITE WOODEN DOG CRATE
Zoovilla Medium Slide Aside Crate
MDF Construction
This white wooden dog crate is made out of MDF wood and covered with a veneer made out of solid wood. Veneers are simply thin sheets of wood that are usually glued onto other wood panels and the crate also has metal rods all around it for good visibility and ventilation.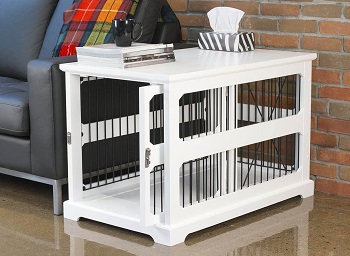 Double Function
On top of this rustic dog crate you can put your personal belongings. That means that it also acts as a piece of furniture. Your personal belongings shouldn't weigh more than 300 lbs which is impressive considering it has 2 functions.
Slide Away Door
You'll get one door to access your pet and for your pet to exit or enter the crate himself. What's special about this door is that you can slide the door inside when opened to make it seem invisible. It won't get in your or your dog's way. The door locks with a single hasp latch lock.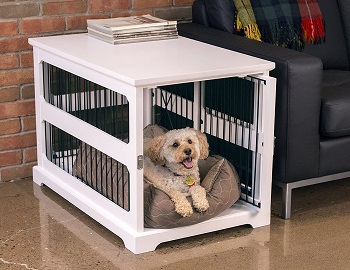 Crate Bottom Properties
It has a solid bottom to add strength to it when pressure is applied to it like when a dog is inside. It's made for medium-sized dog breeds and your dog height and length should not exceed 32-in and 20-in.
In Short:
Made for medium-sized dogs
The door can be slid away to not get in your way
Made out of MDF Wood and veneer
Can be used as a table that holds the weight up to 300 lbs
BEST FOR SMALL DOGS WHITE WOODEN DOG CRATE
Internet's Best Decorative Dog Crate
Materials Used
The crate frame is made of MDF wood while the side panels have metal wire on them. It is a triple door dog crate because it has 1 door in the front while the other door on the side is a double door. The top can be used for placing your personal belongings on it.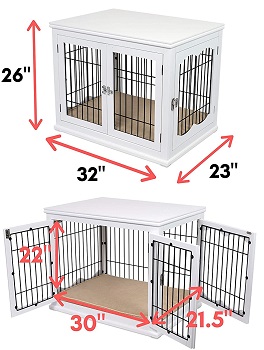 Padded Dog Bed
On the bottom, you can put a padded and comfortable dog bed that you don't have to buy additionally because it comes with the crate. The bed 2.75-in high and fits the dimensions of the crate perfectly.
The Elegant Looks Of It
What makes the white wooden dog crate seem so elegant is of course the soft white color finish but also the use of black colored metal wire that surrounds the crate as a whole and that is used to ventilate the crate and give your dog visibility, and the fact that it uses satin nickel hasp latch locks for the door.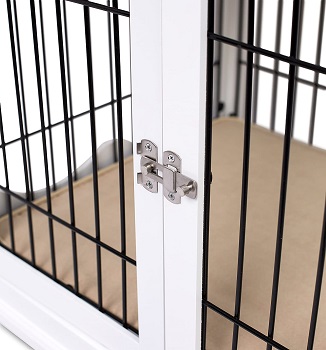 Interior Dimensions
The top is a bit wider than the rest of the crate so that it functions well as a table. Interior dimensions of the crate are 30-in in Length, 21.5-in in Width, and 22-in in height. Consider the dimension of the crate and your dog before deciding to buy it for your small dog.
In Short:
Fit for use by small dog breeds
You also get a padded dob bed for the bottom
Made out of MDF wood and metal wire
Has a double door on the side and a door in the front
The doors can be locked with satin nickel locks
BEST FOR PUPPIES WHITE WOODEN DOG CRATE
Unipaws Pet Crate End Table
Puppy Training
This crate is made out of wood and metal bars on its sides. The bars can be perfect for a chewing puppy that is still exploring by chewing on things. This makes this crate a good training cage for dogs. Keep in mind that only the metal bars will endure this and not the wood itself.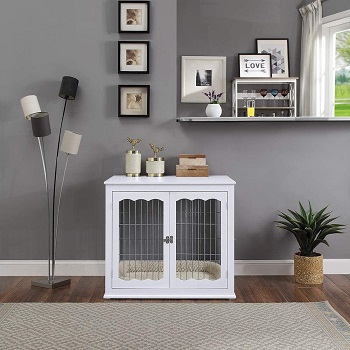 Multiple Doors And Locks
It has a double door on the side and a front access door. The doors can be locked with not one or two locks but three different types of locks: A hasp latch lock and sliding bolt locks. The double door can serve well when you want to take out the bedding pillow.
Assembly However You Want It
The crate does require assembly but it's really easy to do so. The panels that come with it are interchangeable meaning that you choose to place the door panels on whatever side you'd like. This will serve well when deciding on where to place the crate so that the doors can be blocked by a wall or something else.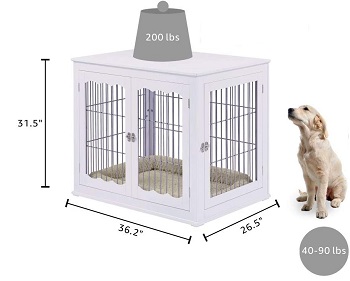 Bedding, Dog Size, And Other Functions
This white wooden dog crate comes with a pet bed that is waterproof. This will prevent the dog crate from being destroyed. It is suitable for medium or large dogs. The top can be used for placing your own things on it and it can stand the weight up to 200 lbs.
In Short:
Made out of wood and the ventilation bars out of steel
The steel bars are chew-proof
Made for medium and large dog breeds
Has a double door on the side and a door on the front
BEST INDOOR WHITE WOODEN DOG CRATE
Casual Home Wooden Pet Crate
Solid Wood Construction
The reason why this white wooden dog crate is chew resistant is that it is made out of solid wood. Unlike most crates that use wood polymers that combine wood fibers and some kind of glue to hold the fibers together, this type of wood is completely natural and is often used in the furniture industry.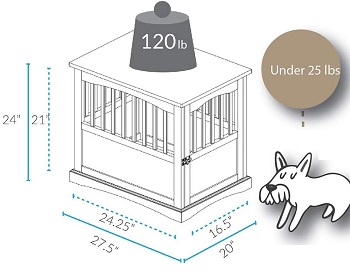 Furniture Option
Since it is made of solid wood and the top is a piece of wood panel, this safe dog crate can be used as furniture as well. The maximum weight it can stand having on it is which will be enough for any of your personal belongings that you might want to put on it.
Metal Parts
The only metal part you will find on this crate is the hasp latch locks. Ventilation is achieved with windows that are covered with wooden sticks to enable your dog to see better from the inside of the crate.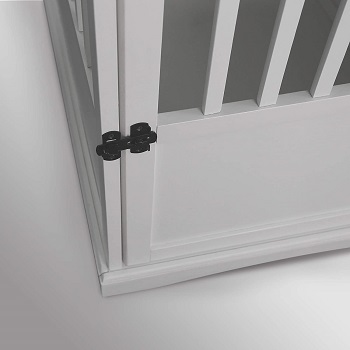 Dimensions Fit For Small Dogs
Although the crate can hold up to 120 lbs of weight even on the bottom it is still made for small dogs. The reason for it are its dimension that come at 24.25-in Length, 16.5-in Width, and 21-in Height. These are the internal dimensions of the crate.
In Short:
Can be used as a furniture piece
Can hold up to 120 lbs of weight on top
Fit for use by small dog breeds
Made out of solid wood
It is chew proof
How To Pick A White Wooden Dog Crate
There's a couple of things to look out for when buying a white wooden dog crate because although all of them look nice since they are colored white, not every crate is made from the same material and it is important for them to be durable since they will usually not only be a dog crate but will also act as a piece of furniture.
Made For Non-Chewing Dogs – Wooden crates don't typically do well when it comes to having a dog that chews a lot on things. They are usually made out of MDF wood or other wood polymers that aren't as durable as solid wood. If you are able to find a solid wood crate, it should then do well even with chewers just like a sturdy dog crate would.
Double Function – Since they are made to blend well into your home decor they will most likely have another function of being used as furniture. This will save you space and, make your home look more elegant and to top it all of, the crates can all handle a lot of weight put on top of them.
Ventilation And Visibility – Seeing as how these crates are made of wooden panels the best way to provide them with good enough visibility and ventilation is by incorporating metal wires or tubes into them since wire crates like small wire dog crates always provide you with the best airflow and visibility.
The Importance Of Dimensions – Not only will you need to know the dimensions of a certain crate for you to know if your dog can be comfortable while inside the crate, but you will also need to know them since you have to consider its dimensions because of how it might look and fit into your house since almost all of them function as furniture as well.
To Sum Up
All things considered, the best white wooden dog crate that we would recommend is the Casual Home Wooden Pet Crate. The reason why is because it is completely made out of solid wood which makes it highly durable and chew-proof and it also functions as a table that can stand 120 lbs of weight on top of it.  If you're interested in getting a crate that has the best airflow and visibility while still keeping it white, consider reading the article about white wire dog crates, and if you need a crate to train your dog or puppy look into the article about training cages for dogs.