Do you consider wire to be the best build material for a dog crate so you're looking to get a small wire dog crate?
We've thought of this too so we took the liberty to find and review the best ones that we were able to find. Every crate is better than the other in some areas and we understand that so we even went as far, as to put them into categories like the puppy category, travel category, and so on.
The Summary
Best 5 Small Wire Dog Crates
BEST OF BEST SMALL WIRE DOG CRATE
MidWest Homes For Pets Wire Dog Crate
Dog Size Chart
To make sure that you're buying a crate that's large enough to fit your dog you can always refer to the size chart that midwest offers for picking a dog crate of the right size. This one in particular can house dogs that weigh from 11 up to 25 lbs. If your dog doesn't fit into this weight limit, a medium wire dog crate might be for you.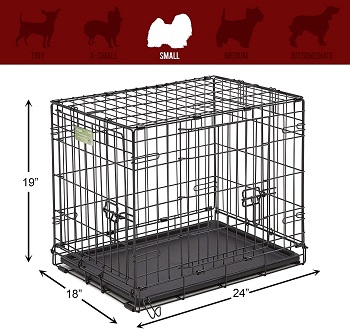 Inside Crate Safety
On the inside, where your dog will spend most of his time, a small wire dog crate needs to have rounded corners so that your dog doesn't accidentally hurt himself and this one does but in the form of rounded side clips.
Bottom Features
The bottom of the crate features roller feet that will serve you well in protecting your floors from any damage that wire dog crates might typically do and there is a side stopper that will lock the bottom tray from sliding out on its own.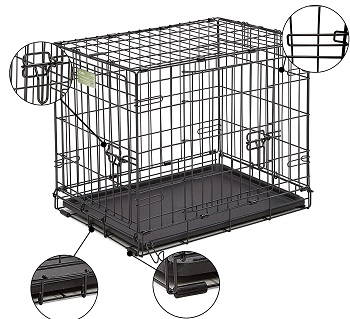 Grows With Your Dog
You will also get a divider so that the size of the crate can grow as your dog grows into his full size. There are two doors that lock with a sliding bolt lock and the crate even conveniently folds so you can store it or transport it elsewhere.
In Short:
Can house dogs from 11 to 25 lbs
Has rounded side clips to keep your dog out of harm's way
Has roller feet that protect your floors
The bottom tray has a side stopper so that it doesn't slip out
Comes with a divider for puppies
BEST FOR TRAVEL SMALL WIRE DOG KENNEL
Diggs Revol Wire Dog Crate
Build Quality
The quality of materials chosen to make this small wire dog crate is unmatched. The frame is made with reinforced plastic and the sides are made out of high-grade aluminum wire. The crate is completely foldable as well.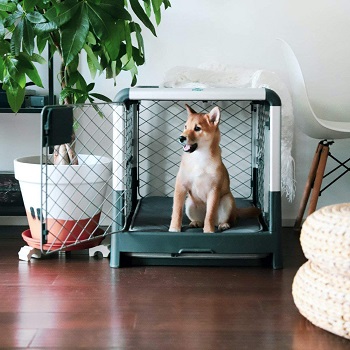 Useful Travel Traits
It is incredibly useful as a small dog travel crate because it has built-in wheels o the bottom and a carrying handle on top. It's easy to store or transport if you're not using the wheels and handle for it because of the foldable construction.
Puppy Crate Must-Haves
It does amazingly well with housing puppies because it is made with baby industry standards in mind which means that your growing puppy will be free of any harm that might otherwise come from wire dog crates and it comes with a divider to fit his size as he grows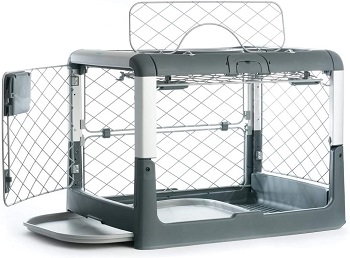 Top, Side, And Front Access
It has three doors. One on top, one in the front that only you can unlock by pushing the locking handle upwards and a side door that opens not from the side but upwards. There's also a removable tray on the bottom for you to easily clean the crate when need be
In Short:
Made out of reinforced plastic and aluminum wire
Can be used by puppies because of the divider it comes with
Has three doors to access the crate
Has built-in wheels and a top handle for transport
Can be collapsed
Incredibly safe because it's made with baby industry standards
BEST PLASTIC SMALL WIRE DOG CRATE
IRIS USA Wire Dog Crate
Plastic Edges
The edges that connect the wire sides of the crat are made out of plastic. This is very useful since the crate does not have exposed wire edges and the corners are rounded because of it so that your dog doesn't get hurt while he's inside this small wire dog crate.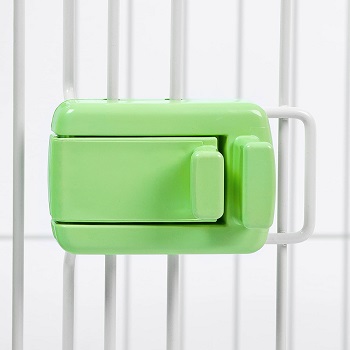 Removable Top Mesh
The top is made out of mesh fabric and can easily be taken off for cleaning. Without it, the crate might as well be used as a dog crate playpen. It has 9.5 square feet of living space so it's quite enough for your small dog to live in or play around safely.
Sliding Door Access
The door doesn't open like a regular one but instead, it opens by sliding to the right so it doesn't take up precious space if you decide to leave the crate open. The door locks with a plastic positive lock.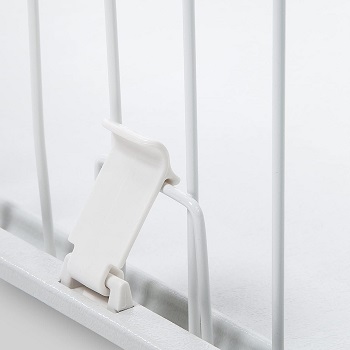 Key Bottom Tray Points
The plastic tray on the bottom is molded so that it doesn't slip or slide because it can be attached to the wire sides using clip hooks. Below, you will rubber feet so that the crate, as a whole, doesn't move around and so that the floors and the try don't get damaged.
In Short:
Has plastic edges that protect your dog
The top is made out of mesh fabric and can be removed
The door slides open and locks with a positive lock
The tray is molded and keeps attached to the wire with clip hooks
BEST FOR PUPPIES SMALL WIRE DOG KENNEL
Petmate ProValu Wire Dog Crate
Multi-Point Locks
The door locks on this small wire dog crate are perfect for keeping inside dogs that are prone to escaping their crate because even though both doors feature only one lock but they can be locked from 5 different points.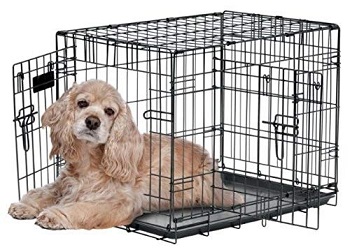 Adjustable In Size
This small wire dog kennel comes with a wire divider that can adjust to the size of your puppy. This will save you a lot of money because you don't have to go through the hassle of buying another crate when your dog reaches its full size.
Important Puppy Crate Feature
Another important feature of the best crate for puppy training is the removable bottom tray because you'd want to clean your crate easily since, in the beginning, your dog might be more prone to littering inside the crate and you want to avoid getting it onto your floor.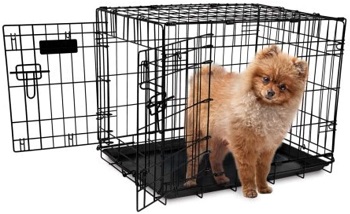 Storing And Travel Trait
The crate can also be used to travel with your puppy or dog because the crate can be collapsed. This will also prove to be useful if you want to store away the crate. The inside has rounded corners which will protect your dog that is not used to living inside a crate just yet.
In Short:
Has two-door access
The locks on the doors are multip-point locking lock
The corners inside the crate are rounded
It can be collapsed to store or use for travel
BEST FOLDING SMALL WIRE DOG CRATE
Carlson Pink Metal Dog Crate
Pink Colored Steel Wire
If you want to add a little bit of variety to your standard wire dog crate, this crate is a small pink dog crate. It is a breath of fresh air to the typically all-metal black wire crates and it will definitely blend better into your home because of it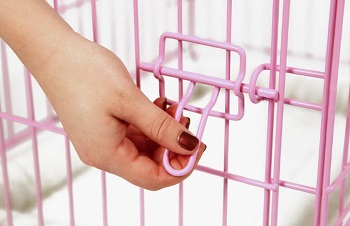 Compact Storing
The crate is foldable so you can be sure that you are going to store it without it taking too much space or you can use it to transport it to a different location. The foldable design also makes sure that the crate is easy to assemble as well.
Multiple Locking Points
It has only one door in the front for your dog to access the crate and it locks with a secure locking system because it locks from multiple points. It is a crate that is certified to juvenile products manufacturers association that takes into account baby products safety and it is also certified to ASTM standards.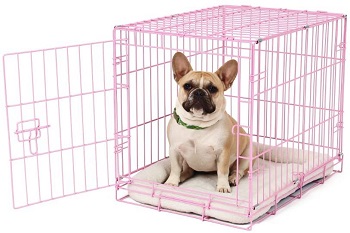 Keeping The Crate Clean
The tray on the bottom is also colored in pink and will come in handy when you're cleaning the crate since it can be pulled out to clean. The tray will also keep your floors clean if your dog ever litters while he's inside the crate.
In Short:
It is certified to JPMA and ASTM standards
Has one door access
The lock on the door locks from multiple points
It can be cleaned easily because of the bottom tray
Can be folded to store or to use for traveling
How To Pick A Small Wire Dog Crate
All of these small wire dog crates are amazing but you have to know what are some important features of these crates since the tiniest differences in crate size, edge shape and more can make a big difference so be sure to read about what a good crate should have.
Inside Crate Safety – One of the most common issues with small, medium, and XL wire dog crates are the exposed wire parts and edges that are not rounded. Your dog could easily pinch his paws or get it stuck so making sure that the corners are rounded is incredibly important
Great Puppy Crates – With the addition of a divider, these crates can be excellent training cages for dogs specifically targeted at puppies. They offer great visibility which is important for puppies and they will fit your dog's size no matter their age. Just make sure you get a crate that fits the measures of a fully grown dog.
Small Wire Dog Crate VS Kennel – If you're confused about whether you're getting a crate or a kennel it's quite simple to tell them apart. Kennels are made to withstand different extreme weather conditions and they are made much larger to fit inside crates. They are often used by dog care professionals like shelters or breeders.
Crate Size – Most of these crates are 24-in dog crates because it is the perfect middle ground for housing small dog breeds. This is because small dog breeds are also extra small dog breeds and even some medium dog breeds. The safest thing you can do before choosing your crate is to measure your dogs' length and height, add 3-4-in to it and see if it fits the crate measurements.
To Sum Up
Although each crate in this category is a great choice the best one that we'd recommend is the Diggs Revol small wire dog crate because of its multiple functions. You can use it to travel because of the built-in wheels, handle on top, foldable build but you can also use it for puppies because of the divider it comes with and because it is made with baby industry standards in mind. If you happen to like the multiple doors that this crate comes with, there's more of them to find in this article about triple door dog crates and if you found that you want your crate to blend in well into your household then definitely read the article about small wooden dog crates.