Are you after the best crate for puppy training that you can find and money can buy?
Luckily for you, you don't have to look far because you're in the right place. All you need to do is continue reading this article where we reviewed our top picks for these crates. We even went as far as to categorize them into different categories like puppies, with dividers, and indoor crates.
The Summary
Best 6 Crates For Puppy Training
BEST OF BEST CRATE FOR PUPPY TRAINING
Ultima Pro MidWest Dog Crate
Home Placement
You'll typically want to house train your puppy when he first arrives and what might be a problem right from the start is crate placement. You'll have more options because it's a large 2 door dog crate. This will allow you to place it virtually anywhere inside your home, even in corners. It comes with a divider for potty training puppies as well.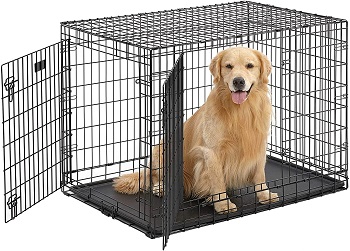 Wire Gauges
Sometimes even the most simples of things can determine if a crate is to be considered the best crate for puppy training. With this crate, it is definitely its steel wire that is gauged meaning it's a far more durable dog crate. The lower the gauge the thicker the wire is and this crate has a 3, 7, 9, and 11 gauge wire build.
Transport Advantage And Issue
The reason why it's easy to transport, store, and travel with it is because you'll get to fold it down in a matter of seconds. You'll even get a durable carrying handle with it that will allow you to carry it like a briefcase. The only thing that might be a problem is its weight of around 50 lbs.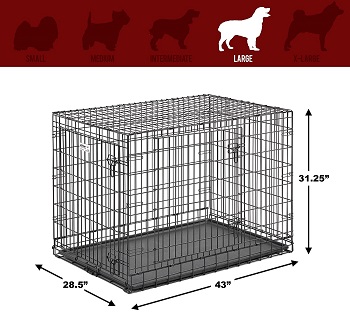 Floor Protection
The carrying handle along with the plastic pan on the bottom is the only plastic part of this crate. The pan can slide out by you removing the pan stopper on the bottom. It has raised edges so that liquids don't overflow as often and end up on your floors. To protect your floors from scratches, you'll get rubber feet for it.
In Short:
Made with 3, 7, 9, and 11 gauged steel wire
Has 2 access doors
Can house large dogs
Easily folds down for storage or for traveling
Comes with rubber feet that protect floors
The cleaning pan and carrying handle are plastic
Comes with a divider for housing puppies
BEST WITH DIVIDER CRATE FOR PUPPY TRAINING
Lucky Dog Sliding Door Dog Crate
Divider Function
If you want to get the most out of crate training a puppy you'll want to make sure that the crate you're buying comes with an adjustable divider. This one comes with one and what it will specifically help you with is potty training your puppy by adjusting to his size.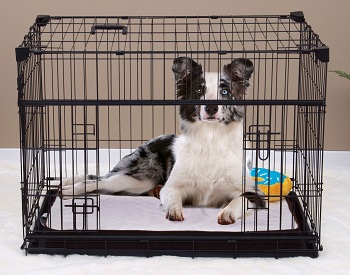 Build Details
It has a full steel wire build and comes with some accessories to ensure that it's highly functional and stable made out of plastic. The steel wire is painted black and coated with an e-coat that is typically rust-resistant and that's the case with this one as well.
Plastic Accessories
We mentioned that there are a few things made out of plastic. These things are the corner stabilizers that will reduce the rattling noise that is typically produced from medium wire dog crates like this one that's 36-in long and ensure that it's stable. Other plastic bits are the cleaning pan and the carrying handle.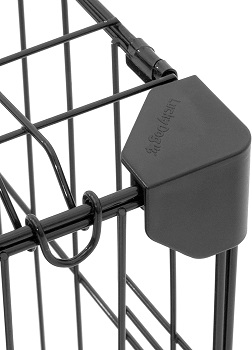 Door Design
If we were to mention one thing that makes this best crate for puppy training has to stand out from the crowd it would definitely be the fact that it's a sliding door dog crate. The side door is and it's a double door that slides open to the side while the front door opens just like any other door.
In Short:
Coated with a rust resistant e-coat
Has a double sliding door and a regular front door
Comes with a divider for puppies
The corner stabilizers reduce rattling noise
The carrying handle and cleaning pan are made out of plastic
Can house intermediate dogs
BEST POTTY CRATE FOR PUPPY TRAINING
Diggs Revol Dog Crate
Built That Stands Out
This is probably the only crate we will review here that is no completely made out of steel wire. It's primarily a medium plastic dog crate with a reinforced plastic build. The sides, on the other hand, are made out of aluminum steel wire that's high grade so there's no doubt about it that this crate is tough.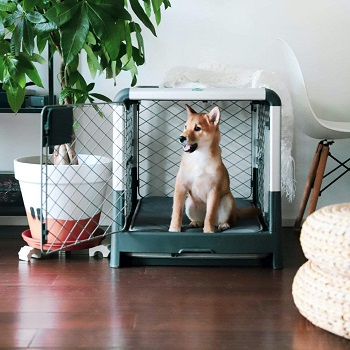 Size And Puppy Housing Tool
It wouldn't be the best crate for puppy potty training if it didn't come with an adjustable divider for it. When your dog is all grown up, he should be a medium-sized breed to fit inside this crate comfortably. You can only get a smaller version of the crate but not a larger one.
Travel Away
After you're all done with potty training and crate training your puppy and when he's old enough, you can use this aluminum dog crate as a travel crate. It'll be easy to do so because it has built-in wheels and a handle and can easily be collapsed for transport.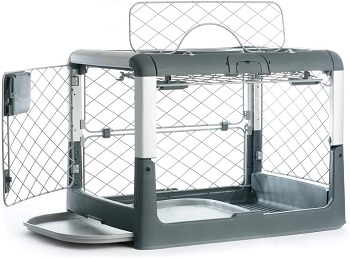 Indoor Environment Use
It behaves well in a home environment because of the three-door design. The front door has an ergonomic grip handle and can only be opened by humans while the side door opens upwards like a garage door that will save you some space around this best crate for puppy training if you leave it open.
In Short:
Made out of reinforced plastic and aluminum wire
The divider it comes with is adjustable
Can house medium dogs when they've grown up
Has built-in wheels and a handle, and it can be collapsed
Has 3 entrances, on opens like a garage door
BEST INDOOR CRATE FOR PUPPY TRAINING
Cardinal Gates Sliding Door Crate
Door And Crate Gauge
This crate is amazingly durable and tough because it features a 10 and 6 gauge wire build. The 6 gauge wire can be found on its doors while the 10 gauge wire is used to make the rest of this large wire dog crate. The doors have a thicker wire because lover gauge means thicker material.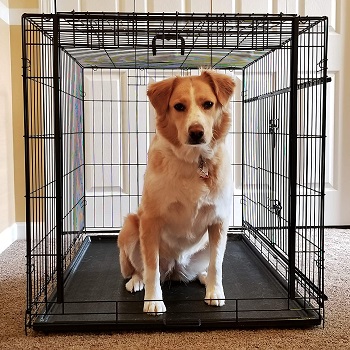 Opening The Doors
Instead of just having one sliding door, this best crate for puppy training has 2 sliding door entrances that both open in different ways. This is definitely its space-saving feature. The front door slides upwards and can rest on its top while the side door is actually a double door that slides to the sides.
Disassembly And Assembly
It's only logical that this crate would be easy to assemble since it can easily be folded down. You won't need any tools for it and all you really need to is unfold it. When the crate is folded down, you'll either get to store it with it taking up minimal space or you'll get to transport it with the attached carrying handle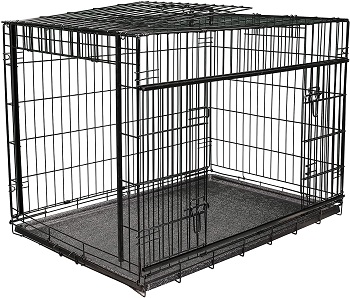 Divider Missing
This crate doesn't feature a puppy crate divider but because it's so durable and made out of steel wire so it can still be used as a crate training tool. If you do need a divider for it, you can easily buy a divider for large crates since wire dividers are readily available at all times.
In Short:
Can house large dogs
Doesn't come with a divider
Has a 10 and 6 gauge steel wire build
The entrances slide open upwards and to the side
It's easy to unfold and fold down
Comes with a handle for carrying
BEST FOLDING CRATE FOR PUPPY TRAINING
Petmate Precision Pet Great Crate
Different Locking Design
Wire crates commonly have either one or 2 access doors located in the front and on the sides. They typically lock with a sliding bolt lock, or 2 or 3 depending on the crate's size but this isn't true with this crate. It does locks with a sliding bolt lock but also from 4 other points. This is true for both the front and side door.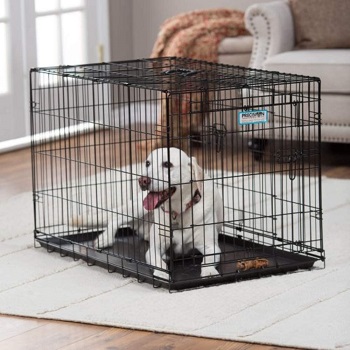 Safety First
It's not safe just because it's a safely locking dog crate but also because its corners are rounded. This prevents your dog or puppy from pinching his paws while he resides inside this best crate for puppy training. It does come with a divider that will help you adjust its size to your growing dog.
All Dimensions
To be specific about its size, this is an XL wire dog crate because it's 48-in long and large wire crates are typically 42-in long. This length will allow you to house rottweilers since this is the perfect size of crate for that exact dog breed. It's also 30-in wide and 32-in tall.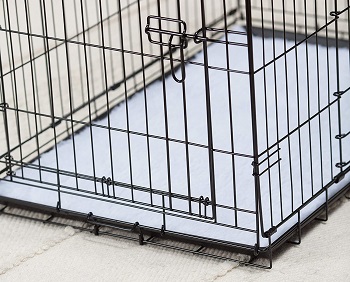 Slide Out Pan Detailing
Like all wire dog crates, you'll get to clean this one by sliding out the plastic pan on the bottom. The pan won't slide out accidentally because a pan stopper will block it. You can easily fold the whole crate down and store it away or transport it by using the carrying handle as well.
In Short:
Each door locks from 5 different points
Features an adjustable divider
Able to house extra large dogs
Has a cleaning pan on the bottom
Can be carried when it's folded down
BEST XL CRATE FOR PUPPY TRAINING
BestPet 48 Inch Dog Crate
High Tensile Wire Build
Instead of using a heavy gauge wire to strengthen the crate itself, the steel wire of this crate is a high tensile wire. The high tensile wire is made with higher carbon content. Most wires have a low carbon content but the higher the carbon content is, the stronger the wire is.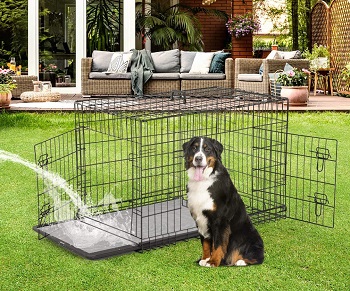 Crate Coating Finish
Another unique thing about the wire is that it is coated with a black epoxy finish instead of an e-coat. The epoxy finish gives it properties that stand up to premature rusting, corrosion, and even fading. You don't have to worry about it getting into contact with water and humidity.
Puppy Housing
You'll find two doors on this best crate for puppy training in the front and on the side. both can lock with 2 sliding bolt locks that are actually 2-step locks. Of course, it comes with a divider as well. The puppy should be an extra-large dog when he grows into his full size since this is an XL metal dog crate.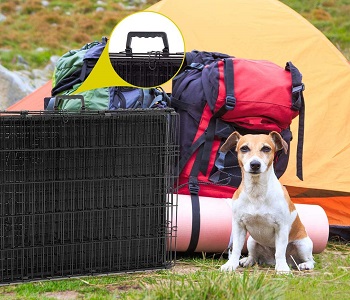 Cleaning Pan Details
The plastic tray found on the bottom is made out of ABS plastic. Its purpose is to make cleaning the crate a lot easier. The pan is durable as well and won't stain, corrode, nor warp after prolonged use. It also won't retain any nasty odors so it will definitely last you a long time.
In Short:
Made with high tensile wire
The epoxy finish prevents rusting, corrosion and fading
Has 2 entrances that lock with 2 sliding bolt locks
Comes with an adjustable divider for puppies
The cleaning pan is made out of ABS plastic
Can house extra large dogs
How To Pick The Best Crate For Puppy Training
There's more to the best crate for puppy training than just the fact if it's made out of steel wire and if it features a divider. To get on the right path of picking a crate made for you you'll have to get acquainted with what dividers are for, how durable can the wire get and many other things so be sure to continue reading.
Puppy Training Levels – Puppy training isn't just about potty training your dog. it's about getting your dog costumed to living inside a crate. When this is done properly, you won't ever have problems with leaving your dog inside a crate because crates satisfy the dog's need for his own den-like space. It's best to start with a lot of treats and patience. An advantage you'll have is that your dog is still just a puppy.
How Dividers Work – If you ever wondered what dividers do and how they work this is where you'll find the answer. They are adjustable which means that the crate's size adjusts to your puppy's size. What this does is eliminate the extra space for your dog that would otherwise encourage him to litter in one part of the crate and still sleep in a clean space of another part. Dogs and puppies don't like to litter where they sleep so that's why a divider is a perfect tool for the job.
Typical Crate Type For The Job – The most common dog crates that almost always come with a divider or at least let you buy one are wire small, medium, large, and XL wire dog crates. They're durable enough to survive the crate training process and they're not expensive. If you want a more durable version of these crates you might want to check out if the wire that makes the crate is gauged or high tensile.
Important Size Notice – Picking out the right size is one of the more important thins of picking out the right dog crate. If your dog is a puppy you should buy the crate according to his approximate adult size. Look for your dog breed on the internet and check out the height and length of the adult dog. Then, add at least for inches to both and see if the dimensions match the crate.
To Sum Up
It wasn't easy choosing the best crate for puppy training that we should recommend but we decided to go with the safe choice and recommend the Ultima Pro MidWest Dog Crate. It has a gauged wire build so it's more durable, comes with a divider, and can even be used for traveling when you're puppy is old enough and crate trained. If you're looking for cages for training in general you should check out the article about training cages for dogs and if you've already done this and are now looking for a crate that will look nice inside your home you might want to read the article about indoor dog crate furniture.