Did you find out recently or through experience that a hard plastic dog crate can be a durable option for housing a dog?
Do you still need help finding one?
If you relate to any of these or are just curious you should definitely continue reading this article because we only reviewed our top pick for this crate type. We've even made it so that you can find what you're looking for faster by categorizing these crates. You'll find travel crates, heavy-duty ones, collapsible ones, and many more.
The Summary
Best 6 Hard Plastic Dog Crates
BEST OF BEST HARD PLASTIC DOG CRATE
Diggs Revol Dog Crate
Housing A Puppy
We do have a good reason as to why this is the first crate we are reviewing and under this category. That's because it's definitely the most versatile when it comes to its many different uses. It does everything that it can well and one thing is that it can house puppies because it comes with a puppy crate divider for potty training.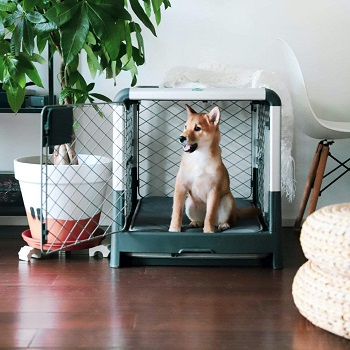 Safety Through Multiple Things
This crate is a great house for puppies because it's made with baby industry standards. This means that your puppy and even your dog will be exceptionally safe while inside. Not only will they be safe because of it but also because the sides are made out of aluminum wire and the plastic used is reinforces plastic.
Travel Option
You'll get to use it as a travel hard-sided dog crate as well when your puppy grows up and has finished his crate training journey. It will be easy to do so because of the built-in wheels on the bottom and a built-in handle on top. The whole crate can also be collapsed.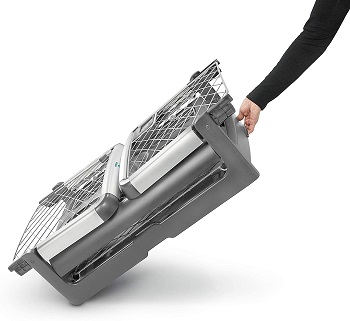 Different Types Of Entrances
Your puppy or medium-sized grown-up dog will get to access this 32-inch dog crate through 2 doors while you'll get to interact with him through an additional door on top. The front door features an ergonomic handle while the side door opens up like a garage door.
In Short:
Has aluminum steel sides and a reinforced plastic frame
Comes with a puppy divider
Completely safe for both puppies and medium dogs
Has built-in wheels and a handle for transport
Can be collapsed
Has 3 entrances while one door opens upwards
BEST COLLAPSIBLE HARD PLASTIC DOG CRATE
Pet Gear Steel Crate
Door Number Advantage
We can't just say that this is a great crate for indoor use because it's not just that but it's a good starting point. You won't have to worry about how you're going to position this rate inside your home because it has a total of 4 entrances. The large front entrance eve slides open like a garage door.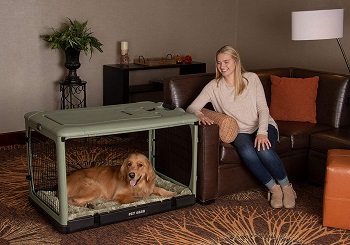 Safety Through Build
It's a heavy-duty plastic dog crate because the plastic used is exactly that. It has been blow-molded and it has rounded corners for more safety. The sides future a steel wire build and they're also equally safe because there are no exposed steel edges that might hurt your dog while he's inside.
Features That Go With The Folding Design
This hard plastic dog crate is also a collapsible plastic dog crate. When it's collapsed you'll get to store it inside its own travel bag for easy transport. The crate also has both a built-in handle and wheels for dragging if you don't want to fold it down every time it gets transported.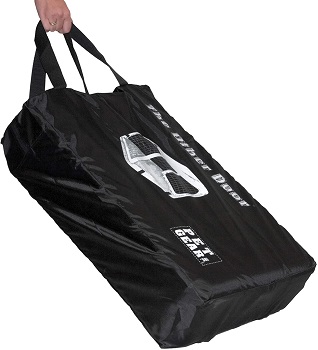 Interior Bonuses And Space
The interior bottom base is insulated which means that it won't crack when subject to different and extreme changes in temperature. You'll also get to place a comfortable bed inside that you can easily remove and wash. Since the crate is 42-in long the conclusion is that it can house large dogs.
In Short:
Has 4 entrances in total
Made out of plastic and steel wire edges
Has a door that slides open like a garage door
Can be collapsed and dragged with built-in wheels and handle
Comes with a travel bag and a bed
Able to contain large dogs
BEST FOR TRAVEL HARD SIDED DOG CRATE
Lucky Duck – Lucky Kennel
No Match For Traveling
Although we did already mentioned a few crates that can be excellent large or medium dog travel crates this one definitely overshadows them. That's because this is a crash-tested dog crate that has been rated 5 stars from the center for pet safety.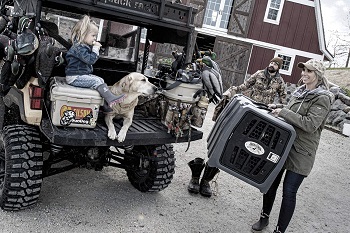 What It's About
The whole thing about this hard plastic dog crate is that it's durable but easily transportable. It's made with roto-molded plastic which means that the manufacturer uses a single piece of plastic to make it that has no seams. It weighs 38 lbs and can easily be carried with two provided heavy-duty handles.
Ventilation And Doors
The vents are made and strategically places so that your dog can be kept cool during warm weather. It has an elevated design to prevent her transmission as well. You'll find another vent hole on its single door that you can lock with a key and additional top and bottom locks. The door is also reversible so it opens in multiple ways.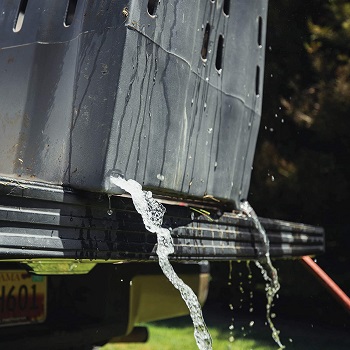 Cleaning Innovation
You won't have to go through any trouble at all to clean this crate that can house medium-sized dogs. That's because the elevated design doesn't only minimize heat transition but it also allows for drain channels to be placed on the interior edges. This is where your dog's liquids will end up until you're ready to release them by unplugging the drain plug in the back.
In Short:
Built out of roto-molded plastic
It has been crash-tested
The vents and elevated design keep your dog cool
Its door locks with a key and additional locks
The interior has drain channels for dog urine
Has 38 lbs and can be carried with 2 handles on top
BEST HEAVY-DUTY HARD PLASTIC DOG CRATE
Gunner Kennels G1 Dog Crate
How It's Built
This crate has also been made out of roto-molded plastic but the difference between the first and this one is that this one has a double wall. This is the only double-wall plastic crate on the market and what it does is protects your dog from humidity, the cold, and UV rays.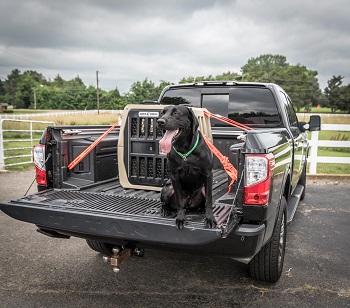 Weather Protection
Everything you see or don't see on this hard plastic dog crate is made to help protect your dog from outside weather elements. One of these things are its vents that are designed to repel water. The elevated design allows for heat transmission to be minimized. All of this is because this is a hunting dog crate for trucks.
Escape Proof Crate
This is a safe locking dog crate. To be specific it's an escape-proof door because it's reinforced with an aluminum frame, locks with a key on a stainless steel piano hinge, and it even locks with 2 additional locks found on top and bottom. The door might even allow you to easily house anxiety-ridden dogs.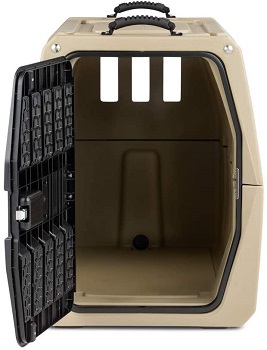 Specific Size
This is an intermediate dog crate able to house dogs that are not medium nor large but somewhere in the middle. They usually weigh up to 70 lbs. We would definitely advise you to use it as a travel crate because it's been crash-tested just like the one we reviewed before it.
In Short:
Has a double wall roto-molded plastic build
Protects your dog from the cold, heat, UV rays, and humidity
Has water-repelling windows
The door is escape-proof and locks with 3 locks
You can house an intermediate dog inside
BEST AIRLINE APPROVED HARD SIDED DOG CRATE
Petmate Sky Kennel
Crate Weight Benefit
We just really can't get enough of travel crates but that's what these plastic crates are best for. This is true because they're light but durable dog crates. This one for example only weighs around 2 lbs but it's made out of durable plastic and will be tough to break.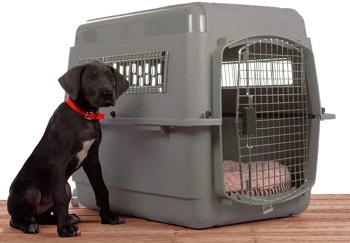 Dog Behavior Recommendation
The only reason why we would recommend you use this hard-sided dog crate with crate trained dogs only is that you'll get to travel by air with it and this is a requirement if you want to make it happen. Even if you're just traveling by car, the dog should be crate trained to not become a safety hazard.
Steel Wire Bits
It has steel wire placed on its windows and it makes up its single door. The door locks with a vault-type lock that won't slip or slide when you're traveling. It also has holes in its plastic in the back for better airflow.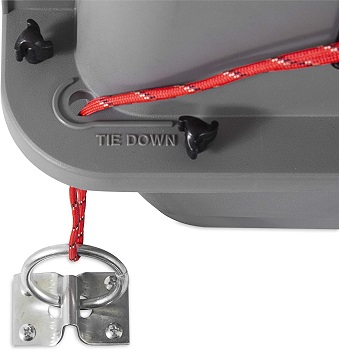 Air Travel Necessities
It's made up of 2 plastic shells that you'll get to connect only with non-corrodible winged nuts. The nuts are one of the requirements by airlines that go into the basic travel kit. Other things included are two "live animal stickers and ID stickers, and bowls that you can clip on.
In Short:
Made with 2 durable plastic shells
The shells connect with non-corrodible nuts
Comes with ID and "live animal stickers
Additionally comes with clip-on bowls for water and food
Can be used to travel via airplane
Has a steel wire door that locks with vault lock type
BEST FURNITURE STYLE HARD SIDED DOG CRATE
New Age Pet Pet Crate
Material Explanation
Out of all the crates we reviewed we saved the most different one for last. It's different because it's not entirely made out of plastic but wood as well. The material is called eco flex and it combines wood and plastic so it's a composite material. It's tough and hard because it doesn't split, warp, or crack.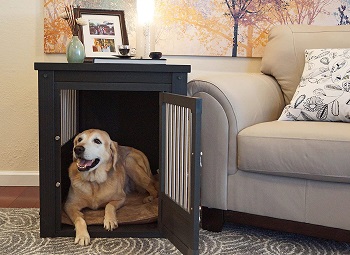 Furniture Function
The material does look more like wood and this is perfect because it will blend right in with the rest of your furniture especially if your furniture is black. Not only does it look like furniture, but it also functions as indoor dog crate furniture as well. You'll get to place your things on their top.
Cleaning Access And Process
The top can also be taken off and this is where you'll get to access the interior to clean it. You can also access it through the single door in the front. The thing about cleaning eco flex is that it's hassle-free because it doesn't absorb moisture or nasty odors.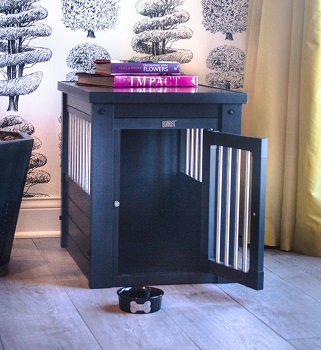 Crate Length
The crate is 42.5-in long and typically this allows you to house large dogs that weigh up to 90 lbs but with this hard-sided dog crate, you'll get to go up to 100 lbs. Even though eco flex is durable, it might suffer some damages if your dog tends to chew on his crate so make sure he's crate-trained.
In Short:
Made out of plastic and wood composite material
The ecoflex material doesn't split, warp, or crack
Can function as furniture because of its top
Doesn't absorb moisture and odors
Can house large and calm dogs
How To Pick A Hard Plastic Dog Crate
When choosing a hard plastic dog crate there are few things that you need to take into consideration before your final pick. Not every crate is the same so not every crate is going to suit you. we're here to determine these differences like size and lead you on to the right path of choosing the right crate.
Most Common Feature – The thing that marks all of the hard plastic dog crates is that they are lightweight dog crates but not flimsy as soft travel dog crates. They're durable and can stand up to a lot of abuse. This makes them a safe choice when you want to travel with your dog either by car or by airplane.
Other travel Features  You can't just jump to the conclusion that these are great travel crates without having other things to back this statement. Typically these things will either be a collapsible design, amazing portability because of the built-in wheels and handles, or the fact that they're crash tested.
Helping Out With Size – Did you know that the most common mistake dog owners make when buying a crate is that they pick out the wrong size? All you need to do not to be that type of owner is measure out your dog's length and height and make sure that the crate is at least 4-in bigger than your dog.
Recognizing A Hard Plastic Build – These crates won't necessarily have a description that says they're made out of hard plastic. it's important to know what else falls into this category. You can easily get a heavy-duty plastic crate, a reinforced plastic crate, a rigid plastic crate, and a durable plastic crate. These will all fit into the category.
To Sum Up
The reasons for us choosing the Diggs Revol Dog Crate as the best hard plastic dog crate are simple. Mainly it's because of its versatility and you'll get to travel with it, house and potty train both adult dogs and puppies, and it's perfect for indoor use as well. If you're looking for a crate that can crate train dogs you might want to check out the article about training cages for dogs and if you specifically want to train a puppy the best you can do is read the article about the best crates for puppy training.