Is your dog a bit of an escape artist so you've set yourself on a journey to find a safe locking dog crate?
Luckily for you we have experience with these things so we did our research to brig you reviews of only the best and safes locking dog cages. We've also made sure to include different types of crates like the ones for puppies, heavy-duty crates, and all with that one same feature, secure locks.
The Summary
Best 5 Locking Dog Crates
BEST OF BEST LOCKUP DOG CRATE
Luckup Heavy Duty Dog Cage
Corrosion Resistant Parts
What's so good about this crate is that the finish doesn't make it corrosion resistant but rather the steel itself does. The finish is non-toxic so if your dog is one to chew on to crates a lot you can be sure that his well-being won't be compromised.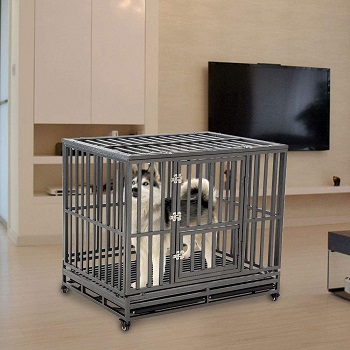 Strong Flooring
Sometimes, with heavy-duty metal dog crates, the gridded flooring is too thin and weak so it bends easily because of the dog's weight but that's definitely not the case with the Luckup heavy-duty dog cage. The flooring is wider and your dog's feet will be protected as well.
Locks And Size
The two locks on the front and top door are regular hasp latch locks but they have a safety buckle as well to really ensure you of the fact that your dog won't be able to escape the crate even if he's quite skillful at it. The crate is made to house medium-sized dogs.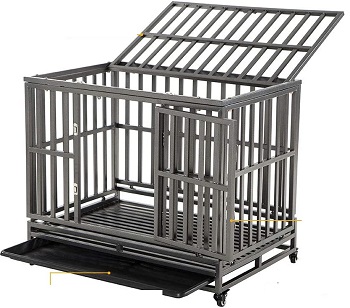 Out Of Crate Cleaning
You can actually clean this crate without leaving your dog out of this safely locking dog crate and the way the manufacturer made sure of that is through the slide-out pan located below it. The bottom also features lockable wheels to make moving this heavy crate a lot easier.
In Short:
Made with corrosion-resistant steel
Has a finish that won't affect your dog's health
The gridded floor is stronger and wider than most
Cleans easily with the provided slide out cleaning pan
Has two locks that are double secured with safety buckles
Can house medium-sized dogs.
BEST HEAVY DUTY LOCKING DOG CRATE
Furuisen Heavy Duty Dog Crate
Carbon Steel Properties
Just like the first crate we reviewed, this is also a heavy-duty crate but it is larger so that it's a heavy-duty large dog crate. it's made with reinforced carbon steel that is corrosion resistant. What's interesting about carbon steel is that the higher the carbon content the tougher the steel is.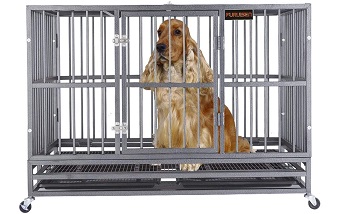 Locking With Buckles
There are two double locks on the front and top door and what makes them more anti-escaping is the fact that you'll get climbing buckles for each lock to double ensure the locking ability. You seriously don't need to worry about your dog escaping with these.
Dirt Location
The tray located below the flooring of the crate will collect dog dirt and other excrements and the way these will get onto this plastic pan is through the gridded flooring. This means that you don't have to let your dog out of this luckup dog crate for you to clean the crate.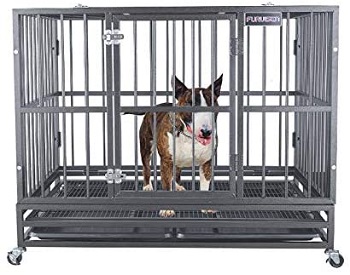 Movement Help
This crate weighs approximately 83.6 lbs which is quite heavy and it is rather difficult to move it but for some help with that, you'll get 4 wheels that you can also lock to set the crate into place and provide it with more stability.
In Short:
Made with carbon steel that's corrosion-resistant
Comes with a top and front door for access
Both door lock with 2 double locks with included climbing buckles
Cleaning the crate is easy because of the plastic slide-out tray
Weighs 83.6 lbs
Can be moved using the provided lockable wheels
Made to house large dogs
BEST FOR PUPPIES DOG CAGE DOOR LOCKS
Petmate ProValu Wire Dog Crate
How The Locks Work
A crate doesn't have to be heavy-duty to be a secure locking dog crate. How this crate is achieved this is through its multi-point locking system. Although the crate does feature a regular sliding bolt lock that's only one point from which it locks, there are 4 more locks for each of the two doors.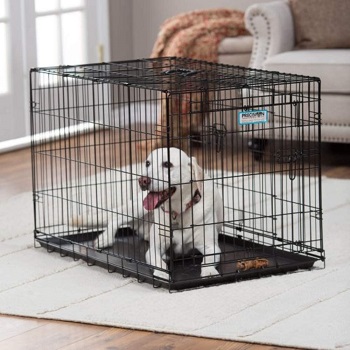 Puppy Crate Equipment
This medium wire dog crate can be perfect for housing puppies that are at the beginning of their crate training journey. The two reasons for that are that the crate comes with a puppy divider for potty training and it's incredibly safe for dogs in general because of the rounded corners that won't harm your dog
What The Coating Gives You
The medium wire dog crate is made out of durable steel wire and it is coated with a black finish that gives it rust-resistant properties. What this means in practical use is that you can take the crate out for some enjoyable time outdoor as well. you can also fold it down if you intend to move it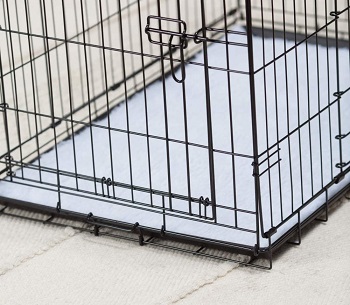 Potty Training Assistance
Apart from being able to house puppies since it can adjust to their size when your dog is fully grown, he can be a medium-sized dog to fit inside this crate comfortably. While you're potty training your dog, the plastic cleaning pan on the bottom will be of great assistance with cleaning.
In Short:
The steel wire is coated with a rust-resistant finish
Comes with a puppy divider
Has rounded corners for safety
The 2 doors can lock from multiple points
Cleans easily with the provided plastic slide-out pan
Can house medium-sized grown-up dogs
Has a foldable design
BEST FOLDING DOG CRATE DOOR LOCKS
Carlson Pet Products Secure Metal Dog Crate
Not Just One Lock
Since this is the second safely luckup dog crate that is made out of steel wire that we will review we have to mention that there is a pattern when it comes to how these crates lock. this crate also has a multi-point locking system since those typical sliding bolt locks o wire crates sometimes don't do the job so well.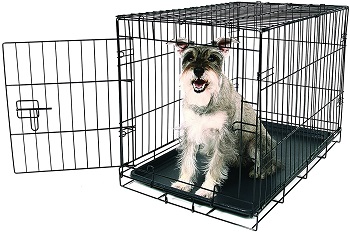 Standards Certified Crate
Although the crate doesn't feature a puppy crate divider it's still a good choice when it comes to housing puppies since it is certified to JPMA and ASTM standards. The one that makes it safe and good for puppies to live in is the JPMA standards.
Assembly And Disassembly
You don't have to think too much or work too hard with assembling this crate since it comes folded down and all you need to do is fold it up. If you want you can fold it back down again with ease so that you can store it or transport it whenever you need to.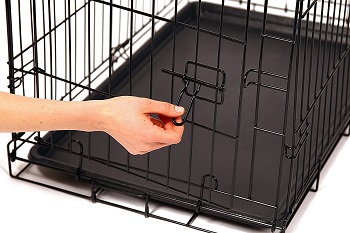 Washing The Crate
Like all wire crates, this one also features a plastic liner that you can use to clean the whole crate in a matter of minutes. The crate is 30-in long, 19-in wide, and 21-in tall so it's perfect for housing medium-sized dog breeds.
In Short:
Safe for puppies since it's certified to ASTM and JPMA standards
The door can be locked from multiple points
Can be folded down for storage or transport
Features a plastic leaning slide-out pan on the bottom
Made to house medium-sized dog breeds
BEST FOR TRAVEL LOCKING DOG CRATE
Diggs Revol Dog Crate
No Harm Done
If there's one thing you can be absolutely sure of by getting this safely locking dog crate is that your dog won't get harmed while he's inside. The number one reason for that is the fact that it's made to comply with baby industry standards. This means that the edges are rounded and your dog's paws won't get pinched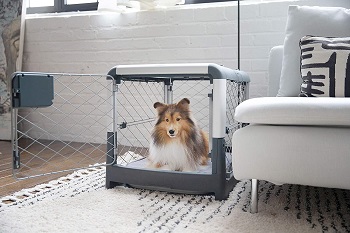 The Sides And Frame
Although it's made out of plastic, the reinforced plastic is used only for the frame while the sides are made out of aluminum steel wire that is also high grade so you can be sure that you're getting the most bang for your buck.
Adjusting The Size
The crate also features a puppy crate divider so that it can adjust to your dog's size as he grows and you can also potty train your pup using it. If any accidents do happen while your dog is inside the crate you will clean them easily by only having to clean the slide-out plastic pan on the bottom.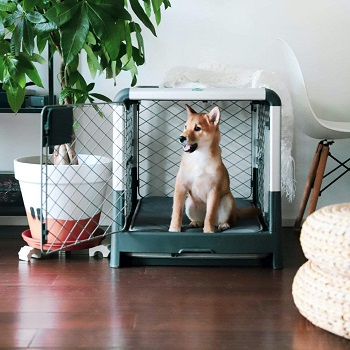 Entrances And Their Opening Style
The crate features three doors, one in the front, one on the side, and one on top. The locks are designed so that they can only ever be used by humans. This side door can open upwards so that it doesn't get in your way if you choose to leave the crate open.
Moving With Ease
You can also travel with your dog using this crate. It's highly portable since it has built-in wheels and a handle while also having a foldable design. Your dog can be a medium-sized dog if you choose to buy this crate for him.
In Short:
Complies with baby industry standards
Made with reinforced plastic and aluminum wire
Comes with a puppy divider
Contains messes with its plastic pan on the bottom
Made to house medium-sized dogs
Has a foldable design and built-in wheels
can be carried using the top handle
How To Pick A Locking Dog Crate
Safely locking dog crates don't have to have anti-escape locks to be safe and escape proof and the locks are not the only thing that makes them safe and durable, You can also look at the crate's build materials, size and main purpose to figure out whether it will be safe and durable enough for your dog.
Crate Types To Look For – There are two types of dog crates that we reviewed that you can be sure, have safety locks. The two are heavy-duty metal dog crates and puppy crates. while heavy-duty dog crates tend to have anti-escape locks ad can endure aggressive dog behavior the way that puppy crates make sure of that is by having specifically designed locks that either can't be opened by dogs or they lock from multiple points.
Most Common Lock Types – typical dog cage door locks include hasp latch locks and sliding bolt locks and although they do their job well if your dog is clever enough it will be quite easy for them to escape the crate so try finding crats that either has these locks but has an additional double lock or ones that have safety buckles.
Dogs They're For – Heavy duty luckup dog crates for separation anxiety are the ones you'll go for if your dog suffers from or if the dog is too aggressive and can easily chew through wire crates. Wire dog crates are intended to house dogs that haven't been crate trained yet but are calm enough.
Crate Sizes – You'll rarely if ever, find a heavy-duty dog crate that's made to house small dogs so the focus here is on medium and large dog breeds while there are small wire dog crates and generally wire crates of all sizes that can house any size of the dog. To find the correct crate size for your dog, you should take your dog's length and height and compare it to the interior dimension of the crate. if there is room to spare and we're talking around 4 inches, you've found the right crate size.
To Sum Up
We just had to recommend the LUCKUP Heavy Duty Dog Cage as the best one it the safely locking dog crate category. The crate locks have safety buckles and the whole crate is quite sturdy with its corrosion-resistant steel tubes. If your dog is not an escape artist you might fid it useful to check out the article about large wire dog crates and if your dog is quite calm and you don't want the crate to ruin the visual harmony of your home then you might find useful the article about white dog crate furniture.