Have an extra-large aggressive dog that needs a heavy-duty extra large dog crate?
We've got just the right crates for you. By continuing to read this article, you're signing up for success when it comes to finding the perfect one for your dog. The reason why? We didn't just randomly pick dog crates to review but instead, we made sure to include a large variety of crates like folding, indoor and more so make sure you read all about it.
The Summary
Best 4 Heavy-Duty Extra Large Dog Crates
BEST OF BEST HEAVY DUTY XL DOG CRATE
Itori 48" Heavy Duty Metal Dog Cage
Multi-Layered Finish
Most heavy-duty metal dog crates have corrosion and rust-resistant finish but this crate is a bit different. It's due to the fact that it has multiple layers of a hammer tone finish. The finish even makes it resist scratching coming from a dog.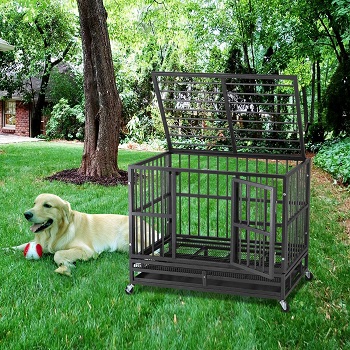 Steel Description
It has an all-steel build. It is reinforced steel that has a 20 gauge and has 0.5-in diameter steel tubes. All parts of this heavy-duty extra large dog crate are welded together to make it an even more sturdy dog crate. All of this makes it weigh 83.6 lbs but you can attach wheels on it, 2 of the 4 are lockable, to move it more easily.
Outside Opening Door Locks
You'll find two doors on the Itori heavy-duty dog crate. One's is located on the lengthy side of the crate while the other one is a large top door. Both doors have two locks that are anti-escaping since they can only be unlocked from the outside because of their position.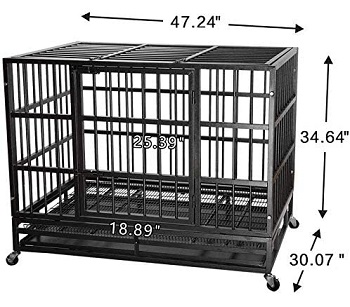 How You Clean It
The bottom floor where your dog will stand is a gridded floor. To explain why it's grided we must first mention that below it there's a slide-out plastic liner for cleaning. The way that the two combine is that dog dirt and excrements will fall through the floor onto the pan that you can then clean.
In Short:
Made with 20 gauge steel
Reinforced with 0.5-in diameter steel tubes
All crate parts are welded
The hammer tone finish makes it rust, corrosion, and scratch-resistant
Has a single cleaning tray below
Can be moved by attaching the 4 wheels on the bottom
The top and front door feature anti-escape locks
BEST OUTDOOR HEAVY DUTY XL DOG CAGE
Kelixu Heavy Duty Dog Crate
House Roof Top
This is a tall dog crate so if you have an XXL large dog like a great dane you'll be sure to benefit from it's height of 51-in. The reason why it's so tall is that its roof is shaped like a rectangle to create more height without making it seem too tall.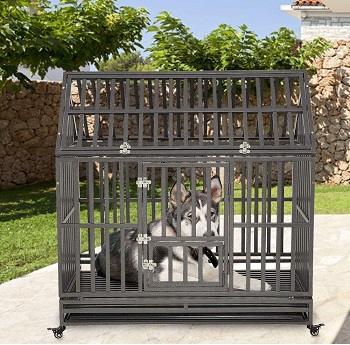 Welded Parts
XXL dog crate heavy-duty models require special attention when it comes to how firm they are. For this crate, this is achieved by the crate having all parts welded together. The parts in question are the reinforced steel tubes. The whole crate has a spray paint finish.
Three Doors, Different Functions
There are three doors in total on this crate and each one has a different purpose. The front door is of course an access door, The top door that opens only on one side of the rectangular roof is a door for you to interact with your door and the third door is a feeding door that's built into the front door. All doors have locks with safety buckles that make it a safely locking dog crate.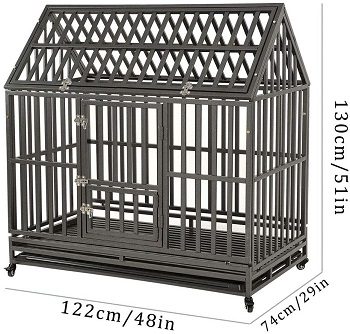 Cleaning And Potty Training Help
If you have an XXL dog breed puppy, you might like the fact that the Kelixu dog crate can assist with potty training. This is true because of the slide-out tray located below the bottom floor. This is the place where dog dirt, urine, and other excrements will fall onto so you can clean it.
In Short:
The reinforced steel tubes are all welded together
Has a roof housetop
The top makes it 51-in tall
It's perfect for housing XXL dog breeds
Dog dirt will fall onto the tray below for you to clean
Has a top door, front door, and feeding door
All door locks have safety buckles
BEST METAL HEAVY DUTY LARGE DOG CRATE
Lemberi Heavy Duty Dog Cage
Extra Strong Build
Heavy-duty dog crates for separation anxiety like this one need to be built extra strongly. These dogs will usually be more aggressive so it's no wonder that this crate is made with 20 gauge steel and has a further reinforced build because it's made with 0.5-in diameter steel tubes.
Indoor And Outdoor Use
Just like most extra strong dog cages, this heavy duty metal dog crate is also coated with a finish that makes it resistant to corrosion and rust. You won't have much use of this feature if you use it as a large indoor dog crate only but will definitely come to shine if you place the crate outside every once in a while.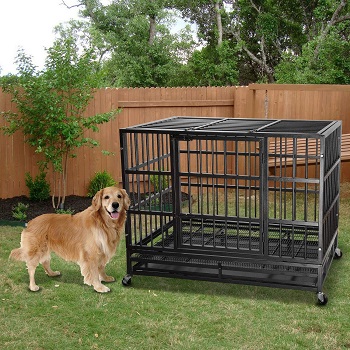 Moving Problem Solution
The crate would be rather difficult to move if you were to carry it. It would actually be impossible since it's not only big and hard to grasp but it's also heavy with a weight of 88 lbs. That's why you'll get 4 wheels with it. 2 of the wheels are lockable to make the crate more stable when you put it into place.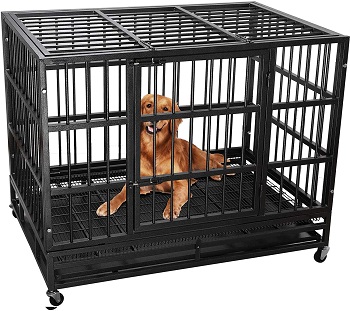 Mesh Floor
Lemberi dog crates all have a tray that has a mesh pattern on the bottom. This is to allow dog excrements that would otherwise stay in the crate to fall through and end up on a tray below it. You can then pull out the tray, get rid of the dirt, clean it and place it back.
Easy Placement
We've put this heavy duty large dog crate in the best corner category because you can put it in the corner and still be able to access your dog and for your dog to access the crate. This is due to the door placement. The doors are located in the front and on top and they lock safely with double locks.
In Short:
Has a 20 gauge steel build
It is reinforced with 0.5-in diameter steel tubes
Has a coating finish that makes it resistant to corrosion and rust
Features a top and front access door
The door can be locked with double locks
Comes with a cleaning tray located below the floor
BEST FOLDING LARGE XXL DOG CRATE HEAVY DUTY
PawHut Heavy Duty Metal Dog Crate
Folding Design Advantages
You will rarely find a heavy-duty large dog kennel that can be folded down with ease so if you really need it because you lack the storage space this is the crate to get. It's also much lighter than the rest of these crates so it might even be easier to transport.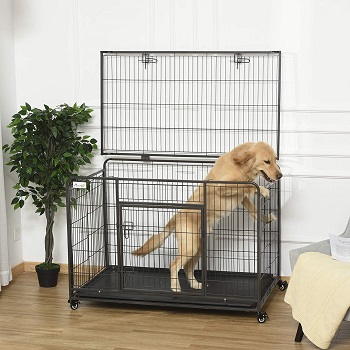 Steel Wire And Tubes Build
We have to add that this heavy duty xl dog crate does have a durable steel tube frame and all of the parts are welded together but that's only true for the frame. The rest of the crate uses steel wire as its build material so it might be better to use it as you would use a regular large wire dog crate.
Cleaning Pan Placement
Just like regular wire crates, this one also has a cleaning tray located on the side of it. What this means is that you'll have to let your dog out of the crate to clean the pan. Because of the fact that the tray is located on the inside, the outside bottom features two pan stoppers to prevent it from sliding out accidentally.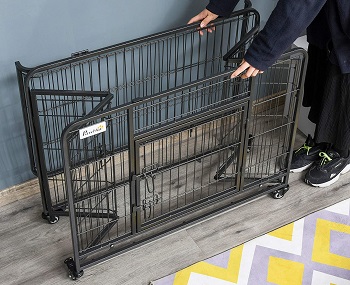 Movement And Access
You will be able to let your dog out through the front door that locks with 2 slide bolt locks while you'll get to access your dog through the additional top door that's curved on the edges. This door can also lock with 2 sliding bolt locks. To move the crate with no problems whether it's folded down or up you will get 4 wheels for it. Each wheel can also be locked to prevent the crate from moving when you don't want it to.
In Short:
Has a welded steel tube frame
The rest of the crate is made out of steel wire
Can be folded down
Comes with 4 lockable wheels for easy movement
Feature a top and a front door
Bot doors lock with 2 sliding bolt locks
The cleaning pan is placed on the inside
Has 2 pan stoppers to prevent the pan from sliding out
How To Pick A Heavy Duty Extra Large Dog Crate
The differences between heavy duty extra large dog crates are small ad almost unnoticeable but they make a big difference. some of those differences are the size, shape, and primary build materials so continue reading if you want to get the right crate from your first try
Crate Sizing Help – If you don't find useful the information that categorizes the crate as a large heavy-duty dog crate or extra and extra extra large ones, what might help is if you look at the crate's dimensions. These crates can be anywhere from 42 to 50-in long but the size you'll choose also depends on the crate's height. The crate should be taller and longer than the dog at least 4-in.
Crate Limits – The number one limitation with these crates is that they're heavy and not exactly portable. To help with movement you'll get wheels with each crate but still, you won't exactly be able to travel with the crate or transport it easily.
Dog Behavior Limits – Even if you were to find a crate like this that's portable, you shouldn't really travel with an aggressive dog that doesn't behave well. Of course, this behavior can be reversed and the key to that is proper crate and regular training. These crates can be excellent training cages for dogs because they're able to put up with a lot of abuse before they wear out and the question is if they'll ever.
Heavy Duty Large Dog Kennel VS Crate – Some people might easily confuse an XXL dog crate heavy-duty model with a kennel but it comes as no surprise. They're both large and extremely tough and durable but the differences between them are also big. Crates of this type are designed to be used indoor while kennels are designed to be used strictly outdoors. This is not only because kennels can survive different weather conditions but it's also because they are so large that they can contain an XXL dog crate inside them.
To Sum Up
We choose Itori 48" Heavy Duty Metal Dog Cage as the recommended heavy duty extra large dog crate. All part of the crate are welded together and it even has multiple layers of hammer tone finish that make it resistant to rusting and corroding. If you don't really need such a durable and strong crate you might want to read the article about XL wire dog crates and if you want to travel with your dog you might want to check out the article about the safest dog crates for cars.