Do you want your home to be a place where your dog can live inside his own large indoor dog crate?
You've stumbled upon the right article. If you keep reading it you will see that we reviewed the best ones that fit the description. We also tried to make it so that the choice you have is diverse so we reviewed crates like wooden, furniture style, and folding ones.
The Summary
Best 5 Large Indoor Dog Crates
Best Of Best Large Indoor Dog Crate
Unipaws Pet Crate End Table
Chew-proof Bits
This crate has a wooden frame that will make it blend into your home decor because it resembles furniture. While the frame is not chew-proof the steel wire sides that will provide the crate with good air circulation sure are so you'll have to worry less about your dog damaging the crate by chewing.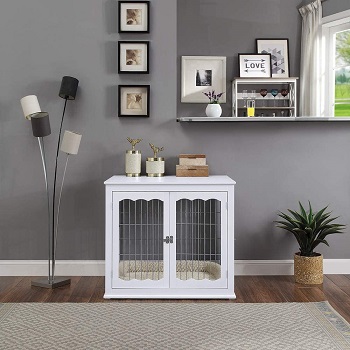 Free Panel Positioning
There's a double door on the sides of the crate and a regular front door for access. You can actually choose to place the panels however you'd like when you're assembling the crate so that it allows you to position this triple door dog crate more freely inside your home.
Lock Quantity And Types
Since this is a large indoor dog crate made to house dogs that are up to 34-in long it has 3 locks for each door. Not only that it has three locks for each door but the locks are all different types so that your dog really can't escape the crate on his own.
Added Bonuses
The bonus feature for this crate is that the top can hold your personal items. This means that the crate can easily function as a piece of furniture and blend better inside your home. The weight limit for the top is 200 lbs. You will also get a waterproof bed that you can easily wash when needed.
In Short:
Made with wood and steel wire
The steel wire bits are chew-proof
Comes with a washable waterproof bed
The top can act as furniture
The weight limit for the top is 200 lbs
Has a double and a front door and three locks for each
The panels can be placed however you'd like
Best Wooden Large Indoor Dog Crate
BarkWood Large Pet Crate
Space Saver
This indoor dog crate for large dogs is an excellent space saver in two ways. The first one is that the top makes it function as a piece of furniture and the other is the front door that opens fully to the side of the crate and stays there so that it doesn't get in your way if you leave the crate open.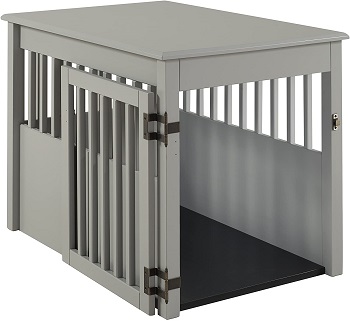 100% Solid Wood
There's no doubt about it that this crate is strong and durable and the its material proves it. The large indoor dog crate is made entirely out of solid wood that is known to handle light chewing on its own. You won't find this feature with crates made out of wood polymers like MDF wood.
Protective Bottom Features
There are two things that the bottom of the crate holds. The first one will protect the floors and prevent the crate from sliding and they are the 4-floor protectors. The other one will protect the crate and it's the rubberized coating on the bottom that will minimize the absorption of liquids if your dog happens to urinate while he's inside the crate.
Things To Keep In Mind
We do have to add that while the crate can handle light chewing it might take some visible damage if that's the case. It is a sturdy dog crate but no matter how sturdy it is, these types of crates can only hold dogs that exhibit calm behavior.
In Short:
Made with solid wood
The wood can handle some light chewing
Has a door that opens fully to the side
The top can function as an end-table
The bottom has minimized liquid absorption
It has 4-floor protectors on the bottom
Made to house mostly calm dogs
Best Furniture Style Big Indoor Dog Crate
Casual Home Extra Large Pet Crate
Chew-Resistant, Not Chew-Proof
You have to know that there is a big difference between chew-resistant things and chew-proof ones. For example, the solid wood construction of this crate makes it chew-resistant which means that it will survive light chewing but might still take damage while a chew-proof crate would avoid that completely.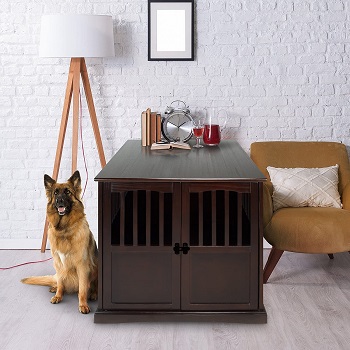 Color Varieties
The crate has an espresso color but if that's not the color that will make it look nice inside your home there are multiple color options to choose from. You can choose to get it in black, grey, walnut, and white while the specs will stay the same.
Door And Lock Safety
This XL wooden dog crate actually has a double door for entry and exit. It has only one lock and while that might be enough for some to ensure them that their dog won't escape the crate, for others it might not be enough so make sure your dog is crate trained before being this crate.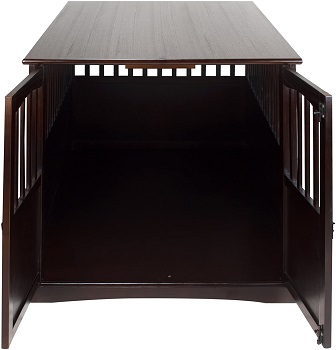 Typical Wooden Crate Feature
Almost all, if not all, wooden dog crates have the ability to function as end-tables and this crate is no exception to that rule. Since it's a large indoor dog crate, you'll have more space on top as well and the weight limit for the top will also be higher.
In Short:
Made with chew-resistant solid wood
Has a double door for access
Best to be used with crate trained dogs
Has an espresso color
You can get it in 4 different colors
Can act as a piece of furniture because of its top.
Best Metal Large Indoor Dog Crate
IRIS USA Wire Open Pet Pen
No Top, Tall Design
This indoor dog kennel for large dogs is more of a dog crate playpen than it is a crate. The simple reason why this is the case is that it doesn't feature a top. This will allow you to access your dog easily when you need to and make positioning options larger. What it also has is a taller design but you can choose to get a regular large version as well.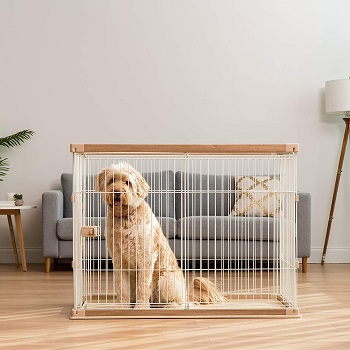 Frame And Sides Construction
Since this big dog cage for inside doesn't have a top, it's best to use it with dogs that are calm and already crate trained. Another reason for that is that the frame is made out of plastic although it's intended to look like wood. The sides, on the other hand, are made out of steel wire that's coated with white epoxy.
Sliding Door Access
If you exclude the top, this crate has only one door for access but it is a door that slides open so that you'll have more space when it comes to the surrounding area of the crate when and if you leave the crate open. The lock on the door is a positive lock.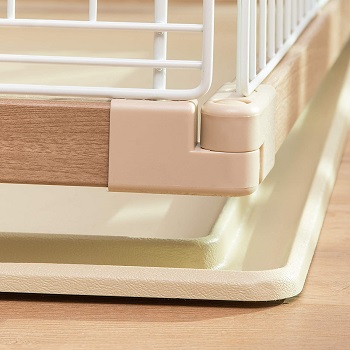 Liner Description
For the bottom of the crate, you'll get a plastic liner that's molded so that the edges of the crate fit into it and so that the top part doesn't slide away from the tray. These raised edges also create a deep inside so that liquid overflows are minimal.
In Short:
The plastic frame looks like wood
The sides are made with white epoxy coated steel wire
Doesn't have a top
Has a taller design
The bottom molded tray will make cleaning easy
The single door slides open and locks with a positive lock
Best Folding Big Indoor Dog Crate
Pet Gear 4 Door Steel Crate
Foldable Design Benefits
If big dog cages for inside are not something you want to be seeing often inside your home you can either get a furniture-style dog crate or one that can be folded down to store away such as this one. The foldable design will also allow you to transport it easily and use it as an XL dog travel crate.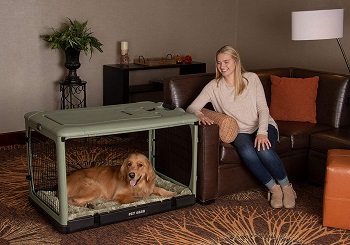 Transport Ease
What will assist with transport along with the foldable design are the built-in wheels on the bottom and a handle on top. You will also get a travel bag for the crate so that you can store the folded crate inside it. The crate will also come with a comfortable fleece bed that you can easily wash.
Crate Parts Description
The crate has a blow-molded plastic frame and steel wire sides. The crate's completely safe for the dog since the corners are rounded and there are no exposed sharp steel edges. The bottom of the crate's base is insulated so that it doesn't crack if there are differences in temperature.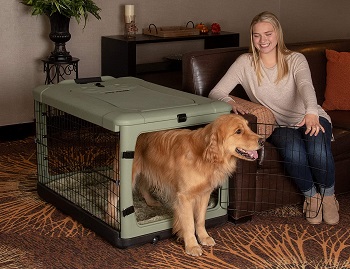 Almost Endless Positioning Options
You'll absolutely love the fact that this crate has a total of 4 doors for access. You can really let your imagination run wild when it comes to how you're going to position it. There are 2 doors on the side, one on top, and the last is a front door that opens like a garage door so it won't get in your when you leave the crate open.
In Short:
Has a blow-molded plastic frame and steel wire sides
The corners are rounded for inside safety
Has 4 doors in total
The large front door opens upwards
Comes with a washable fleece bed
Can be folded down
Has built-in wheels and a top handle
How To Pick Large Indoor Dog Cage
What might really help with choosing a large indoor crate is if you first know the differences between their build materials and what each type of crate does best. The differences in additional functions, door amount and the way you'll size the crate are also important differences and we're here to explain why and how so you can get the perfect one from your very first purchase.
Door Quantity Importance – What might seem like something insignificant can play a big role in how good of an indoor dog cage large model is. Single door dog crates will have limited positioning options so getting a crate that has multiple entrances can be quite useful because you can also choose the place them any way you'd like.
Blending Into Your Home – If you want to get a crate that won't even get noticed inside your home then the right pick for you is XL dog crate furniture. Not only will the crate go unnoticed but you'll also get some extra storage space with it. This is a feature that will also help with crate positioning.
Typical Sizes For Large Crates – You can't ever put a single length as the one to cover it all because there are so many large dog breeds that have different lengths and heights. These crates are usually 36 to 48-in long and the one you'll choose depends solely on your dog's length and height. If your dog is at least 4 inches shorter in both aspects you can safely assume that the crate you found is of the right size for you.
Tolerated Dog Behavior – You haven't already, you should crate train your dog before getting a crate since most of them can't really handle a dog that tends to chew on his crate and is overall rowdy. If that's the case then your best bet is to get a large wire dog crate to train your dog properly.
Large Indoor Dog Crate VS Kennel – The only way you could fit a kennel inside a home is if you were to have a large enough space that is more of a space for dog care professionals than it is a home. Kennels are extremely large and made to endure different outdoor weather conditions and if that's not enough to make you realize the difference then maybe the fact that they are large enough to fit any size of dog crate inside will.
To Sum Up
We have to stick to the Unipaws Pet Crate End Table as the one large indoor dog crate that we'd recommend. It's because of the way it looks, its chew-proof sides, end-table feature, and triple lock system that we were able to decide on it with such ease. If white is the color that will best suit your home then you might want to read the article about large white dog crates and if you still haven't gotten around to crate training your dog then the article about training cages for dogs might help with that.