Do you need an extra door on your dog crate so you're looking for a large double door dog crate?
If you had difficulties with finding one this won't be a problem anymore. Continue to read this article if you want to go through our selection and reviews of the best ones out there. to make it more interesting, we've reviewed different types of crate like folding ones and ones made for puppies.
The Summary
Best 5 Large Double Door Dog Crates
BEST OF BEST LARGE DOUBLE DOOR DOG CRATE
Life Stages Double Door Folding Crate
Door Positions And Locks
The two doors that make it a large double-door dog crate are located in the front and one is located on the side of the crate. You'll get to lock each door with 2 slide bolt locks. The double door will allow you to position the crate freely inside your home even in corners.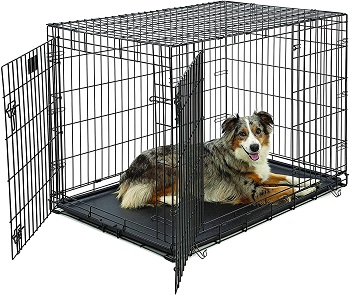 Traveling Option
You can actually use it as an SUV dog crate because of the double door and the foldable design that will allow you to easily transport the crate anywhere by carrying it sort of like a briefcase because of the handle. The e-coat finish makes the whole crate rust-resistant.
Rounded For Safety
For your dog to be as safe as possible while he's inside the crate the edges of the crate have corner clips that round out the edges of the crate and minimize the possibility of injuries because there are no sharp edges. To prevent damage to floors, the crate has roller feet on the bottom to prevent that.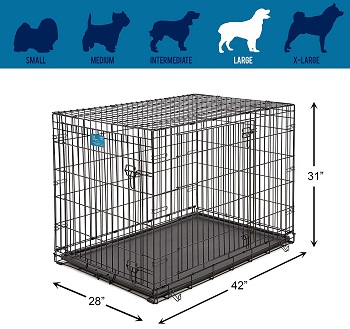 Potty Training Help
There is a puppy crate divider that comes with this crate and it's there to adjust the crate's size to your growing puppy. It will also help with potty training your puppy. Another thing that will help you greatly with potty training is the durable plastic pan that will collect dog excrements and prevent them from ending up on your floor.
In Short:
Has a front and side door
The doors lock with 2 slide-bolt locks each
Comes with a divider for potty training
The rounded corners make the interior safe
The e-coat makes it resistant to rusting
For cleaning, you'll get a plastic bottom pan
BEST FOR PUPPIES LARGE DOUBLE DOOR DOG CRATE
Precision Pet Great Crate
Adjustable Divider Use
The crate comes with a puppy crate divider which is just one of the reasons why it's great for housing puppies. The divider can be adjusted so that it can fit your puppy as he grows. Puppy crate dividers aid with potty training and it's always best to start early with it.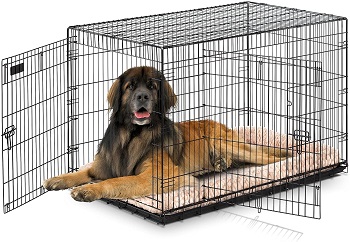 Clean Floors
Another thing that will help with potty training at least when it comes to keeping your floors free from accidents is the plastic pan located on the bottom that has raised edges so that it can contain messes better and while it's at it, keep your floors clean. It can easily be removed so that you can clean it
5-Point Locking
The right side of the crate features a door and the front as well. This means that you can easily position the crate even in corners since you might block one entrance but one will still be available to you. What makes it so special is the fact that you can lock the door from 5 different points.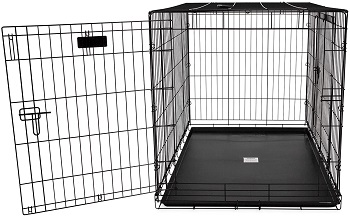 Weight And Length
The crate is surprisingly heavy with 48 lbs to it. You can fold it down if you wish to store it whenever you're not using it or so that you can transport and travel with it. This extra-large double door dog crate is actually also 48-in long so you can house inside dog breeds that weigh up to 125 lbs.
In Short:
Has an adjustable puppy crate divider
Can be folded down to travel or tuck away
Both doors can be locked from 5 different points
Weighs 48 lbs
Can house dogs up to 125 lbs
BEST HEAVY DUTY LARGE DOUBLE DOOR DOG CRATE
Go Pet Club Heavy Duty Dog Crate
Door Placement
Unlike other large double door dog crates that we reviewed so far, this one is a little different when it comes to how the doors are positioned and how the divider panel functions. Both the doors and divider panel are positioned in such a way that you can house two medium-sized dogs inside if you want.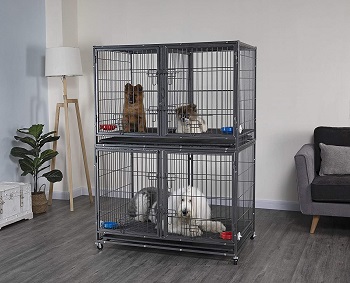 Non-Adjustable Divider
You can actually remove the divider to house one large dog but you can adjust the crate's size to fit a growing puppy though. Both doors are located on the right side of the crate and they each have their own locks and each one also has a smaller built-in door that can be used as a feeding door and for them you'll also get 2 detachable plastic water bowls.
Handling Aggressive Dogs
The crate is made out of heavy-duty metal tubes and it's coated with a hammer tone finish that gives it rust-resistant properties. Since it's a heavy-duty metal dog crate it can easily house aggressive dogs without you having to worry that it's going to get damaged.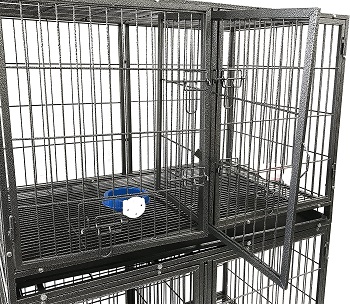 Ease Of Cleaning And Moving
You won't have to let your dog or dogs out to clean this crate since dog dirt and excrements will go through the gridded floor and fall onto the plastic cleaning tray. The crate weighs 66 lbs so it would be difficult to move if there weren't any wheels on it. You can also lock the wheels to make the crate sit more stable in one place.
In Short:
Made with heavy-duty steel tubes
The coating finish makes it rust-resistant
Can house aggressive dogs
The removable divider panel allows you to house two dogs
The crate weighs 66 lbs
Sits on lockable wheels
The divider crate parts have their own door and feeding door
Comes with 2 detachable water bowls
BEST FURNITURE LARGE DOG CRATE DOUBLE DOOR
Unipaws Pet Crate End Table
Freeform Door Panels Positioning
This is actually a triple-door dog crate that has a double door on the side and one in the front. Again, this will allow you to position the crate freely inside your home but what will also help with that is the fact that you can choose to place the panels however you'd like when you're assembling the crate.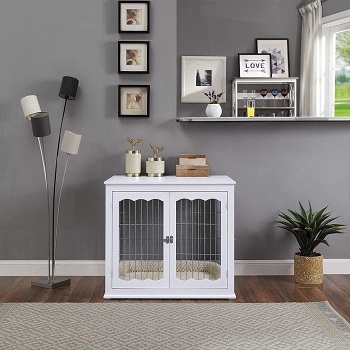 Frame And Sides Specifications
It's made with steel wire that is located on the sides and that will ensure good airflow and circulation while the fram5 is made out of wood. The wooden parts, as with most indoor wooden dog crates, is not chew-proof but the metal sides definitely are
Perfect Home Addition
The number one reason why this large double door dog crate is so good for being placed indoors is that it can serve you as an end-table or just a regular piece of furniture. The reason for that is its wide top that has a weight limit of 200 lbs.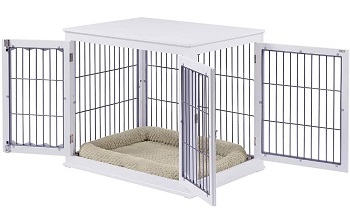 Ensuring Comfort And Safety
Along with the crate, you will get a waterproof bed for the bottom that you can also wash easily. This will make your dog feel more comfortable while he's inside while for safety, the double and front door have 3 different locks so that your dog can't escape it.
In Short:
Has chew-proof steel wire sides
The frame is made out of wood
Comes with a washable waterproof bed
The double and front doors have 3 different locks
The top makes it function as a furniture piece
The top has a weight limit of 200 lbs
BEST CHEAP LARGE DOUBLE DOOR DOG CRATE
BestPet Double Door Folding Dog Cage
Steel Wire Properties
Large wire dog crates such as this one usually have a coating finish, typically an e-coat, that makes them resistant to rusting but on this large double door dog crate it's actually the steel wire itself that's rust-resistant. This will allow you to use the crate outdoor from time to time.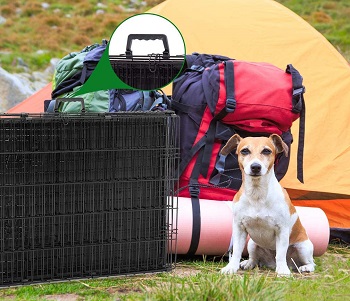 ABS Composite Pan
The cleaning pan on the bottom is a story for itself. It's a leakproof and quite durable pan made out of ABS composite material. The pan is so durable that it won't stain nor warp and it even won't corrode and absorbs nasty odors from dog excrements that might find their way on it.
Standard Entrance Placement
It has a pretty standard door placement for wire dog crates with one located in the front and one door on the side. You can lock the door securely using the heavy-duty sliding bolt locks and you'll get two for each door.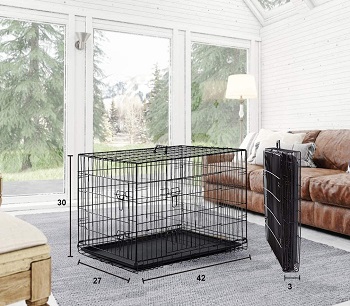 Carrying And Transport
You can easily fold down the crate and you'll be able to assemble it just as easily. To make the crate easily transportable when it's folded down, you'll find a carrying handle that will give you the option of carrying the crate just like a briefcase.
In Short:
Made with rust-resistant steel wire
Can be folded down and you'll get a top handle for carrying
The cleaning pan won't stain or warp or absorb odors
The two doors can be locked using 2 sliding bolt locks
How To Pick A Large Double Door Dog Crate
Before you get yourself a large or etra large double door dog crate you first need to figure out if you need one in the first place or if there are better solutions to your problems. The most common problem is in-home placement while other problems might be sizing and crate durability so be sure to read this guide with tips on how to pick the best crate out there.
Crate Safety And Durability – We can divide these crates into three durability categories. In the first category, we can put XL wooden dog crates that can't handle chewing, the second one is wire dog crates that are the perfect middle-ground for durability and practicality and in the third category, we decided to put heavy-duty large dog crates that you'll only need to buy if your dog is aggressive and breaks his crates easily.
Positioning Assistance – The most prominent feature of these crates is their ability to adapt to your home since the double door design will allow you to place the crates in multiple locations. This is only true for dog crates that have entrances on different sides. The most common door placement is in the front and on the right side.
House Training – Since large double door dog crates are made to be used indoor the first thing you need to do if you're just getting started with containing your dog inside a crate is crate train your dog. Some crates, of course, are better training cages for dogs than others and in this case, you want to get a wire dog crate if that's the case. If you have a puppy that seeds house training you still want to get a wired go crate but make sure that it comes with a divider.
How Big Is Large – Typically, these dog crates can be anywhere from 37 to 48-in long but it all depends on your dog's height and length which one you should get. The crate should be at least 4 inches taller and longer than your dog and if you have a puppy that you're buying the crate for, make sure you get the size that fits his approximate adult size by breed.
To Sum Up
We have to recommend the Precision Pet Great Crate as the best large double door dog crate. It's the perfect starter crate for house training dogs, it can be placed in multiple ways inside your home, it locks from 5 different points, and is overall a pretty sturdy dog crate. If you haven't potty trained your puppy yet there are a lot of crates that can help you with that and you can find them in this article about potty train crates and if you're looking for something a little more durable since your dog chews up all of his crates you might want to look into the article about toughest dog crates.