Want to get a hold of a heavy-duty metal dog crate but you can't seem to decide on one?
Let us make it easier for you. By continuing to read this article you just might find a crate like that in no time. We've found and reviewed just about the best ones that we could find and we've even made sure to include a lot of different varieties of them so you'll find reviews of crates categorized as medium, large, and extra-large crates with more yet to come.
The Summary
Best 6 Heavy Duty Metal Dog Crates
BEST OF BEST HEAVY DUTY METAL DOG CRATE
Itori Heavy Duty Metal Dog Cage
Reinforced Build Explanation
To create a reinforced steel construction the manufacturer of this heavy-duty metal dog crate made sure to weld all parts together. The steel has a 20 gauge and it also has 0.5-in diameter steel tubes. Another way that the reinforced construction is achieved is that the crate is corrosion and rust-resistant.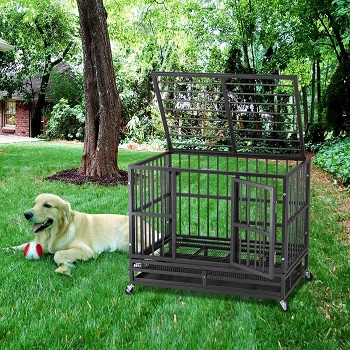 Size Of The Thing
The Itori dog crate is an XL metal dog crate. it's almost 48-in long, 35-in tall, and 30-in wide. You can easily house extra large dogs and dog breeds inside but make sure you measure only the crate's interior dimension before sizing it according to your dog's size.
Placing Difficulties
The crate might be difficult to place inside your home because of its sheer looks, size, and weight. It weighs 83. lbs but you can move it more easily since you'll get to choose if you're going to place caster wheels on the bottom. Two of which are lockable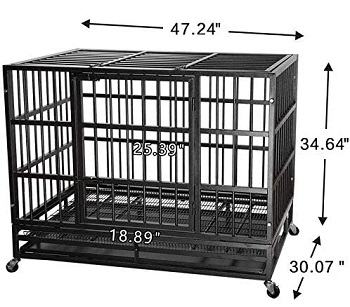 Placing Solution
Like we've said, it might be more difficult to place inside your home because of its size and looks but the solution to that is its double door design. Even if you were to block the main front entrance with how you're placing it inside, you can still access your pet through the top entrance. The doors feature anti escape locks.
In Short:
Made with 20 gauge, 0.5-in diameter steel tube
Has corrosion and rust-resistant properties
Cna house extra large dogs
Weighs 83.6 lbs
Comes with 4 caster wheels, 2 of which are lockable
Has a top and front door for access
The doors lock with anti-escape locks
BEST MEDIUM HEAVY DUTY METAL DOG CRATE
PawHut Heavy Duty Steel Dog Crate
Housing Medium Dogs
The only way to make these crates less of an eyesore for your home is to make them smaller cause they pretty much all look the same. This is true with these crates as well but it is a crate made to house medium-sized dogs since it's 36-in long.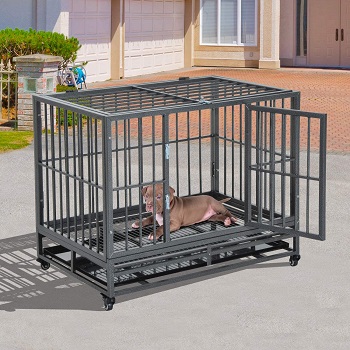 2 Parts Build
There are two parts that make the crate. One is the crate's frame that's constructed out of high quality and gauged steel and the other one is the rest of the crate that's made with steel tubes. Of course, each part is welded together to create a more durable medium metal dog crate.
2 Bottom Things
The bottom holds two things. First, we have the caster wheels that you can decide to take off if you'd like so that you can move the crate with more ease. Secondly, we have the slide-out cleaning pan that you can access without letting your dog out of the crate since it's located outside and below the gridded floor of this heavy-duty steel dog crate.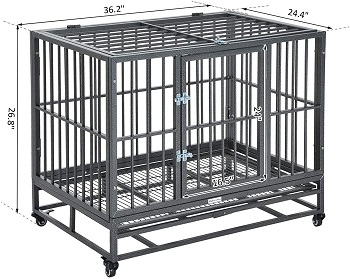 Door Location
The heavy-duty metal dog crate's doors are located on top and in the front. While the front door will allow your dog to use it and enter and exit the crate when he needs to, that is not true for the top door since it's only accessible to you. The front door locks with 2 slide bolt locks and the top door with only one.
In Short:
Built of gauged  steel tubes and a frame
Meant to house medium dogs
Can be moved using the caster wheels
The slide-out pan below the floor is used for cleaning
The front door has 2 slide bolt locks while the top holds one
BEST LARGE HEAVY DUTY METAL DOG CRATE
Smonter Strong Metal Dog Cage
Different Tube Thickness
While the whole crate is made out of thick and heavy steel tubes, on the bottom, the crate has even thicker steel tubes so that it has a higher weight limit and so that the bottom doesn't deform due to weight pressure. The crate also has multiple layers of hammer tone finish that makes it resistant to rust and corrosion or even aggressive dog behavior.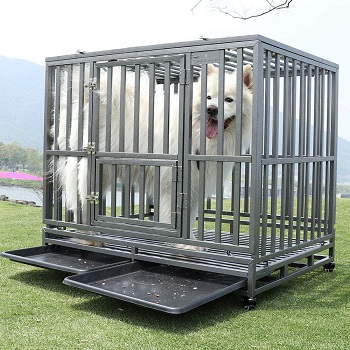 2 Step Door Locking
The crate has a top and front door for access. The top holds a single lock while the front door has three. They are 2 step locks that will require you to close the lock and then push it in for more security. Your dog might find it impossible to unlock the door on his own
Keeping Your Home Clean
You can be sure that the floors of your home will be kept as clean as possible as long as you don't wait too long to clean the two-deep plastic pull-out trays that are held below the floor of the Smonter heavy duty dog crate.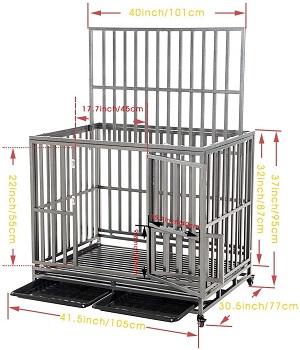 Easy Moving
The weight of this heavy duty metal dog crate is 80 lbs, but don't worry about how you're going to move it, this heavy-duty metal dog cage comes with wheels that operate silently, can spin 360 degrees, and can easily be locked to give the crate more stability when it sits in place.
In Short:
 Has a steel tube frame
The bottom holds even thicker tubes
Has multiple layers of hammer tone finish
The crate is rust and corrosion resistant
Feature 2 deep slide out cleaning tray
Can be moved using the lockable wheels
BEST EXTRA LARGE HEAVY METAL DOG CRATE
Gelinzon Heavy Duty Dog Crate
Steel And Coat Properties
Unlike all of the crates that we've reviewed prior to this one, the Gelinzon dog crate is made with rust and corrosion-resistant steel, while the other crates had a coating finish that gave them these properties. What the coating finish is, is that it's non-toxic and won't compromise your dog's health but it also doubles the anti-rusting ability of it.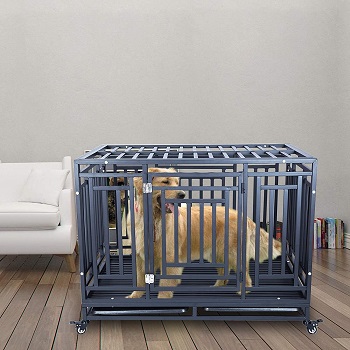 Safety Buckle Locking Door
It has a single door for access located on the lengthy side. There are 2 locks on the door that are patented. Each lock has safety buckles on them to ensure that your dog won't manage to escape the crate. What it essentially means is that it is a safely locking dog crate.
Length And Height
It is a 45.5-in long dog crate and it has a height of around 35-in. These measurements can be used to determine whether or not the crate is of the right size for your dog. Talking about this crate specifically, it should be 4 to 6 inches bigger than the dog.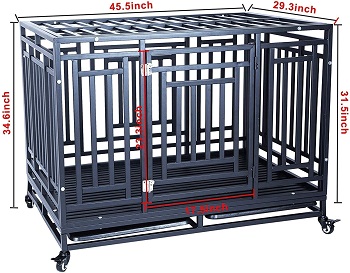 Clean And Easy Moving
Two of the 4 wheels that you can attach to the bottom of this heavy duty metal dog crate are lockable. this is so that the crate is more stable when you've already set it in its place. Instead of one, the crate has 2 slide-out liners for cleaning that you will get to access from outside the crate.
In Short:
Built with corrosion ad rust-resistant steel
The finish is not-toxic and makes it anti-rusting as well
Features 2 trays for cleaning below the bottom
it is 45.5-in long and around 35-in tall
Has 4 wheels for moving, 2 are lockable
The door locks on the single door have safety buckles
BEST FOR PUPPIES METAL HEAVY DUTY DOG CRATE
Go Pet Club Dog Crate
1 or 2 Dog Housing
Although the crate feature a divider it's better to use it to divide the crate so that it is a multi-dog crate. The reason is simple, the divider is non-adjustable and the crate actually has 2 front doors for access to each part of the divided crate.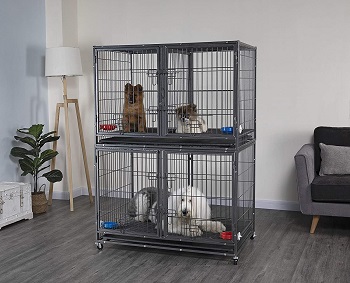 Features Of A Puppy Crate
The non-adjustable divider doesn't have to stop you from using it as a puppy crate. It is a durable and, of course, a heavy-duty metal dog crate and you'll still be able to make the crate smaller for your puppy. Another feature that a puppy crate should have is a cleaning slide-out pan and this one has two for each separate crate.
Feeding And Entrance Doors
Apart from the two front doors, you'll find small feeding doors built into each door. The feeding doors can be locked with a single slide bolt lock while the main entrance doors lock with two. You'll even get two food bowls that you can attach to the feeding door.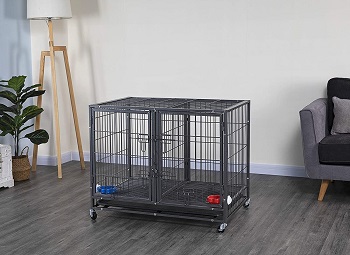 Stacking Ability And Movement
The crate weighs 66 lbs but can easily be moved by rolling it with the provided lockable wheels. For more stability, you can remove the wheels. What you can also do is buy more crates of the same type and stack them onto each other.
In Short:
Can be used to house 1 or 2 dogs
Features a non-adjustable divider
Has 2 front doors and built-in feeding doors
Comes with 2 attachable food bowls
Has 2 cleaning pans below the bottom
Sits on wheels
How To Pick A Heavy Duty Metal Dog Crate
Since heavy-duty metal dog crates are very large and not so easy to move around we want to clear up some things so that you can decide whether or not you need one. We'll talk about their weight, size, durability and more in this guide on how to pick the best one from the start
Crate Limitations – If there's one thing we're certain of, it is that you really can't use these crates as travel crates. Although tehy might easily be considered as safe and tough dog crates that won't be true if you want to use them as safest dog crates for cars. To start with, they're heavy and lack mobility and most won't even fit inside your car.
Storage Issues – If you get one of these crates, you can't count on a collapsible design to store them because they just don't have this feature. If you want to do that, it'll take you some time before you unscrew it and fold it down and the same problem applies if you were to fold them back up.
Hardly Pretty – These are definitely not hidden dog crates or even nice-looking dog crates, at least when it comes to placing them inside your home. For starters, you won't find a small heavy duty dog crate, they only go from medium to extra large
Sizing Technique Warning – When you're trying to figure out the size of the heavy duty metal dog crate for your dog make sure you look at the interior dimension of the crate instead of exteriror since the wheels on the bottom take a lot of the crate's actual height and the thickness of steel tubes takes away a lot of the overall crate dimensions.
To Sum Up
Since we focused on durability ad toughest with heavy duty metal dog crates, we've decided to recommend the Gelinzon Heavy Duty Dog Crate since the steel that makes it is corrosion and rust resistant and it has a non-toxic finish that doubles the claim before it. If you're more focused on the crate looking nice inside your home then you should definitely check out the article about indoor dog crate furniture and if you need a crate that's light and you can travel with maybe you should look into the article about soft travel dog crates.