Are you looking to buy a really nice looking dog crate that will blend well with your home decor and generally just look incredibly pretty?
You've come to the right article. Keep reading if you want to be almost guaranteed to find a crate for yourself since we reviewed wooden ones, furniture style ones, puppy crates, and more. With such a choice variety finding one for yourself, like we already said, is almost guaranteed.
The Summary
Best 5 Nice Dog Crates
BEST OF BEST NICE DOG CRATE
EliteField 3-Door Folding Soft Dog Crate
Color Variations
The simplest explanation as to why this is the best of nice dog crates is the fact that you can choose to get it in a variety of different colors. To be more specific, there are 16 color options in total ranging from red colored to a camo color design.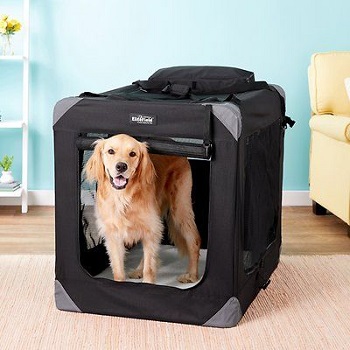 Physical Build
The crate has a metal steel tube frame and for the cover, it uses 600D oxford fabric that can easily be taken of for you to wash. Another thing that this crate gets you is the washable bed for the bottom of the crate that will keep your dog cozy when he's inside.
Portability
This is an incredibly portable soft dog crate since it's light and offers multiple carrying options. There are carrying handles on the crate and when you fold it down, you can store it inside its own carry bag that has a carrying shoulder strap.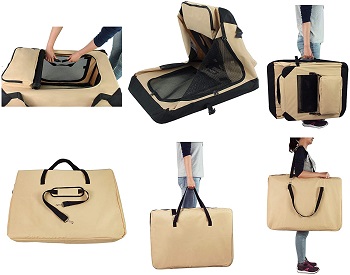 Entrances And Air Ventilation
The crate has three doors in total and there are mesh fabric windows on all sides to ensure great airflow. It is made to be 4 inches taller and 2 inches wider than most soft dog crates so getting the right size won't be as difficult of a task. You can get it for your large dog.
In Short:
You can choose to get it in 16 different colors
Made out of steel metal tubes and oxford fabric
The fabric can be removed to wash
Comes with a bed that can be washed
Made for large dogs
Can be carried with carrying handles
Comes with its own carry bag with a shoulder strap
Can be folded down
BEST MEDIUM NICE LOOKING DOG CRATE
Internet's Best Wire Dog Kennel
Steel Wire Color
If you're a fan of medium wire dog crates but aren't typically fond of the usual black color that makes them look a bit too boxed in, then you'll really love this one since the steel wire of this crate is colored in pink and it makes it look cute and nice.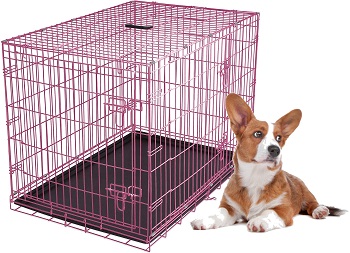 Lock And Door Type
The nice dog crate has 2 doors for your dog to access it. One is located in the front and one functions as a side door. the double door design will allow you to place the crate more freely inside your home. The door can be locked with 2-sided bolt locks.
Carrying The Crate Around
The crate can be folded down like most, if not all, wire dog crates but it does have a detachable carrying handle on top that will be put to good use if you ever need to transport the crate or if you want to move it around. You can also choose to travel with the crate but make sure your dog is crate trained before doing that.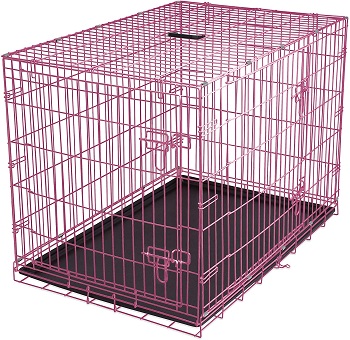 Leakproof Pan Use
The pan on the bottom will definitely keep your floors clean since it's leakproof so if any accidents do happen inside the crate, they will stay there until you are ready to remove and clean the pan. This crate is made to house medium-sized dogs and dog breeds.
In Short:
Тhe steel wire is colored pink
Made to house medium-sized dogs
The pan on the bottom is leakproof
Has 2 door for access
The door can be locked with 2-sided slide locks
Can be collapsed to store
Comes with a detachable carrying handle on top
BEST SMALL NICE DOG CAGE
Carlson Blue Metal Dog Crate
Certified To Product Standards
You'll love this crate if you have a small dog or a puppy that needs a training cage for dogs. It doesn't feature a divider but it is made so that it is certified to JPMA and ASTM standards. What this means is that it's safe for dogs and puppies to be inside it.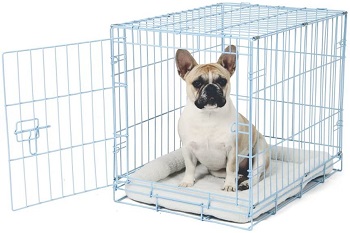 Entirely Blue
The crate is made out of tough and durable steel wire that's colored blue so that it's a nice looking dog crate rather than a boring all black wire crate. The pan on the bottom for cleaning up messes is, surprisingly, also colored blue so that there are no deviations.
One Door But Safe
Although there's a single door to access the crate, you can be absolutely sure that it will be rather difficult, if not impossible, for your dog to unlock the door on his own and escape since the door lock from five different points and that includes the standard slide bolt lock.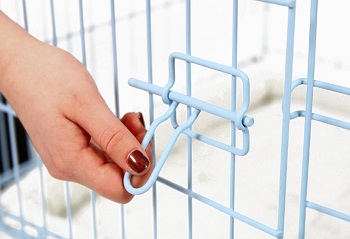 Times When You're Not Using It
If you're not using the crate that often, it doesn't have to take up precious space. You can easily fold it down to store or you can utilize this feature to travel with the crate as well but remember that it's made to house small grown-up dogs or small puppies.
In Short:
The crate is made out of steel wire
It's entirely colored blue
Can be folded down for you to store it or for travel
Has a blue, bottom cleaning tray
Made for puppies and small dogs
Certified to JPMA and ASTM standards
BEST WOODEN NICE DOG KENNEL:
PawHut Natural Diagonal Dog Cage
Slanted Bars Design
If you've ever looked for a wooden dog crate then you are familiar with their typical design and looks. Specifically, we are talking about the vertical bars placed on the windows that sometimes make the crates look like a prison but this crate has slanted wood bars across the ventilation windows and its door to make it a really nice dog crate.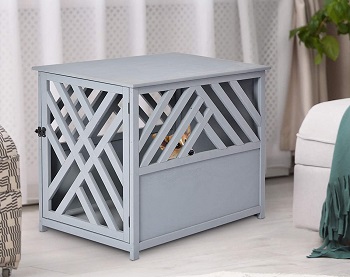 Wood Used To Make It
The crate is made out of all-natural fir wood that's also environmentally friendly and it is colored gray but like most wooden dog crates, this does not mean that it's chew proof so if you have a dog that tends to chew on their crate, this modern dog crate furniture crate might not be for you.
Top Design
The top of this dog crate can be used for you to put some of your personal belongings or dog stuff on it. This means that it can function as a piece of furniture and this will make ti blend even better inside your household if the beautiful wooden design isn't enough.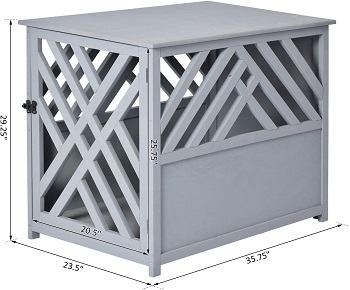 The Weight It Can Handle
The crate can handle up to 66 lbs of weight but you shouldn't use the weight limit to figure out if this is the right size for your dog. Generally speaking though, you can use it to house small and medium-sized dogs inside.
In Short:
Made with natural fir wood
The crate isn't chew proof
Made to house small and medium dogs
Colored in gray
Has slanted wooden bars on windows
Has one door for access
Can be used as a piece of furniture
BEST FURNITURE STYLE NICE LOOKING DOG CAGE
Simply Plus Wood & Wire Dog Crate
Wood And Wire Crate Benefits
This crate has most of the benefits of a small wire dog crate but it also has all the benefits that you get with a furniture-style dog crate. The reason why is simple, the frame of the crate is made out of MDF wood while the sides are made out of steel wire.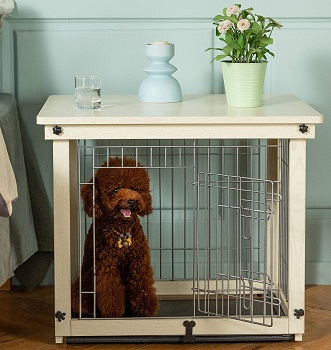 Air Circulation
The wire sides will give your dog enough air while he's inside the crate. The single door for access to the crate is located on the side of the crate and can be locked with 2 slide bolt locks. There's also a pan on the bottom that will make cleaning the crate a lot easier.
Top Function
The top can function as a piece of furniture which means that you can put your stuff on it. This feature will save you space and will truly make it a nice dog crate. The screws for the crate are also nice-looking because they are made to look like cute dog paws.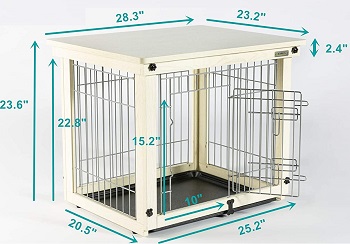 Dog Bone Screw Purpose
For the bottom pan that's here for you to clean the crate easily, you'll get a side stopper shaped like a dog bone that will prevent it from slipping or sliding out. The crate is made in such a way that it can only house small dogs.
In Short:
The top can function as furniture
The steel wire sides provide excellent air circulation
Has a frame made out of MDF wood
Made for small dogs
Comes with a cleaning tray
The screws are shaped like dog paws
The side stopper is shaped like a dog bone
How To Pick A Nice Dog Crate
Never Sacrifice Quality For Beautiful Design – We mean what we're saying. If you're getting a small, medium or XL wooden dog crate focus on getting one that's made out of natural wood or if not, that it has some steel wire parts incorporated into it and if you're getting a soft dog crate, make sure that your dog is crate trained.
Best Crate Type For Dogs That Need Crate Training – If you want your crate look nice but you also need a training crate the safest and best way to go is to get a wire crate. If you're crate training a puppy, some wire crates can come with a divider or you can purchase one separately as well.
Blending With Your Home Decor – The surest way to know that you're getting a nice looking dog crate is to see how well it blends into your home decor. The best crate type to do that will typically be white dog crate furniture or any other color of crate furniture really while wire crates tend to look nice and blend into your home decor if the wire is colored
Nice Dog Crate VS Kennel – There are nice dog kennels for sure but they won't be much good to you inside your home since they are too big. Typically, an aesthetically pleasing kennel will be made out of solid wood and it will be made to be used outside. If you're getting a solid wood kennel though you will be sacrificing some quality for design since kennels are made to withstand harsh outdoor conditions and solid wood won't do that best.
To Sum Up
We can't really recommend a nice dog crate solely based on looks because tastes and opinions vary but what we can do is recommend the one that we think has the best features and is well made and in this case that is the Plus Wood & Wire Dog Crate since it does have a wooden frame that makes it look nice but the steel wire sides make it more durable. If you prefer that your dog is durable rather than just nice looking then the article about sturdy dog crates is the one for you to read and if you happened to like the travel option for some of these crates then you should definitely check the article about soft travel dog crates out.