Are you looking for modern dog crate furniture to go with your modern home?
We have an eye for these things and by continuing to read this article you are sure to find one for yourself. We've decided to review only the best in each category like small, medium and large and we surely didn't stop there. There's a crate in here for every type of modern home.
The Summary
Best 5 Modern Dog Crate Furniture
BEST OF BEST MODERN DOG CRATE FURNITURE
Casual Home Wooden Pet Crate
How It Looks
This crate is just as nice looking as it is sturdy. It's made out of solid wood that gives it a chew-proof feature and it is painted in a lovely taupe gray color. If you'd like, you can get the crate in black, espresso and walnut color as well.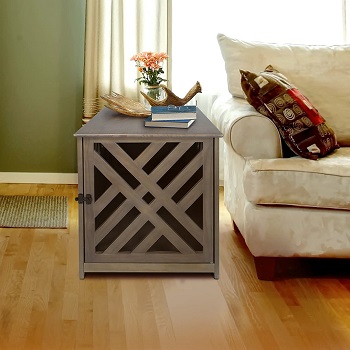 Access To The Crate
Even though the crate is chew-proof, this does not mean that it will handle excessive chewing like medium wire dog crates would but still it is a sturdy dog crate. It has a single door for access and it locks with a hasp latch lock. This is also how you'll access the inside of the crate to clean it.
Bars On Windows And The Door
The wooden bars across the door and the side windows make the crate look even more elegant since they step out from the boring vertical design and step into the diagonal. The bars form the shape of an x and will still provide the crate with excellent air circulation.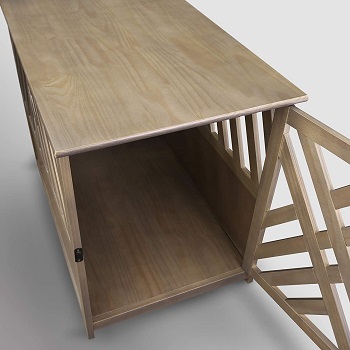 Double Role
The crate doesn't stop here with being a modern dog crate furniture that will fit incredibly well inside of every home. you can use the crate to function as an end-table or other pieces of furniture. The top can easily handle 200 lbs of weight on but the crate can only house dogs up to 40 lbs which are most commonly small and medium-sized dogs.
In Short:
The crate is chew-proof to an extent
It is made out of solid wood
Made for small and medium-sized dogs
Has a taupe gray color
The bars on windows are diagonal
Has one door for access
Can function as an end-table
BEST FOR PUPPIES MODERN WOOD DOG CRATE
Unipaws Pet Crate End Table
Puppy Crate To An Extent
The crate is said to be able to survive a chewing puppy but that is true to an extent. Only the metal wire sides can while the rest of the crate that's made out of can't so be careful if you're purchasing this crate for a puppy.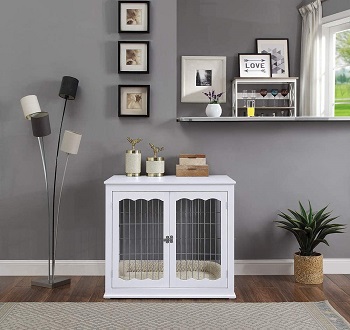 Safe Door Locks
Nonetheless, it might as well be used to house a puppy since this triple door dog crate has doors that lock with not one or two, but three different types of locks so you can be sure that your dog or puppy won't be able to escape it.
Waterproof Bedding
On the bottom of the Unipaws end table dog crate, you'll be able to place a cushion that comes with the crate that's waterproof and can easily be cleaned. This is another reason why this crate can function as a puppy modern dog crate furniture.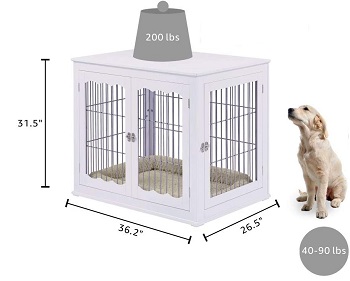 Top Weight Restriction
The top, of course, can be used to make it a modern dog crate end-table but the choice is up to you. It will look even nicer if you do decide to use it though. The weight limit for the top is 200 lbs while the crate can house large dogs.
In Short:
Made out of steel wire and woos
The wood is not chew-proof while the wire is
Comes with a washable waterproof bed
There's a double door and a front door for access
The doors lock with 3 locks each
Made for large dogs
Can functions as an end-table
The weight limit for the top is 200 lbs
BEST MEDIUM MODERN DOG CRATE END TABLE
PawHut Natural Diagonal Dog Cage
Material Specifications
The fir wood that this crate is made out of is all-natural and is environmentally friendly if that's something you're worried about. It is painted in a light gray color and you should keep this in mind if you really want this modern wood dog crate to fit into your home.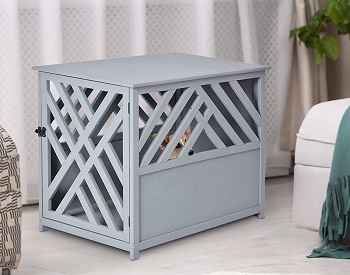 The Door And Windows
You'll get one large door for your dog to enter and exit the crate and this will also be the entrance for you to clean the crate when you need to. The entire door features diagonal wooden bars across it so that air can flow through, The windows also have diagonal bars for the crate to step out from that boring vertical bars design.
Multiple Roles
The modern dog crate furnitureis light with a weight of approximately 40 lbs and it is quite easy to assemble. It will fit in well with your modern furniture because it can function as one as well because of its wide top. You can place anything you'd like on top of it but do make sure you're ot putting something too heavy on it.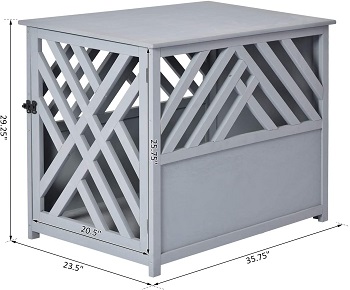 Size And Weight Capacity
The weight capacity for the crate is 66 lbs which in theory means that you can use it for medium-sized dogs but please make sure you measure your dog and compare it to the crate before buying.
In Short:
Made with fir wood
Has diagonal wooden bars on the door and windows
Made for medium dogs
The top can be used as an end-table
Has single door access
It is colored gray
BEST LARGE MODERN DOG CRATE FURNITURE
BarkWood Large Pet Crate
Airflow Quality
The whole crate is surrounded by wooden slats that make the air circulate well throughout the crate. The single door in the front also has these. The slats of the crate feature mortise and tenon joints that are known to be strongest ones so the crate will hold its shape pretty well. It even comes fully assembled.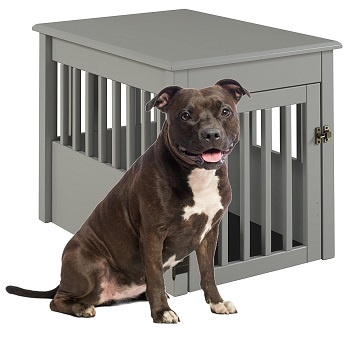 Wood Material Properties
The wood used to make this indoor dog crate furniture is solid wood which means it's natural. It also means that the crate can survive some light chewing. You might see some physical damage on the crate since it is wood but it will still work fine.
Swing Aside Door
The door is what really makes this crate stand out because it will save you space around the crate if you decide to leave it open for your dog to freely come in and out as he pleases since it can fully swing open and be attached to the side of the crate so that it doesn't get in the way. The door can be locked using a hasp latch lock.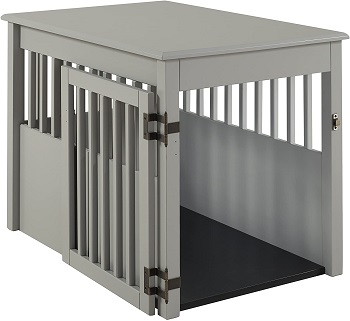 Protected Bottom
The bottom of the crate is made to be rubberized so that very little liquid is absorbed if your dog urinates inside the modern dog crate furniture. On the bottom, you'll find protectors that will prevent damage from being done to your floors. The crate can house large dogs.
In Short:
Has a door that can be swung all the way to the side
The door can be locked with a hasp latch lock
Has a solid wood construction
Made for large dogs
Has a rubberized bottom that prevents liquid absorption
BEST EXTRA LARGE MODERN WOOD DOG CRATE
New Age Pet ecoFLEX Pet Crate
Composite Material Build
It's not every day that you are able to find an XL wooden dog crate but here we are. It's made out of ecoflex which is a plastic and wood-polymer that's made to be stronger than wood and plastic as 2 separate materials since it is a composite material.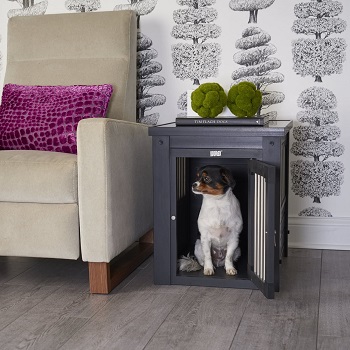 Chew Resistant But Not Proof
The ecoflex material won't split, crack or even warp but unlike solid wood, it won't handle chewing that well so if you're planning to get this crate, make sure that your dog is crate trained. The crate can house dogs that weigh up to 100 lbs but make sure you refer to the crate's dimension to really see if your dog can fit inside comfortably.
How Good Is The Airflow
All around this modern dog crate furniture, except for the back, you can find stainless steel tubes that will provide the crate with good airflow. You can find these tubes on the single door for access as well. The door has 2 hasp latch locks on it so you can be sure that your dog won't break out of the crate on his own.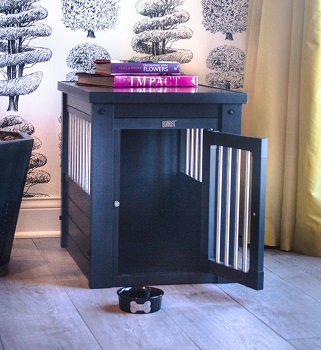 Fully Assembled
If you're not particularly handy with tools you really don't need to worry about assembling this crate since it requires no tools for it. The top, as with the rest can function well as an end table to save you space. The crate is colored black but comes in 4 more colors.
In Short:
Made out of a wood and plastic polymer called ecoflex
Made for dogs up to 100 lbs
Colored in an espresso black color
Has stainless steel tubes on the sides for airflow
Has a single door for access that has 2 locks
Made for calm and crate trained dogs
The crate can also serve as a piece of furniture
How To Pick Modern Dog Crate Furniture
This furniture must only look good and nice. It also has to be functional and the things that matter the most when talking about their differences are their build materials, size, and of course price because they can be quite pricey so you want to get the best you possibly can for the lowest price and here's how to find one just like that.
Price Points – Since your getting a piece of furniture and a dog crate of course the crates are gonna be a bit more expensive. For crates made out of solid wood you're looking at  price point of around $300 and for ones made out of some kind of wood polymer like MDF wood they are a bit cheaper with a price of around $200
Should You Crate train Your Dog – No matter the size and type, even if it's small dog crate furniture, you should always crate train your dog. This will ensure that your dog is comfortable while he's inside his crate and will ensure that the crate doesn't get damaged.
How Durable Is Wood – The answer to this question all depends on o the type of wood. If the wood in question is solid wood, you can be sure that it's quite durable and can even handle some light chewing, if the wood in question is some kind of wood polymer like MDF wood, although it is also durable, it can't handle chewing so in this case, it's best to get a crate with steel wire sides that can.
Sizing Recommendation – The size of modern dog crate furniture should always be determined according to your dog's dimensions even if it doesn't have anything to do with modern dog end-tables like for example XL metal dog crates. The way you do it is you take your dog's length and height add a couple of inches to it like 4 and see if it matches the crate's length and height.
To Sum Up
The best modern dog crate furniture that we'd recommend must be the BarkWood Large Pet Crate since it's made out of solid wood, has a rubberized bottom to prevent liquids from absorbing into the wood and it even has a door that you can put aside. If you're after something a bit more longlasting maybe look into the article about sturdy dog crates and if you're after safety first and foremost that your best bet is to read the article about the safest dog crates.