Are you into the minimalist lifestyle so you're looking to get a minimalist dog crate to go with it?
We've recognized what minimalist might mean to you so if you keep reading this article you are sure to find  crate that suits you well. We've gone to review a variety of different ones ranging from small to large, and even furniture style ones so there's something for everyone's needs and wants
The Summary
Best 5 Minimalist Dog Crates
BEST OF BEST MINIMALIST DOG CRATE
Unipaws Pet Crate End Table
White Finish Wood
We just had to review this beautiful white dog crate furniture since its beautiful white finish makes it blend so well into any minimalist home. The crate's made out of wood and the sides feature steel wire. The wood itself won't handle chewing but the steel wire definitely will.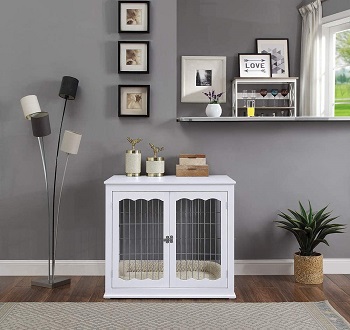 Two Roles
Another thing that makes it a minimalist dog crate is its double function. You see, you can use this crate as a piece of furniture like an end table thanks to its top. The top can put up with the weight of up to 200 lbs so it will be rather difficult to go above the weight limit.
Door Positioning
There are three entrances and they will each lock with 3 different types of locks so you don't have to worry about your dog escaping the crate. You can actually choose to place the double door entrance and the front entrance on whatever side you'd like to make it fit into your household better.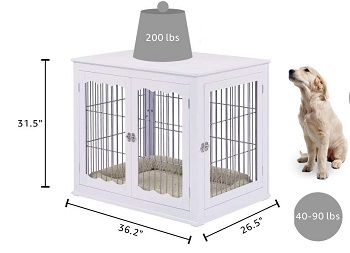 Crate Size And Comfort Items
This crate will also come with a plush bed that is waterproof and that you can very easily wash. It is also made to house dogs ranging from 40 to 90 lbs which means you can use it if you have a large dog.Although you can crate train your dog with it, we advise you to do that prior to getting this crate to minimize the damage done to the wood.
In Short:
The wire sides are chew proof
The wooden frame is painted white
Has a double door and a front door entrance
The doors can be locked with three types of locks
Made for large dogs up to 90 lbs
Comes with a waterproof bed that you can wash
BEST SMALL MINIMALIST DOG CRATE
MidWest Homes for Pets Dog Crate
Color Of The Crate
Wire dog crates that tend to be colored black give crate's the feeling like they are not roomy and well ventilated even though it's quite the opposite so the solution to that problem is simple and it's to offer a crate with a different color such as this blue dog crate.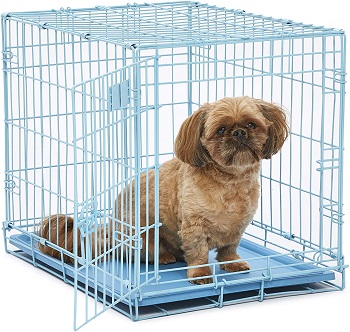 Puppy Crate Basics
The minimalist dog crate has all the basics that you want in a wire dog crate especially if you're getting it for a small puppy. These basics include a divider panel that will help you potty train your new pup and a blue plastic pan on the bottom for easy cleaning if accidents do happen.
Inside And Outside Safety
To ensure incredible safety while your dog is inside his crate, the corners of the crate are rounded and the single door features a secure slide bolt lock and for outside safety, you'll find 4 roller feet on the bottom that will do the job of protecting your floors from scratches and any similar type of damage well.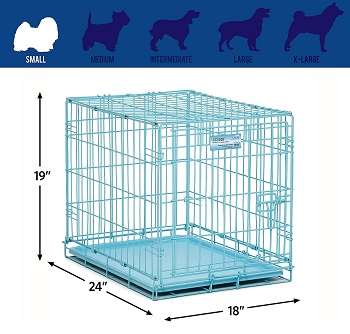 Small Dog Or Puppy Travels
You might as well use the crate to travel with your dog or to transport it with ease using its foldable construction and carry handle to hold it like a briefcase. Just make sure that you're using it to house a small dog up to 25 lbs or a small puppy.
In Short:
Built out of steel wire that's colored blue
Has an adjustable puppy divider
Comes with a blue plastic slide-out pan
Can house small puppies or dogs
Has rounded corners on the inside for safety
The bottom has roller feet to protect the floor from damage
Can be folded down and carried like a briefcase
Has a single door for access that locks with slide bolt locks
BEST MEDIUM MINIMALIST DOG CRATE
PawHut Natural Diagonal Dog Cage
Diagonal Bar Placement
This isn't just another wooden dog crate that's for sure. The really simple reason for this is the way that the wooden bars placed on the sides of the crate and the door to provide ventilation are positioned. They are positioned diagonally instead of vertically do give it a more modern but still minimalist dog crate feel.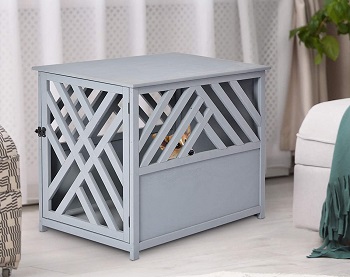 Indoor Furntiure Feature
This is primarily an indoor wooden dog crate since it's made out of fir wood and it isn't recommeded that it's exposed to rain and other extreme weather conditions. The crate is colored gray and you wouldn't really want to miss out on the chance to use the top as an end-table.
Single Large Entrance
The crate has a single door entrance but it is quite large so when you do need to clean the crate, you will also easily access the crate through it. You can lock the door with a single hasp latch lock. The crate's also light ad quite easy to assemble.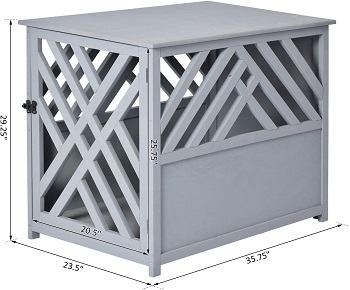 Dog Size Range
The maximum weight capacity for the inside of the crate is 66 lbs. This information isn't so useful if you don't know the dimensions of the crate since you should figure out if your dog fits inside by measuring his length and height. Generally speaking, this crate can house small ad medium sized dogs.
In Short:
Made out of natural fir wood
Colored in a light grey
Has diagonal wooden bars on the door and windows
Made for small and medium dogs
Has a large single door entrance
The top can be used for it to function like an end-table
BEST LARGE MINIMALIST DOG CRATE
Iris Wire Open Pet Pen
Tall, Open Top Design
The crate can easily be considered a dog crate playpen since it has no top but that shouldn't worry you. It has a taller design than most large dog crates so if your dog is already crate trained you'll find taht the open top has many benefits like easy access to your pet at all times.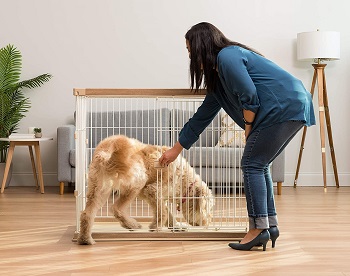 Plastic That Looks Like Wood
The bottom and top of the crate's frame is made out of plastic that's intended to look like wood while the side are made out of steel wire that has a heavy gauge and that's coated with a white epoxy finish. These two definitely give it a minimalist dog crate feel.
Sliding Door Access
There's only one door to access the crate but it is made to open i a way to make it a sliding door dog crate. If you choose to leave the door open for your dg to access the crate whenever he feels like it the door won't get in the way. You can lock the door with a positive lock.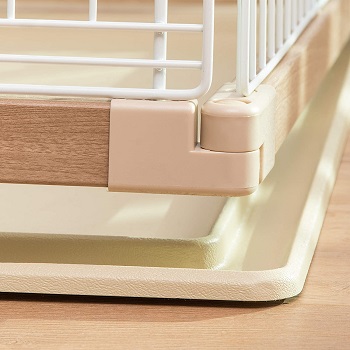 Bottom Tray Shape
The tray on the bottom that you take out to clean it is molded so that it fits the edges of the bottom well. This will prevent the tray from accidentally sliding out or moving. Since it's a large and tall dog crate you can house in it large dog breeds such as golden retrievers.
In Short:
The plastic frame is made to look like wood
The side of the crate are made out of steel wire coated in white
Has a taller design
Features an open top
Made for large dogs
The door for access slides open
The door can be locked with a positive lock
The tray on the bottom for cleanig is molded
BEST FURNITURE STYLE MINIMALIST DOG CRATE
New Age Pet ecoFLEX Pet Crate
What Ecoflex Is
Composite materials are made with a combination 2 or more different materials that together form another material with much stronger properties than the two as separate materials and this is exactly what ecoflex that makes this crate is. It's a wood and plastic polymer that won't warp and split nor crack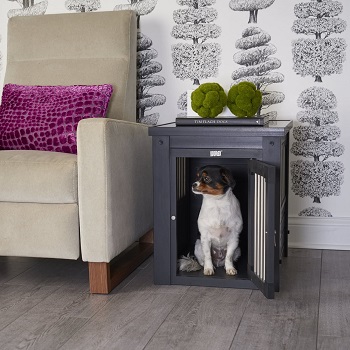 Outside And Inside Visbility
The crate has excellent visibility on the inside and outside and the reason for it are the stainless steel tubes placed on the windows and the door. the only exception is the back of the crate that features none. Ths windows will also provide good air circulation.
Door And Top Description
The minimalist dog crate has a door in the fron that can lock with 2 hasp latch locks cutely shaped like dog bones. The top, as with most wooden dog crates, can serve you well as an end-table ora any table type piece of furniture.This will make the crate seamlessly blend int your house even better.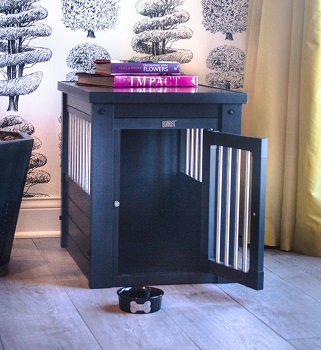 Figuring Out The Size
For you to figure out what size of dog you can house in it you have to check the interior dimensions. The crate is 32.7 inches long, 20.9 inches wide, and 24 inches high which would mean that it can house large dogs up to 80 lbs.
In Short:
Can house large dogs up to 80 lbs
Made out of ecoflex
Can function as a piece of furniture
Has one door with 2 locks for access
The windows and the door have stainless steel tubes
How To Pick A Minimalist Dog Crate
You can spend hours debating on what a minimalist crate for dog is, how it looks and functions. What we focused on in this article is how they look and blend into your home, if they're easy on the eye, and of course their quality of build so keep reading if you want some tips on how to pick the best one.
The Basics – whether is it that you're getting a minimalist dog crate or a complex heavy duty metal dog crate what you wanna see on crates are tha basics. Of course each crate has different basics but for these you want to know that the inside of the crate is safe, that the materials that make them are durable and since they are minimalist you want them to look roomy or have another function like furniture style crates have.
Picking A Size – This will always be important since getting a proper crate size can firstly save you money and secondly make your dog feel more comfortable when he's inside. The way you'll do it is that you're gonna take your dog's length and height measurements and add a couple of inches to that. If they match with the crate or are slightly below that number, your good to go. Another thing to mention is that you shouldn't pick a size by the crate's weight limit.
Choosing A Type – Wether you're gonna get a small wire dog crate or an XL wooden dog crate all depends on how your dog behaves. If you're still crate training your dog you best bet is to go with wire crates or at least with crates that have wire sides and if you've already done this you can safely get a furniture style or a fully wooden dog crate.
Recognizing Minimalist – Minimalist can mean different thing to different people so we should define what we mea by that. For wire dog crates, we're looking at crates that aren't colored black but preferably some kind of lighter color and for wooden dog crates we're focusing on the light colored pain finish and are looking for one that can serve you as end-tables.
To Sum Up
We had to go with looks when it came to choosing a minimalist dog crate to recommend and it's the Unipaws Pet Crate End Table. Don' worry tough. Apart from looking great the steel wire sides are chew proof and it comes with a waterproof and washable bed. If you're hooked on white dog crates then you should definitely check out the post about white wire dog crates and if you wann go with the simple and opposite choice then the article about black dog crates is the one you should read.