Do you have more than one dog and this has made you search the internet in hopes to find a multi-dog crate?
We've found and reviewed the best we could find and we didn't just focus on the same old crate. You'll find multiple types of dog crates made for travel, heavy-duty ones, and more as well so make sure you continue reading if you want to finally end your search.
The Summary
Best 4 Multi Dog Crates
BEST OF BEST MULTI DOG CRATE
Homey Pet Stackable Heavy Duty Cage
Differences Between Crates
This multi-dog cage is in fact a stacking dog crate that will allow you to stack three crates of the same brand at a time. This one is a lower cage that's slightly different from the other ones that are upper cages and the difference is in the height that measures 33 inches while the upper cages measure at a height of 26 inches.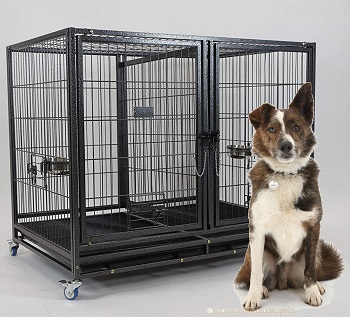 Weight And Material Properties
The crate is made with heavy-duty steel and for the coating finish, it has a hammertone spray that gives it an anti-rusting property. The crate is quite heavy with its weight of around 73 lbs and would be rather difficult to move if it didn't come with caster wheels that can be locked to make the crate stay in its place.
Door Types And Quantity
The way it divides the space inside for two dogs to fit inside is through a divider that you can remove. If you're using the divider to house two dogs you'll find useful the two very wide doors for each part of the crate that lock separately and the 2 feeding doors for each crate. The crate will also come with two feeding bowls.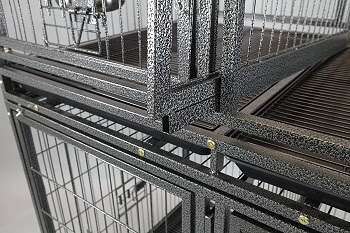 Things That Come In Pairs
If you want to access your dogs at the same time, you can use the top for that. The crate also has 2-floor grids and below them, you'll find two slide-out cleaning trays. If you're housing two dogs in it, they shouldn't be longer than 25 inches and taller than 30 inches.
In Short:
You can stack up to 3 crates
A single crate can house 2 dogs
The hammertone finish makes it rust-proof
You can remove the divider to house one dog
Comes with 2 feeding bowls
Has 4 feeding doors, 2 main entrances, and a top entrance
Can house medium or large dogs
BEST HEAVY DUTY MULTIPLE DOG CAGE
Go Pet Club Dog Crate
Feeding Your Dogs
The two feeding bowls that you get with this multiple dog cage are made out of plastic and can be attached to the provided feeding doors to make feeding your dog quite convenient. The bowls come in two colors, blue and red and the lock on the feeding door is a slide bolt lock.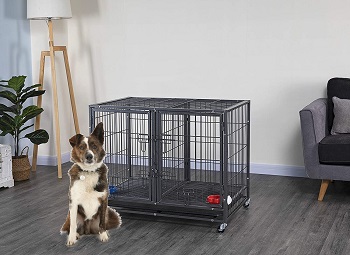 Non-Adjustable Divider
The way that you'll be able to divide the living space to house two dogs is with a divider that you can place inside. The divider isn't adjustable so you can only get two living spaces that have the same dimensions. The two doors for each side of the crate can be locked with 2 slide bolt locks.
Keeping It Clean
On the bottom of the crate, you'll find a gridded bottom. The reason for this is that below it, there's a plastic pull out tray so that dog excrements can fall into it so you can easily clean it and keep the crate as clean as possible at the same time.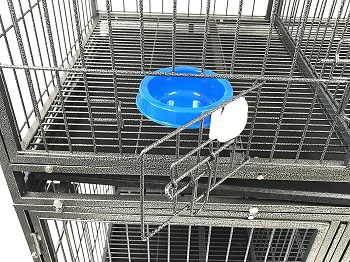 Size And Stacking Height
You can use this multi-dog crate to house medium-sized dogs or you can remove the divider to make it a heavy-duty large dog crate. You can also stack the crates up to a total of 3 crates that will then be 92.5 inches high in total so this feature is not that home friendly.
In Short:
Using a removable divider you can house two dogs
The divider cannot be adjusted
You can house two medium dogs or one large dog
Comes with detachable food bowls
The crate has 2 feeding doors and two entrance doors
You can lock the doors using slide bolt locks
You can stack multiple crates on top
BEST SOFT MULTI DOG CRATE
One for Pets Double Pet Kennel
Crate Transportation
This is a soft portable dog crate and what this means for you is that it'll be incredibly easy for you to travel with your dogs inside it. You'll get straps for it so that you can safely connect it to a seatbelt. It's incredibly light with only 7.5 lbs so it's quite easy to carry around.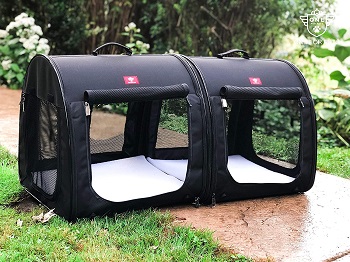 Using Options
There's more than one way that you can house your dogs inside this crate. the first one is to use it as a connected crate that separates the two living spaces with a fabric divider, the second is to use it as two separate crates and the third one is that you remove the divider to use it as a single multi-dog crate.
Comfort And Storing
The bottom of the crate can feature a padded cover to give your dogs maximum comfort and you can also wash it. The crate can be folded down and stored inside its own carrying case and the way the crate is ventilated is through the mesh fabric windows. All mesh fabric windows can also serve as doors.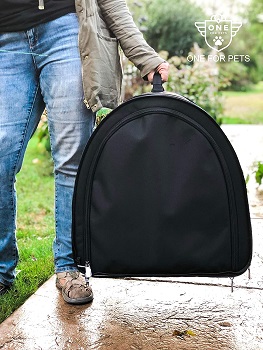 Use Recommendation
Although you can use it to house one dog, that won't be very useful since the crate is not that tall and wide so your best bet is to use it to contain two small dogs. Your small dogs should also be crate trained since the fabric cover can be destroyed easily if not.
In Short:
Comes with its own carry bag
Can be folded down
You can house 2 small dogs inside of it
Has built-in straps that allow you to connect it to a seatbelt
The crate can be used as two separate crates
For ventilation, it uses mesh fabric windows
Your dogs should be crate trained for it
BEST FOR TRAVel MULTIPLE DOG CRATE
PawHut Dual Compartment Pet Carrier
How It's Built
This soft travel dog crate has a quite strong steel tube frame that makes it hold its shape well but that also allows you to fold down the crate while for the cover, it uses oxford and polyester fabric. The crate is breathable nonetheless because of the mesh fabric windows on the sides.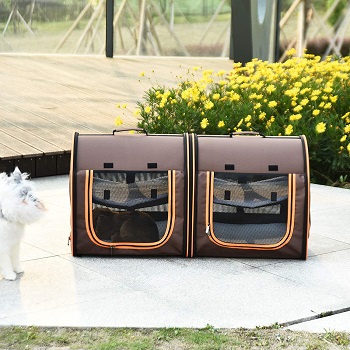 Important Traveling Features
Two things make this crate great for traveling. The first one is the fact that you'll get a soft pillow and a hammock to keep your dog comfy during long travels and the second and more important one is that it has a belt that's fixed for you to fasten the crate with a seatbelt so that your dogs can be kept safe while you're traveling.
How To Connect Two Crates
You'll actually get two separate crates if you buy it but you can connect them using a fabric divider that can be closed with a zipper. Each crate has 2 access points that can be closed with zippers and each crate has 3 fabric mesh windows for ventilation.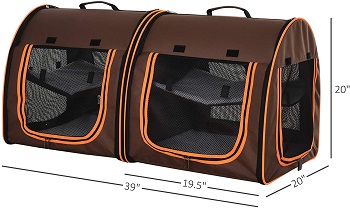 The Size Of 2 Connected Crates
The multi-dog crate comes with its own carrying case for you to easily transport it when you need to. The crate is 39 inches long, 20 inches wide, and 20 inches tall. What this means for you is that you can house two small dogs inside of it but make sure you measure your dogs first just to be safe.
In Short:
Can be folded down because of the steel tube frame
Features an oxford fabric cover
Can be separated into two crates
You can house small dogs inside of it
Has a fixed strap to connect it to a seatbelt
The crate is best used for traveling
Comes with a soft pillow and hammock for comfort
Has it's own carrying bag
How To Pick A Multi Dog Crate
Choosing a multiple dog cage isn't that hard since there aren't that many options to choose from but still, they differ greatly in materials they're made of, primary functions, durability, and other things so make sure you read these tips on how to choose the perfect crate for yourself and your dog.
How They Divide Living Space – The way that these crates are separated into two is through a divider. This does not mean that a puppy crate divider will work well for multi dogs since you also need to have access doors for each crate and crates with puppy dividers usually don't have those. We should also add that these dividers are not adjustable.
Watching Out For The Size – The way that you'll decide on a crate size is the same as with others but what you should look out for is that the crate's length will be halved and it will then be the crate's width while the width will be the length so then you'll take your dogs' height and length and compare it to the crate's. If your dog is a few inches shorter you've found yourself the perfect crate size.
Calm/Aggressive Dog Crates – There are two types of crates and it's quite convenient that the heavy-duty metal dog crates are made for more aggressive dogs while the soft ones are made for calm dogs so you have the option of choosing them according to your dog's behavior.
What Each Is Best For – Small soft dog crates are usually perfect travel crates so if you're looking to travel these are the way to go whereas heavy-duty multi-dog crates can usually also be stacked so if you're a dog breed professional and have a lot of dog to house these are the way to go.
To Sum Up
What we find to be the best multi-dog crate that we just have to recommend is the Homey Pet Stackable Heavy Duty Cage. It's really practical to clean, it's made for even the most aggressive of dogs and you can stack multiple crates on top. If you have one large dog that you wish to travel with then you should definitely look into the article about XL travel dog crates and if you're looking to travel but safety is really important to you then the article about safest dog crates for cars is worth a read.