Have you been keeping an eye out on the internet for a soft portable dog crate to come your way
It has come to it since you're here reading this. All you need to do now is just keep reading this article where we reviewed the best ones we were able to find and pick one because you are sure to find one for yourself since we categorized them into best large and small and that's not even the half of it.
The Summary
Best 5 Soft Portable Dog Crates
BEST OF BEST SOFT PORTABLE DOG CRATE
Amazon Basics Portable Soft Dog Crate
Light Weight
The crates' frame makes this soft portable crate incredibly light which makes carrying and transport even easier. The material used to make it is PVC and don't be mistaken, just because it has a medium plastic dog crate frame, it surely doesn't mean it's not tough.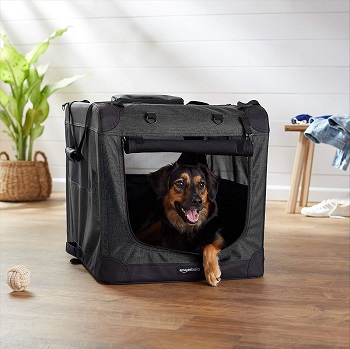 Washing The Crate's Cover
The material that's used to make the crate's cover is a polyester fabric that you can wash by hand at a low temperature. You don't have to worry about cleaning it too often though since the crate is colored in all black and we all know that dirt is not as visible with black.
Carry And Transport Options
You'll have multiple carrying and transport options when it comes to this soft portable dog crate since it has carrying handles on top and it also comes with a shoulder strap. You can also fold it down to carry it more easily or to store it when you're not using it.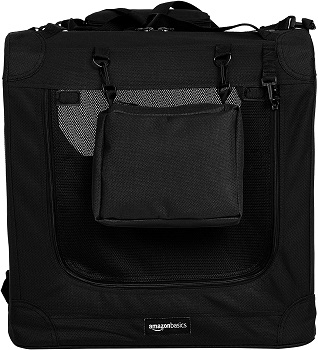 Access And Accessories
Your dog, which should be a medium dog breed to fit comfortably inside, will be able to access the crate from the front and you'll be able to access him using the top entrance. with it, you'll get a fleece bed that will keep your dog incredibly cozy even if you're traveling and there are pockets for you to store any dog accessories that you might have.
In Short:
Comes with a fleece bed
Has an accessory pocket
The frame is made out of light PVC
The black polyester cover can be hand washed
Best for medium-sized dogs
Can be carried with handles or shoulder straps
Can be folded down
BEST LARGE SOFT SIDED PORTABLE DOG CRATE
Petsfit Portable Soft Collapsible Dog Crate
Safe Locking Clips
If you have a dog that's particularly crafty when it comes to him opening the crate door and escaping this crate might give you an answer to your worries since the zippers that close the door can be secured with clips.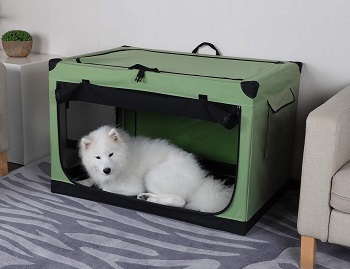 Durable But Only With A Calm Dog
Keep in mind that the Petsfit soft portable dog crate is not a training cage for dogs and won't last long with dogs that are not trained to live inside a crate because of its soft fabric cover that can be destroyed quite easily if your dog bites and scratches excessively and overall isn't calm.
Screw-In Frame
The metal frame of the crate can be screwed in so that it holds its shape well and so it can hold the fabric in place. This doesn't exclude the possibility of folding down the crate. Instead, it is quite the opposite because the crate can be folded down in a matter of seconds.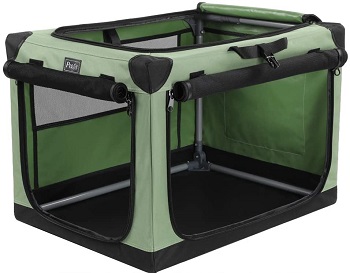 Crate Sizing
Your dog shouldn't weigh over 100 lbs for this crate to really work but to be safe and so that you don't mess up the size when buying, make sure you measure your dog and see if it is a bit lower than the crate's dimensions.
In Short:
Has a screw-in metal frame
Can be folded down
Made for large dogs
The zippers have secure clips that won't allow them to be opened
Won't work well with dogs that are not calm
BEST AIRLINE APPROVED PORTABLE SOFT DOG CRATE
X-ZONE PET Airline Approved Travel Carrier
Choosing The Correct Size
It would be best if you didn't choose crate size by the weight limit and your dog's size because you're most likely to get the wrong crate size. Instead, you should always refer to the crate's and dog's dimensions and this crate is no exception even though it has a weight limit of 20 lbs.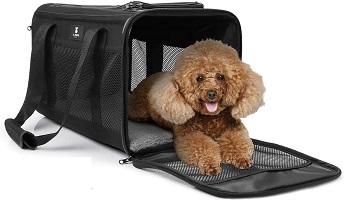 Fits Below Airplane Seats
If you decide to travel by air using this soft portable dog crate, you'll be pleased to know that the crate can fit below airplane seats. Nonetheless, you should check with your specific airline about any special regulations that they might require for dog crates.
No Frame Crate
As we've already mentioned, this is a small soft dog crate. It doesn't have a steel frame and it looks like a carry-on bag. what it does have so that it can hold its shape is a hard base insert. This will also keep your dog comfy while he's inside and he'll feel even more comfortable with a fleece bed that the crate comes with.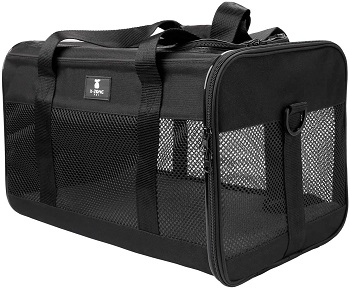 Carrying Options
You can carry the crate using handles, shoulder straps or you can fasten the carrier to your luggage. The shoulder strap can be used as a seat belt as well which makes the crate good for car travels as well.
In Short:
The bottom has a hard base insert
Comes with a fleece bed
Can fit below an airplane seat
The shoulder strap can be used as a seatbelt
Fits only small dogs up to 20 lbs
BEST SMALL SOFT SIDED PORTABLE DOG CRATE
Petnation Port-A-Crate
Frame And Fabric Cover
The fabric of this crate is tightly weaved together to make it more durable and the strong steel tube frame supports it so that it holds its shape even better. It is also a folding soft dog crate since the steel tube frame can be collapsed so you could store it away or transport it more easily.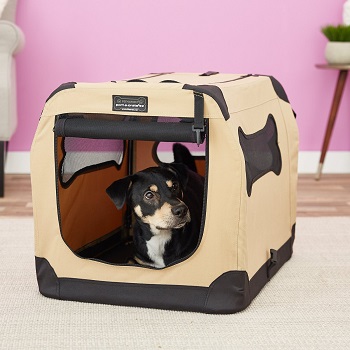 Durability Through Cleanliness
For this soft portable dog crate to last you a while you also need to make sure you clean it regularly, you can do it in one of two ways. The first one is to take the crate cover off and wash it by hand or in a washing machine, the other way is to remove any excess dirt and wipe it clean with a stain remover.
Crate Ventilation And Access
The crate has a top and front entrance that can be closed using zippers. The front will also provide the inside of the crate with good airflow since it's made with mesh fabric. The mesh fabric sides have a cute dog bone shape as well.

Measuring Your Dog For It
The manufacturer states very clearly how small your dog should be to fit inside this portable soft-sided dog crate. The crate should be 2 inches taller than your dog and 4-6 inches longer than your dog. You shouldn't concern yourself with the weight limit of 25 lbs.
In Short:
The fabric is tightly weaved together
Can be folded down because of its steel frame
The side windows are shaped like dog bones
Made for small dogs
BEST FOR TRAVEL SOFT PORTABLE DOG CRATE
A4Pet Soft Collapsible Dog Crate
Safe For Cars
There are two things that make this crate a perfect soft dog crate for cars. The first one is the leak-proof bottom since it will keep your car floors undamaged in case of accidents inside the crate. The second one is the rounded corners that will protect your car interior.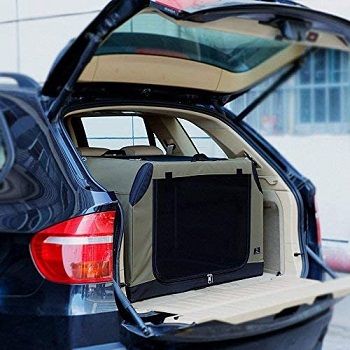 Crate Cover And Frame
The crate's cover is made out of soft oxford fabric and the frame uses strong steel tubes. If it were up to the steel tubes, the crate would be chew-proof but it's up to the fabric so it is not no matter how durable it is since it's still a fabric material.
Foldable Build
The plus side is that it's quick to fold down because of the steel frame. It also doesn't require you to assemble it. This will save you a lot of time when you're transporting this portable soft dog crate. You'll get two handles on top to transport it as well.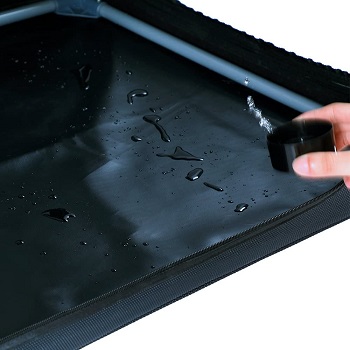 Entry Points Location And Use
The soft portable dog crate has 3 entrances. One is located in the front, one on the side, and one on top. They are large entrances that are also large ventilation and visibility windows. You'll get one smaller ventilation window on the other side and in the back, you'll find an accessory pocket
In Short:
Has a leak-proof bottom
The corners are rounded to keep the car interior safe
Holds its shape due to the steel frame
It can be folded down quickly
Has an accessory pocket in the back
Has a side, front, and top entrance
How To Pick A Soft Portable Dog Crate
There's a lot of soft and portable crates for dogs but not all of them are easily portable. To reconsider this you might want to take a look at the crate's size, shape, how it's made and many other things so make sure you get the right crate by continuing to read these tips on how to pick.
Means Of Transport – The first few things that come to mind when thinking about how portable the crate is are the different types of handles that you can use to carry it and if the crate has an easily foldable construction. You can get a crate with carrying handles, shoulder straps and they should be as light as possible.
Large VS Small – The difference between large soft dog crates that are portable and small ones is the fact that you'll have more trouble carrying a large one that has a dog inside. You don't want to carry a large dog inside with handles or shoulder straps because you might risk damage to the crate and your large dog might be rather uncomfortable.
Traveling With The Crate – A great thing that speaks about how portable a crate is if you can use it for car travels or for traveling by air. An SUV dog crate or car crate will keep your car's interior safe in more than one way. It might have a leak-proof bottom or rounded corners and if it's made for air travel it should say that it is airline approved.
Wanted Dog Behavior – Your dog should be trained to live inside of a soft portable dog crate before you buy one because if you use them as training crates, you'll risk having to buy a new one because of the damage done to it. YOu have to keep in mind that they are soft and no tough dog crates.
To Sum Up
It wasn't hard to pick a soft portable dog crate to recommend since it really stands out with its features that make it available for traveling by car and it is the A4Pet Soft Collapsible Dog Crate. If you have a large dog and a soft crate just won't cut it then you should definitely look into XL travel dog crates and if you want the same thing for your small dog then check out the post about small travel dog crates.