Are you looking to bring your furry friend on your travels so you're looking for a small dog travel crate?
We've got you covered because we've found and reviewed the best ones so you'd know that whatever crate you choose when you read this article, you're getting the finest. Don't worry, you don't have to read through all of it to figure out what's right for you because we categorized them into airline approved category, best metal, and a whole lot more.
The Summary
Best 5 Small Dog Travel Crates
BEST OF BEST SMALL DOG TRAVEL CRATE
One for Pets Double Pet Kennel
3 Using Options
This small dog travel crate will be especially good if you have more than one dog. The reason why is simple, you can use the crate as two separate crates, two connected crates but divided with a fabric divider, and as a single crate that will be quite lengthy in that case.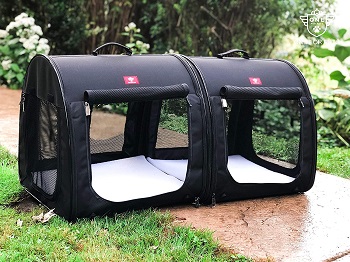 Safe In The Car
This is a perfect small dog carrier for cars since it has straps that are built into it that you can then use to connect it with a seatbelt to make the travels with your dog as safe as possible.
Cleaning And Storage
This is one of the soft crates for small dogs that can be folded down to save you space when you're not using it and it will be quite easy to clean because there's a padded cover on the bottom that you can easily remove anytime and wash it. The pad cover will also protect your car from getting into contact with liquids or any other dirt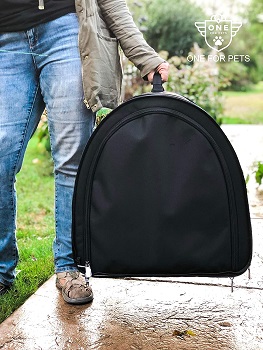 Mesh Fabric Windows
Ventilation is provided through mesh fabric windows just like with any typical folding soft dog crate. There's one on each side of the crate and of course, 2 of them also serve the purpose of a door that closes with a zipper. This and its build material make it available for use only by dogs that are crate trained.
In Short:
You can use it to house 2 dogs or 1
Can be folded flat to store
Has built-in straps that allow for connection with a seatbelt
Uses mesh fabric windows for ventilation and visibility
The bottom padded cover can be removed and cleaned
BEST AIRLINE APPROVED SMALL DOG TRAVEL CRATE
SportPet Designs Plastic Kennel
Approved By IATA
This is an IATA approved dog crate which means that you can use it to travel with any airline because it follows the standard guidelines that make a small dog travel crate airline approved but you should always check with your specific airline to see what their specific requirements for crates are.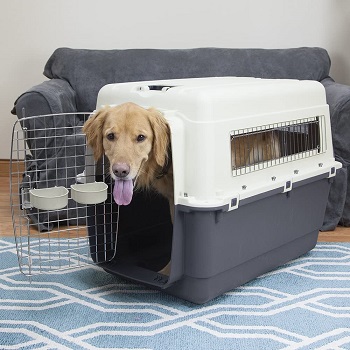 Standard Airline Requirements
The standard requirements that every dog crate should have if you're traveling by air and this one does are "live animal" stickers, detachable water bowls, tie-down holes fo bungees, and nuts and bolts to double ensure that the crates' top and bottom will not get detached.
The Importance Of Measuring Your Dog
Now more than ever, knowing how to measure your dog to know if he fits inside comfortably is important. For this specific crate, your dog shouldn't be longer than 21-in and taller than 13-in. This means you can use it for Yorkies, pugs, and other dogs of similar size.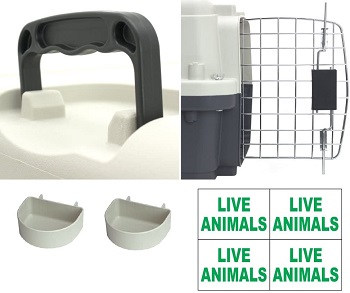 Easy To Put Together
If you don't want to travel by air you don't have to complicate your life by having to put in nuts and bolts because the travel kennel for small dogs' top and bottom can also be connected with simple plastic locking clips. This is the way how you can also access the crate to clean it if you need to.
In Short:
Approved By IATA for air travel
Has extras needed for air travel like 2 water bowls
Your dog shouldn't be more than 21-in long and 13-in tall
The top and bottom can also be connected with plastic locking clips
BEST FOR CAR SMALL DOG TRAVEL CAGE
4×4 North America Transport Cage
Car Travel Safe
This small dog travel crate is a beast when it comes to car safety. It is easily one of the safest dog crates for cars and it's simple to understand why. You see, this crate passed the test with frontal, rear, and roll-over crash scenarios.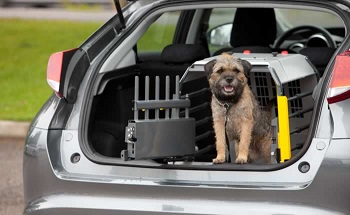 Crumple Zones
What the crate does is that it actually mimics cars' crumple zones that are usually here to protect you in the event of a car crash. The problem arises when your dog is placed in one of these crumple zones like your car trunk. With it, you risk your dogs and your safety.
Key Locking Door
With any small dog cage for cars, you want to make sure the door has a lock that won't allow your dog to unlock t by himself and this crate does a good job in making sure of that since the front access door can only be unlocked with a key. The door is also quite heavy so it has hydraulic springs to make it easier for you to open and close the door. The crate also has an escape back door.
Car And Dog Sizing
The crate has an adjustable length because of the metal rods on 2 sides. They will prove to be excellent shock absorbers in the event of a car crash. Although the crate can adjust its length to your dog and car you still want to make sure that you're getting the right size so you can check out the manufacturers sizing charts for dogs and cars.
In Short:
Tested for roll-over, frontal, and rear crash scenarios
Has metal rods on the sides that are of adjustable length
Keeps your dog safe by mimicking the cars' crumple zones
Check out the car and dog size chart to choose the right crate size
The front door locks with a key
Has an escape door in the back
BEST FOLDING SMALL DOG CARRIER FOR CAR
Pet Gear 4 Door Steel Crate
Steel Wire Sides
The steel wire sides make sure that the inside of this small dog travel crate gets enough ventilation like a regular small wire dog crate. Not only that but its visibility is similar to them as well, This is a great option for dogs with separation anxiety.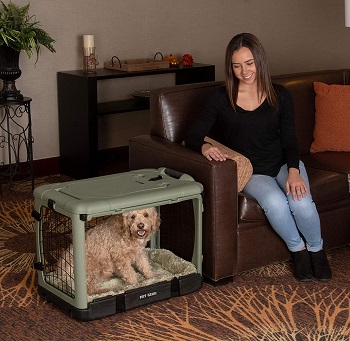 Benefits Of  The Plastic Frame
The crates' frame, top, and bottom are made out of plastic that is blow-molded. Since it is blow-molded, the corners are made to be rounded and with it, there are no sharp steel edges that are exposed. What this means for you and your dog is that they will be safe inside and not injure themselves.
4 Doors Types And Position
The crates' entrances are safely locked with steel locks and there are four of them in total. there are two side doors, one front access door that slides upwards to open like a garage door and the last one is a top access door that will allow you to get to your dog without him trying to escape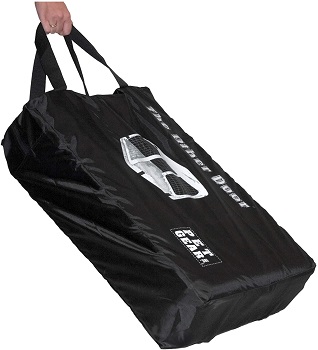 Comfort And Cleaning
The bottom of the crate doesn't feature a pullout tray that will make cleaning the crate easier but you do get padded bedding that you can easily wash if need be. The crate also comes with its own travel bag in which you can store the crate when it is folded down.
In Short:
Has steel wire sides
The frame's made out of blow-molded plastic
Have rounded corners and no exposed edges made of steel
Comes with a travel bag
You'll get padded bedding for the bottom
BEST FOR PUPPIES SMALL DOG TRAVEL CAGE
Diggs Revol Dog Crate
Strong Frame And Sides
Don't be confused with its plastic frame and think it's not a durable crate. It's quite the opposite because it is reinforced plastic and the sides are made out of diamond-shaped aluminum wire that is also one of high grade.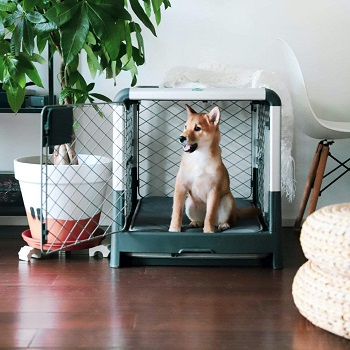 Plastic Bottom Tray
There's only one more plastic thing on this crate and it's quite useful because it will make cleaning the crate so much easier and it's the plastic pullout tray on the bottom. This and the divider panel also make this crate a great small puppy crate.
Travel Bonuses
You can be sure that this crate is safe for your dog since it's made with baby industry standards. It can also be collapsed and it has built-in wheels on the bottom and a top handle so you can transfer it anywhere with little to no problems.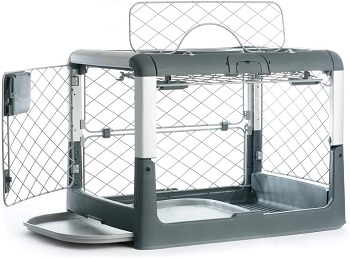 Entrance Amount And Types
The small dog travel crate has 3 doors in total for access to the crate. The front access door is sure to stay closed even if your dog tries to open it. There's also a top door that your dog won't be able to reach and open in any way and the side door that opens upwards.
In Short:
Has a frame made out of reinforced plastic
The wire used for the sides is aluminum wire
Comes with a divider
Cleaning is easy because of the bottom plastic tray
Has a 3-door access
How To Pick A Small Dog Travel Crate
There's a wide range of different models to choose from and so it might be hard at first to decide on a crate unless you know what crate is best for which dog. These crates differ in size, materials, safety and so much more so it's best for you to read these few helpful tips on how to decide.
Training Your Dog – The safest way to travel with your dog is to crate train your dog first. The crate can be the toughest dog crate ever made but the problem with dogs that are not crate trained is that they will distract you when you're driving.
Traveling With Puppies – If you wish to travel with your puppy, whether it is by air or by car, the dog shouldn't be less than 2 months old. During plane rides, the dog is your responsibility even if he's traveling as cargo so if you really want to make sure that everything goes smoothly, you can talk to your veterinarian to tranquilize your dog, and if your traveling with a car, it's good to make a stop with your puppy every 2 or 3 hours.
What To Look Out For – What you want to look for in a good travel crate is the materials they are made out of and according to your dogs' behavior choose the right one. a soft-sided dog crate can be just as good of a crate as a metal one if your dog is well behaved so choose according to the behavior of your dog
Crate VS Kennel – It's easy to figure out the difference between small dog travel crate and travel kennel for small dogs. For starters, you won't ever find a travel kennel because kennels are made larger than crates. Think of them like a big playpen that is made extremely durable to be placed outside.
To Sum Up
There is no such thing as too much safety when it comes to a good small dog travel crate but sometimes safety is just too much to pay for so we think that the next best thing close to it is the Diggs Revol Dog Crate. This crate is so amazing that it can even be used to safely house puppies. Did you know that there are special SUV dog crates? If you haven't make sure you read the article and if you long for safety the most while traveling read the article about the safest dog crates for cars.