Has your new puppy gotten you worried about whether you should buy him a small puppy crate or not?
We think you should because there are so many benefits to getting a crate like that and for your peace of mind and to make it easier for you to decide on a crate, we reviewed the best ones and put them into categories like the best of best, best plastic and so on. You are sure to figure out what kind of crate you want for your puppy and what you need to think about when choosing this type of crate.
The Summary
Best 5 Small Puppy Crates
BEST OF BEST SMALL PUPPY CRATE
Diggs Revol Dog Crate For Puppies
Strongly Built Crate
There's no doubt about it that this isn't a great training cage for dogs. It's extremely well built because of the reinforced plastic that it uses for the frame and aluminum wire that's shaped like a diamond for the sides and it comes with more than enough clever additions.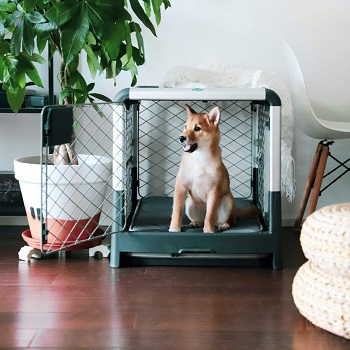 Safe For Your Puppy
One really important thing when getting a crate for your puppy is how safe your puppy will be when inside and with this crate, you don't really have to worry about it because it is made with baby industry standards in mind. This means that your puppy won't be able to hurt himself no matter his behavior.
Why You'd Want A Divider
Another important thing that every good puppy crate should have is a divider and this small puppy crate has it. The reason you'd want a divider is to potty train your dog and if that's not enough and an accident still happens, you can easily clean the crate because of the provided bottom pullout tray.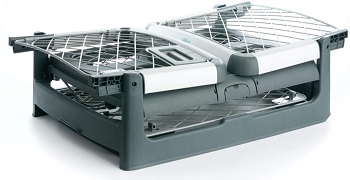 Travel Extras
Apart from the front and side door that opens like a garage door, you'll get a top access door as well. On top, you'll also find a carrying handle that will come to be useful when used with the built-in wheels on the bottom to transport the crate. The crate is also collapsible so you can travel with your puppy with little to no problems.
In Short:
Made out of reinforced plastic and aluminum mesh
Made with baby industry standards so it's safe for puppies
Comes with a divider
Has 3 entrance doors
Has built-in wheels, a top handle, and it's collapsible
Comes with a bottom pullout tray for easy crate cleaning
BEST METAL SMALL PUPPY KENNEL
Life Stages Small Folding Crate
Inside Crate Safety
As with most small wire dog crates, an issue that might occur that would, in the end, hurt your puppy are the corners that are not rounded but this small puppy crate has ensured that this doesn't happen because it has corner clips that are rounded.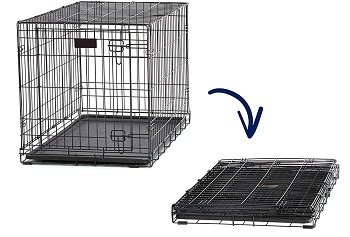 Multiple Entrances
You'd want your small puppy kennel to have multiple entrances. With more than one entrance you can choose to position the dog crate without worrying about blocking the entrance and this one has two doors. they both lock with safe and secure sliding bolt locks.
Expandable In Size
The crate comes with a divider so it can adjust to your puppy's size as he grows and finally reaches his full size. It is durable enough to withstand chewing because it's made with heavy gauge steel. It also has a collapsible construction so it's convenient to store it or transport it.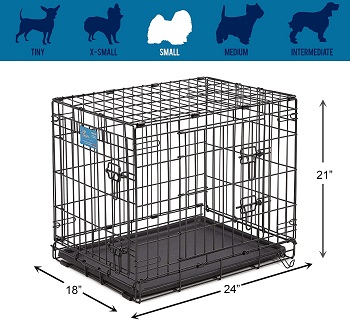 Clean And Undamaged Floors
It has roller feet on the bottom so you can be sure that your floors won't suffer any damage from the crate. Another thing it has on the bottom is the tray that you can easily take out to clean the crate. The tray will also prevent dirt from coming into contact with your floor.
In Short:
Made out of heavy gauge steel
Has 2 entrance doors and they lock with a sliding bolt lock
Can be collapsed to store or transport
The corners have rounded corner clips that protect your dog
The roller feet on the bottom protect your floors
Has a bottom tray that you can easily take out to clean
BEST INDOOR SMALL PUPPY CRATE
Pet Gear 4 Door Small Dog Crate
Crate Positioning
You don't have to worry about how you'll position this small plastic dog crate inside your house because there are a lot of options. This is because it has 4 doors for access to the crate and they all lock with steel locks. There are 2 side doors, 1 front entrance door that opens like a garage door and a top entrance door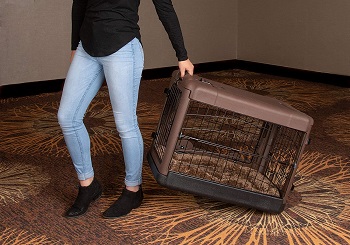 Material Durability
Although the frame is made out of plastic, the sides are made out of steel wire. This is great because it will give your puppy the visibility he needs when he's just starting with learning to live in the crate. This is especially important for puppies with separation anxiety.
How Safe It Is For The Dog
You don't have to sacrifice your dogs' safety when he's inside this crate because it has rounded edges and the steel wire parts aren't exposed in any way. This small puppy crate can easily be moved because of the bottom wheels that are built into it and the top handle. You'll also get a travel bag for it.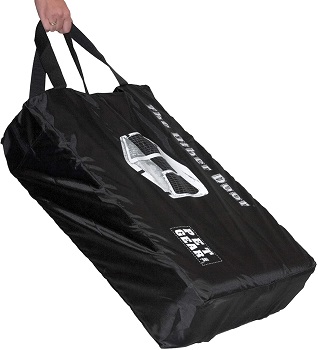 A Workaround For The Lack Of A Tray
The crate does not come with a divider and there's no slide-out tray so it might be worrisome to some that the crate will get dirty often but it does come with fleece padded bedding that can easily be taken out for you to wash it and it will give your puppy more comfort while he's inside.
In Short:
Made out of plastic and steel wire
Comes with a travel bag and washable fleece bedding
Has 4 entrance door including the one on top
Has rounded corners and exposed edges made of steel
One door opens like a garage door
BEST FOR TRAVEL SMALL PUPPY KENNEL
Petmate Sky Kennel Pet Carrier
A Durable Travel Crate
If you wish to travel with your puppy after he's all grown up this small dog travel crate is definitely for you. It's durable enough for travel and to survive puppies trying to chew on it. The reason why is because its shell is made out of durable plastic and the steel wire parts are extremely strong.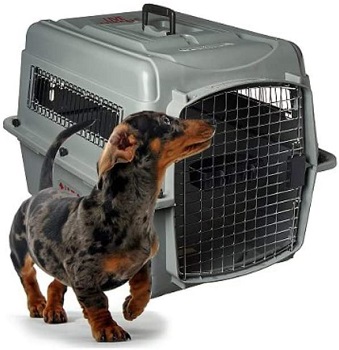 Door And Lock Type
The small puppy crate only has one door, but this is because it is made to be airline approved. The door can be locked with a lock that is made to be a vault type of lock which means that it will not slide open when your dog is on an airplane which would be the case with sliding bolt locks.
Air Travel Approved
The things that are usually needed for a dog crate to be airline approved are included with the crate. These are 2 "live animal" stickers, owls that you can clip onto the wire door, ID stickers, and nuts and bolts that are corrosion-proof and will prevent the crates' shell from opening. It also has tie-down holes and ventilation is achieved all around the crate.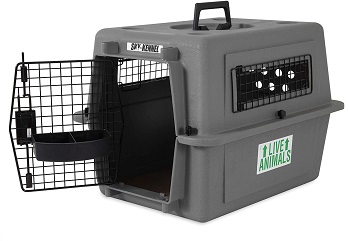 Dog Behavior Suited For Travel
The important thing to know about this small puppy dog crate is that in order to travel, your dog must be crate trained so make sure you take the steps needed to achieve this. You shouldn't use it with dogs that go above the 15 lbs weight mark.
In Short:
Made out of durable plastic and strong steel wire
Comes with accessories needed for air travel
Dogs weight shouldn't go over 15 lbs
The dog should be crate trained before traveling
The entrance door locks with a vault lock
BEST FOLDING SMALL PUPPY CRATE
Carlson Blue Metal Dog Crate
Folding And Unfolding
It's quite simple to assemble this small puppy crate. In fact, you can do it in seconds and the same thing goes for disassembly when you need to fold it down to store it away without it taking too much space or when you want to transport it.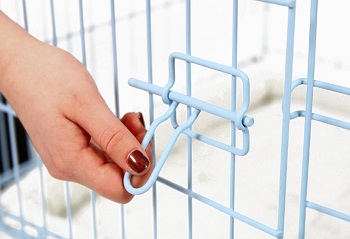 Certified To Standards
The crate is certified to both ASTM and JMPA standards but the one we will focus on is the JMPA one. It stands for juvenile products manufacturers association and it mainly tests baby products safety. For you, this means that the crate is completely safe for puppies to live in.
Entrance Point And Bottom Tray
It features only one front access door and the door locks with a multi-point lock. This means that your dog will find it very hard or even impossible to unlock the door himself and escape. The lock, like the rest of the crate, is made out of metal. It's also important to mention that the crate is easy to clean because of the bottom tray that matches the color of the crate.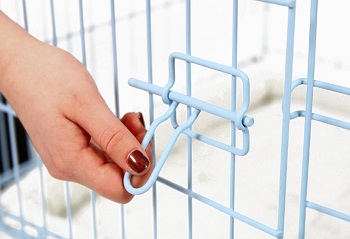 Crate Color
Unlike most small, medium, and XL wire dog crates that are colored black, this one is colored in a pleasant to the eye light blue color. It will be the perfect addition to most homes and a beautiful living, but a sturdy place for your small dog up to 25 lbs to be in.
In Short:
Has an all-metal construction
There's one door and it locks with a multipoint lock
Colored in a lovely light blue color
Certified to ASTM and JMPA standards
How To Pick A Small Puppy Crate
When choosing a small puppy crate you really want to make sure that it's safe for the dog and that it has all the things needed for a puppy to comfortably grow into his full size. This is why some crates are better than others because they offer a better experience for you and your puppy because of their type, size, and much more.
Crate Type Recommendation – Depending on your puppy's size, it is best advised to get an extra-large, small, or medium wire dog crate. Wire dog crates offer the best durability while also giving your puppy great visibility outside the crate. You want to make sure that your dog is always able to see you, especially in the beginning.
Crate Size – When you're choosing the size of the crate that will house your puppy, always think about his size when he's fully grown. You can easily check the approximate dimension of a fully grown dog breed on the internet and decide on a crate size like that.
Things Needed For A Puppy – There are three main things a puppy crate should have. The first one is that the crate should have a divider, this is so the crate can adjust to your puppy's size and to potty train him. The second one is a tray on the bottom because accidents will have more during this time of your dog's life so you can clean the crate more easily and the third one is the number of doors a crate has. ideally, a crate should have a top entrance door and a front access door but you can work around it and manage with only one
Small Puppy Crate VS Kennel -Kennels can easily house puppies, but their large size won't teach your dog anything. They are made to withstand different extreme weather conditions and can usually hold a dog crate inside them. A kennel is a house, a crate is a bedroom.
To Sum Up
It's quite simple to determine what a good small puppy crate is. All you need is a divider, inside safety, a bottom tray, and multiple door entrances and the one that has it all and more because it can also be used to travel with your dog is definitely the Diggs Revol Dog Crate For Puppies. If you've already crate trained your dog and your wish is to travel with him then you should definitely read the article about small dog travel crates and if you took a liking to wire dog crates that are not colored in black then the article about small pink dog crates is the one for you to read.