Have you been scouring the internet, trying to find a side door dog crate so you can position it any way you'd like in your household?
You don't need to anymore because you've stumbled upon an article where we collected and reviewed the best ones we were able to find. Not only that, but we've also categorized them so that it will be much easier for you to find your way through the article ad find exactly what you're after. You'll easily find wooden crates, ones with dividers, and more.
The Summary
Best 5 Side Door Dog Crates
BEST OF BEST SIDE DOOR DOG CRATE
Cardinal Gates Sliding Door Pet Crate
Door Quantity And Types
This crate not only has a side door access but it's in fact a double door that slides open. There's also a door in the front that also slides open but up instead of sideways. All of this not only makes it a side door dog crate, but also a triple door dog crate.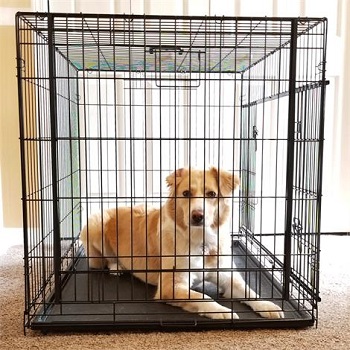 Top Handle Purpose
You'll find a handle on top of this side open dog crate. it will help you transport the crate if you decide to travel with your dog using it. You can also use its foldable construction to store when you're not using it and it's just as easy to assemble it as it is to fold it back down.
Steel Wire Thickness
The whole crate is pretty durable and the fact that it is made out of 10 gauge steel wire and 6 gauge steel wire for the door speaks well of this. The only plastic you'll find on this crate is the bottom tray that's deep enough to collect any dirt or urine so that it doesn't get on your floor.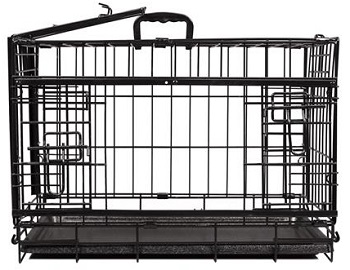 Size Options
The crate is 22-in long, 13-in wide, and 16-in long which means that you can get it for a small dog or dog breed. Just make sure that you measure your dog as well before buying. the crate comes in different sizes as well so if your dog is too big for it, you can always buy a larger one.
In Short:
Made out of 10 and 6 gauge steel wire
Fit for small dog breeds to use
Has three sliding doors
Can be folded down and carried with a handle on top
BEST WOODEN SIDE OPEN DOG CRATE
Zoovilla Dog Crate
Wood Used To Make It
The crate is entirely made out of MDF wood except for the steel lock on the door. MDF stands for medium-density fibreboard and is made by mixing wood fibers with some type of glue, usually resin. It is colored in white so it is a white wooden dog crate.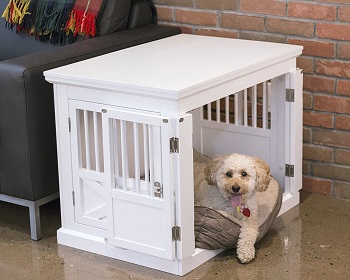 Door And Lock Positioning
There's a door in the front and a double door on the side of the crate. Both doors lock with a steel hasp latch lock and because of its positioning and the way that the ventilation windows are made and shaped it will be difficult for your dog to reach it and try to escape.
Hidden Slide Out Tray
There is a tray on the bottom that's made out of plastic but it's well hidden and it looks like it isn't there when you look at the outside of this side door dog crate. you can pull it out to clean when you need to.
Double Function
you'll get all the things you need to assemble it and when you do, the top can be used as an end table. It is made to house medium-sized dogs but it will not be fit to be used for dogs that are prone to chewing a lot and the ones that are not crate trained.
In Short:
Made out of MDF wood
Has a door in the front and a double door on the side
Can be used as a piece of furniture
Can house medium dogs that are crate trained
BEST PLASTIC LARGE DOG CRATE WITH SIDE DOOR
Pet Gear The Other Door Steel Crate
The Way It's Built
This is a plastic dog crate with side doors although the sides are made out of steel wire, but the frame and the top is made out of heavy-duty plastic. The bottom of the crate is also insulated so that it doesn't crack in cold weather.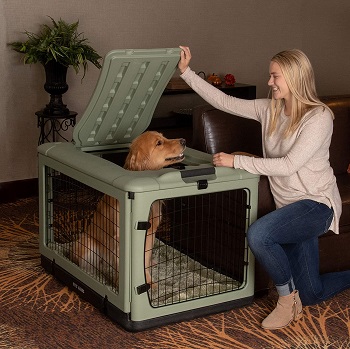 Number Of Door And Their Position
There are 4 doors in total on this XL plastic dog crate. There's a front door and a back door, a top access door, and a side door that opens up like a garage door so that it doesn't get in your or your dogs when you wish to leave the crate opened.
Crate Details
There are some additional features that can't go unnoticed. you'll get plush bedding made out of cotton that you can easily wash and there's also a travel bag included with this side door dog crate. The travel bag will be put into good use when you collapse the crate and you can also easily move it around because of the built-in wheels on the bottom and a top handle.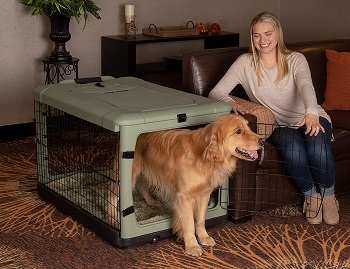 Dogs And Their Safety
The crate can be used to house large dog breeds like golden retrievers because of its height of 28- in and length of 42-in. You don't need to worry about your dogs' safety while he's inside because the corners of the crate are rounded and there's no exposed steel when it comes to its edges.
In Short:
The sides are made out of steel wire
The frame and top are made out of heavy-duty plastic
Made for large dogs
Comes with a travel bag and plush bedding
It's easily transportable because of the built-in wheels and handle
Can be collapsed
BEST WITH DIVIDER LARGE DOG CRATE WITH SIDE DOOR
MidWest Homes for Pets Dog Crate
Steel Wire Build Purpose
This crate can be a great training cage for dogs since it's made out of steel wire that is the desired material when your dog is still learning to feel comfortable when he's inside the crate. The main reason for it is that it can handle chewing well and it offers great visibility.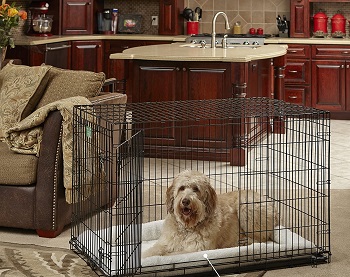 Door Locations
Apart from the door that makes it a side door dog crate, there's another door located in the front. The two doors might come useful when you're deciding on the position of the crate in your house because it gives you more options on how to place it.
Safety First
Another reason why this is a great training cage is because of the safety it provides while your dog is inside. On the edges of the crate, you'll find rounded side clips that are used to remove any sharp edges that might otherwise harm your dog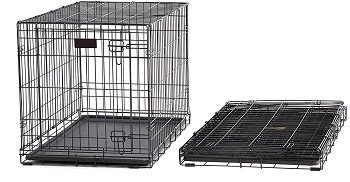 Other Useful Extras
The crate also comes with a divider for puppies, it has roller feet on the bottom to protect your floors from damage and it comes with a bottom tray that will also serve you well in keeping your floors clean. The tray won't slide out because it can be blocked with a side stopper located on the bottom side.
Adult Dog Measures And Weight
When the dog has reached its full size, his length and height should not exceed 45 and 30 inches. That means that his weight can easily go up to 110 lbs with the starting point of 90 lbs.
In Short:
Built out of steel wire
There's a plastic tray located on the bottom
Has a removable divider panel
Can house dogs weighing from 90 to 110 lbs
Has roller feet on the bottom that protect your floors
BEST FOR PUPPIES SIDE DOOR DOG CRATE
Diggs Revol Dog Crate
3 Different Door Types
Even though the front door of the crate opens easily, this surely doesn't mean that your dog will be able to open it himself. apart from the front door, there is a side door, of course, and even a top access door in case you want to access your dog without him trying to wiggle out and escape the crate.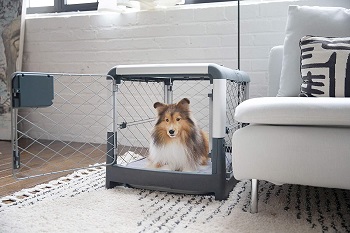 Durable Aluminum And Plastic Construction
This crate is partially a plastic dog crate with a side door. Why partially? Well, although the frame is made out of reinforced plastic, the material used to make the sides of this crate is in fact aluminum steel wire that is high grade so you can be sure the crate is durable.
Useful Puppy Training Crate
The things that make the crate one of the best puppy training crates is the fact that it's made with baby industry standards kept in mind which means that your dog won't get hurt while he's inside, a divider it comes with so that the crates' size can adjust to your growing puppy's size and of course the bottom pullout tray that makes cleaning the crate a breeze.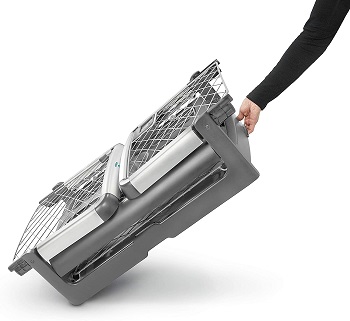 Crate Movability
You can also collapse the crate and even travel with it and easily transport it because it has wheels on the bottom that are built into it and it has a handle on top in case you ever need to carry this side door dog crate around.
In Short:
Built out of reinforced plastic and aluminum steel wire
Completely safe for puppies to live inside
Comes with a divider and a plastic slide-out tray
Can be collapsed and has wheels on the bottom for transport
Can be carried because of the handle on top
Has 3 entrance points
How To Pick A Side Door Dog Crate
There's a lot of side door dog crates on the market and they differ greatly from one another in size, materials used to make them, how safe and durable they are and so much more so continue reading to know t+what to focus on when you decide to buy a crate so you'd know you picked wisely and perfectly.
Size Matters – Above anything else, the first thing you should always do before getting these crates or any other crate is to know how to measure your dog. With that, you can add 3-4 inches to the height and length of the dog and see if it matches the crates' dimensions. The length of your dog is measure from his snout to the beginning of his tail and the height is measured from the floor to the top of his head.
Ideal Dog Behavior – We would all like a dog that behaves well from the start when you get him a dog crate but unfortunately, this takes time and patience especially if your dog is still a puppy so buying a wire crate might be better than getting a wooden one in this situation.
Saves Space – A lot of these crates feature a side door that opens by sliding. This saves you space if you're the person that keeps the crate open more often. Another reason why side door dog crates are good is that you don't have to limit yourself when it comes to positioning the crate inside your house.
Most Durable Crate Type – Without a doubt, certain crate types are far more durable than others. If your dog is a bit more aggressive you'd definitely benefit more from an XL wire dog crate or an XL metal dog crate. You can find these crates in different sizes as well
To Sum Up
As with all categories including this side door dog crate category, there is always a crate that stands out naturally, and this time it is the Diggs Revol Dog Crate– Not only does it have a side door, but it also features two more entrance points, it's completely safe for your dog or puppy, comes with a divider, can be used to travel because it has built-in wheels and so much more. If you took a liking to the wooden dog crate in this article, then your next best bet is to read the article about triple dog crate furniture and if you're after one that can house large dogs, definitely check out the article about XL dog crate furniture.