Are you in a need of a puppy pad in crate because he keeps urinating inside his crate and home?
There are a plethora of great puppy crate pads and we just happened to find and review the best ones that you can get We'll go through the different sizes like large, and small and even through different types that include reusable ones and disposable ones so make sure you keep reading to find the one that suits you best
The Summary
Best 6 Puppy Pads In Crates
BEST OF BEST PUPPY PAD IN CRATE
Glad for Pets Puppy Training Pad
Number Of Pads
You can choose to get more of these puppy crate pads. Of course, this means that the will cost you more but it's only approximately a $15 difference between the 150 pads and 100 which is this one. If you feel like you don't have a constant need for them you can get even fewer number of pads.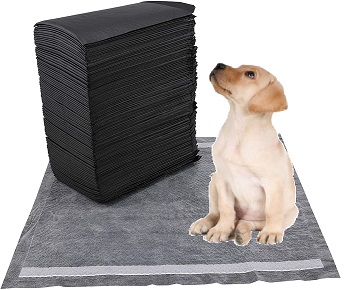 Leak-Proof
You can be sure that they won't leak through any excess urine onto your beautiful rustic dog crate or any other crate for that matter since each pad has 5 layers of protection. These layers will also ensure that your crate or place where they're put doesn't stain or doesn't get damaged in any way.
Attracts Your Dog
These puppy pads in crate are treated with pheromone attractant so that your dog knows naturally where to go and pee. Don't worry, pheromones are naturally occurring in dogs' pee and even in humans. This is the reason why dogs mostly go to pee where another dog already has and these pheromones will simulate that and make him pee on the pee pad instead of somewhere else.
Odorless Living
The carbon in these pads is there to absorb odors. You will get the instructions on how to place them for use on the packaging but generally, you should face the plastic side of the pad down and slowly familiarize your dog with the pad.
In Short:
They have 5 layers of protection
Won't leak through
Absorbs odors because of the carbon inside
Has pheromone attractant so your dog knows where to pee
BEST FOR SMALL DOGS CRATE MAT FOR PUPPIES
Amazon Basics Dog Potty Training Pads
Small Dog Pee Pads
Even though these pee pads for puppy crates are made specifically for puppies and grown up small dog breeds, You can choose to get the extra-large version or the heavy-duty version for your large dog that's perhaps old so he can't move much.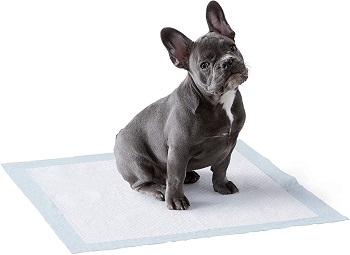 Turns Liquids Into Gel
Each of the 100 puppy crate pads has an incredibly absorbent core that will turn any liquid into gel upon contact. The crate will be kept clean and dry because the surface of these puppy pads in crate are able to dry quickly and easily.
Functions Of The 5 Layers
There are 5 layers on each pad and each layer has its purpose. The first one keeps the pee on the pad and won't fall apart, the second will hold liquids, the third turns into gel that will minimize odors, the forth ensures that the liquid turns into gel, and the fifth prevents any excess liquids from going onto the floors.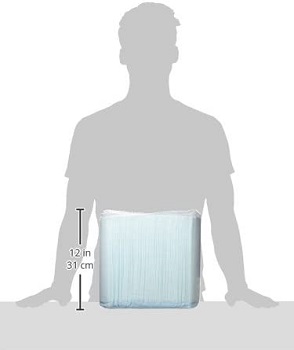 Peeing Where They Should
The pee pads have an attractant built-into them so that your dog always goes onto the pad to urinate. The dimensions of the pads are 22 by 22 while the center pad is a bit smaller. The edges are made out of plastic so that there are no liquids spills
In Short:
Has a 5 layer construction
Liquid turns into gel upon contact
The urine won't overflow because of the plastic edges
Can be used for puppies and small dogs
The gel minimizes odors
BEST FOR MEDIUM DOGS CRATE LINER FOR PUPPY
American Kennel Club Puppy Pads
Scent Varieties
These puppy pads in crates have a eucalyptus scent but if you don't particularly like it you can choose to have them lavender scented, lemon-scented, fresh newspaper print scented or if you're not a fa of all of these scents have them smell simply fresh.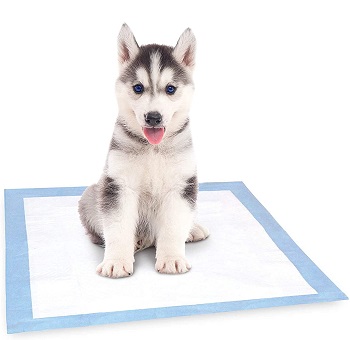 6-Layer Absorption
There are 6 layers on each of these potty pads. What's important for you to know is that the top layer is resistant to tears and that the plastic liner on the bottom will absorb any excess moisture so that the pad is kept as dry as possible
Quick Drying
The gel inside each pad dries quickly and will prevent any overflows ad tracking as well. The layer that gives each pad a scent of your choice will serve you to eliminate odors as well as give you a constantly fresh scent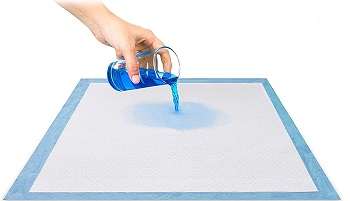 Frequency Of Pad Change
One pad will last up to 24 hours without you having to change it. This is only true for dogs that weigh up to 50 lbs which are small and medium-sized dogs. If you want to use it for dogs heavier than 50 lbs, you should change the pads more frequently.
In Short:
Lasts up to 24 hours for dogs up to 50 lbs
They come in 5 different scent varieties
plastic line layer prevent leaks and tracking
The top layer is tear-resistant
The gel in one layer absorbs liquids immediately
BEST FOR WOODEN DOG CRATE MAT FOR PUPPIES
Hartz Home Protection Dog Pads
Eliminating Odors
Unlike most puppy pads in crates that only mask odors rather than eliminating them, each pad will trap and neutralize odors with a fresh lavender scent. If you want to get the odorless version, you can and there is also a quilted version of the pads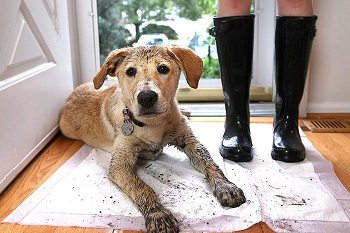 Layers Functions
The first of the 6 layers on these pads will trap liquids and prevent your dog from having wet paws, The second will allow you to use one pad multiple times, there's one that will turn any liquids into gel, there's one that will provide each pad with durability and the bottom layer prevent leaks from happening.
Pad Dimensions
The bottom plastic layer is larger than the rest which makes each pad measures 21×21. You can choose to get larger versions of the pad according to the size of the crate and the size of your dog.

Use Recommendation
We'd recommend these puppy pads for anyone who has a medium wood dog crate since it's really important for crate furniture to be left intact when it comes to urine and this puppy pad can give you exactly that
In Short:
Made out of 6 different layers
Traps and neutralizes odor with lavender scent
The bottom plastic layer is larger and stop leaks
Any liquid will turn into gel upon contact with the pad
You dog's paws won't get wet
One pad can be used multiple times
BEST PLASTIC POTTY PAD IN CRATE
PETMAKER Artificial Grass Bathroom Mat
Fake Grass Mat
If you have a gardenless house or live inside an apartment in a big city with little to no grass surfaces your dog and you will love this puppy crate mat. The top layer of the mat is made to look and feel just like real grass. It's made out of synthetic plastic materials.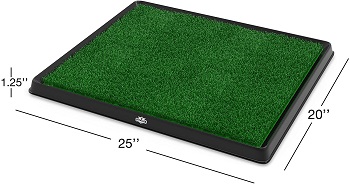 3 Plastic Layers
The mat consists out of 3 layers. The first one is the already mentioned fake grass that is non-toxic for your dog and is antimicrobial, the second one is the plastic grid tray that will let through any liquids onto the third layer that is the deep bottom plastic base. It's similar in function to small,medium and XL wire dog crate pans and you'll clean it the same way that you would the pans on these crates.
How Long It Lasts
You will have to get a replacement grass pad after some time but that won't have to happen for a while. If you really want it to last long you can even combine it with a puppy pad in crate and increase the lifetime of the pad and the mat.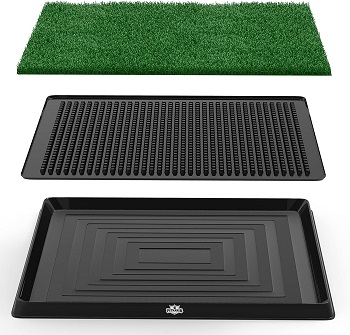 Mat Dimensions
This medium crate mat for puppies is 26-in long, 21-in wide, and 1.75-in tall. Make sure you check the dimensions of the crate to see if it can fit inside comfortably if you decide to put it there. If it's too big for the crate, there's also an option of buying a smaller version.
In Short:
Made out of plastic
Has 3 layers with the top one resembling grass
Any liquids accumulate in the deep plastic base
You can easily clean it to reuse it
It is a medium-sized mat
BEST FOR TRAVEL PEE PAD IN CRATE FOR PUPPY
SincoPet Reusable Pee Pad
Large And Reusable
This puppy crate cushion is reusable and quite durable. It is rather large with it's dimension being 47-in. You can choose to get it in 11 different sizes and you can choose the shape to be round as well as the amount of pads. This product will give you 2 pads.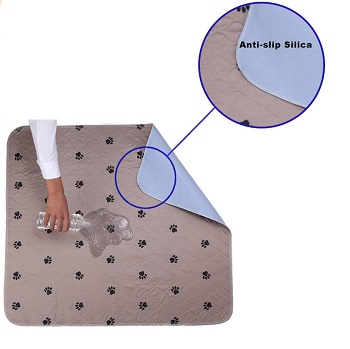 The 4 Layers Description
It's made up of 4 layers. The first one is a polyester knitted surface that will keep your dog cozy, the second one is a dense layer that is incredibly absorbent. Then you have a waterproof layer and the last one is a slip-proof layer made out of silica gel.
Travel Bathroom Mat
You can choose to use it for XL dog travel crates since it's super comfortable and resembles a puppy cushion or you can use it for the car trunk without the crate since it is so large that it can fit inside most car trunks.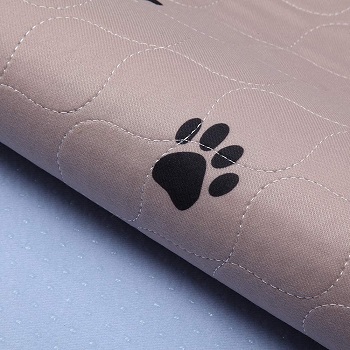 Free Glove Brush
You can rewash these puppy pad in crate cushions up to 30 times. As already mentioned, you'll get two in the package and as a bonus, you'll also get a glove to massage your dog and to collect dog hair. It fits most hands because it's made with spandex fabric.
In Short:
Мade out of knitted polyester
Has 4 layer of protection
Can be used for traveling with your dog
Can be rewashed
You'll get two mats in the package
Comes with a free dog hair glove brush
How To Pick A Puppy Pad In Crate
Puppy pads differ largely from one a mother with the way they absorb liquids, eliminate odors, in size and materials so it's important to know what to be vary of and to know exactly how to use them and why you should even use them.
Don't Rely Too Much On Them – Puppy pads are a great way to keep your house and their crate as clean as possible and odor-free but when we say you shouldn't rely too much on them, we mean that they should only be there in case of emergencies. You don't want to spend the rest of the dog's life relying solely on them because there are ways to work around it and when accumulated this would cost you a lot of money in the end even though they are not so expensive
How Long Without Urinating – A general rule of thumb is that your dog's ability to hold their pee increases with age. A month old puppy can hold his pee approximately for one hour while a 12-month-old one can hold his pee for up to 12 hours. That doesn't mean you should wait that long for you to go outside and let him do his thing and this is exactly where puppy pads come into use if your work and personal life schedule is too crowded for you to take him outside every couple of hours.
Crate Types That They Work With Best – Some crate types like white dog crate furniture that's usually made out of wood or some wooden polymer will find these crate liners for puppies a relief since you'll be prolonging your crate's life. Other crate types like XL wire dog crates might find puppy crate pads useless since they will usually come with a pan that can hold dog's urine without staining or absorbing odors. In the case of wire crates, a puppy pad in crate might only be useful if you don't have time to clean the pan that often
Dividers For Potty Training – A thing that can really help with potty training with the combination of pee pads in puppy crates are the puppy dividers. They will adjust the crate's size to your puppy's size as he grows and this is great because puppies and dogs, in general, don't have a habit of littering where they sleep. They don't like to sleep in their own urine since they are clean animals so by getting a crate with a divider, you will make it so that they don't have enough space to urinate in one place and still sleep and play in another clean part of the crate.
To Sum Up
The puppy pads in crate that we'd recommend are definitely the American Kennel Club Puppy Pads. You can choose to get them in a variety of different scents and can last you up to 24 hours for dogs that don't weight over 50 lbs. If you're missing a divider that is a crucial part f every dog's potty training journey make sure you read the article about puppy crates with dividers and if you just want to make your dog comfortable while he's inside his crate then the article about the best puppy crate bedding is the one for you to check out.