Have you been trying to find a massive and huge cat tree for your multiple cats?
No worries. You are in the right place. In our article, you will learn all about the six models that we consider safest and worth buying. Before you go, don't forget to read the buyer's guide too. It will help you find the right model for your household.
The Summary
Best 6 Huge Cat Trees And Condo Towers
BESF OF BEST HUGE CAT TREE
Go Pet Club 87" Tree For Cats
Giant Tree Design
This unit is large, spacious, and roomy. It will fit in households with a lot of space. The unit includes a wide base that keeps it stable. There are multiple levels, elevated perches, and scratching posts. It keeps cats active and makes them happy.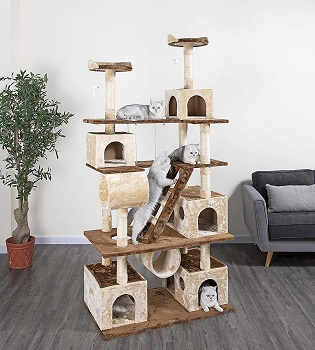 For Multiple Cats
This unit is ideal for households with more than two cats. It is suitable for cats of almost all sizes. It helps to reduce boredom and feline conflicts. The scratching posts will help to maintain your cats' claws strong and healthy. They will also help them climb the top of the unit.
Includes Five Condos
The Go Pet Club's massive cat tree comes with five huge cat condos. Two of them are located on the ground floor. If you have senior cats, they will surely prefer sleeping over there, then climb to the top. However, if you have active cats, the top condos and perches will be just what they need.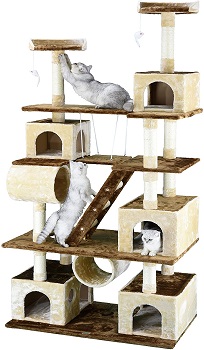 Size And Capacity
The tree's dimensions are 42″L x 23.5″W x 87.5″H. Three out of five condos are roomy and will fit up to two smaller-sized cats at the same time. The Go Pet Club huge 87 tall cat tree house climber furniture with swing will surely hold up four adult cats with no problems. This multi-cat tree is made of pressed wood. It is stable and firm.
In Short:
this is a large and roomy cat tree
it includes five cat condos
the tree fits four adult cats
there are multiple levels and perches
it is made of pressed wood
BEST HUGE CAT CONDO
Ocday Cat Tree Condo
Cozy And Warm
The Ocday huge cat tower comes in beige. Its simple design makes it fit into almost any household nicely. The unit is entirely covered in high-quality faux fur. Such material makes cats feel comfortable and safe. It reminds them of their mother's fur.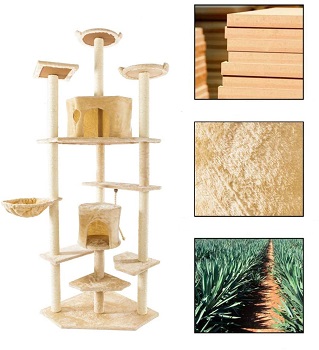 Multi-Level And Fun
This simple cat tree is tall and includes multiple levels. The tree comes with three elevated perches on the top. Thanks to the scratching pillars, cats that love to climb and stay in high places will climb easily. The posts will help to maintain cats' claws strong as well.
Stable And Firm
The unit is well-proportioned and well-balanced. It has a steady and heat base and its multiple scratching columns make it stable and sturdy. This tree will accommodate up to four cats of medium size with no problems. For extra stability, place the unit against the wall.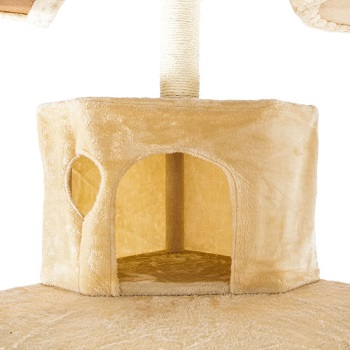 Simple To Set Up
Simple and fast assembly is required. The Ocday unit can be assembled in less than half an hour. We suggest that two adults do the job. The assembled size of this unit is 37.99 x 27.95 x 80 inches (L x W x H). The unit includes two cat condos. The cat condo is located almost on the top.
In Short:
entirely covered in faux fur
comfortable, warm, and safe
well-balanced and sturdy
the assembly is quick and easy
ideal for 4 adult cats
comes with 2 cat condos
BEST TALL HUGE CAT TOWER
Downtown Tall Huge Cat Jungle Gym
Tall Cat Tree
The Downtown is a tall narrow cat tree. It is beneficial for the indoor cats' health. It attracts cats and makes them scratch and climb. It promotes healthy behavior and keeps multiple indoor cats active and occupied on a daily basis.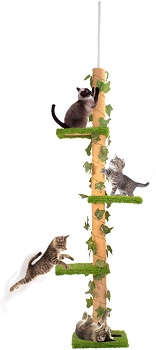 Saves Space
If you have a small apartment or a lack of space, then you are going to love this massive cat tree. It is narrow and occupies hardly any space. Your cats can still enjoy playing and climbing a tall cat tree, and you won't have to make a lot of room for it.
Floor-To-Ceiling
Downtown's space-saving cat tree comes with a special floor-to-ceiling design. This means that it gets attached to the floor in order to be more stable. The unit comes with all the tools and hardware for easy and simple assembly – a ceiling stopper, 2 dowel screws, 2 screws, and 1 wrench.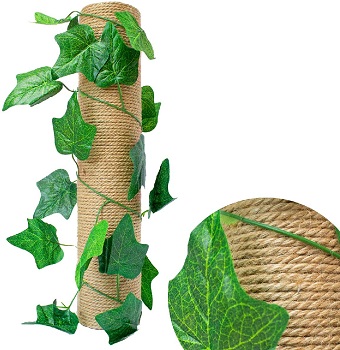 Includes Artificial Leaves
This is a four-level tall skinny cat tree. The platforms are covered in grass-like material and the column includes artificial leaves. The unit looks like a real tree. Its fun and interesting design will attract cats and make them feel safe and active.
In Short:
a narrow and tall cat tree
comes with a floor-to-ceiling design
the unit is space-saving and stable
includes four platforms
the tree includes artificial leaves
BEST WITH HOUSE MASSIVE CAT TREE
Lazy Buddy Cat Tree House
The Elevated Perches
The Lazy Buddy is a tall and massive cat tree that includes two large top perches. They are elevated and supported by scratching columns. This unit is ideal for large cats that love to climb and keep an eye on their surrounding from a high location.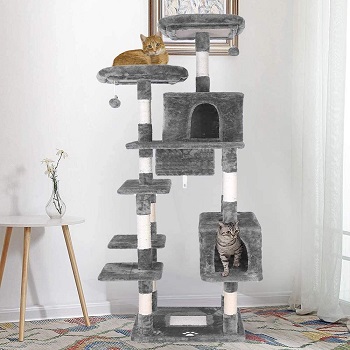 Cozy And Soft Material
This tree is entirely covered in soft and thick plush cloth. It keeps cats safe and warm and makes them feel comfortable. It is an ideal tree both for playing and for sleeping. Apart from the perches and levels, this unit comes with 2 spacious and huge cat condos that keep cats relaxed.
Pet-Friendly And Safe
Lazy Buddy's large perch cat tree is completely made of pet-friendly, skin-friendly, and non-toxic material. All the material is safe for cats. This unit comes with a thick base plate and sliver. It keeps the tree stable and hard to collapse.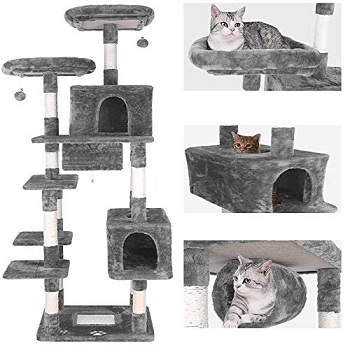 Easy To Maintain
The assembly is required. The detailed instructions, accessories, and tools are included. It will take no more than half an hour to set this tree up. The cat condo houses include two entrances each. The tree is 80" high. To clean the unit, use the vacuum and get rid of the cat hair easily.
In Short:
there are two large perches
ideal cat tree for large cats
this 80" unit is covered in plush cloth
it is safe, warm, and cozy
ideal for playing and resting
includes two spacious house condos
BEST BIG AND HUGE CAT TREE
Pawz Tower Cat Tree Huge
Firm Construction
The Pawz's cat tower is made of high-quality and sturdy material. The unit is covered in plush material that cats love to knead and sleep on. This is another stable and firm cat tree that will accommodate multiple cats.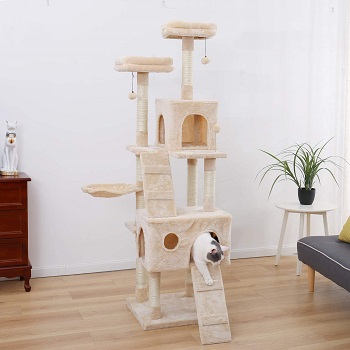 Comfortable For Sleeping
Cats love to sleep on plush material. When they were babies, they used to knead their mother's fur in order to stimulate the milk flow. Their natural instinct is to knead on any material that reminds them of their mother. This way your cat will feel safe and relaxed sleeping inside of the two condos.
Interactive And Amusing
The huge cat tree by Pawz includes multiple levels, elevated perches, scratching posts, condos, a ramp, and teasing toys. The toys will attract your cats' attention by swinging back and forth. This will keep your felines occupied and active.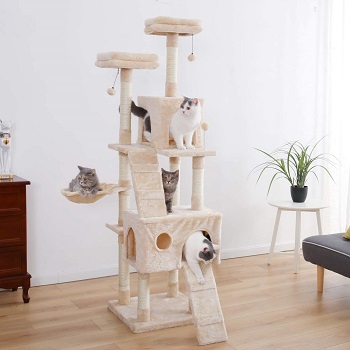 Maximum Holding Weight
This unit is 68" tall. It has just enough space for three cats of medium to large sizes. Also, more than three kittens can play on this unit without collapsing. Even though the tree is stable, we suggest you place this sturdy cat tree next to a wall.
In Short:
big and tall construction
sturdy and firm cat tree
it is covered in soft plush
makes cats feel cozy and warm
it comes with interactive toys
BEST CORNER HUGE CAT TREE
DotePet Massive Cat Tower
Modern Corner Design
The special corner design allows you to place this tree in a corner if you wish. This unit is tall and spacious. Its size is  (37.99 x 27.95 x 80)". The unit comes in dark brown and includes multiple scratching posts.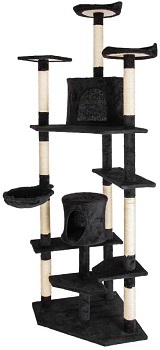 Scratching Posts
The scratching posts and columns attract your cats' attention and help them to maintain their claws strong and healthy. The posts are wrapped in natural sisal. Your cat will prefer scratching this huge cat tower's posts rather than your furniture.
High-Quality
The quality of this unit is premium. All the material that was used for the construction is sturdy and non-toxic. This tree is firm and its sturdy frame prevents wobbling. The unit comes with a thick base and multiple columns to keep it well-balanced.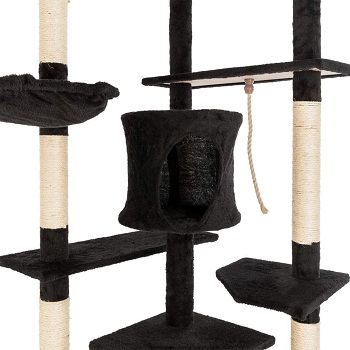 Tall And Multi-Level
Just like all other models of this list, the DotePet indoor cat tree includes different levels and other content to make cats feel safe, rested, active, and occupied. This tree will satisfy your cats' everyday needs and keep them healthy and active.
In Short:
tall and multi-level cat tree
comes in dark brown color
includes sisal scratching posts
the construction is sturdy and firm
multiple cats can play on this tree
How To Pick: Massive Cat Trees And Towers
Huge models for indoor cats cannot fit into any home. If you have a lack of space, we suggest you skip this post and consider getting a tall or narrow cat tree for small spaces. However, if you have enough space, such a unit will be beneficial for your felines. Big and spacious cat trees keep cats happy, active and occupied. Read on and find out more about the qualities that such units come with.
For Large Spaces – Before you buy, check the size of the tree you are thinking about buying. Know where you are going to place such a unit. Also, you can choose between tall or wide cat trees. They all include the same content – condos, platforms, perches, scratching posts, and interactive toys.
Benefits Of Big Cat Trees – Spacious cat trees and trees of larger sizes are here to encourage cats' natural instincts. They invite cats to play, jump, and scratch. Huge and massive units will satisfy all of your cat's needs. They are ideal units for active, playful, and social felines. Such units will benefit your fur friends' health in every way.
For Multiple Cats – If you have more than one indoor cat, we would always suggest you get a cat tree of a larger size. Big trees are more stable and durable. They are well-proportioned and keep cats safe. These units can help to reduce feline conflicts. Cats can jump between levels or choose to rest inside of a cat condo that is most often included.
Fun And Interactive – The elevated perches will invite your climber cats to rest on them. Every feline owner knows that cats love to stay in high places. It makes them feel confident. This is how cats observe their surroundings. The scratching posts are here not only to help your cats maintain their claws healthy but to help them climb as well. Oftentimes, a cat tree will include teasing toys too.
Ideal Sleeping Space – Many units are entirely carpeted or include removable mats or cushions. They are soft and warm and keep cats safe and cozy. Massive cat trees will include cat condos, baskets, hammocks, and perches. Such units will be your cats' new favorite sleeping space.
To Sum Up
The massive cat tree that we liked the most is the Ocday Huge Cat Tree Condo. It is a cat tree that includes all that cats needs for playing and resting. This is an adult cat tower, but it is suitable for smaller and larger cats as well. If you want to check out more similar models, read our article about the best big cat trees.