Are you in search of a cat perch for large cats or a cat tree that comes with big and spacious platforms?
Then you are in the right place!
In this post, you will find all about the three best window perches and three cat perch trees. See which model could be the most appropriate for your large fur friend. Check out the buyer's guide that we wrote to help you find the right model.
The Summary
Best 6 Cat Perches For Large Cats And Perch Trees
BEST OF BEST LARGE PERCH CAT TREE
Armarkat Perch Cat Tree
Made Of Real Tree
This is a large perch cat tree. It is made of Scots pine – Pinus Sylvestris. It is a natural cat tree that is guaranteed to last a long time. Multiple cats can play on this tree. The wide base of this tree makes it sturdy, firm, and well-balanced. The unit will last you a long time for sure.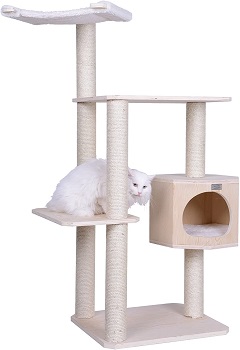 Simple To Setup And Clean
Just like with any other cat trees, a simple assembly is necessary. All the tools and setup instructions are included. When it comes to maintenance and cleaning, use the vacuum to get rid of the cat hair. Dust the platforms off with a clean and soft cloth.
Cozy And Warm Resting Space
Cats will love to sleep on the Armarkat multi-level cat tree. There is one cat condo included that provides your cat with private sleeping space. The package includes a soft cushion that you can place inside of a condo. It is easy to wash and clean the cushion.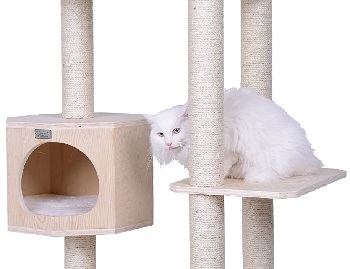 Useful To Know
The tree's set up size is 36.00 x 32.00 x 54.00 inches. It is a tall cat tree for multiple cats. It weighs 40 pounds. The tree comes in white color and it is nice-looking. It includes scratching posts that prevent your cat from scratching your furniture. The large platforms make it ideal for larger-sized cats.
In Short:
made of Scots pine wood
it comes with multiple levels
the tree fits several cats
a spacious condo for cats is included
comes with scratching posts
BEST WITH XL PERCH CAT TREE FOR LARGE CATS
Naomi Home Nala Tree
Choose The Color
The Naomi tree is another model or a cat tower with large perches. The unit comes in four different colors. You can choose between Terracotta, beige, green, and grey. Pick the color that you like best and the blends nicely with your other furniture.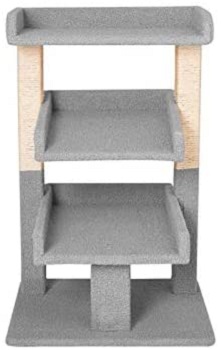 The Large-Perch Design
The Naomi is a medium cat tree that includes three extra-large cat perches. The wide base and two thick columns keep the tree stable and well-balanced. The largest cat perch is located on the bottom. The unit will accommodate up to three cats at the same time.
Promotes Healthy Behavior
The two columns are completely wrapped in sisal ropes. This material is rough and long-lasting. It attracts cats and encourages their natural instinct of scratching. Your cat will rather scratch on the sisal columns, then your sofa or other furniture.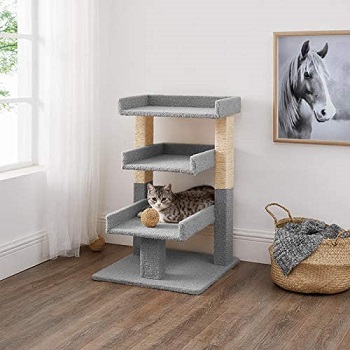 Size And Quality
This large perch cat tree by Naomi measures 20" x 20" x 31.3". The quality is quite fine and we consider this cat tree with extra-large perches a long-lasting and pet-friendly cat tree. Also, the price of this unit is medium. This tree will make your cats happy and allow them to feel safe.
In Short:
medium size with large perches
for cats of all sizes and breeds
the tree comes in four colors
columns are wrapped in sial
keeps cats safe and happy
BEST FOR TWO LARGE PERCH CAT TREE
Selify Two Cats Window Perch
Sturdy And Quality Material
Unlike many other single cat perches, the Selify cat perch for large cats is made of high-quality and sturdy materials. It is not flimsy and it cannot break easily. The unit is made of ABS tubing, robust steel, and stainless steel. The suction cups are made of high-grade rubber and can hold up to 60 lbs.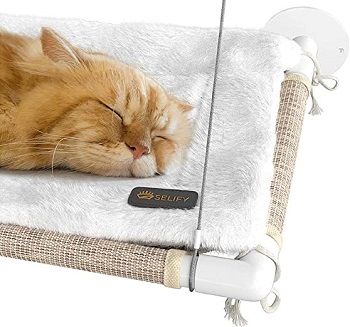 Easy To Attach
All you need to do is unpack the perch and attach it to any window in your home. Choose where to mount this unit. Cats that love to climb will need this perch to be mounted in a higher location. Senior cats will prefer this perch to be positioned lower.
Holds Up To 2 Cats
The Selify large cat play perch can accommodate up to two cats. As long as your two cats are not heavier than 60 lbs, they will be safe. This perch will be your fur friends' ultimate relaxation spot. They will get to watch birds flying or observe their surrounding area.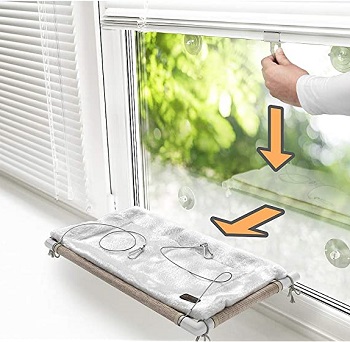 Odor-Free And Safe
The material that this cat resting and climbing structure is completely pet-friendly, odor-free, and non-toxic. The unit is comfortable, large, and roomy. It is easy to attach and detach. Be sure you check the stability every day.
In Short:
this is a stable and sturdy window perch
it accommodates up to 60 lbs
the perch is easy to attach to the wall
made of the quality and pet-friendly material
odor-free and non-toxic large perch
BEST STURDY CAT PERCH FOR LARGE CATS
K&H EZ Mount Cat Window Sill
For One Cat
This single-cat hammock is ideal for one cat of medium to large size. The dimensions of this perch are 23.75 x 13.5 x 1.75 inches. The maximum holding weight is up to 100 lbs. The K&H cat perch for large cats is convenient for households with a cat that loves to observe the outside world.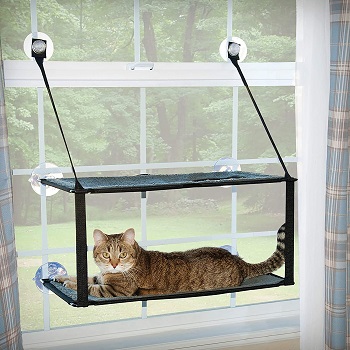 Fun And Cozy
Your cat will get to watch what is going on outside of its home. This unit is perfect for indoor cats or cats that spend most of the time inside. It is fun and makes cats curious and happy. This unit is comfortable and soft. It will be your cat's favorite resting place.
Sturdy Construction
This unit is a perfect cat tree accessory. Its frame is made of high-grade sturdy steel material. The unit is long-lasting and sturdy. The EZ suction cups will keep this perch stable and in one place.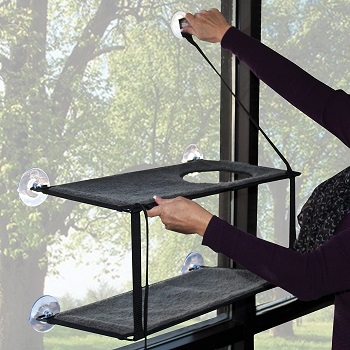 Easy To Clean
The unit includes a removable cover. Take it off when you need to clean it. The cover is machine-washable. Keep this perch clean and remember that cats love to stay in clean places. It is very important for their mental and physical health.
In Short:
ideal for one large cat up to 100 lbs
fun and comfortable window perch
made of sturdy and quality material
includes a removable cover
easy to clean and wash the cover
BEST TALL LARGE PERCH CAT TREE
Catry Big Cat Perch Tower Cat Tree
Multi-Level Cat Tower
Catry's tall cat tree includes multiple levels and large perches. It is an ideal tree for cats of all sizes and breeds. This large perch cat tree includes a large hammock, a tunnel, and two hanging ropes. The size of this tree is 20″L x 20″W x 50″H.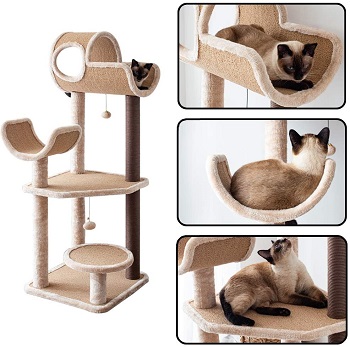 Interactive And Fun
The teasing cat toys hang from the perches. They attract your cats' attention and make them feel occupied. Apart from the toys, the unit includes scratching posts that help cats to climb. The posts are wrapped in paper rope. Its rough texture attracts cats and helps to keep them away from your furniture.
Size And Capacity
The Catry multi-level cat tree will hold up to three cats of all sizes. The lower platforms and perches will be perfect for cats that don't like to stay in high places. The top perch is going to make your cat confident, in case it likes to watch the area that surrounds it.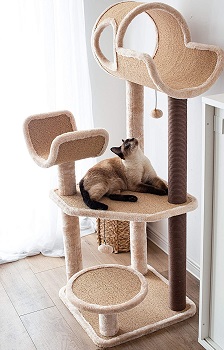 Pick Color You Like
You can choose between beige or grey color. Both colors are neutral and look nice in any household. Pick the model you like most and allow this tree to blend it with your home decor. This multi-purpose cat tree will make you and your cats happy.
In Short:
this is a tall and multi-cat tree
it will hold up to three cats
the unit includes large perches
there are two hanging toys included
choose between 2 colors
BEST WINDOW CAT PERCH FOR LARGE CATS
Kitty Cot Window Cat Perch
Easy To Mount
The Kitty Cot's cat perch for large cats is simple to attach. Mount it on the window and allow your cat to sleep on the perch or watch the birds flying. The suction cups will holp up to one cat with no problem. To be sure everything is fine, check on the perch every day and ensure it is stable.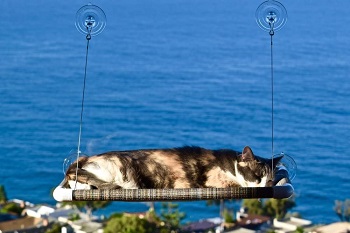 Simple To Clean
You can clean this unit in no time. Simply use pet-friendly and non-toxic soap and water. Cats love hygiene and we suggest you clean this window perch regularly. Feel free to add a soft cover and make your cat feel warmer and safer.
Quality Material
The Kitty Cot perch for larger-sized cats is made of PVC pipes, fittings, and steel. The support cables are sturdy and they will surely last you a long time. All in all, we think that this large cat perch for the window is convenient to have if you have an indoor cat at home.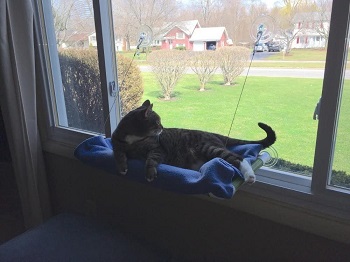 Long-Lasting And Affordable
The overall quality is quite fine. We find this unit durable and pet-friendly. The suction cups will hold your cat with no problem. This window perch is affordable. The overall customer satisfaction is high. Check the unit out, mount it next to any cool cat condo or tree, and let it satisfy your best friend's needs.
In Short:
easy to attach to the window
simple to maintain clean
the material is made of high quality
this unit is ideal for 1 cat
it is durable and affrodable
How To Pick: Large Perch Cat Trees And Towers
Read our guide and learn why having a cat perch for large cats or a cat tree with spacious platforms is beneficial for your feline. Learn more about the assembly. Check the maximum carrying capacity of the unit before you buy. Make sure the material the item is made of is non-toxic and pet-friendly. Clean your cat tree or window perch regularly.
Benefits Of Cat Perches – Cat shelves and platforms that a cat tree comes with are also known as perches. Such platforms can be purchased separately as well. Cats love to climb and rest on perches, especially if they are mounted in higher places. This is how your cat will get to keep an eye on its surrounding. It will feel confident and proud.
Cat Tree Perches – If you don't like the idea of getting a single cat perch and mount it on your window, consider getting an indoor cat tree with multiple perches. All cats need to climb and stay in an elevated location. It is their natural instinct. We suggest you get a tall or vertical cat tree if you have more than one cat at home.
Easy To Assemble – Both large cat perches and cat trees with perches are simple to set up. Most cat perches get attached to the window with no tools and in no time. They save space and are easy to clean too. When it comes to cat trees, the setup instructions are always provided by the manufacturer. The assembly is easy and quick.
Know The Holding Weight – Before buying, check the unit's carrying capacity. If you have one large cat at home, you will easily find a suitable unit. However, if you have more than two adult cats at home, you must know which unit to choose. Not every cat tree or perch will hold the same weight.
Construction And Material – Usual cat perch for large cats is made of heavy-duty abs tubing, stainless steel, robust steel, rubber, etc. They come with suction cups and strips. When it comes to cat trees, you will find every possible type and design. Trees made of solid wood or heavy-duty material will last the longest. There are trees made of particleboard, chipboard, veneer, etc. Most importantly, make sure your new unit is stable and made of quality materials.
To Sum Up
Among the six above-listed and reviewed cat perches, the Naomi Home Nala large perch cat tree has caught our eye immediately. Not only because of its attractive cat tree design but also because it will surely be a great fit both for small and large cats. This chic cat tree includes scratching posts as well and we all know how important they are to cats.