Have you been looking for a medium cat tree that will fit into your home perfectly?
In our article, we have gathered the six models of cat trees of medium size and divided them into categories. By reading on, you will find out more about the best of best, modern, carpeted, and other models. Our buying guide is here to help you find the most appropriate unit for your felines.
The Summary
Best 6 Medium Cat Trees And Towers
BEST OF BEST MEDIUM CAT TREE
AmazonBasics Cat Tree Medium Size
Simple Design
The AmazonBasics simple cat tree comes with a base, scratching columns, a large scratching post, and three elevated platforms. It comes in neutral beige or gray color. If you like minimalist home decor, this unit might be the right one for you.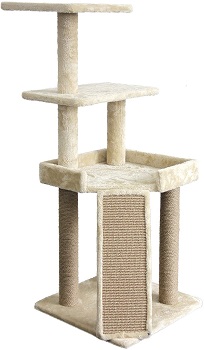 For All Cats
Cats of all sizes, breeds, and ages can use this tree. The AmazonBasics medium cat tree will accommodate up to 30 lbs at the same time. The unit won't collapse or break if two cats jump off of it at the same time.
Promotes Healthy Life
Indoor cats need to stay active as much as outdoor cats. Thanks to this cat tree, your indoor felines will have a perfect unit for climbing, scratching, and sleeping. The tree is covered in safe plush which keeps cats warm and safe.
Safe And Pet-Friendly
This tree is made of long-lasting and sturdy materials – chipboard and natural jute rope. It is pet-friendly and safe for the cats' skin. It allows cats to maintain their claws healthy and strong.
In Short:
simple and minimalist cat tree design
the unit comes in beige or gray
it will hold up to 30 lbs
there are perches and posts included
this unit is made of pet-friendly materials
BEST FOR LARGE CATS MEDIUM CAT TREE
Made4Pets Grey Cat Tree
Modern And Attractive Design
The Made4Pets indoor cat tree comes in grey color. Its sleek and elegant appearance will make it fit nicely into any modern or retro home. It includes a condo, multiple levels, removable cushions, and a hanging cat interactive toy.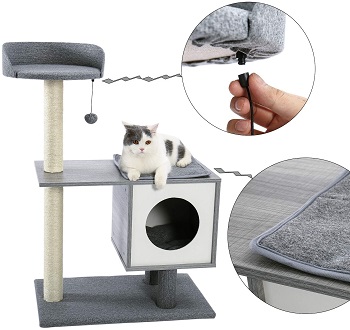 Heavy And Wide Base
Thanks to the reinforced base of this medium cat tree, this unit will stay in one place even if two of your cats jump off of it at the same time. The unit is made of CARB-certified natural particleboards. It is a long-lasting and sturdy cat tree for more than two adult cats.
Fun Activity Tree
Playful and active cats will love to climb the scratching pillars and jump between levels. The hanging toy will attract your feline's attention and make it occupied as well. CThe Made4Pets tree will accommodate cats of almost all sizes.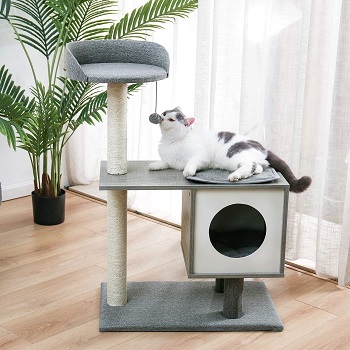 Safe And Non-Toxic
All the material used for building this tree is pet-friendly and safe for cats in every way. The scratching posts are wrapped in natural sisal. Its rough texture will attract your cat and prevent your furniture from being damaged. It will help to maintain your cat's claws strong too.
In Short:
made of safe and non-toxic material
the tree includes multiple levels
a hanging interactive toy is included
the tree will hold cats of all sizes
this is a beautiful indoor cat tree
BEST MODERN MEDIUM CAT TREE
Sauder Sphere Medium Sized Cat Tree
Top-Quality Material
The Sauder natural sphere cat tree is made of sturdy and quality material. The tree includes metal hardware that keeps the unit stable. This medium cat tree is made from natural wood veneer, polyester fabric, and foam. The base is carpeted and the scratch-pad is made of sisal.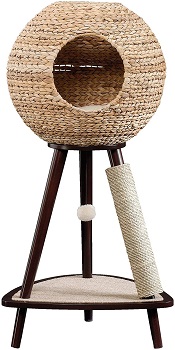 Stylish Design
If you are in search of an attractive cat tree, consider getting the Sauder cat tower. It is not only pleasing to the eye but we are sure that this natural cat tree will meet all of your cat's needs. The wicker sphere is spacious and comes with two entrances. The scratchpad is rough and long-lasting, and the teasing toy will keep your cat occupied.
Holds Up To Two Cats
The maximum holding weight of this cat tree is up to two cats of small size or one adult cat. This tree won't collapse if your cat jumps off of it or jumps on it from distance. Also, the wide carpeted base of this Sauder cat tree keeps it more stable and it is difficult to overturn it.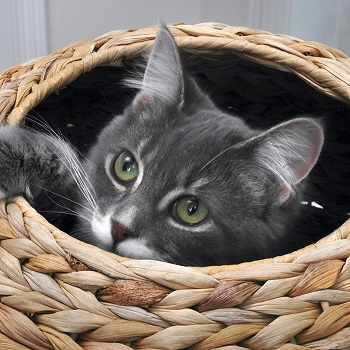 Encourages Healthy Behavior
The scratching pad is attached to one of the tree's legs. Sauder medium cat tower promotes a healthy life and encourages your cat to keep its claws healthy and strong. Besides that, the hanging teasing toy will keep your cat active and attract its attention by swinging forth and back.
In Short:
made of quality and natural material
it is stylish, modern, and long-lasting
this sturdy cat tree includes a condo
a cat toy hangs from the tree
the price is quite high
BEST CHEAP MEDIUM CAT TREE
Petmaker Condo Scratching Cat Tower
Easy To Setup And Clean
Petmaker's tree needs to be set up. The assembly is a simple and fast job for one adult. The easy-to-follow instructions are included in the package. The unit's surface can be vacuumed with a hand-vacuum. Get rid of the cat hair easily.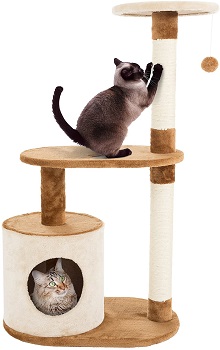 Size And Holding Weight
The assembled size of the Petmaker's medium cat tree is 21 inches L x 13.75 inches D x 37.5 inches H. This unit can hold up to two adult cats at the same time. It is stable and doesn't wobble when cats jump off of it.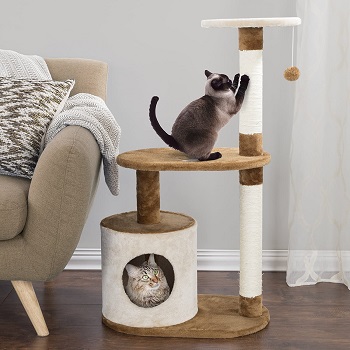 Recommended Cat Age
Cats and kittens that are 10 weeks or older can play and rest on this nice cat tree. The ground floor condo will be perfect for senior cats or those with a shy personality. Cats that love to climb to high places will love to lounge on the top perch.
In Short:
the Petmaker tree is simple to assemble
this tree will hold up to 2 adult cats
includes a ground floor condo and 2 levels
clean the unit with no hassle
use the hand vacuum for cleaning
BEST FOR KITTENS MEDIUM CAT TREE
CoziWow Medium Size Cat Tower
Perfect For Small Cats
If you own one or two smaller-sized cats or multiple kittens, then check out the CoziWow medium cat tree. It is a fun and cozy cat tree that will encourage your small cats to play, scratch, lounge, and hang out. The hanging toy will attract your cats.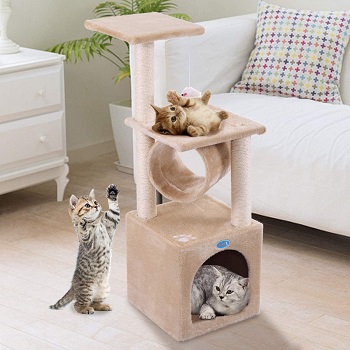 Durable And Sturdy Cat Tree
This unit is made of sturdy chipboard of high quality. Such units won't hold larger-sized cats, so make sure you use them properly. When it comes to small cats, they can play with no problem. This unit will last a long time as long as it is used properly.
Easy To Install
Just like many other models, you are going to need to assemble this unit. Make sure you follow the instructions that are provided by the manufacturer, and you will have your new unit assembled in no time. The assembled size of this tree is 1.8″x 11.8″ x 36″(LxWxH).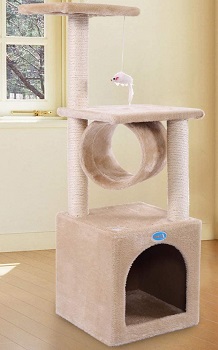 Fun Interactive Content
The tree comes with a hanging teasing toy, scratching posts, a small cat tunnel, and multiple levels. There is a big cat condo located on the ground floor. It keeps your cats safe, rested, warm, and cozy.
In Short:
easy to set the unit up
a sturdy and long-lasting tree
made for small cats and kittens
a condo for cats is included too
the unit is pet-friendly and fun
BEST CARPETED MEDIUM CAT TREE
Fukumaru Cat Tree Of Medium Size
Promotes Scratching
Scratching is a cats' natural need and instinct. Cats scratch for different reasons. One of them is to leave a visual mark. This unit will help your cat to maintain its claws healthy and strong. It will prevent the cats from scratching your furniture as well.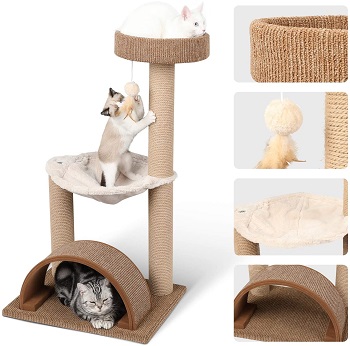 Encourages Cats To Play
The scratching posts invite cats to play, scratch, and climb. Apart from the posts, this tree comes with one plush hanging cat ball. The cat ball will attract your cats' attention and tease them. It will keep them occupied, alert, and amused. The tree provides hours of play
Sturdy And Safe Material
Fukumaru medium cat tree tower is made of cardboard and particleboard. The unit is covered in plush and carpet cloth. The posts are wrapped in jute rope. This is a sturdy cat tree and ideal for one or two adult cats. It will save space and fit under your window or in an unoccupied corner.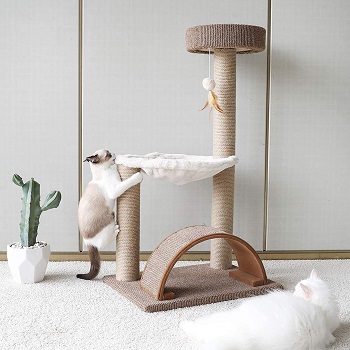 Useful Product Details
The overall size of the Fukumaru tree is 21.7*15.7*39 inches. The unit includes a flannel hammock and an arch bridge. This unit's price is medium. In our opinion, this tree comes with an attractive yet simple design. It is suitable both for playful and cuddly cats.
In Short:
encourages your cats to play
comes with a hammock and perch
the tree invites cats to scratch
the design is simple and attractive
there is one teasing toy included
How To Pick: Medium Cat Trees
This size cat trees will not take too much space. Such units measure approximately 35" to 46". They will fit almost anywhere and make your indoor cats happy and entertained. Such units are ideal for cats with calmer personalities. However, there are several models that will satisfy the needs of active cats too. Before you buy, be sure the unit is made of pet-friendly material. Also, clean the cat tree regularly.
Ideal For Small Spaces – If you have indoor cats, we are sure you know how much an indoor playground means to them. If you have a lack of space at home, don't worry. There are many space-saving cat trees on the market. Medium towers for cats are small enough to fit under your window, next to a wall, or in an unoccupied corner. They are perfect for small apartments or living rooms.
Perfect For Cuddly Cats– The reason for buying a medium tree for your felines might also be the fact that your cats are not active or playful. If you have cats with a calm personality, a medium tree will surely help. Such units include condos, baskets, or perches.
Types Of Medium Trees – There are various simple cat trees with minimalist design. Such units consist of a base, a scratching column, and a perch. Also, they may combine a cat condo, a scratching pillar, and a top platform. However, you will find elaborated models as well. Oftentimes, they will include more than just basic content. Know your cat's needs and habits and buy accordingly.
The Ease Of Maintenance– It is very important that the tree you like is simple to maintain clean. For example, entirely carpeted trees can most often be vacuumed. Also, there are units that include removable and machine-washable mats and cushions. Note that cats love staying in clean places. Hygiene is very important to them.
Simple And Fast Setup – Almost all cat trees require assembly. Know that before you buy. Usually, the process is fast and easy. The package will include detailed instructions and sometimes the tools as well. One or two adults can set up a medium cat tree with no hassle.
To Sum Up
The medium cat tree that we liked most is the Made4Pets Cat Tree. Besides its attractive design, we liked its functionality and sturdiness. It is one of the best-looking cat trees of medium size. If you want to see more about similar models, we invite you to read our article about the best cat activity trees.