Having a hard time finding the best sturdy cat tower for your playful and social cats?
Then you are lucky to have found our article because we have prepared a top 6 list of the best-reviewed models. Get to know all the important details about each model and follow our 5 tips. Learn how to buy the right model that will meet all of your cat's needs.
The Summary
6 Best Sturdy Cat Tower Tree Reviews
BEST OF BEST STURDY CAT TREE
Feandrea Sturdy Cat Trees For Large Cats
Large And Spacious
Many models of cat trees are tall and large. Just like the Feandrea model. This is one of the best sturdy cat trees for large cats that is made of CARB-certified natural particle boards. The tree is strengthened with battens. It is stable and perfect for cats of all sizes.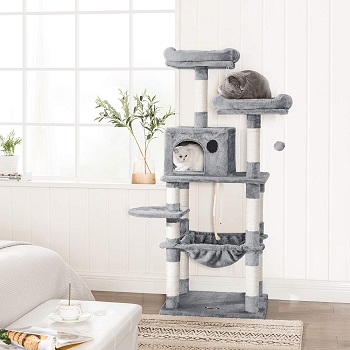 Strong And Firm Tree
Feandrea's wide cat tree will last you a long time. It is firm and steady. There are anti-toppling fittings included that provide extra stability. You can feel relaxed about your pets' safety all the time. The tree will hold multiple cats at the same time without collapsing.
Includes A Cat Teasing Toy
Most cats are active and playful animals. Even cats with the calmest personality love to play with a teasing toy from time to time. The Feandrea sturdy cat tower for large cats comes with detachable hanging cat toys that will keep your cats occupied.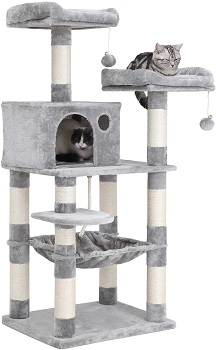 Covered In Sisal
The tree included sisal-covered posts for scratching that will prevent your furniture from being damaged. The scratching posts are perfect for climbing as well. They will help to maintain your cats' claws strong and healthy.
In Short:
the tree is large and tall
it provides a lot of space
suitable for multiple cats
the tree includes posts and platforms
hanging cat toys are included too
BEST BIG STURDY CAT TOWER
Bewishome Sturdy Cat Condo Tree
Choose The Color
The Bewishome sturdy cat tree comes in two colors. Choose between grey or light grey. The tree's design is large and tall. It is another multi-level cat tree that will surely fit more than 2 cats. It includes one spacious condo and another one of smaller size. There are many levels and cat toys included.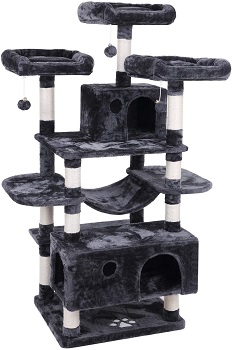 Roomy And Fun
If you are looking for a tree that will provide your cats with a lot of space, then this is the model you should consider getting. The tree's size is 36.6″L x 30.7″ D x 62.2″H. Get this tree if you have plenty of space in your home.
Cozy And Warm Tree
This big and roomy sturdy cat tower is covered in soft and warm material. It includes 3 platforms with raised edging. Your cats will get to sit in high places, feel confident, and keep an eye on their surrounding. The 2 hideaway condos will make them feel rested and relaxed.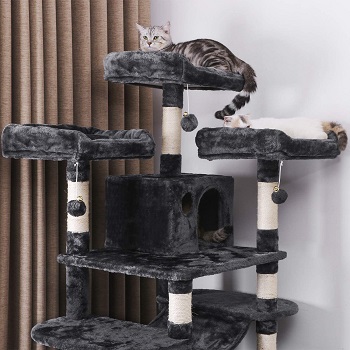 Big And Attractive
The multiple levels provide your cats with a lot of climbing possibilities. Cats that love to play a lot will adore this tree. Apart from the platforms, your cat will get to play with interactive jingly balls that swing back and forth and attract the cat's attention.
In Short:
choose between grey or light grey
spacious, tall, and large cat tree
a steady tree that fits multiple cats
includes multiple levels and 2 condos
Bewishome tree is covered in soft material
BEST CORNER STURDY CAT TREE
Armarkat Tall Sturdy Cat Trees
Size And Capacity
Armarkat cat tree measures approximately 28″(L)X25″(W)X57″(H). It is a tall white cat tree. Its carrying capacity is up to 40 lbs. It can hold multiple cats. The Armarkat sturdy cat tree for large cats is durable and made of fine material.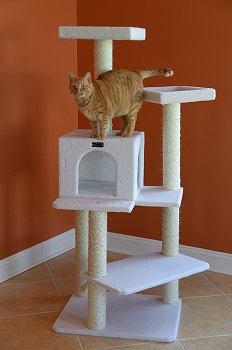 Long-Lasting Tree
This tree is made of pressed wood. This material guarantees stability and prevents the tree from wobbling or collapsing when the cats jump off of it. Also, the Armarkat sturdy cat tower includes scratching posts that are wrapped in 100% cured sisal.
The Assembly
Just like any cat tree, this one needs to be assembled. But don't worry. All the instructions are provided by the manufacturer. The setup is quick and easy. We recommend that two adults do the job. It will be quicker and you will be sure that everything is done correctly.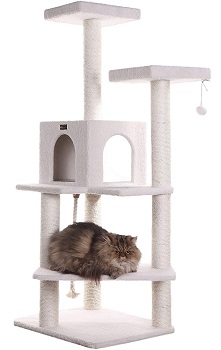 Useful Tips
It is advisable that you place this tree in a corner or next to a wall. It will add extra stability. Also, this will prevent the G-force when your fur friend jumps on the tree from the distance. Don't get this tree if the maximum weight of all of your cats is more than 40 lbs.
In Short:
tall and attractive white cat tree
it is made of pressed wood
the posts are wrapped in sisal
this tree holds up to 40 lbs
you will need to set this unit up
the assembly is quick and easy
BEST SMALL STURDY CAT TOWER
Go Pet Club Cat Tree Condo House
Small But Wide
If you prefer buying a cat tree of a small to medium size, the Go Pet Club model could be the right one for you. The overall dimensions are 32-inch W by 25-inch L by 47-1/2-inch H. This tree is wide which makes it stable. The baseboard size is 27″W x 25″L.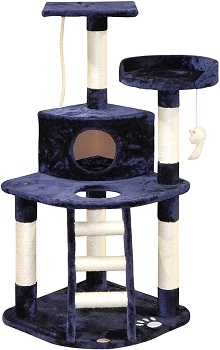 Perfect For Larger Cats
Go Pet Club is another tree for large cats. It will hold up to 2 large cats or 3 cats of small to medium size. The tree won't collapse easily. The design is attractive. The tree consists of a wide base, multiple platforms, a condo, raised perches, and scratching posts.
Choose The Color Or Pattern
You can choose between five different colors or patterns of this sturdy cat tower. There is the blue Go Pet Club cat tree that looks elegant and sophisticated. The neutral grey, beige, and brown colors look nice in almost any household. Lastly, the paw-print pattern will be interesting in households with children.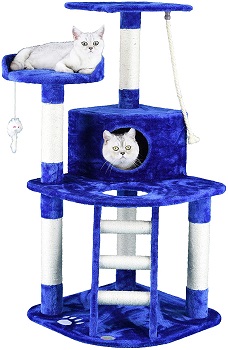 Useful Details
The condo included is spacious. Its size is 17″W x 14″L x 9.5″H. The top perch size is 14″W x 14″L and the top bed measures 14″Diameter x 3.5″H. This sturdy cat tree for large cats is covered in soft warm, and skin-friendly material.
In Short:
wide and stable cat tree
comes in 5 different colors
holds up to 3 medium-sized cats
it is suitable for large cats as well
it includes a condo and platforms
BEST CARPETED STURDY CAT TREE
AmazonBasics Multi-Level Cat Tree
Simple Tall Design
AmazonBasics manufacturers are known to produce one of the best cat trees with a nice and simple design. The tree we are talking about comes in dark brown, beige, or grey color. The tree is tall and multilevel. It includes perches, a cat condo, and a teasing cat toy.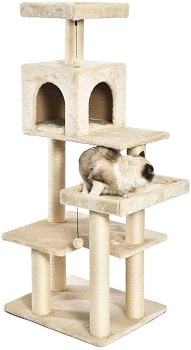 Warm And Fluffly
This tree is made of sturdy chipboard and it is covered with a soft plush material. Cats love this material because it makes them feel cozy, relaxed, and safe. It also reminds them of their mother's fur. Sleepers will especially love to rest on the AmazonBasics sturdy cat tower.
Promotes Healthy Life
Indoor cats need to stay as active as outdoor cats. It is recommendable to get a sturdy cat tree if you have playful and social cats that stay inside all the time. This tree will provide your cats with a lot of climbing and scratching possibilities. Apart from that, the hanging toy will keep them occupied as well.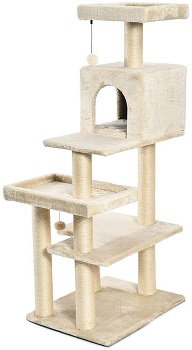 Long-Lasting And Safe
Thanks to the firm construction of this simple cat tree, you can be sure that it will last you a long time. The material that the tree is covered with (plush and jute fiber) is 100% skin-friendly and safe for cats. This tree offers maximum durability.
In Short:
this tree comes with a simple design
it is made of quality chipboard
AmazonBasics tower for cats is covered in plush
plush material keeps cats safe and warm
durability and long-lasting quality are guaranteed
BEST LARGE STURDY CAT TOWER
Nova Microdermabrasion Big Cat Tower
Cozy And Warm Cat Home
If you have multiple cats at home, this is another model that may meet all your cats' needs. It is entirely covered in plush which cats love. This material is soft and warm. It makes cats feel relaxed and comfortable. We are sure this unit will immediately become your cats' favorite resting space.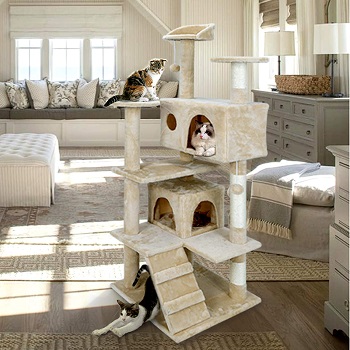 Fun And Tall Playground
The Nova Microdermabrasion tall and sturdy cat tower will be a fun and entertaining playground for multiple cats. There are many platforms and perches to climb to. Small cat stairs as included as well. There is a teasing toy that hangs from the top perch as well.
Two Condos
The tree includes 2 spacious cat condos. Most cats love to hide while resting. The condos will provide your cats with a private space. There are small windows included so that your cats know what is going on in their surroundings all the time.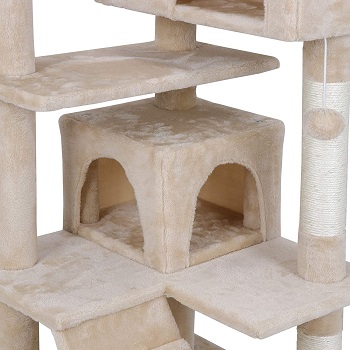 Affordable Price
The price of this unit is quite affordable. The quality of this sturdy cat tree is fine as well. Read more about this product online and follow the step-by-step instructions for the assembly. This adult cat tree comes with solid construction and it will last you a long time.
In Short:
the tree is covered in soft plush material
it is a perfect relaxing space
multiple levels make it fun and tall
solid construction guarantees stability
suitable for cats of all sizes and ages
the price is very affordable
How To Pick: Sturdy Cat Towers
By now, you probably know which sturdy cat tower or tree model you like most. However, before you buy, we suggest you read our buying guide. Follow our tips and be sure that you understand why stability, material, and the right size of the sturdy cat tree are so important.
The Sturdy Material – What makes the best study cat tree? First of all, it is the right material. Households with one or two cats of small to medium size will be satisfied with a tree made of MDF, particleboard, or chipboard. However, if you are an owner of large cats or multiple cats, then we suggest you get a wooden tree, a tree with a wide base, or anti-toppling fittings.
Ideal Tree Size – Most cat owners think that a tall and large cat tree is always the best option. Oftentimes, this is true. However, you must know your cat's personality before you buy just any cat tree. Note that calm, cuddly, or senior cats will prefer smaller-sized cat trees, whereas social and playful cats will adore climbing tall and spacious indoor cat trees.
Scratching Posts – Cats are big scratchers. They scratch for different reasons: to maintain their claws healthy and strong, to mark the territory by leaving their scent or visual mark, or simply to flex their feet after waking up from a long nap. Be sure your tree includes sisal or jute scratching posts in order to save your furniture from being scratched.
Teasing Cat Toys – If you have active cats, we can guarantee that trees with included toys will be their favorites. Many times you will find that the raised perches include a hanging toy such as a ball or rope. Cats love those.  Such toys swing back and forth and attract cats' attention.
Assembly And Maintenance – All sturdy cat trees require assembly. Most often, the setup is simple and quick. You can even do it by yourself, especially when it comes to medium-sized trees. The included instructions and tools are provided by the manufacturers. Lastly, be sure that your new tower for cats is simple to clean, vacuum, or wash. Trees with removable pads and cushions are the best when it comes to easy maintenance.