Having trouble finding the best sturdy cat tree for large cats?
Don't worry, because we have explored this subject for you. By continuing reading our article, you will find the top 6 list of the best models there are on the online market. Not only that, but we have also prepared 5 excellent tips that will help you choose the right model for your household.
The Summary
Top 6 Sturdy Cat Trees For Large Cats
BEST OF BEST STURDY CAT TREE FOR LARGE CATS
Bewishome Big Sturdy Cat Tower
Grey Color
This tree by Bewishome comes in light grey or dark grey. Choose the one you like most. The neutral color of this tree makes it fit nicely into any household. However, check it your room has enough space for its large and tall size.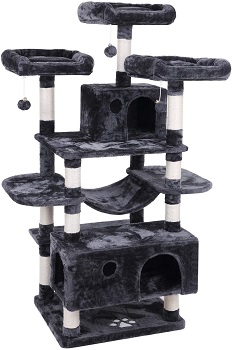 The Fun Design
Bewishome's sturdy cat tree for large cats is entertaining and spacious. It keeps cats occupied and active. The indoor cats will love this unit. They will get to climb the tree, scratch, and play on it. The multiple platforms guarantee hours of fun.
Ideal For Relaxing
The fact that the tree is covered in warm and soft material will attract your cats even more. As a cat owner, you probably know that cats love to knead on a fluffy material. It makes them feel cozy and safe. This tree includes 2 condos that are covered in plush as well.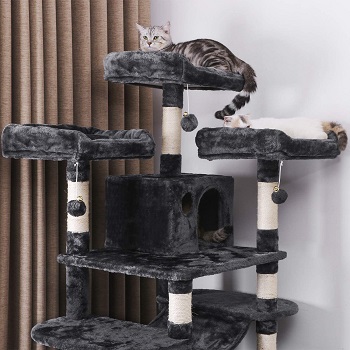 Useful Details
The overall measures of the Bewishome large cat tree with big cat condos are 36.6″L x 30.7″ D x 62.2″H. It is a safe and firm tree that will last you a long time. The tree is difficult to overturn. For extra stability, be sure you place it near a wall.
In Short:
comes in two neutral colors
choose between dark or light grey
it has multiple platforms
the tree includes 2 condos
it is a fun, cozy, and warm cat tower
suitable for households with multiple cats
BEST SMALL STURDY CAT TREE FOR LARGE CATS
Feandrea Two-Level Condo Cat Tree
Small And Sturdy
Medium or small cat trees are oftentimes firm and hard to break. The Feandrea smaller-sized tree can hold cats of all sizes, breeds, or ages. It is made of premium particleboard material. High-density supporting tubes are used for the construction. They make the tree stable.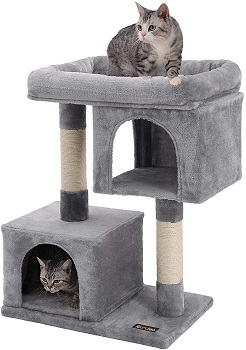 Dual-Condo Design
This is an attractive cat tree with an interesting design. It is a perfect dual-condo resting and playing cat tree. Both condos are spacious and they keep cats warm and safe. The condos have large entrances that allow cats of all sizes to easily come in and out.
Multi-Purpose Cat Tree
Feandrea sturdy cat tree for large cats will be your cat's favorite resting spot. It is covered in skin-safe plush that cats adore. It creates a warm atmosphere and makes cats feel safe. Apart from that, your fur friends will get to jump up and down this tree and scratch the sisal posts.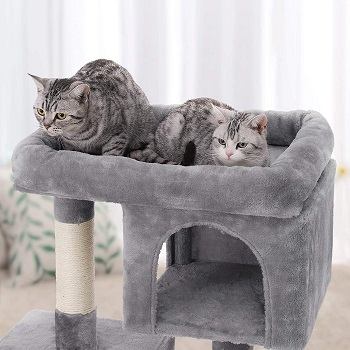 Size And Capacity
When it comes to size, this tree measures approximately 23.6 x 15.7 x 33.1 inches. The maximum holding weight is up to three medium-sized cats or two larger-sized cats. The tree's construction is firm and there is no need to place the tree next to the wall. Only if you wish!
In Short:
this dual-condo cat tree is small
it is made of premium particleboard
Feandrea tree holds all cats sizes and breeds
it is ideal for up to 2 large cats
the overall measures are 23.6 x 15.7 x 33.1"
BEST TALL STURDY CAT TREE FOR LARGE CATS
Rabbitgoo Multi-Level Tree For Cats
Versatile And Entertaining
Rabbitgoo multi-cat tree will fulfill all of your cats' desires. It will be a perfectly safe and warm relaxing space. The tree includes a spacious condo, cat perches, and baskets. On the other hand, this is a multi-level cat tree that your cats are going to love climbing.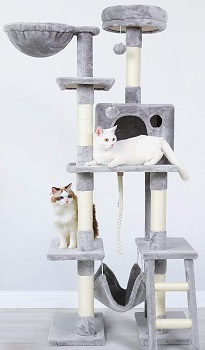 Promotes Natural Behaviour
There are many scratching posts included. Every cat owner knows how important it is for a cat to scratch. It helps your cats to maintain their claws healthy and strong. Also, cats like to leave visual marks on the objects they find theirs.
Top Quality
Only premium-quality material was used for constructing the Rabbitgoo sturdy cat tree for large cats. We are talking about heavy-duty particle wood and natural sisal rope. The strengthened base plates are included. They double the security and guarantee the tree's stability.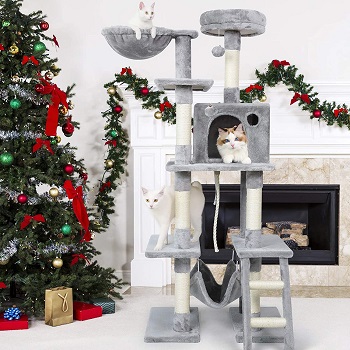 Pet-Friendly And Safe
All the material that was used for building Rabbitgoo cat towers is non-toxic and 100% safe for pets. The plush that the tree is covered in is skin-friendly. It makes the cats feel safe and comfortable. This is one of the best sturdy cat towers for large cats there are on the market.
In Short:
fun, cozy, warm, and safe cat tree
it looks nice and promotes a healthy life
the tree is tall and spacious
tree's material is of top quality
includes condos, perches, and baskets
the tree has multiple scratching posts
BEST MODERN STURDY CAT TREE FOR LARGE CATS
Amolife X Large Tower For Cats
The Big Size
Amolife is a big, large, and wide cat tree. It will fit in homes with a lot of free space. It is a perfect unit for households with multiple cats. The Amolife sturdy cat tree for large cats will satisfy all of your pet's needs and make them more active.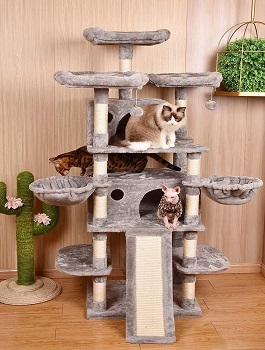 Perches, Baskets, And Condos
There is a lot of resting space that your cats can choose from. First of all, the tree includes two spacious cat condos. They will keep your fur friends safe, warm, and cozy. Apart from that, there are raised perches and cat baskets included. The tree will surely hold up to 3 large cats or up to 5 smaller-sized cats.
Multiple Scratching Posts
The tree's columns are covered in natural sisal. Forget about damaged furniture. Cats will surely rather choose to scratch on this tree's posts. It will help them to reduce stress, anxiety, but also to keep their claws sharp and healthy.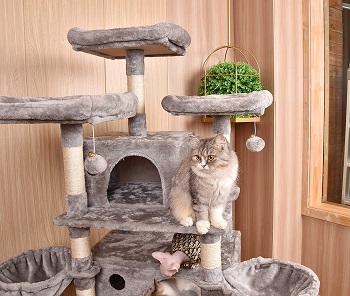 Choose The Nicest Color
The Amolife nice-looking cat tree comes in three neutral colors. There is beige, smoke grey, and light grey. The tree blends in nicely with most home decors. Apart from the attractive design, the Amolife nice cat tree is perfectly safe and firm.
In Short:
big, large, wide, and entertaining
the tree requires a lot of space
it will fit multiple cats of all sizes
there are three colors to choose from
this tree is soft, cozy, and fun
BEST CARPETED STURDY CAT TREE FOR LARGE CATS
Yaheetech Luxurious Sisal Cat Tree
General Overview
Yaheetech's tree is suitable for medium and large cats of all sizes and breeds. It is another tall tree that is covered in soft and warm material that cats adore. Its quality is high and the price of the unit is medium. The tree comes in three different colors.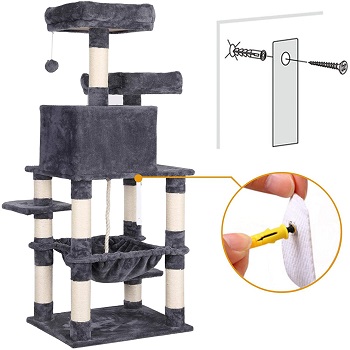 Large And Safe
The tree will hold up to 2 cats of very large size or more than 2 cats of up to medium size. The overall measures of the Yaheetech tree are 23.8 x 19.9 x 57.5 inches. Cats that like heights will love to climb on this tree and observe their surrounding.
High-Quality Material
The material that was used for the construction is eco-friendly and non-toxic E1-compliant particle board, natural sisal, and warm and skin-safe plush. This is another safe, strong, and sturdy cat tree for large cats. It needs to be used indoors.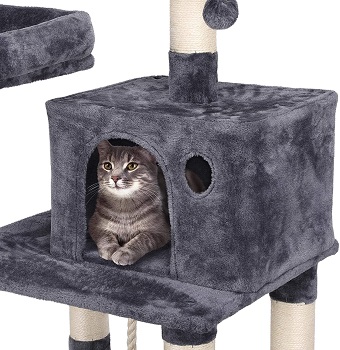 Customize The Structure
The tree requires to be assembled. The setup process will take no more than about 20 minutes. One or two adults will get to do the job with no hassle. The two platforms of this heavy-duty cat tower can be adjusted to a higher or lower position.
In Short:
the tree comes in three different colors
it is tall, fun, warm, and spacious
the tree is made of premium-quality materials
it is heavy-duty and difficult to overturn
the assembly is easy and fast
the structure can be customized and adjusted
BEST BIG STURDY CAT TREE FOR LARGE CATS
Ibuyke Sturdy Cat Tower For Large Cats
Beautiful And Comfy
If you would like to get a big and spacious playground for cats, check out the Ibuyke sturdy cat tree for large cats. It is a nice and comfortable indoor cat playground. You get to choose between dark or light grey colors.
The Big Design
Before getting a big tree, make sure it fits into your home. The size of the Ibuyke tree for cats is 24.2 x 20.2 x 12.5 inches. It has a heavy base that makes it stable. Its multiple platforms provide your cats with a lot of climbing possibilities. There are perches, baskets, condos, and hanging toys includes.
Stable And Firm Tree
The tree weighs 49.2 pounds. It is not simple to overturn the tree. You can feel safe even if multiple cats jump off of the tree at the same time. If you want to make the tree extra stable, we suggest that you install it next to a wall.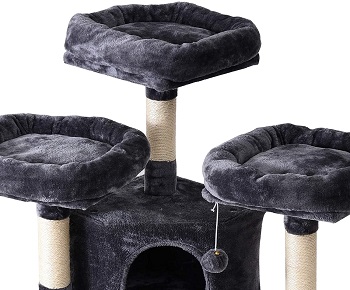 Useful To Know
The tree will hold up to 3 large cats or 3 medium-sized cats. It is made of carb-certified particleboard material. The scratching posts are covered in natural sisal. Even the most demanding cats will love to play on this tree. The cost of this unit is medium.
In Short:
an ideal big tree for multiple indoor cats
stable and durable construction
made of premium-quality material
includes perches, baskets, and condos
the cost of this tree is medium
How To Pick: Sturdy Cat Trees For Large Cats
Even though you may already know which model of a sturdy cat tree for large cats you like most, we invite you to read our buying guide. Check if the model you are about to buy comes with some of the following qualities: the right size, ideal design for your cats, fine and skin-friendly material, scratching posts, and other extras. Read on and find out more.
The Perfect Size – The ideal tree's size will depend on several factors. First of all, if you are looking to buy a tall or wide unit, be sure it fits in your home. Secondly, consider your cats' personality. Senor, inactive, lazy, or shy cats will prefer smaller-sized trees, whereas social cats will love to climb tall narrow cat trees.
Attractive And Convenient – A nice-looking cat tree will surely be pleasing to the eye. But don't let the attractive appearance be the only quality you are seeking in a cat tower. It needs to have multiple purposes. Your new unit should be a comfortable, cozy, and safe resting space and a fun and entertaining cat playground.
Strong Construction – Trees made of natural wood or solid wood are the safest. Also, they are the most expensive units. But if you have multiple active cats at home, we suggest you spend more than a penny in order to feel safe. Households with up to 2 cats will be satisfied with a particleboard or MDF cat tree as well.
Safe And Pet-Friendly – The safest model that you can buy is the one that is made of high-quality material. Most trees are covered in fluffy fabric. Cats love this material. It makes them feel cozy and safe. Be sure that the manufacturer guarantees that this material is non-toxic and skin-friendly.
Extra Cat Tree Content – Most often, sturdy cat trees for large cats include various cat toys. For example, the top perches will include hanging toys that swing forth and back. Such toys attract cats' attention and keep them occupied. Another suggestion is to look for a tree that comes with a spacious cat condo and many scratching posts.
To Sum Up
Among the six reviewed models, our number one choice of a sturdy cat tree for large cats is the Yaheetech Luxurious Sisal Cat Tree. This luxury cat tree is made of quality materials. It guarantees durability and effectiveness. If you want to check out more similar and quality models of cat towers for larger-sized cats, we invite you to read our article about the best adult cat trees.