Are you seeking luxury cat furniture, a condo, or a tower?
Then you are in the place. In this article, we have gathered the top-six luxury cat products that we liked most. Read on and find out more about each model. Make sure to read our buying guide as well. It will help you get the most appropriate unit for your household.
The Summary
Top 6 Luxury Cat Furniture
BEST OF BEST LUXURY CAT CONDO
Hyabi Cat Tree Condo With Wheel
High-Quality Material
Hyabi's tree for cats is made of wood compression that was thickened to ensure the tree's stability. Apart from that, the unit uses a quality and skin-friendly plush cover and natural sisal rope. This tree is odor-free, durable, and firm. It is a multi-level cat tree.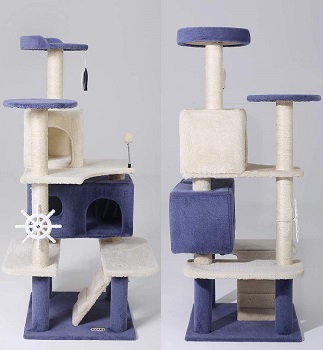 Interesting And Fancy Design
This luxury cat tree condo house with wheel comes in blue and beige. It has got 5 levels and two spacious cat condos. The lower condo can be used as a cat condo for multiple cats. Apart from that, there are multiple interactive cat toys included that keep cats active and occupied. The tree is supported by multiple scratching posts.
For Multiple Cats
The Hyabi multi-cat tree will accommodate up to three adult cats of almost all sizes. It will provide enough space for all of their everyday activities such as scratching, climbing, lounging, playing, and sleeping. This cat tower is going to be your cats' new favorite playground.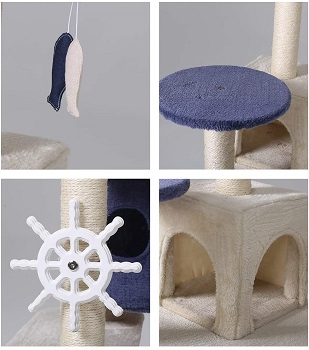 Easy To Assemble And Clean
Simple and quick assembly is required. The detailed instructions are provided by the manufacturer. You can contact them if you have any questions. When it comes to cleaning, the cover can be vacuumed or simply removed. Clean this tree with no hassle.
In Short:
made of quality and durable materials
the tree comes with multiple levels
there are two luxury cat condos included
the lower condo is a multi-cat condo
BEST HOUSE LUXURY CAT FURNITURE
Myzoo Fancy Cat Tree House
Wall Mount Or Freestanding
You can choose how to use the Myzoo cat condo house – as a freestanding or wall-mounted unit. If your cat loves to climb, the wall-mounting is a must! The unit comes with a minimalist design. Its transparent design will allow you to check on your cat while it is sleeping or lounging.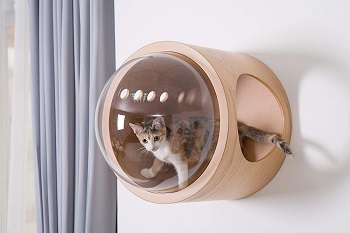 Open-Right And Open-Left
Myzoo's fancy cat tree house comes as an open-left or open-right. Choose the appropriate model according to your mounting possibilities. The overall measures of this luxury cat condo are 15.74 x 18.7 " in diameter. The entrance is large enough for cats of all sizes.
Made Of Oak
The Myzoo wall cat condo is made of superior-quality plywood, veneer, oak, and acrylic. It is a durable and long-lasting unit. It is firm and sturdy and it cannot break easily. This unit will hold a maximum weight of 33 lbs. It is a huge cat condo.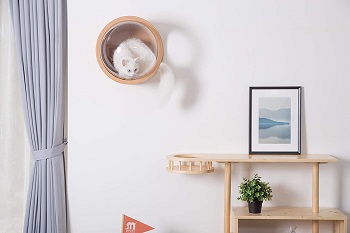 Simple To Mount
If you decide to mount Myzoo cat furniture on the wall, follow the instructions that your package includes. The installation shouldn't last more than 10-15 minutes. The hardware is included. One or two adults can do the job with no hassle.
In Short:
wall mount the unit or use it as freestanding
the unit is made of veneer, oak, and acrylic
it is sturdy and holds up to 33 lbs
the transparent design makes it fancy
big and spacious condo for cats
BEST TOWER LUXURY CAT
Oak & Paw Cat Resort Cat Tree
Keeps Cats Cozy And Warm
This luxury cat tree by Oak & Paw is going to make your cats happy and entertained. This elegant unit features a ground-floor condo which is convenient for shy or senior cats. There are flat perches included too. The tree features cozy and soft cushions to keep your cats warm.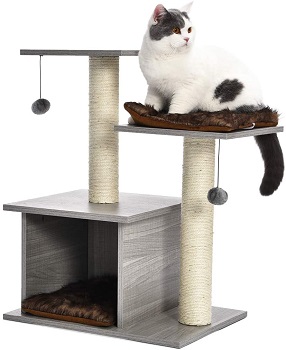 Fancy And Elegant Design
The Oak & Paw cat tower will blend in nicely with modern home decor. It is made of compressed wood with faux fur beds. It comes in gray and the scratching posts are beige. This modern cat tree is surely going to catch the eye of every visitor.
Keeps Cats Away From Furniture
The two scratching columns are wrapped in pet-friendly sisal. They will not only keep your cat's claws healthy and strong but also make sure the tree is stable and well-balanced. Forget about damaged sofas and couches. This unit will attract your cats and prevent furniture scratching.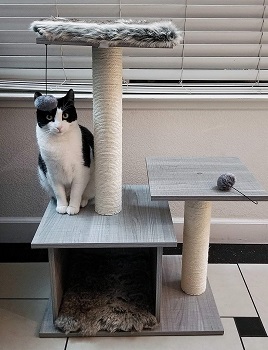 Entertaining And Fun
Thanks to the scratching pillars, cats can climb and scratch as much as they want. Also, there are two teasing plush toys included. Each toy hangs from one perch. These toys attract your cat's attention by swinging back and forth.
In Short:
warm, comfortable, and elegant cat tree
includes soft and fluffy cushions
constructed out of compressed wood
the scratching pillars make the unit stable
two hanging toys are included
BEST TALL LUXURY CAT TREE
Vesper Upscale Cat Furniture
High Cat Tree
A tall cat tree will help in households with multiple cats. If your fur friends love to climb, explore, and scratch, then check out the Vesper high tower. It includes two large platforms and a roomy and luxury condo. The unit comes in oak, walnut, or black color.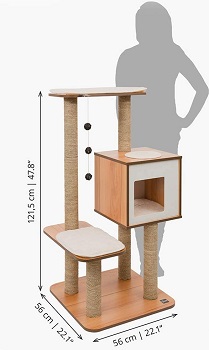 Solid And Stable Construction
This luxury cat tower by Vesper manufacturer is made of wood and MDF. This makes the unit incredibly sturdy and firm. It will last a long time and keep your cats safe. This 3-tier cat tree includes a heavy base and multiple columns to keep it stable.
Includes A Condo
The cat condo that is included is spacious and includes a large entrance door. One large cat or two cats of small size can fit inside. There is a memory foam cushion included. It is easy to remove when it needs to be cleaned.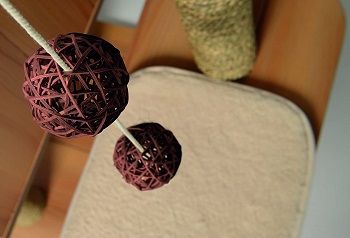 Multiple Scratching Pillars
The natural scratching pillars are included. They help to keep your cat's claws healthy and strong. Cats scratch for multiple reasons and if you don't provide them with scratching posts, they will easily find an alternative and scratch on your furniture instead.
In Short:
tall and high tree for multiple cats
one spacious can condo is included
there are multiple scratching posts
a memory foam is included
the tree is easy to maintain clean
BEST BED LUXURY CAT FURNITURE
Songway Cat Furniture
Your Cat's Favorite Bed
Most cats love to stay in cozy places that make them feel safe and comfortable. Every feline owner knows that cats spend most of their time sleeping or resting. If you want to make your cat feel happy and comfortable, then consider getting it the Songway luxury cat furniture bed.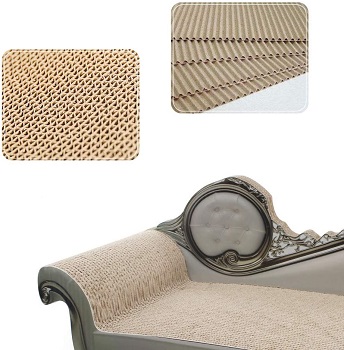 The Quality Material
This bed is made of corrugated cardboard. Such a material is one of the best for the cats' scratching. Apart from that, the mat is made of faux fur which will make your cat feel comfortable and warm all the time. Such a soft material reminds cat of their mother's fur.
Safe And Pet-Friendly
All of the material used is safe for your cat's skin. No toxic material or glue was used for building this unit. The bed is odor-free and comfortable. It will be your cat's new favorite sleeping space. This cat bed for cats is perfect for cats of almost all breeds.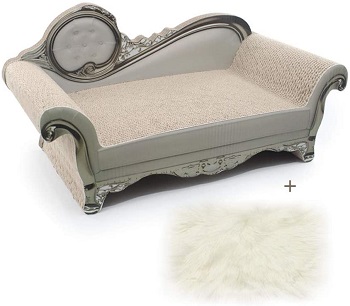 The Bed's Size
The unit's measures are Length:23.23 inch, Width: 11.42inch, Height: 11.42inch. This bed will accommodate adult cats comfortably. If you have a large cat at home, it may squeeze in as well. The tree will hold two smaller-sized cats or kittens as well.
In Short:
the bed is comfortable, spacious, and elegant
accommodates cats of almost all sizes
all the material is pet-friendly and soft
the unit is non-toxic and warm
it is a stylish piece of cat furniture
BEST CONDO LUXURY CAT
Fhasso Igloo Cat Cave Bed
Choose The Color
You can choose between four neutral colors of the Fhasso cat condo. The unit comes in slate, milk, gray, and creamy white colors. All colors look nice and blend perfectly into any fancy home decor.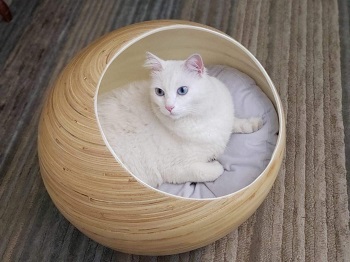 Made Of Organic Material
This unit is made of eco-friendly and sustainable material: organic bamboo. It is safe for the planet and your cat. The unit is long-lasting and cozy. It includes a skin-friendly plush cushion as well.
Private And Safe Place
Cats will love to sleep inside of this private cat condo tree house bed. It is perfect for indoor cats and the unit can accommodate even smaller-sized dogs. Place this unit in a private area and let your felines enjoy it fully.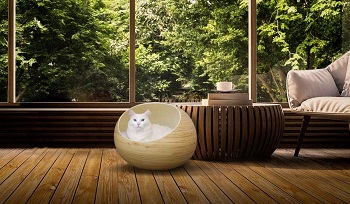 Durable And Of Good Quality
The quality of the Fhasso luxury cat furniture condo is high. We are sure that the unit will last a long time. It will not break easily. The price of this cat cave bed is medium to high.
In Short:
choose between four neutral colors
the unit is made of organic bamboo
a plush cushion is included
the cat bed is non-toxic
the price is medium to high
How To Pick: Luxury Cat Furniture And Trees
In order to buy the best luxury furniture for your cat, you must know your cat's personality. Not every cat is active the same. Some cats are shy and cuddly, while others love to climb, scratch, and play a lot. Also, consider your cat's age. Oftentimes, senior cats will not be able to climb high perches. Be sure that your luxury cat tree includes scratching posts. If you are buying a luxury cat condo or bed, it should be cozy and skin-friendly. Read on and find out more.
Consider Your Cat's Tendencies – If your cats are young, active, and loves to play and climb, we suggest you buy them a tall cat tree. For example, tall narrow cat trees are perfect for apartments that have a lack of space, while wide cat trees will be ideal for spacious households with multiple cats. However, if you have a senior or shy and cuddly cat, it is recommendable to get a short cat tree or a comfortable cat condo or bed.
Cat's Age Is Important – Households with senior cats should consider getting shorter versions of a cat tree. Also, cat condos that are easy to enter are a good choice too. The main reason is that older cats are often not as capable of doing certain things as young cats. But if you have young cats, they may feel bored with a simple cat tree or condo. In that case, an elaborated piece of cat furniture will be the best choice.
Scratching Posts And Extras – You will find that almost all cat trees include scratching posts. They are very important for maintaining the cat's claws strong and healthy. Apart from that, cats scratch to mark their territory, stretch after waking up, etc. Also, many trees include teasing toys that keep cats occupied and active. If you are buying a condo or a bed, be sure to get your cat a scratching post separately and avoid your furniture from being damaged.
Spaciousness And Coziness – Cats love to spend time in a comfortable environment. They love sleeping in private and hidden areas. Also, plush and fluff are their favorite materials. They make cats feel relaxed and safe. Such materials remind cats of their mother's fur that they used to knead to stimulate milk. Simply make sure your new unit is of the right size for your cat(s) and that it is made of skin-friendly material.
The Ease Of Maintenance – It is important that your luxury cat furniture is not hard to clean. Look for a cat tower that is simple to vacuum or may include removable pads or cushions. The same works for luxury cat condos, bed, and other furniture. Cats spend most of their waking time grooming. Hygiene is their priority. Have that in mind and clean your cat furniture regularly.