Do you want to buy a modern wood cat tree or tower?
If your answer is yes, then read our six reviews. Find out more about the best models that you can find online. Don't miss reading our buying guide as well. It will help you choose the right unit for your lovely pets.
The Summary
Top 6 Modern Wood Cat Trees
BEST OF BEST MODERN WOOD CAT TREE
The Refined Feline Cat Lotus Tower
Sleek And Smooth Design
Looking for an elegant and functional rustic cat tree? The unit we are talking about in these few paragraphs comes with a sleek design. It is a tall, dark-brown cat tower that is easy to assemble. This tall cat tree for large cats and adult cats is 69-inch tall x 20-inch wide x 20 inches deep.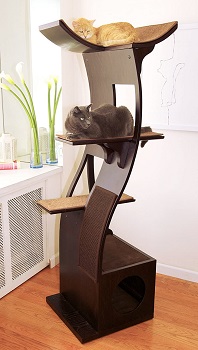 Removable Carpet And Scratch Posts
There are carpets and scratching posts included within this modern wood cat tree. Each of them is simple to remove if your cats prefer it that way, or when it is time for cleaning. The cushions for the hideaway cat cubby are soft and machine-washable.
Multi-Functional And Fun
If you have more than one cat at home, each of them probably has a different personality. Shy or older cats will love to hide and rest inside of a ground floor cat condo, while active and playful cats will enjoy keeping their eye on the surrounding area and climb tree's multiple levels.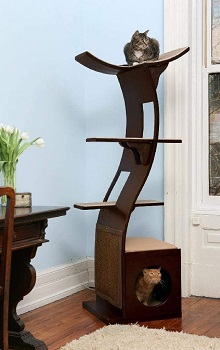 For Several Cats
This model is one of the expensive cat tree units. It is made of premium materials which make the unit stable and long-lasting. The tree will hold several cats of any size, age, or breed. The tree won't tip over easily. Simple assembly is required.
In Short:
sleek, modern, and elegant design
comes in dark brown color
shy cats will love resting inside of a condo
active cats will climb to high perches
the cost of this tree is very high
this is a premium-quality cat tower
BEST CORNER MODERN WOOD CAT TREE
Polis Bebe Modern Wood Corner Tree
Modern Corner Design
Place the Polis Bebe tree for cats in a corner. It may save you some space, especially if you have a small apartment. This modern wood cat tree includes two spacious cat condos and a top platform. Both condos and the platform come with a removable soft cushion.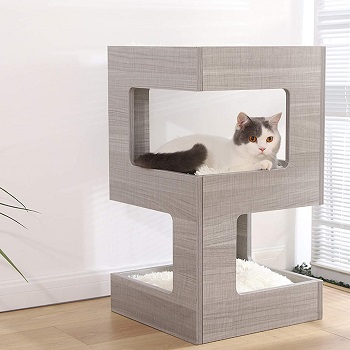 For Small Cats
This tree is suitable for cats of small to medium size. It will fit up to three cats at the same time. Each condo will hold one cat and the top of the tree will serve as cat perch for the cat that loves to climb and observe its surrounding. We can say that this is a multi-cat tree.
Roomy Cat Condos
The overall size of this tree is 28" X 16" X 16". Each condo is spacious, comes with two large entrances, and includes a removable pillow. The pillow can be machine-washed or vacuumed. Keep the tree and condos clean all the time. It is important for your cats' health.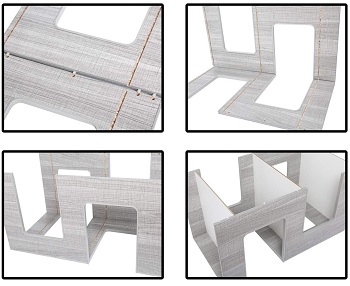 Simple To Set Up
The installation of this tree will last no more than 10 minutes or so. The step-by-step instructions are provided by the manufacturer. Your cats will get to enjoy this attractive cat tree in any time.
In Short:
modern and attractive cat tree
corner and space-saving design
comes with three platforms
includes two roomy condos
there are three removable pillows included
BEST CARPETED MODERN WOOD CAT TREE
Usikey Wooden Cat Tree 2 Condos
Attractive And Luxury Design
The Usikey cat tree is elegant and sophisticated. It looks nice in any household with modern home decor. The tree includes two spacious cat condos. One condo is located on the ground floor, on the left side. The other condo is elevated and supported by a column. It is located on the right side.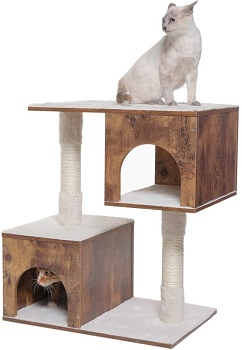 Wooden Structure
Usikey's modern wood cat tree is made of CARB P2 grade environmental board. The tree's platforms and the insides of cat condos are covered in skin-friendly plush. The scratching pillars are wrapped with natural sisal rope. They help to maintain your cat's claws healthy and strong.
Pet-Friendly And Safe
All the material that is used for constructing this luxury cat tree is pet-friendly and skin-friendly. This tree provides your cats with a natural, safe, and comfortable environment. It allows cats to climb, scratch, and play on it. Also, the condos will keep cats relaxed and rested.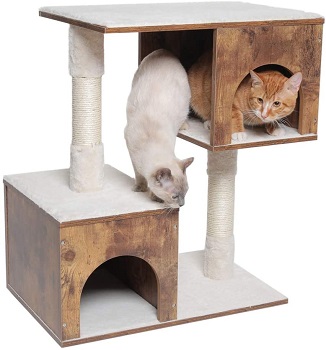 Easy To Assemble And Clean
This unit needs to be set up. The assembly is simple and fast. The assembled size of this tree is 23.6"L x 15.7'W' x 27.7"H. When it comes to cleaning, we recommend you use a soft and dry cloth to dust off the surfaces. When necessary, vacuum the carpet to get rid of cat hair.
In Short:
design is modern, attractive, and nice-looking
this tree includes two spacious condos
there are scratching pillars included
the material used is pet-friendly
the unit is simple to install and clean
BEST WITHOUT CARPET MODERN WOOD CAT TREE
Petellow Designer Cat Tree
Creative And Sleek Appearance
If you are seeking a modern, elegant, and unique tree that will look nice in your home and be functional for your cats as well, the Petellow unit will surely catch your eye! It comes with a sleek design. It combines three cat condo cubes in one set. This is a tall cat tower.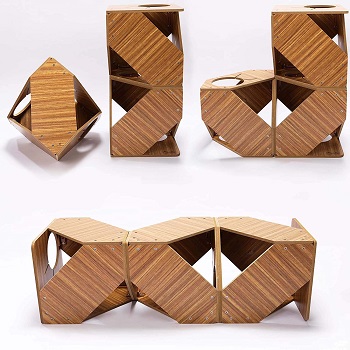 Fun And Tall
The overall size of the Petellow tree for cats is 11.5″ x 11.5″ x 35.5″ (size of the single set). This size is ideal for three cats on under 10 pounds each. The tree is fun and entertaining. It will be your cats' new favorite indoor cat playground and a safe resting space at the same time.
Tools Included
Just like with most models of modern wood cat trees, this unit needs to be set up. However, the assembly shouldn't take more than half an hour. All the tools required for the quick assembly are included as well as the easy-to-follow instructions that include a video guide link.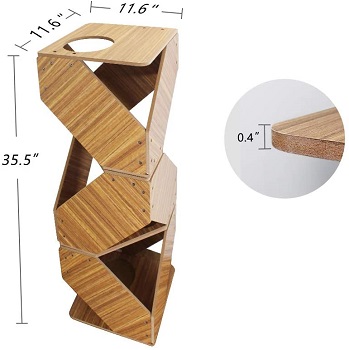 Expandable And Customizable
In case you feel like your cats need more playing space, you can easily expand this unit. The assembly is DIY. Create a cat tunnel or fun ladders. Get more cubes, attach them, and expand this tree. Use your imagination and create a larger play area for your favorite fur friends in no time!
In Short:
modern, stylish, and sleek design
combines three cat cube condos
ideal for play and sleep
the unit is simple to assemble
this tree is easy to expand
BEST FOR LARGE CATS MODERN WOOD CAT TREE
Vesper 52075 Box Small Cat Tree
Small And Cute
The Vesper cat tree is a small unit for one or two cats of medium to large size. It comes in walnut or white color. It needs to be used indoors. It includes a cozy cube that serves as a cat condo and a resting area. The included condo of this modern wood cat tree has two large entrances.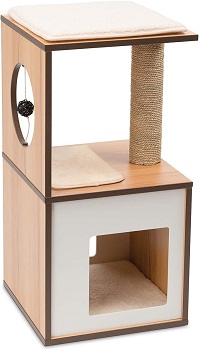 Easy To Clean
This small cat tower is made of walnut wood. It is elegant and sophisticated. It includes three removable cushions. If you remove the cushions, you can easily have an all-wood cat tree no carpet unit. This tree needs to be cleaned only with a soft and clean cloth.
Interactive Tree
The Vesper cat tree comes with one interactive hanging ball. Apart from that, there is a sisal scratching post that will save your furniture from possible damages, but also help to maintain your cat's nails healthy. The condo's top will serve as a resting platform as well as the top perch that is supported by the scratching post.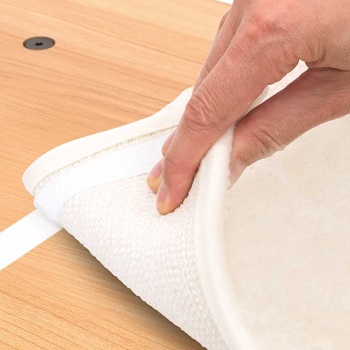 Useful Details
The overall dimensions of this beautiful cat tree are approximately 13.39 x 13.39 inches. The condo's door openings are 8.19 x 8.19 inches. The cat toy that comes included is made of rattan. The cushion can be machine-washed. The price of this unit is medium.
In Short:
this is an elegant and durable cat tree
the tree is made of walnut wood
holds medium to large cats
includes a condo with 2 entrances
a scratching post comes with the tree
a teasing cat toy swings back and forth
BEST BIG MODERN WOOD CAT TREE
Katris Modular Modern Wooden Cat Tower
Modular Design
Katris's tree has immediately caught our eye and we are sure you will find it interesting as well! It is a cat tree with a modular design. It is suitable for multiple cats of all sizes, ages, or breeds. It helps them stay active and occupied and it will look nice in your household as well.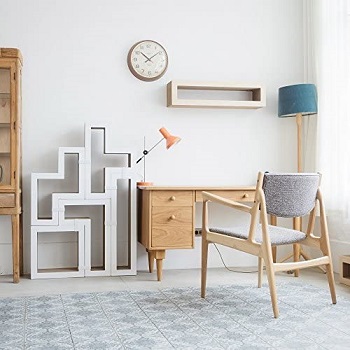 Multiple Purpose Tree
This modern wood cat tree will not only benefit your cats' healthy living and keep them entertained, but it will be your new favorite bookshelf, coffee table, or anything you wish. The tree is simple to assemble and it can be placed almost anywhere, as long as it is indoors.
Sturdy And Firm Unit
This tree is made of durable and firm material – heavy-duty cardboard. It will hold up to 300 pounds in total. This means that, even if you have very large cats, this unit will not break. It is ideal for playing, climbing, jumping, or lounging.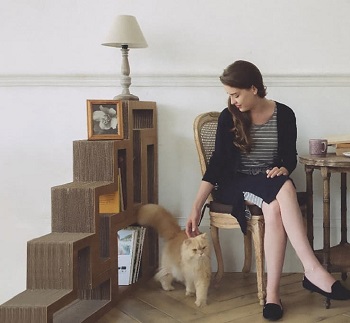 High-Quality And Price
Both the quality and the cost of the Katris modular cat furniture tree is high. The tree should last a long time. It is simple to maintain. All you need to do is wipe the surfaces with a clean cloth from time to time. Also, the package includes 5 bags of natural catnip.
In Short:
comes with an attractive and cool design
it is a multi-purpose cat tree
use this unit as your bookshelf as well
the quality is very high
the tree is sturdy and holds up to 300 pounds
How To Pick: Modern Wood Cat Tree
Modern cat trees and towers are not only pleasing to the eye, but they are also long-lasting and steady. They are difficult to overturn and break. Apart from that, such units often come with multiple purposes. Cats can jump off of wooden trees and the tree won't collapse. Read on and find out more about these attractive cat trees.
Wooden Trees Are Durable – One of the best cat trees that you can get for your fur friend is surely a wooden tree. The difference between wood or any other material, except for the metal, is huge. These units are long-lasting. Apart from that, they are very safe and incredibly difficult to break.
Firm And Sturdy Units – Wood is a heavy material. Cat trees made of wood are often heavy-based and extremely stable. This means that your cat will get to jump on the tree from distance and the tree will not wobble or collapse. Even trees for cats that only include wooden frame will surely be a good choice, especially for households with more than two active and playful cats.
Nice And Functional – Cat towers, trees, and furniture blend nicely in almost any home decor. It doesn't matter if your home is decorated with rustic or modern furniture, wood trees will most often fit. Apart from that, most models come with multiple purposes – they are cozy and warm resting spaces and fun and entertaining cat furniture.
Extra Cat Tree Content – Most often, your cat tree will include fun content that will promote the cat's healthy behavior. Some of the content that you will find is cat condos, perches, scratching posts, cat toys, and many more. Know which features you want your cat tree to come with and buy accordingly.
The Ease Of Maintenance – Modern wood cat trees are simple to maintain. We advise you to use a clean and soft cloth and dust off the surfaces from time to time. Also, if the tree includes pillows and cushions, you will get to remove them and wash them. Be sure to keep your cats' unit clean and tidy. It is important for their health.