Are you looking for a fun and interactive indoor cat playground?
Indoor cats should be as active as possible to stay healthy and live longer. We have gathered the six best pieces of furniture that will make your felines happy and occupied. Read on and find the unit that suits your household the best.
The Summary
Top 6 Indoor Cat Playgrounds Reviewed
BEST OF BEST INDOOR CAT PLAYGROUND
Mellcom Interactive Cat Tree
Fun Cat Tree
Indoor cats need to stay as active as cats that play outdoors. The Mellcom is an indoor tree that includes all the fun content for cats. It invites them to play and scratch. This indoor cat playground tree comes with a condo, a basket, a platform, posts, and interactive toys.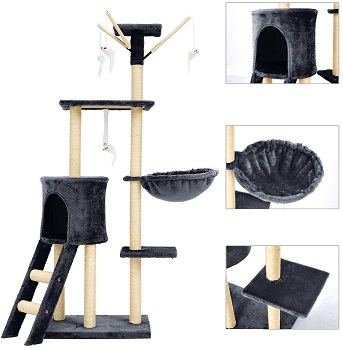 Interactive Content
There are three teasing toys included. They hang from the top perch and attract cats' attention. Playing with such toys sometimes keeps cats occupied for hours. Apart from the hanging toys, the unit includes scratching posts that ease their climbing and maintain cats' claws strong.
Safe And Sturdy
The unit is made of sturdy and premium-quality material. It comes with solid construction. It is made of thick particleboards. The base is heavy and keeps the tree stable. Your cats can play and jump off of the tree and the unit won't collapse.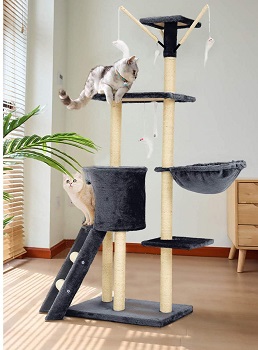 Capacity And Size
This tree will fit up to two adult cats or three smaller-sized cats. The unit's overall measures are 19.7″H x 13.8″W x 55.2″H. The tree's net weight is 21.2 lbs. Mellcom's cat tower for cats is affordable and convenient.
In Short:
multi-level cat tree
accommodates 2 or 3 cats
includes a condo and a basket
there is a cat condo included
the unit comes with interactive toys
BEST JUNGLE GYM INDOOR CAT PLAYGROUND
Kitty City Collapsible Cat Jungle
All In One
The Kitty City is an indoor cat playground set. It consists of one lion cube, a safari tunnel, and a tiger house. The unit is made of pet-friendly polyester. It is a breathable fabric that keeps your cats safe.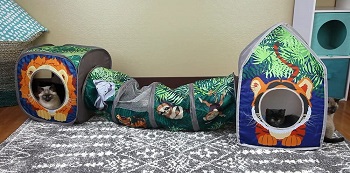 Spacious And Large
Both houses are spacious and roomy. Each house will fit one or two cats. The tunnel is long and ideal for playing. Your felines can play hide and seek or catch me if you can all day long. The size of the three combined units is 66.2 x 15.2 x 24.
Easy To Set Up
The set up is simple. You will be able to put the three pieces together in no more than five minutes. This unit with two cool cat condos comes with a collapsible design. The unit won't occupy much space when stored.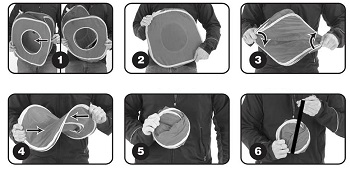 Affordable Price
This is a convenient unit for every household. The price is budget-friendly and this playground can easily be assembled and disassembled when not in use. You will rarely find such a cool product for such a great price.
In Short:
this is a three in one set
it consists of 2 houses and a tunnel
comes with a collapsible design
easy to assemble and disassemble
the unit's cost is budget-friendly
BEST WITH STAIRS INDOOR CAT PLAYGROUND
Trixie Malaga Cat Playground
Large Stairs
Trixie cat tree is attractive and interesting. It includes a wide base, posts, condos, and two pairs of large stairs. Thanks to the stairs, the unit is perfect both for climbers, senior cats, or cats that are not very active.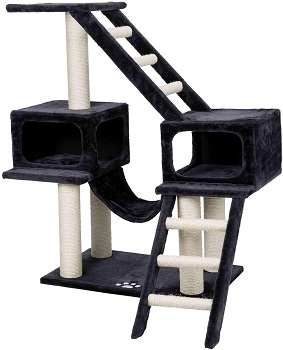 Two Condos
The two condos are located on the first floor. They are spacious and include large entrances each. They are connected by a hanging hammock. It is a tree that will not only keep your cats active but allow them to sleep and rest.
Scratching Posts
There are multiple scratching posts included. They help your cats to climb to the top platform and to maintain their claws healthy and strong. Cats scratch to leave a visual mark as well. This unit will save your furniture from damages.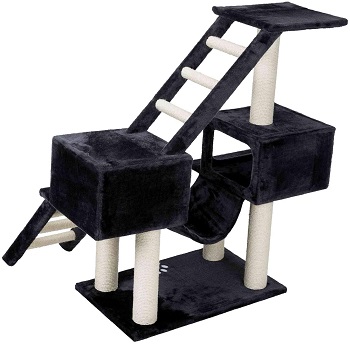 Easy To Set Up
Just like any other cat tree or indoor cat playground, a simple and fast assembly is required. Trixie's cat tower with hammock gets assembled in no time. The assembled size is 28 x 18 x 43 inches.
In Short:
this unit comes with 2 stairs
it includes two spacious condos
condos are connected with a hammock
there are multiple scratching posts
this unit measures 28 x 18 x 43 inches
BEST WITH TUNNEL INDOOR CAT PLAYGROUND
Go Pet Club Tunnel Hammock Cat Tower
Fun Content
Go Pet Club is a multi-level cat tree. Such a large unit makes a great indoor cat playground, as long as it fits your household. This tree includes all the fun content to satisfy every cat's needs – platforms, perches, condos, a hammock, a basket, a tunnel, and interactive hanging rope.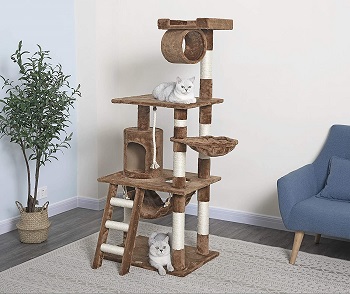 Cozy And Warm
The tree is entirely covered in soft and warm faux fur plush. Such material will keep cats relaxed and make them feel safe. Your felines will probably like to knead on this material. The condo included will provide your felines with private and calm sleeping space.
Large And Multi-Cat
Before you get such a spacious unit, make sure to check if it fits into your home. The overall dimension of the Go Pet Club cat tree is 38″ W x 27″ L x 62″ H. The base is wide and heavy. It keeps the tree stable and allows multiple cats to stay on the unit at the same time.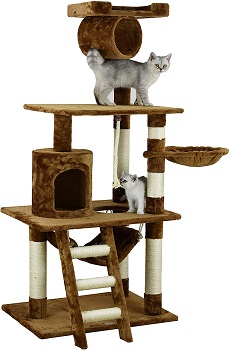 Choose The Color
There are five colors of this playground cat tree to choose from – brown, beige, blue, black, and grey. These are all neutral colors that blend in nicely with your furniture. The tree is simple to set up. The manufacture provides you with detailed instructions for easier assembly.
In Short:
cat tree with all fun content
includes a safe and private condo
the unit comes in five colors
it is simple to set this tree up
accommodates multiple cats
BEST CASTLE INDOOR CAT PLAYGROUND
Furhaven Corrugated Cardboard Cat Castle
Multi-Purpose Playground
Furhaven manufacturers have designed a scratcher cardboard indoor cat playground for cats. We all know how cats love to play with boxes. This unit is here to provide your felines with hours of fun play and to make cats feel relaxed and sleep in a private space.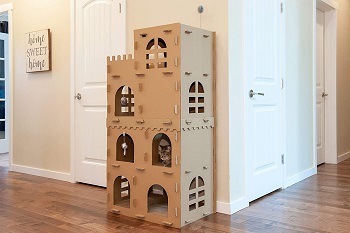 For Scratchers
The unit includes hanging toys that will keep your cats occupied and active. The cardboard is corrugated and comes with a bark-like texture. Cats love such material and adore sinking their claws into it. The package includes catnip that you can apply to this playground. This will attract cats even more.
Long-Lasting
You are probably wondering if this unit will last more than several days. The material Furhaven's cardboard is made of a dense corrugated surface that is simple to scratch. It is double-walled which increases the unit's durability. It will last much longer than just any cheap cardboard.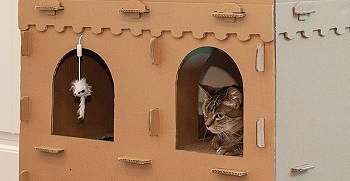 Easy To Customize
The unit comes unassembled. The setup is DIY. The overall size is 29.5″ x 20″ x 55.75″. Feel free to set this castle cat tower as you like. You can also decorate the exterior and interior. Households with children will love such a unit.
In Short:
this is a multi-purpose unit
it keeps cats active and occupied
attracts cat's attention
makes cats scratch the cardboard
provides felines with a private space
you can decorate the interior and exterior
BEST WALL INDOOR CAT PLAYGROUND
CatastrophiCreations Wall Cat Playland
Wall-Mounted Design
If you are looking for an unusual cat tree or a unique piece of furniture for cats, you will surely like to know more about the CatastrophiCreations wall shelves for cats. The unit is meant to be installed over 6 studs at 16" apart. It will fit perfectly onto any wall.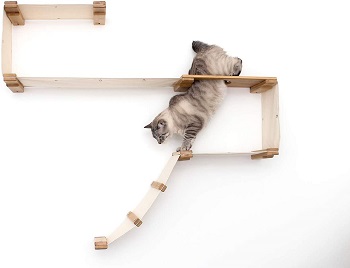 Space-Saving
Such an indoor cat playground will be a saver for households with multiple cats and a lack of space. Mount the unit to your wall and allow your cats to climb. Cats that love to spend time observing their surrounding will love this unit.
Washable Fabric
It is simple to maintain the unit clean. The fabric is pet-friendly and safe for cats. It easily removable and can be washed in a washing machine. Make sure you keep this unit clean. It is important for your cats' health.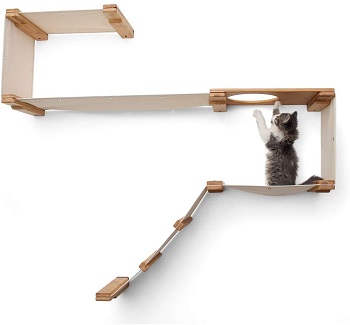 Size And Capacity
The overall size of these floating wall shelves for cats is approximately 52 x 11 x 45 inches. The unit will fit from one to three adult cats at the same time. The maximum holding weight is 62 lbs per hammock and 85 lbs per wooden piece.
In Short:
wall-mounting cat floating shelves
space-saving and pet-friendly
they will accommodate 1-3 cats
the fabric is machine-washable
ideal for cats that love heights
How To Pick: Indoor Cat Playground Furniture
Indoor cats tend to stay healthy and live longer. However, they are often less active than outdoor cats. This is the reason for which many feline owners think of buying a playground for cats to place it indoor. Such products keep cats active and occupied. Choose between the type of cat playground that is most suitable for your fur friends.
Beneficial For Indoor Cats – Keeping cats indoors helps them to stay safe and live longer. However, indoor cats tend to be less active than cats that stay outdoors most of the time. Some indoor cats may feel bored as well. Cat playgrounds are here to keep your feline active and occupied which makes them healthier both physically and mentally.
Playgrounds Satisfy Cats' Needs – Cats' are climbers and scratchers. They love to run, jump and play. It is advisable that you have at least two indoor cats to keep each other's company. Interactive content for cats helps a lot as well. The cat playgrounds will encourage your feline's natural instinct and satisfy their exercising needs.
Choose Right Entertainment Product  – There is a large range of cat playgrounds that you can choose from – cat towers and trees, modern cat wall shelves and bookshelves, cat condos with teasing toys, and many more. Check them all out, know your cats' needs and habits, and choose the most appropriate product for your fur friends.
Size, Capacity, Spaciousness – Before you buy, be sure you check the overall size of the product. Not every unit will fit your home. If you have a lack of space, be sure to buy a wall-mounted cat tree or shelves. If you have enough space in your household, and your cats love to climb and scratch, get a spacious cat tree with an elaborate design.
Buy Online – We recommend that you buy an indoor cat playground from a reliable online website. Read online reviews, and check customer reviews before purchasing. Make sure the product is made of quality material. Always buy from a manufacturer you consider trustworthy. Lastly, don't be afraid to spend more than a penny on a product that will last you a long time.
To Sum Up
Between the six indoor cat playgrounds, we liked the Trixie Malaga Cat Playground interesting and cool indoor cat tree the most. It includes all that cats need in order to stay healthy, happy, and active on a daily basis. Check out our article about the best activity cat trees and find more similar models.