Looking for a cat tower for fat cats to help them stay more active and occupied?
Then you have come to the right place. In our post, you will read all about the best six models. Moreover, our buyer's guide will help you understand which unit may be the one you are looking for. Read on!
The Summary
6 Best Cat Towers For Fat Cats
BEST OF BEST CAT TOWER FOR FAT CATS
Yaheetech Big Cat Tree Tower
Quality Materials
First of all, the Yaheetech's cat tree is made of premium-quality materials – CARB-certified natural particleboards and skin-friendly carpeting material. Also, it includes scratching posts to help your lovely fur friend satisfy its scratching needs and keep its claws healthy. This is a quality multi-level cat tree.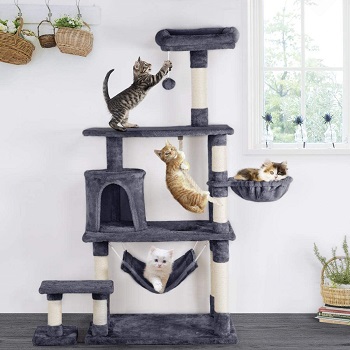 Good Balance
In order to buy an ideal cat tree for fat cats, you must be sure it is stable and well-balanced. This is why we are presenting you with this unit. First of all, it stands on a wide and heavy baseboard that keeps it in one place. Secondly, the multiple pillars help the tree stay stable all the time.
Spacious And Fun
Indoor cats, as much as outdoor cats, have their exercise needs. If you are thinking about making your fat cat more active, then this unit will surely help. It comes with multiple platforms, a hammock, scratching posts, and more. As a result, your lovely pet will get to stay active as much as it wants.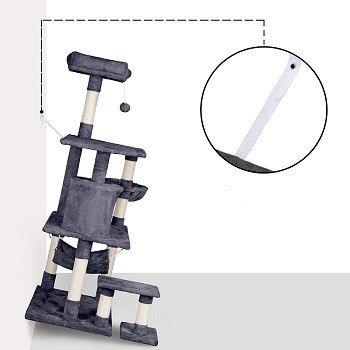 Customize The Design
In the end, we want you to know that there is one thing we liked the best about this piece of fat cat furniture. It is a fact that you can adjust and customize this tree. The dangling ball can easily be attached and detached. Lastly, you can change the position of the extended platform according to your needs.
In Short:
ideal for multiple indoor cats
includes platforms, a hammock, and more
made of sisal and particleboard
allows you to customize it
spacious and fun unit for fat cats
BEST FUN CAT TREE FOR FAT CATS
Joyo Fat Cat Tree Climber
Tall Activity Center
Fat cats are not always active enough. Joyo's tree is tall and includes all the equipment cats need to stay occupied on a daily basis. In order to introduce your cat to a new unit, let it sniff and play around. Also, play with your cat in the beginning and let it jump and climb up and down.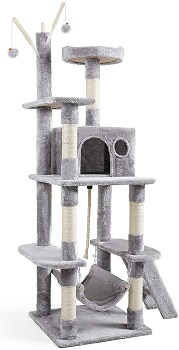 Sturdy Construction
You don't have to worry about your fat cat's safety because the Joyo cat tree climber will stay in one place. Besides its good balance, the unit comes with an anti-toppling design. It stands still even if multiple fat cats play on it. Place it in a corner if you want to add extra stability.
Promotes Healthy Behavior
This is certainly one of the best fully-equipped cat trees for fat cats. Check out what this unit offers: a hammock, a ladder, multiple platforms as well as scratching posts. Then, there is a spacious fat cat condo included too, and lastly, there are top dangling balls.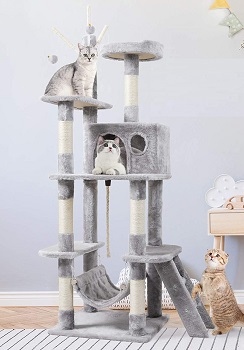 Useful Information
The tree measures 18.9″(L)x18.9″(W)x58″(H). It is made of an MDF board and natural sisal rope. This indoor cat playground will immediately catch your fat cat's attention. It is a unit that helps your cat meet all of its natural instincts.
In Short:
tall and amusing cat tree
strong and sturdy construction
ideal to keep cats healthy
helps fat cats to lose weight
perfect for several cats
BEST SMALL CAT TREE FOR FAT CATS
Feandrea Small Tree For Big Cats
For One Fat Cat
This Feandrea's cat tree will usually accommodate at least two cats, but when it comes to fat cats, we recommend you to use this unit for one cat. This tree is another stable and durable unit. You can place it wherever you want because it will fit nicely into any household.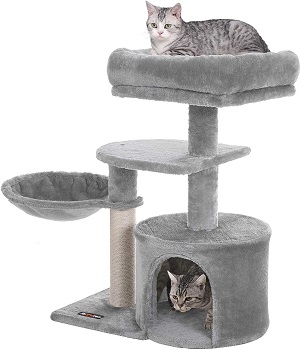 The Simple Design
The bottom cat condo is spacious and includes a large entrance door. For this reason, big and fat cats can access easily. Then, there is a cozy basket included as well as a platform and a spacious elevated perch that will fit cats of almost all sizes.
Cozy Surface
Feandrea's large perch cat tree for fat cats is fully wrapped in a skin-safe and pet-friendly plush material. It provides felines with a warm and cozy environment. Also, the condo soft both from the outside and inside. Clean the surface with a vacuum to get rid of cat hair.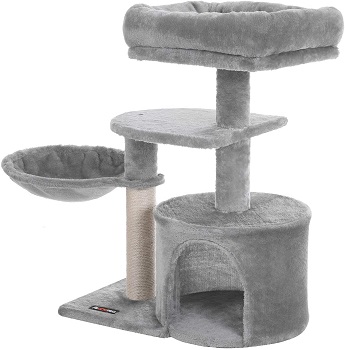 Size Details
In the end, the overall dimensions are 18.9" x 12.6" x 26.7". It easily fits in single apartments, next to a wall, or under your window. This fat cat tower offers your cat a cozy resting space for long mappings as well as multiple jumping and scratching possibilities.
In Short:
ideal cat tree for one fat cat
there is a condo with large entrance
easily fits almost everywhere
perfect for jumping and scratching
cozy, warm, and comfortable
BEST CONDO CAT TOWER FOR FAT CATS
Fish&Nap Fat Cat Condo Tree
Grey Color Cat Tree
A similar cat tree by Fish&Nap with a slight difference in size and perch design. The Fish&Nap cat tree is another unit that will ideally be used as a one-fat-cat condo tree. However, the tree is taller than the previous model and it includes a dangling toy as well.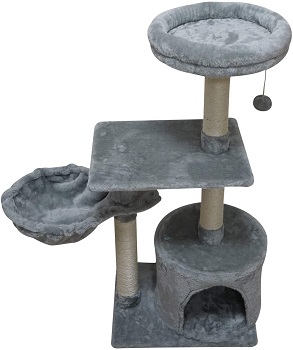 Keeps Cats Amused
Fats cats need to stay occupied and amused as much as possible. Thanks to the top dangling toy, this unit will attract the attention of your cat even more. The toy will swing back and forth and your cat will play with it. This will help your feline to stay both physically and mentally healthy.
Material And Size
Fish&Nap's medium cat tower for fat cats is made of safe board, high-quality faux fur, and sisal material. It is a durable, well-balanced, and safe cat tree. The overall size is 17.7″x13″x37.4″. Use it for only one fat cat and place it next to a wall for extra stability. It is not suitable for very large and fat cats.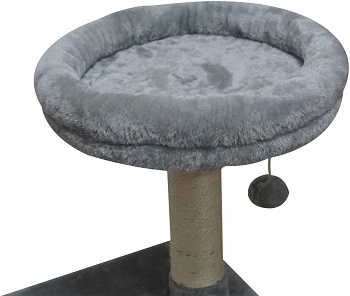 Assembly And Cleaning
This amazing cat tree is incredibly easy to put together. Simply follow the instructions and you will have your new unit set up in no time. Also, regarding the cleaning process – use a vacuum or lint roller and get rid of cat hair. Remember to clean it regularly.
In Short:
simple grey cat tree design
ideal for scratching and climbing
includes one cat condo
it is easy to set it up
simple to maintain it clean
BEST TALL CAT TREE FOR FAT CATS
MWPO Fat Cat Furniture Tower Tree
All Equipment Included
MMWPO's cat tree is surely one of the best cat towers for fat cats that comes in tall dimensions. The reason is that it includes all content to keep fat cats occupied and active. There are multiple levels, a hammock, a ladder, a condo with large entrances, and perches with a dangling toy.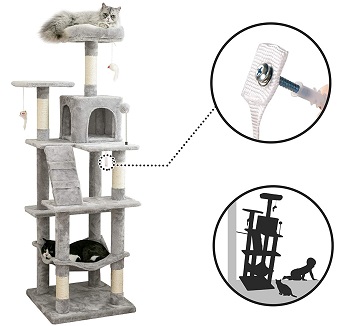 Keeps Furniture Undamaged
Thanks to the multiple scratching posts, both your fat cats and other cats can jump, scratch and climb easily. Not only will the posts keep your cat's claws strong but they will also prevent your cats from scratching your sofas and couches.
Safe And Secure
There are anti-toppling fittings included. They help you to secure the tree to a wall. As a result, your fat cat won't be able to turn this tower over. It is a completely safe and pet-friendly cat tree for cats of almost all sizes. However, if you have a large and fat cat, we recommend you avoid buying this tree.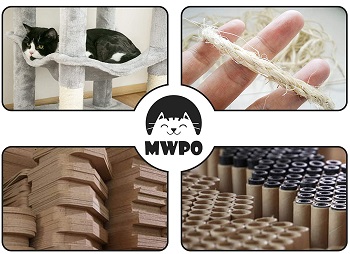 Tree's Dimensions
This tall and narrow cat tree measures: 63.8" H x 19.7" W x 19.7" L. The size of the baseboard is 19.7" W x 19.7" L. Also, the condo's dimensions are 10.2" H x 11" W x 11" L. Now that you know the size, you can decide whether this tree is right for your home.
In Short:
comes with all fun content
includes a spacious condo
there are dangling toys too
tall and narrow tree design
ideal for medium-sized fat cats
BEST WOODEN CAT TOWER FOR FAT CATS
Armarkat Wooden Stable Big Cat Tree
General Details
This cat tower for fat cats by Armarkat manufacturer has the following dimensions: 28″(L)X25″(W)X57″(H). This tall tree will easily carry up to 40 lbs at the same time with no wobbling. So, it will hold multiple cats and fat cats with no problems.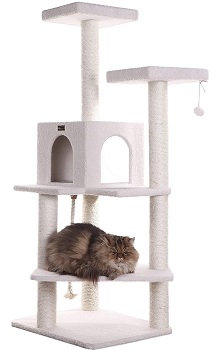 Durable Material
Thanks to the pressed wood material, this fat cat tree will stay in one place even when cats play, jump, and jump on it or off of it. The unit is not likely to collapse or break. It is one of those trees that should last you forever. The sisal posts will keep the claws strong for a long time as well.
Assembly Process
The installation and assembly are required, just as you have probably assumed. However, there are instructions provided and they will help you set the tree up in no time. One or two adult persons can do the setup easily. Be sure to install it properly to keep your cats safe for a long time.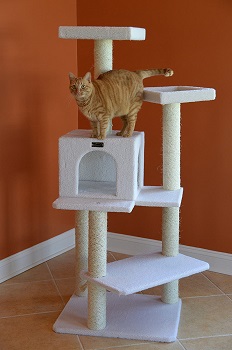 You Should Know
Even though the tree is stable and firm, we recommend you place it next to any wall for stability. This sturdy cat tree for large cats comes in white color. It looks nice in any elegant and modern household. Also, it is simple to keep clean. Use a cleaning cloth and a vacuum when cleaning.
In Short:
elegant white cat tree design
made of pressed wood material
easy to keep clean and assemble
maximum load is up to 40 lbs
cozy and fun at the same time
How To Pick: Cat Tree For Fat Cats
Before buying a cat tower for fat cats, be sure to check if the tree you like can hold your cat's weight. Also, consider your cat's possibilities and buy a unit of the right size. In order for your cats to be more active, you must get a unit that includes fun and interactive equipment. Read on and find out more about these units.
Appropriate Size – The size of the tree you will buy surely depends on how much space you have at home. But besides that, you must consider your cat's weight and if the tree can hold that much. Also, not every unit will hold more than one fat cat. Whether you decide to buy a medium or large tree, be sure your cat can fit. In the end, we suggest you get a model with an elaborate design to keep your cat active and make it exercise more.
Enough Activity Content– Again, not every cat tree will fit a fat cat. So, before you buy the unit you like, check the dimensions and content the unit comes with. For example, some cat trees are too small and don't include enough equipment to keep your cat occupied. If you want your lovely fur friend to lose weight, then a tree with multiple levels, toys, perches, hammocks, and others is the right one for you.
Spacious Condos – Many indoor cat trees include condos, perches, baskets, and more. However, not every condo is spacious enough to fit a fat cat. Some units include multiple condos and most of the time at least one of them is bigger than the other. Also, be sure a condo has a large entrance to help your cat go in and out with no problems.
Quality And Stability – In order to be sure that the tree won't tip over, get a unit made of solid material. Your new fat cat tree must be stable and sturdy. Also, it should be well-balanced and include a heavy base. In the end, there are units that can easily be attached to the wall or ceiling. Such units will surely keep your fat cat safe and secure.
Scratching Posts – In the end, never forget to buy a cat tower for fat cats with scratching posts. Cats scratch for multiple reasons – to keep their claws sharp, mark their territory, and stretch. Getting your cat a unit with posts will meet all of its needs and keep your furniture undamaged too.
To Sum Up
Now that you have learned all about the cat trees for fat cats, it is time to conclude the article. In our opinion, the Armarkat Wooden Stable Big Cat Tree is the best cat tree for large and fat cats on this list. Thanks to the pressed wood, this unit will stay firm and sturdy for a long time. Moreover, it is simple to keep it clean and set up. If you liked this unit as well, we invite you to check out more similar models such as white cat towers and solid wood cat trees.