Looking for a cat tree for 2 cats?
As you may have noticed, it is not difficult to find one. The market is full of interesting and attractive cat trees that will hold at least two cats at the same time. However, not every model is safe enough for your lovely fur friends. This is why we are here to help you choose the right model for your household.
The Summary
6 Best Cat Tree For Two Cats
BEST OF BEST CAT TREE FOR 2 CATS
Feandrea 2-Cat Cat Tree
Satisfies Cats' Needs
Feandrea's cat tree is here to meet the needs of every cat. The unit will hold up to two cats no matter the age, size, or breed. It includes both cozy and fun content. the unit is covered with long-hair plush material. It is soft and keeps cats warm.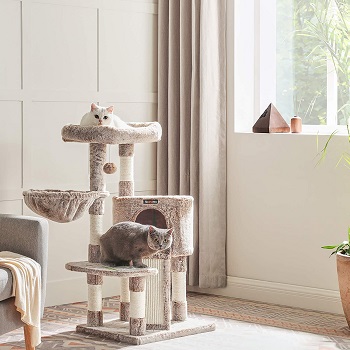 For Climbing And Scratching
The unit includes a ramp and multiple scratching columns. It is perfect to keep your cats' claws strong and healthy. Also, it will help your cats to climb to the cat condo or the top perch. It keeps cats away from your furniture as well.
Medium Yet Spacious
This medium cat tree will fit in any room. Place it next to a wall or under the window and allow your cats to watch the outside world. The unit includes enough space ( a condo, a perch, and a basket) to keep cats happy and cozy.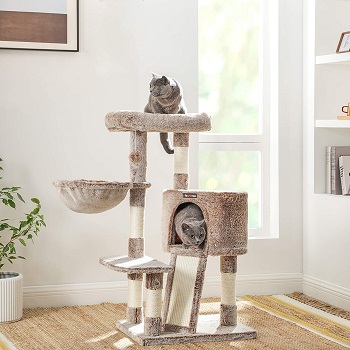 Sturdy And Stable
This cat tree for two cats stands on a base that is reinforced with particleboard. The unit includes an anti-tip kit to keep the unit stable and prevents wobbling or overturning. The unit is strong, sturdy, and long-lasting.
In Short:
for climbing, sleeping, and scratching
made of high-quality material
stands on a stable wide base
includes a condo, a basket, and a perch
it is covered with a long-hair cover
BEST WITH BED CAT TREE FOR TWO CATS
Ibuyke Cat Tree With Two Beds
Two Cozy Beds
Ibuyke's cat tree for 2 cats is a nice cat tree that includes a spacious first-floor cat condo, a side cozy basket, and an elevated perch. This unit is another one covered with a soft and fluffy cover. Such material keeps cats warm and comfortable.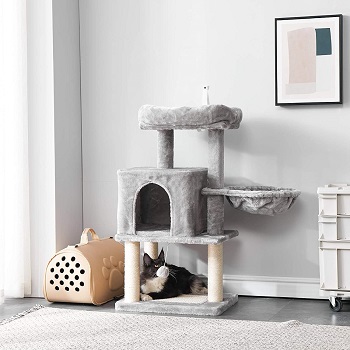 Fun Activity Tree
Apart from being cozy, this unit is here to keep indoor cats busy and active. It will satisfy your cats' needs with the included scratching posts and a dangling toy. A cat tree will reduce possible feline conflicts as well.
Sturdy Construction
The unit will stay in one place even if two cats jump off of it at the same time. It is simple to assemble. It includes anti-tipping and an anchor strap. You can attach it to the wall and ensure the tree's stability.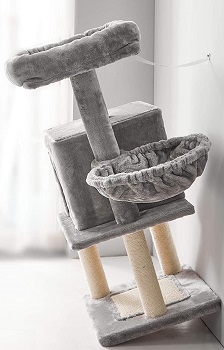 Quality Material
The Ibuyke's cat tree with a big cat condo is constructed of carb-certified particle board, skin-safe plush, and sisal scratching posts. This cat tree is well-proportioned and stable. It is perfect for two adult cats and keeps them safe all the time.
In Short:
includes two cozy beds (perch and basket)
comes with a spacious cat condo
there is one interactive dangling toy
it has multiple sisal scratching posts
stable and sturdy cat tower for 2 cats
BEST CARPETED CAT TREE FOR TWO CATS
Sandinrayli Cat Tower 2 Cats
3-Tier Design
Sandinrayli's cat tree for 2 cats includes two condos and a large elevated perch for big cats. It is well-proportioned and supported by columns. This cat tree is perfect for two cats. It will keep them rested and happy.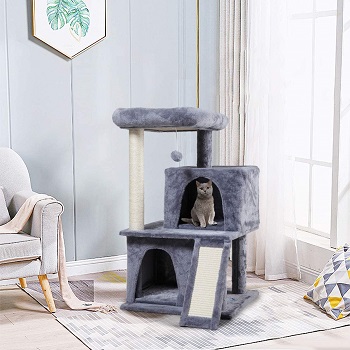 Size And Capacity
The tree's overall size is 19.7" L x 17.7" W x 34" H. The top perch measures 14" W x 19.3" L. The unit will hold up to two adult cats of any size. This is a 3-tier cat tree for extra-large cats and for smaller-ones as well.
Two Spacious Cat Condos
The two condos are roomy and cozy. They are carpeted from the inside and the outside. One of them is a bit larger than the other. Both condos have large entrances and allow cats of any size to enter without problems.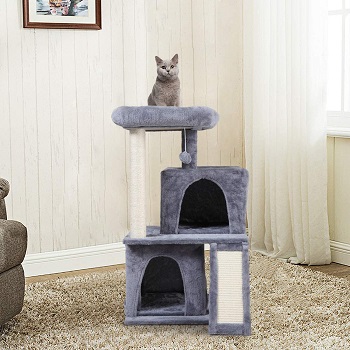 Long-Lasting Construction
This is another cat tree that is made of solid particleboards. It is stable and well-balanced. It will last you a long time for sure. The unit is covered with a skin-friendly and soft flannel cover. It is a unit that meets all of your cats' needs.
In Short:
3-tier cat tree with two condos
includes a large top perch
it will fit cats of any size
covered with a soft flannel cover
stable and long-lasting cat tower
BEST SMALL CAT TREE FOR 2 CATS
AmazonBasics Cat Tower For Two Cats
Compact And Small
AmazonBasics' cat tree includes a ground-floor cat condo, multiple columns, and two elevated perches. This unit is of smaller size and it will fit anywhere in your home. It is a space-saving cat tree for small rooms and apartments.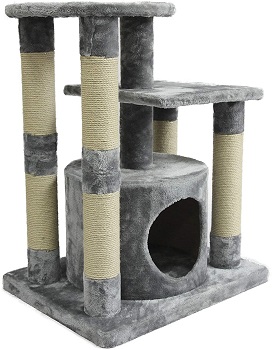 Measures And Weight Limit
The approximate dimensions of the AmazonBasics cat tree for two cats are 25.59 x 18.9 x 30.71 inches. The unit will hold up to 50 lbs at the same time. We consider this unit to be ideal for small to medium-sized cats. Senior cats will love it as well. It is easy to climb.
Jute Fiber Posts
There are multiple jute fiber scratching posts included. They help to keep your cats' claws strong and healthy. Besides that, this unit will help to prevent your cats from scratching and climbing the furniture. It is a nice, elegant, and functional cat tree.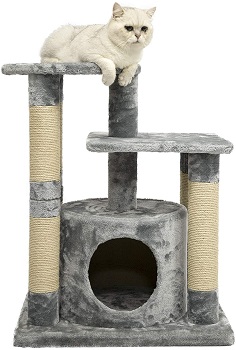 Quality And Price
This small, mid-sized, active-cat, and senior-cat tree is made of fine quality. It is stable and has a sturdy construction. If used properly, it should last you a long time and keep your cats safe and happy. The unit's cost is pretty affordable for everyone's budget.
In Short:
small-sized and functional cat tree
includes jute fiber scratching posts
made of fine quality material
skin-safe and pet-friendly unit
perfect for all cats including senior cats
BEST FOR KITTENS CAT TREE FOR TWO CATS
67i Cat Tree For Two Kittens
Ideal For Kittens
This small cat tree is perfect for kittens or adult cats of a small size. The unit is cozy, soft, and keeps cats warm. It has just enough space for two cats. The construction is sturdy and the tree is stable. Since kittens can be very playful, place this tree next to a wall for extra stability.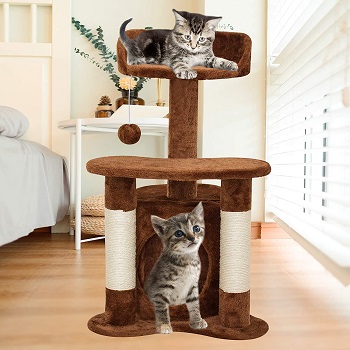 Fun Design
Small cats and kittens love to play and stay active. The 67i's cat tree for 2 cats includes a dangling toy that hangs from the top perch. The perch is elevated and it will encourage your cat's natural instinct of climbing to a high location. The scratching posts and columns ease the climbing.
For Cozy Nappings
Apart from all the play, your cats will love to nap and sleep on this tree. There is a spacious cat condo included, a platform, and a perch. It is a comfortable and warm cat tree that keeps cats satisfied and happy.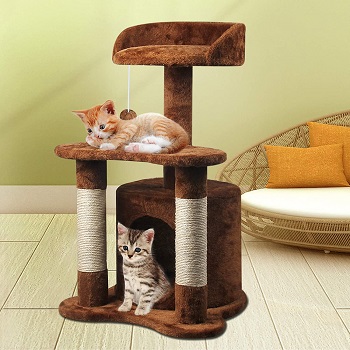 Useful Details
This cute cat condo tower measures 15.74″L x14.96″W x 26.37″H. The dimensions of the condo are 11.8″W x 11.8″L x 9.8″H. It is covered with plush faux fur. A simple and quick assembly is required. The tools and instructions are included.
In Short:
an ideal tree for two small cats
includes a condo, a platform, and perch
easy and quick assembly is required
covered with plush faux fur material
fun, sturdy, stable, and safe
BEST CHEAP CAT TREE FOR 2 CATS
Js Nova Juns Two-Cat Tree Tower
The Overall Size
The cat tree for two cats by JS Nova Juns manufacturer measures 24″L x 18.1″W x 37.4″H. It is a functional, yet space-saving cat tree. This tree is perfect for indoor cats. It promotes healthy behavior and allows cats to play and scratch.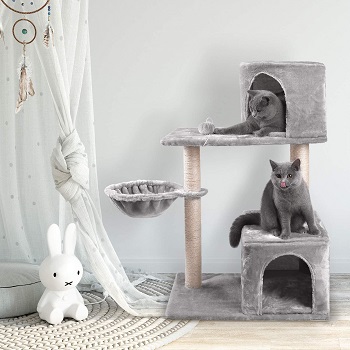 Scratching Posts
Multiple sisal-covered scratching posts are included. They are here to help your cats scratch and keep their claws strong and sharp. Apart from that, this unit will help to prevent cats from damaging your furniture as well.
Firm Construction
Only premium-quality material is used for making this cat tree. This is another particleboard unit. It is an elegant cat tree with sturdy construction. It will keep your cats safe. The tree is stable and hard to overturn even if both of your cats jump on it from distance.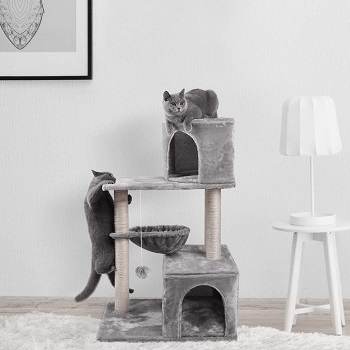 Cozy And Spacious
There are two spacious condos included. Cats love to sleep inside of them. It keeps them warm and cozy. There is a plush basket included as well. The three beds give your cats plenty of possibilities to relax.
In Short:
elegant and nice cat tree design
includes two condos and a basket
comes with scratching posts
fun and cozy two-cat tree
ideal for long nappings
How To Pick: Cat Tree For 2 Cats
Follow our tips and read more about the benefits of cat trees for 2 cats. Be sure to buy a unit that will accommodate two cats without overturning or shaking. Also, get a unit that will have enough private space for both of your fur friends. Know what your cats love and need, and buy a cat tree with a simple or elaborate design.
Check The Weight Limit – It will be pretty easy for you to find an adequate model of your new cat tree. Most units will hold at least two cats at the same time without wobbling or shaking. Nevertheless, be sure you check the tree's carrying capacity. Some units are made to accommodate two small cats or kittens, while others will hold up to two large or extra-large cats as well.
Condos And Perches – Cats are big sleepers. They sleep and nap for hours every day. When they are awake, they will spend most of the time grooming and relaxing. The importance of cat condos, perches, baskets, and hammocks is pretty big. Be sure each of your two cats has enough private and comfortable space for rest.
Content To Keep Cats Active – Apart from the cozy content to keep your cat rested, a cat tree should include fun and interactive toys to keep them active. For example, many fun cat trees include one or more dangling toys, a ramp, a ladder, a tunnel, and climbing columns. Know what your cats love and need and buy accordingly.
Quality And Price – The best units are solid wood cat trees. Such trees will last the longest and won't be easy to overturn. They are stable and durable. However, they may be pricy. There are other cheaper options available. Cat trees made of particleboards, veneer, or MDF will be fine as well. Be sure they are well-balanced and stand on a wide and heavy baseboard.
Keep The Tree Clean –  Cats are clean animals and they prefer staying in a clean environment. It is important for their health. Cat trees for two cats are simple to maintain clean. They are not huge and don't require much time cleaning. Carpeted cat trees can be cleaned with a vacuum or a lint roller, while those without carpet can simply be wiped off with a cleaning cloth.
To Sum Up
Between the six reviewed trees, we liked the Sandinrayli Cat Tower. We find it the best cat tree for 2 cats. It comes with two extra-large cat condos and allows cats of all sizes, ages, and breeds to play and sleep. Besides the condos, this tree includes a ramp and an elevated perch. If you liked this model, check out more cat trees with ramp and see if there is another unit that will meet your cats' needs better.