Have you been trying to find the cutest cat condos and towers?
In our article, you will find all the details about the six best cute models that are available online today. We hope that our reviews will help you find the right model for your cat. Don't miss reading our guide as well. Scroll down and check it out.
The Summary
Top 6 Cute Cat Condos And Towers
BEST OF BEST CUTE CAT CONDO
You&Me Cactus Cozy Cat Condo
Cozy Napping Hideaway
This cute cat condo by You&Me is ideal for napping. It keeps your felines happy and warm. It is a comfortable condo with a large entrance. Cats of all sizes can use this condo as their private sleeping and relaxing zone.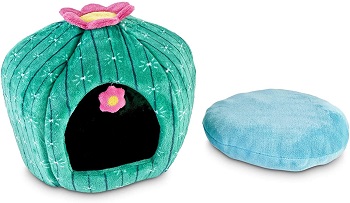 Cute Cactus Design
This cactus cat bed condo comes in blue. It includes two yellow-pink flowers that make the unit even cuter. One is located on the top and the other one dangles above the entrance.
Easy To Keep Clean
The unit is made of pet-friendly polyester and skin-friendly plush. It includes a removable pillow on the outside. The pillow can be machine washed and dried. This is a big cat condo that cats simply love.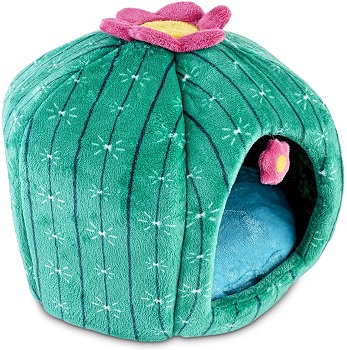 Fun And Interactive
One of the flowers dangles and swings back and forth. It attracts the cat's attention and keeps it occupied and entertained. It encourages cats to play and never to feel bored.
In Short:
cactus-like cute condo for cats
blue with yellow-pink flowers
one flower dangles above the entrance
soft, warm, and safe for cats
includes a removable pillow
BEST SMALL CUTE CAT CONDO
All Fur You Rainbow Cubby Cat Condo
Rainbow-Like Cat Condo
This small cute cat condo is ideal for smaller-sized cats and kittens. Tiny puppies can use this condo as well. It is a pink cat condo with a rainbow pattern. It includes a super-soft inside cushion. This unit maintains the temperature and keeps cats warm.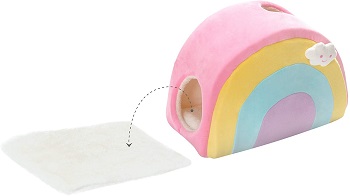 Comfy And Safe Environment
All Fur You's condo for small cats is made of felt-like crystal microfibre, spandex, and polyester. It includes a polyurethane cushion filler. The unit is comfortable and pet-friendly. This material is cats' favorite. It makes them feel safe and relaxed.
Dotted Base
The base of this condo is anti-slip. It is dotted to prevent overturning. It stays in one place even when your cat is moving inside of it. It will stand still especially if you place it on a wooden or smooth surface.
Easy To Wash
You can wash this condo with no problems. All you need to d is use a mild and pet-friendly detergent and warm water. Wash it by hand. Do not use the washing machine to wash it.
In Short:
for smaller-sized cats
pink with a rainbow pattern
easy to wash by hand
comes with an anti-slip base
safe and pet-friendly condo
BEST INDOOR/OUTDOOR CUTE CAT CONDO
Goobest Cat Tree Condo House
For Indoor And Outdoor Use
Looking for a cat house condo that you can place on your balcony, terrace, or garden? Maybe you want to get a unit that you can use both inside and outside, depending on the season? Goobest's cute cat tower house with a condo will withstand all the temperatures.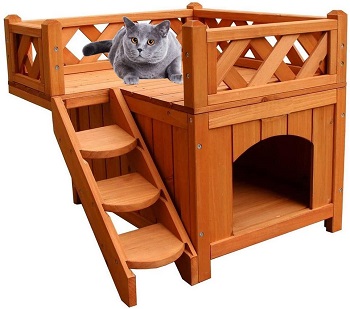 Two In One
This unit will be your cat's playhouse as well as its favorite resting space. There is a spacious cat condo included. The unit comes with ladders that take your cat to the top balcony. This unit is sturdy and durable and it will fit multiple cats with no problem.
Solid Material
The Goobest outdoor-indoor cat tree house is made of solid and strong fir wood. It is thick and stable. The unit is freestanding and spacious. Thanks to the solid wood material, this cat tree house will last you a long time and won't break.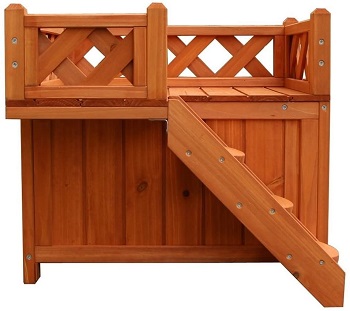 Easy To Put Together
Just like any cat tree house, you will need to put this unit together. But don't worry. The detailed instructions are included together will all the hardware. The overall size of this house is 20.08 x 20.08 x 17.99" (L x W x H).
In Short:
the house can be used outdoors
includes a big cat condo
ladders take cats to the top balcony
simple to put this house together
it is suitable for multiple cats
BEST NATURAL CUTE CAT TOWER
Acro Condo Cat Tower Cute
Premium-Quality Material
Acro's cute cat tower-condo is made of top quality MDF material. It is safe for cats in every way and protects their health. The unit is freestanding. It has two condos. It can accommodate cats of all sizes, breeds, and ages. Even small dogs can use this condo house.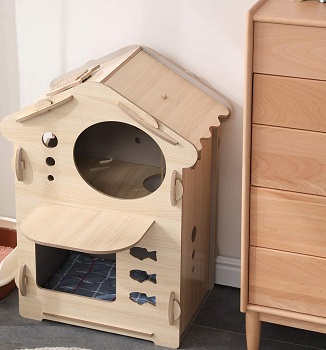 The Two-Tiers
This two-tier cat tower house comes with two spacious condos. The ground-floor condo has a large entrance and three small fish-like windows on the front. The top condo includes a balcony, a round entrance, and three small round windows.
Removable Cushions
This big cat tree house comes with soft and warm cushions that are here to keep your cat warm and cozy. The cushions are easy to remove not only when they need to be cleaned or washed, but also to provide greater comfort in summer.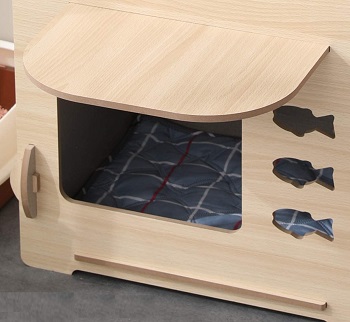 Quick To Assemble
It is easy and quick to install this unit. The detailed instructions are included. Follow the user guide step-by-step to be sure you have assembled the unit properly. The assembled size is 23.6″x23.4″x31.5″. This house will accommodate up to two large cats.
In Short:
made of superior MDF material
includes two spacious cat condos
both condos have large entrances
suitable for cats of all sizes
includes warm and soft cushions
BEST FOR KITTENS CUTE CAT TOWER
DotePet Small Cozy Cat Tree
Small Cat Tree
DotePet's short cat tree comes in pink color. It is cute and ideal for one or two medium-sized cats. This is a space-saving cat tree. It will fit in any unoccupied corner or under your window. The tree is well-balanced and supported by columns that prevent shaking.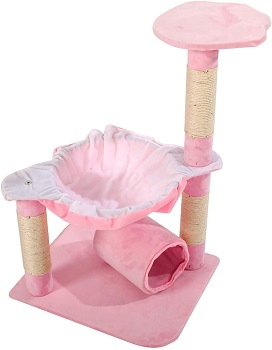 Includes Scratching Posts
This cute cat tower's columns are wrapped in rough sisal. Its texture attracts cats and makes them want to scratch to keep their nails and claws healthy and strong. The posts will prevent your cats from scratching your furniture.
Fun And Interactive
The scratching posts help your cats to climb this tree and have lots of fun. Besides that, the unit includes one hanging rope with a small cat ball at the end. This dangling toy will attract your cat's attention and keep it occupied.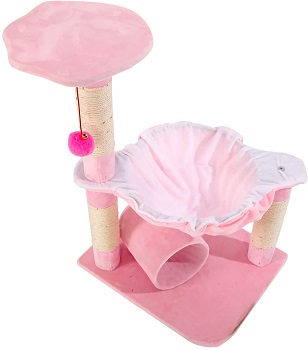 For Cozy Nappings
There is a cat hammock included and a tunnel-like cat condo as well. This unit is covered in faux lamb wool. It keeps cats warm and makes them feel safe and relaxed. This is an ideal cat tree for lounging and resting.
In Short:
short and space-saving cat tree
comes in cute pink color
includes scratching posts
comes with a dangling cat toy
includes a hammock and a tunnel
BEST FLOWER CUTE CAT TOWER
Catry Colorful Flower Condo Tree
Creative Flower Garden
Catry's colorful cat tree combines blue, green, yellow, pink, and red colors. It is a beautiful flower garden cat tree with multiple platforms for three adult cats. This unit is fully covered in soft and warm plush material to keep cats warm and cozy.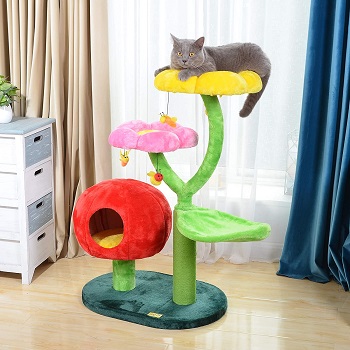 For Playing And Scratching
The unit includes two flower-like perches and a leaf-like platform. Cats can jump between the levels and climb thanks to the scratching pillars. The scratching posts are covered in jute fiber. They allow your cat to sharpen its claws and keep them healthy.
Long-Lasting Construction
This cute cat tower with a condo is made of high-quality particle board material. It is well-balanced and stable. The thick and heavy baseboard prevents the unit from wobbling and shaking. The unit will last you a long time.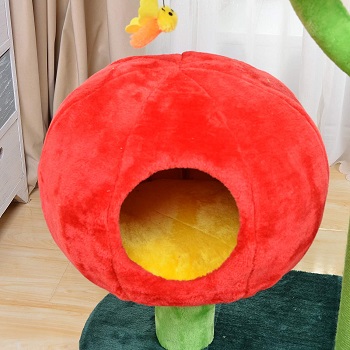 Useful To Know
This 2 in 1 unit will make your cats happy and entertained. Apart from that, it will give them plenty of possibilities for napping and relaxing. The scratching posts are here to encourage the cat's natural instincts and save your furniture.
In Short:
flower garden colorful tree
includes two perches and a platform
there is a cat condo included too
warm and cozy sleeping environment
comes with scratching posts
How To Pick: Cute Cat Towers And Condos
Before you buy a cute cat tower with a condo or a single cat condo, we invite you to read more about these models. In the next paragraphs, you can learn how to choose the model that will meet all of your cat's needs. Apart from the cute design, there are other qualities that you should always have on your mind. Make sure the unit is pet-friendly, comfortable, and of appropriate size.
Adorable And Charming Desing – There is a large variety of condos and towers available on the online market. They come in all sizes and shapes. You can choose between small, tall, big, spacious, cool, crazy, fun, or minimalistic units. The beautiful design has become more important for cat owners. People want these units to match their home decor. However, before buying, be sure that the unit you like is not only attractive but functional and safe for your cat as well.
Single Cat Condos – If you are thinking about buying a cat condo, besides the design, check its size and quality. If you have one small to medium cat, a cat condo of medium size will be just fine. However, if you have a large cat or multiple cats, then be sure you buy a spacious condo or one with multiple levels. Also, get a stable unit made of quality materials.
Cat Trees With Condos – If you want a 2 in 1 unit, then you may like to get a cat condo tree house. Such units are multi-functional. They keep cats active and occupied and provide them with a private and warm environment for napping. When it comes to size, a short or medium tree will be perfect for senior or shy cats whereas tall and spacious units will meet the needs of active and social cats.
The Ease Of Maintenance – Cats spend most of their waking time grooming. They are clean animals. Be sure that you clean your cute cat condo or cat tree regularly. If your unit includes mats, pads, and cushions, wash them when necessary. Vacuum carpeted trees or condos to get rid of cat hair. Clean the trees with no carpets with a cleaning cloth.
Quality And Assembly – Be sure to buy a cat tower or a condo that is made of quality material. It should accommodate all the cats that you have in your household. Check the carrying capacity before buying. Also, note that you are going to need to set your tree up. The assembly is oftentimes easy and fast and the detailed instructions are always included.
To Sum Up
The Catry Colorful Flower cute cat tower is the unit that we liked most. The reason is simple – it includes all the fun and cozy content at once. This cool cat condo tree comes with perches, platforms, a condo, and scratching posts. It is a cat tree for two cats of large size or three cats of small to medium size.