Looking for cat indoor trees to keep your furry friends occupied and active on a daily basis?
Look no more because you have come to the right place. In our article, you can learn more about the benefits of trees and towers for indoor cats. Other than that, you will find out more details about the six best models.
The Summary
6 Best Indoor Trees For Cats
BEST OF BEST INDOOR CAT TREE
PawHut Activity Indoor Cat Furniture
Multi-Functional Tree
Indoor cats need to have as much fun as the ones that usually stay outdoors and this fun cat tree by PawHut will make sure to satisfy your cat's needs. This is not only a special activity center for your cats but also a cozy and pet-friendly space for sleeping and relaxing.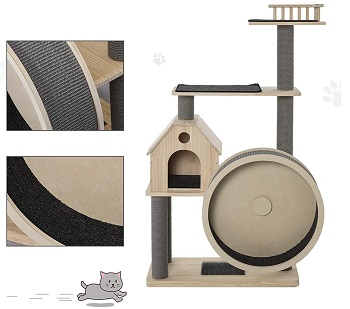 Saves Your Furniture
Thanks to the multiple pillars that keep the unit stable and well-balanced, your cats will get to climb and scratch as much as they need to. The pillars are wrapped in natural sisal rope. Such material attracts cats and makes them want to scratch to keep their claws strong.
Skin-Friendly Carpets
This indoor cat tree comes with carpets as well. The skin-friendly material that the carpets are made of will keep cats warm and safe. The cat condo includes a cushion as well. The good thing about the carpets and cushions is that they are removable so you can clean them easily.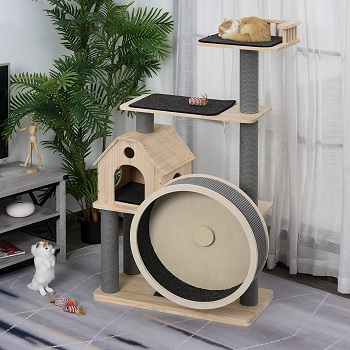 Extra Feature
A big plus goes for the rotating runner. Not many cat trees have such a fun feature. The runner is wear and scratch-resistant. Also, it has a goal to keep your cat active and busy for as much as it wants. It may help to reduce boredom and feline conflicts as well.
In Short:
a fun 2 in 1 indoor tree for cats
keeps your furniture undamaged
includes skin-friendly carpeting
there is a rotating runner included
there are multiple scratching posts
BEST CONDO CAT INDOOR TREE
Petique Cat Tree Condo House
Cat Condo Tree
On the contrary to the previous model where a cat tree came with a condo, Petique's structure is actually a big cat condo tree itself. Most cats love to play with this structure because it is made of cardboard material. This unit will keep cats relaxed and make them want to play and scratch as well.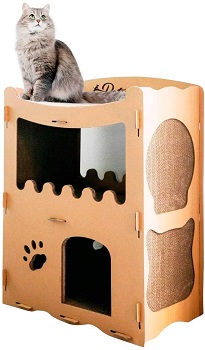 Sustainable Material
Only non-toxic and 100% pet-friendly material was used to construct this cat indoor tree with condo. The cardboard is recycled and compressed. The unit forms strong panels. The tree is sturdy and strong. Also, it is safe not only for your cat but also for you and the environment as well.
Simple To Build
You don't need any tools to put the structure up. It is easy and fast to set up. All you need is 5 to 10 minutes of your time. Follow the instructions and your cat will have a great place of its own in no time. Warning tip: do not clean it with water or leave it around heat because it will soften and warp.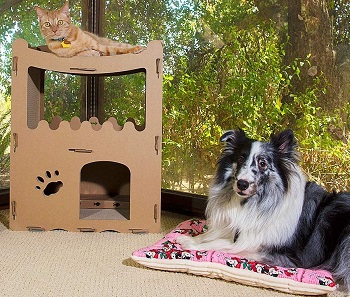 Scratch Boards
On the sides, there are scratchboards included. As you already know, they help to keep your cat's claws strong and healthy. Not only that but they help cats to stretch after waking up from a nap as well. Also, cats love to mark their territory too.
In Short:
a condo cat tower tree
includes scratching boards
made of eco-friendly materials
it is easy to set it up
100% pet-friendly and sustainable
BEST PALM INDOOR CAT TREE
Luckitty Indoor Palm Trees Safe For Cats
Coconut Palm Tree
This is a small cat indoor tree that will fit in every home with no problems. The overall size is approximately 3.35" x 14.2 ". The unit is shaped like a coconut tree. Such a structure is incredibly interesting in households with children. It is safe and made of eco-friendly materials.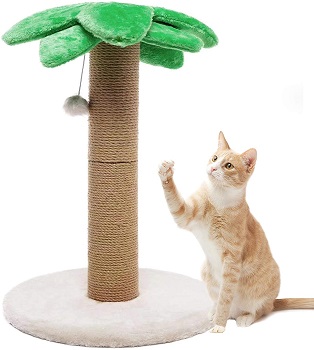 For Small Cats
Small-cat or kitten owners will be satisfied with this short cat tree because this unit is a great source of physical and mental stimulation for felines. It is very important to have a piece of such a safe indoor tree for cats at home especially if your cats do not go outside. It will keep your cat in shape.
Promotes Scratching Instincts
Thanks to the sisal rope that the tree trunk is wrapped with, this tree will attract your cats and make them want to scratch. It will make sure to meet all of your cat's natural instincts. At the same time, your furniture will stay undamaged.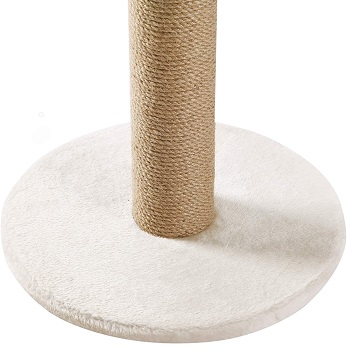 Simple To Set Up
The tree requires to be set up. However, a minimum assembling effort is needed. All you need to do is screw all the parts together. You can do it in no more than 5 minutes. Also, no tools are needed for the assembly and we are sure you will need no instructions to get it right.
In Short:
coconut palm cat tree
for small cats and kittens
includes sisal scratching post
incredibly simple to set up
invites cats to scratch
meets cats' natural instincts
BEST HOUSE INDOOR CAT TREE
CoziWow 3-Level Cat Tower
Small Cat And Kitten Tree
CoziWow's cat tree is perfect for your home if you have small cats or kittens. The reason why we liked it is because it is both fun and comfortable. It is here not only to promote healthy cat behavior but also to keep it cozy and relaxed on a daily basis.
Material And Construction
The reason this unit is best to use in households with smaller-sized cats is the material. The indoor cat tree is made of strong and firm chipboard which will accommodate small cats with no problem but it won't last you a long time if larger-sized cats climb on it. So, be sure to use it as indicated and keep your cats safe.
The Setup
Don't worry too much about the assembly. Although the tree needs to be set up, the process is quick and super easy. The assembled size of this medium cat tree is 11.8″x 11.8″ x36″(LxWxH) and the structure will surely fit almost anywhere in your home.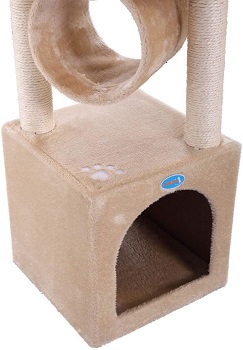 Amusing Equipment
Within the included equipment, you will find a dangling toy, posts for scratching, a tunnel, and multiple levels. Also, a cat condo is here as well. It is located on the ground floor which means that shy or senior cats will have easy access to it. Moreover, it will keep your cats cozy and warm too.
In Short:
perfect for cats of small size
made of chipboard material
keeps cats cozy and amused
includes a ground floor cat condo
comes with a dangling toy and posts
BEST WALL GYM CAT INDOOR TREE
CatastrophiCreations Wall Mounted Tree
Attractive Wall Design
In case you'd like to have a different version of a cat tree, this piece of modern cat tree furniture will surely catch your eye. It is a beautifully-crafted wall-mounted tree and a perfect climbing solution for all cats that love to stay in high locations and observe the area around them.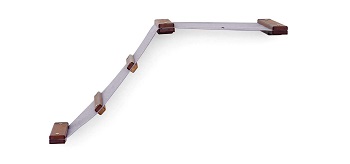 Meets Cats' Instincts
Other than being fun and beautiful, this structure is functional and safe as well. Thanks to the wall mounting, the unit will stay in one place and last you a long time. It is not only here to keep your cats busy and allow them to climb and scratch. This tree will be an ideal sleeping space for cats too.
Simple To Maintain Clean
Cats spend most of their waking time grooming. We know that hygiene is very important for their mental and physical health. This is why you will need to keep their environment clean too. Whenever you need to clean this cat indoor tree, you will simply remove the fabric and wash and dry it.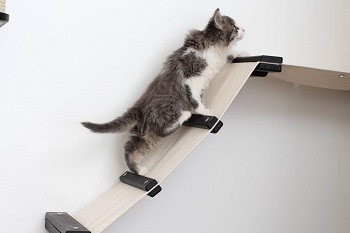 A Space-Saving Structure
Such an indoor climbing tree for cats is perfect for small spaces. It is space-saving and modern at the same time. On the other hand, you might have enough space for such a structure, but you simply want to have an unusual and unique cat tree. In our opinion, this tree is one of the cats' favorite because it allows them to perform all of their exercise activities on a daily basis.
In Short:
modern and unique cat tree design
simple to mount on the wall
easy to remove and wash the fabric
perfect for small spaces
ideal for cats that love to climb
BEST WITH LEAVES INDOOR CAT TREE
On2 Pets Summer Cat Tower Forest
Forest Cat Tree
If you like the idea of having a unit that comes with leaves and branches and looks almost like a real tree, then you will definitely love the On2 Pets indoor cat tree with leaves. In case you don't like the summer theme, you can choose between fall, plum, or green models as well.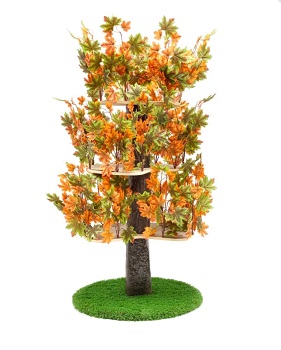 The Quality Material
Pressed wood, plastic, and skin-friendly carpet are used to build this tree. The overall quality is fine and we think that this tree could last you a long time. It requires to be assembled, as you may have already assumed. However, the package comes with easy-to-follow instructions for the quick setup.
Tree's Size And Capacity
The unit measures are approximately 26 x 26 x 60 inches. The unit will hold about 32 pounds at the same time. This means that it is a sturdy and well-balanced unit for multiple cats. In case you want to be sure it won't collapse, place it next to a wall for extra stability.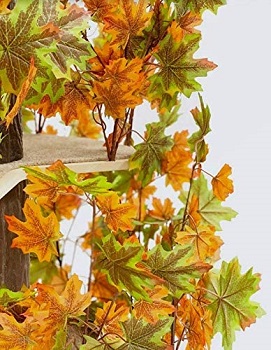 Multiple Functions
Behind the artificial leaves, this cat indoor tree includes carpeted platforms. They will provide your cats with a safe and cozy nap zone as well as help your cats to jump between levels. This forest cat tree will not only look interesting in your home but it will keep cats active and relaxed as well.
In Short:
cat tree with artificial leaves
choose between 3 more models
made of pressed wood and plastic
comes with carpeted platforms
holds up to 32 pounds
How To Pick: Cat Indoor Trees
In order to buy a perfect indoor cat tree, read our article and find out more about such structures. Learn why indoor cats require cat trees and how it can help them to stay healthy and live longer. Moreover, check out which models there are on the market and find a perfect structure for your household.
Healthy Life Promotion – Indoor cats, just like those that stay outdoors most of the time, require a special climbing place to perform their daily activities. In order to keep your furry friends in good health, you will need to get a perfect unit that will meet all of your cat's needs. This is why we suggest you know your pet's habits and needs before you buy a cat tower.
The Variety Of Models – There is a large variety of different models available both in pet shops and online. Feel free to choose from a short, medium, or large cat tree. Other than these models, there are wall-mounted ones and those shaped like an object or a palm, flower, and more. Also, active cats require a large and tall unit, while shy, senior, and cuddly cats prefer a simple cat tree design.
Size And Capacity – Before you buy an indoor cat climbing tree, you must consider how much space you have at home. Next, as already said, you need to know your cat's needs. Another thing you should consider is the tree's maximum load because not every cat tree will hold the same number of cats without breaking. If you are not sure, we always suggest buying a solid and large unit and if you don't have enough space for a big freestanding tree, then consider getting a wall-mounted unit.
Long-Lasting Material – A tree made of thick and solid wood is surely one of the best trees for cats indoors. However, the price may be high very often. In case you have a limited budget, you can always get a particleboard or MDF tree. Such units are durable as well, especially if you use them correctly. However, be sure to buy from a manufacturer people trust.
Equipment And Toys – Lastly, an indoor cat climbing tree without any equipment is not an ideal one. Your indoor cat tree must include a scratching post and a place for your cat to sleep such as a condo, basket, or house. Other than that, most trees will include some of the following: teasing toys, platforms, hammocks, tunnels, and more.
To Sum Up
All in all, the best indoor cat tree among the six ones we have reviewed is, in our opinion, the PawHut Activity Indoor Cat Furniture. The reason why we liked it so much is that it is a multi-functional unit that is here not only to make cats active and busy but keep them relaxed and rested too. Such an indoor cat playground is perfect for multi-cat households. Also, it is an unusual cat tree that includes a special rotating runner feature to keep your cats occupied for hours.