There are so many cat products on the market, but you can rarely find a functional yet simple cat tree, condo, or another piece of cat furniture.
If you are a fan of minimalist home decor, you may recognize yourself. Thankfully, you are here now and we invite you to stay. Keep on reading our article and find out all you need to know about the top six minimalist cat trees, towers, condos, and other pieces of simple furniture for your fur friends.
The Summary
Top 6 Simple Cat Trees And Furniture
BEST OF BEST SIMPLE CAT TOWER
Yohoz Minimalist Cat Tower
Smooth Design
The Yohoz simple cat tower consists of a ground-floor cat condo, two elevated perches, scratching posts, and a small cat tunnel. The design is simple. The tree comes in two colors – beige or light gray. There is a beige tree model with a cat-paw pattern available as well.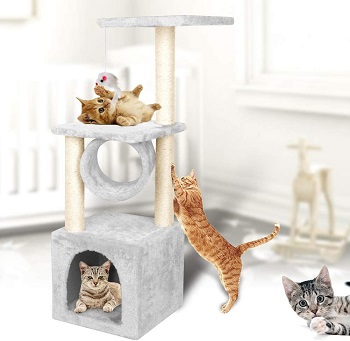 Fine Material
The framing of the Yohoz simple cat tree is made of particleboard and compressed wood. This minimal cat tree is covered in faux wood fur plush. This unit is quite stable. It includes anti-toppling fitting straps equipped with screws on the back of the unit. It adds extra stability.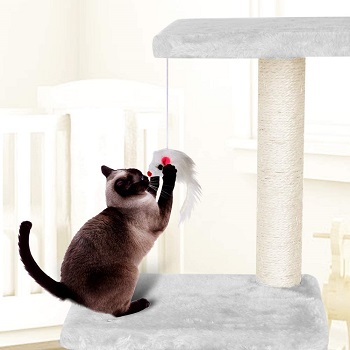 For Small To Medium Cats
Ideally, you will buy this tree if you have kittens or smaller-sized cats at home. This cat tree is suitable for a maximum of two adult cats of medium size as well. This unit will make cats feel safe and warm. Also, the scratching posts and perches allow cats to climb and stay active.
Size And Safety
This tree's overall size is 12" L X 12" W X 36"H. The condo's size is 12" X 12" X 10 1/2". This medium cat tree will look nice in any unoccupied corner in your home. It is safe, secure, pet-friendly, and skin-friendly. The price of the unit is affordable.
In Short:
simple and smooth cat tree design
includes a condo and two platforms
the unit is perfect for smaller-sized cats
made of compressed wood and particleboard
covered in faux wool fur plush
the price of this tree is affordable
BEST FURNITURE MINIMAL CAT TREE
Myzoo Minimalist Cat Furniture
Wall Mounted Cat Bed
If you are looking for something different and stylish for your cat and your home, then the Myzoo cat bed could be just what you are looking for! This simple cat condo gets installed onto a wall. It allows your cat to climb and to sleep in a high place. This unit can also be freestanding on the floor.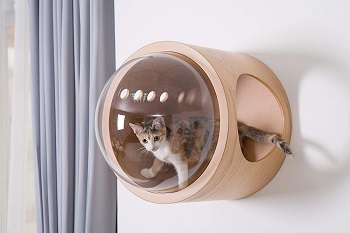 Choose Between Two Types
You can choose between the open-right or open-left Myzoo cat condo tree house model, depending on your preferences or possibilities. The size of this spacious cat condo in diameter is 15.74 x 18.7 ". The entrance measures 8.66", and the carrying capacity is up to 33 lbs.
The Quality Material
This unit is made of material of premium quality – oak, plywood, veneer, and acrylic. This cat bed will last you a long time and provide your cat with a safe sleeping place. If you want, you can add a soft and warm cushion to the condo to make your cat feel cozier.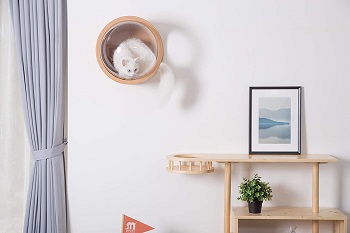 Easy Installation
Just like any minimalist cat tree or another piece of cat furniture, this unit needs to be installed. The process is quick and easy. All hardware required for the installation is included. However, we suggest you get additional heavy-duty screws for extra stability.
In Short:
wall-mounted minimalist cat bed
made of oak, plywood, veneer, and acrylic
the holding weight is up to 33 lbs
this unit gets easily mounted on the wall
the installation is a quick process
BEST CONDO MINIMALIST CAT TREE
Kitty City Simple Cat Condo
Cozy Cat Nap Condo
As opposed to the previous model, the Kitty City cat bed is not wall mounted. In fact, it is freestanding and you can place it on any flat surface. This simple condo for cats is cozy and warm. It includes soft cushions made of polyester. Choose between one or two sets of a double-story cube.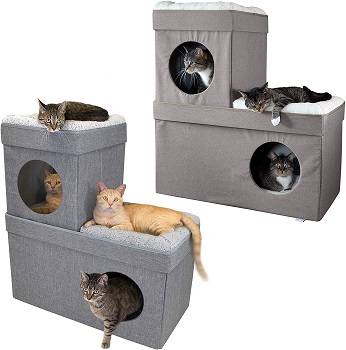 Durable Fabric
The material used for designing these units is sturdy and strong fabric. The interior is made of Polyfill and it provides your cats with maximum comfort. The unit is durable. Each condo will fit one adult cat or two smaller-sized cats. It does not include posts. So, if your cat is a scratcher, you should get a cat scratcher condo.
Easy To Store
The Kitty City cat condo walls set up in no time. Also, this condo is simple to collapse down for easier storage. You can take this unit with you if you go traveling with your cat as well. The overall measures are 32.5 x 17 x 36 inches.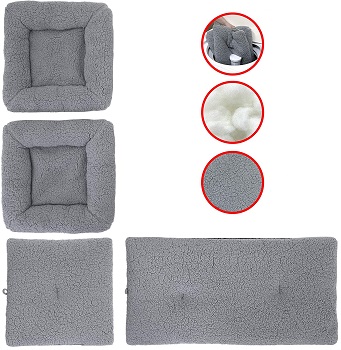 Stackable And Spacious
You can cat one set of these simple cat condos and place them next to your minimalist cat tree. This is how your cats will get to choose their ideal sleeping space. The condos are roomy and ideal for cats that love privacy. The condos are stackable as well. Use your imagination and create your felines a cat fort.
In Short:
cozy, roomy, and spacious cat condo
the unit stands on any flat surface
it is easy to build it up or fold it down
stack more units and create a cat fort
easy to store or take traveling
BEST TALL SIMPLE CAT TREE
Cat Craft Simple Tall Cat Tree
Choose Between Four Colors
The Cat Craft minimal cat tree is a safe and stable unit for multiple cats. It comes in four colors. Pick between Charcoal, Dark Chocolate, Grey, or simple cat tower in Earth tones. Get the unit that fits your home decor most.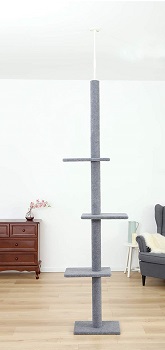 Tall And Narrow Tree
This tree measures 16.9 x 10.61 x 89.6 inches. It is tall and includes four levels. This simple cat tree will fit up to two adult cats at the same time. It is suitable for up to three small cats or kittens as well. The Cat Craft multi-cat tree will be the best solution for climber cats.
Floor-To-Ceiling Design
The quality that makes this cat tree stable is the floor-to-ceiling design. This tree will fit ceilings up to 9 feet. It is recommendable for households with active cats that like to spend time in high places. Attach the tree to the ceiling and feel completely safe about your fur friends.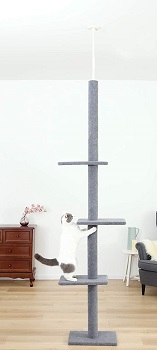 For Playful And Active Cats/strong
Cats' natural instinct is to climb, scratch, and perch. These animals feel most confident if they can keep an eye on their surrounding. If you have multiple and playful cats at home, you cannot go wrong with this tree. It will save you space and promote healthy living.
In Short:
a tall and narrow tree for active cats
sturdy and multi-level design
it can fit more than two or three cats
space-saving and stable unit
attached to the ceiling for extra stability
BEST CARPETED SIMPLE CAT TOWER
Catry Design Cat Tree
Ideal For One Adult Cat
The Catry's simple cat tree is small and elegant. This tree is perfect for one adult cat of any size. It is suitable for two smaller-sized cats as well. This tree is constructed of laminated board, sisal, and fleece. This material is long-lasting and keeps the tree sturdy.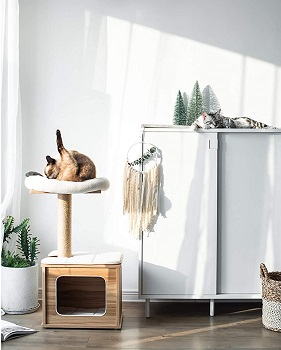 Multiple Purposes
This sturdy cat tree promotes healthy living. Your cat will love to rest and lounge inside of a spacious ground-floor cat condo or on the raised perch. On the other hand, if your cat is a scratcher, the pillar wrapped in sisal will help to maintain your cat's nails and claws healthy.
Sleek And Fancy
The Catry simple cat tower is one of the best simple cat trees. Its elegant design makes it look nice with similar furniture. Apart from the nice-looking design, the tree is durable and stable. It keeps your cat safe and makes it feel relaxed and happy.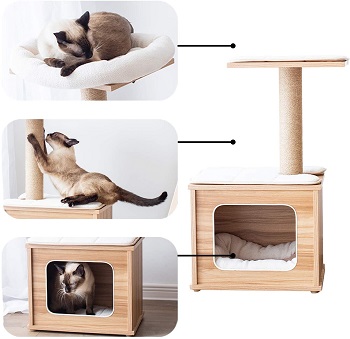 Useful To Know
This is an indoor cat tree. Do not use it outdoors. It is not advisable to place the Catry cat tree in a humid environment. The overall dimensions of this real wood cat tree are 19.4 x 15 x 8.9 inches. The cost of this small tree is medium. A simple setup is required.
In Short:
simple and elegant cat tree design
this tree is ideal for one large cat
it will hold up to two small cats too
made of indoor use only
includes a sisal-wrapped pillar
perfect for scratchers and sleepers
BEST WALL MINIMAL CAT TREE
PetFusion Simple Cat Furniture Shelves
Wall Cat Furniture
Cat wall shelves are ideal for small spaces, apartments, or minimalist homes. These units are an alternative to space-saving cat trees. They get mounted on the wall in no time and promote cats' healthy life. Cats that love heights will particularly enjoy these shelves.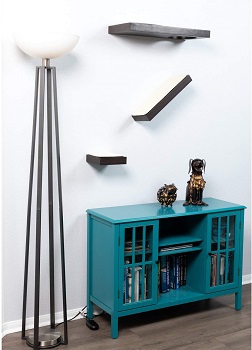 Elegant And Unique
The design of these minimalist cat tree shelf is very elegant and attractive. This is a set of three shelves that you can mount as you wish. These cat shelves come in dark brown and look nice with most furniture. They are easy to install and will fit most cats.
Secure And Safe
Securely attach the shelves to any wall. The zinc drywall anchors come included in the package. These units can be easily attached to your wall or removed from it. The material that the shelves are made of is premium MDF. The shelves are sturdy and stable.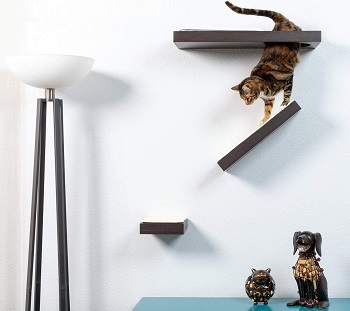 Useful To Know
If you prefer having such items for your cat's climbing, rather than a simple cat tree, just go for it! Not only will the shelves look nice in your home, but they will keep your cats active and occupied. Cats of most sizes, breeds, and ages can climb. The price is medium.
In Short:
these pieces of cat furniture save space
simple, sleek, dark-brown design
shelves promote cat's healthy life
easy to install and remove from the wall
suitable for cats of all ages
the price of this set of three is medium
How To Pick: Minimalist Cat Trees And Furniture
If you like minimalism, a simple cat tree or a piece of cat furniture is surely the best choice for you. However, apart from the elegant and simple design, don't forget to look for other qualities that every minimalist tree or another unit for cats should always include. In our buying guide, you will learn how to choose cat furniture of the right size and material. Don't forget to check the carrying capacity as well. Not every tree will hold the same weight and not every condo will fit more than one cat.
Simple And Sleek Design – These days you will find a wide range of cat furniture on the market, from the simplest to most elaborate. Getting a minimalist piece of cat furniture won't be that hard. All you need to look for is a cat condo that will be spacious enough for your cats or a nice cat tree that will blend with your home decor. However, don't forget that your new unit should be safe, long-lasting, and functional as well.
Choose The Unit Of The Right Size – Minimalist trees for cats usually combine a scratching post with a platform on the top or a ground floor condo with a post and an elevated perch. Households with one cat will be satisfied with a short and simple cat tower, while a tall and multi-level tree will satisfy cat owners of two or more cats. When it comes to condos or cat wall shelves, the bigger and roomier, the better.
Look For A Quality Unit – What makes cat furniture worth buying is not only its design but its quality as well. Look for units that are made of sturdy and long-lasting material. Also, make sure that the material used is non-toxic, pet-friendly, and skin-friendly. Do not be afraid to spend more than a penny for a safe and long-lasting cat tree, condo, or any other piece of furniture that will make your fur friend happy.
The Maximum Holding Weight – Every feline owner knows how cats can be active. They tend to climb, jump, and run more than once a day. They will jump on cat trees or top of the condos from distance. Also, sometimes two or more cats jump off of the cat tree at the same time. This is the reason for which you should check the tree's maximum carrying capacity. If you are buying a cat condo or wall shelves, be sure they are stable and can bear your cat's weight.
Buy From A Reliable Manufacturer – Our strongest advice is that you do not purchase a product that is made from a manufacturer you don't trust. In our article, you had the chance to see the top six models that come from manufacturers we consider reliable. Apart from that, if you buy online, make sure it is from a trustworthy website. Check customer reviews as well and get your cat a minimalist cat tree, condo, or wall shelves that will last.
To Sum Up
In order to find the most appropriate minimalist cat tree or any other piece of cat furniture, check the quality of the material, make sure the size is right, and buy from a reliable website. Between the six reviewed models, the Cat Craft Simple Cat Tree is surely the unit that meets most cats' needs. Its tall and narrow cat tree design makes it space-saving. Also, this unit is an ideal indoor cat playground for active and social cats.