Have you been trying to find interesting and modern cat trees for large cats?
Having trouble deciding which model is the most appropriate for your fur friends?
Don't worry because you are in the right place. By continuing reading our article, you will learn all about the best six models that we have reviewed. Also, don't miss reading our buying guide because it is full of useful tips. You will quickly find the unit that will meet all of your cat's needs.
The Summary
Best 6 Modern Cat Trees For Large Cats
BEST OF BEST MODERN CAT TREES FOR LARGE CATS
The Refined Feline Metropolitan Cat Tree
Four Colors
You can choose between five color variations. Pick the model you like most – a black platform with brown cushions, a brown platform with grey cushions, a white platform with grey cushions, or a white platform with faux fur cushions.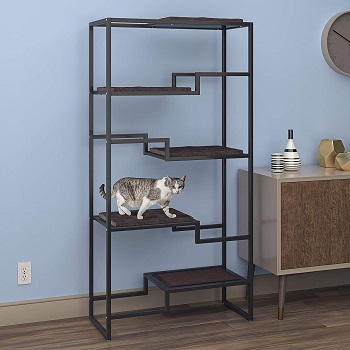 Multiple Platforms
This unit is very interesting and looks nice in any modern home. It will fit multiple cats. It includes five platforms and can accommodate both small or large cats, no matter the size, breed, or age. Active cats will love to climb to the top, while shy or senior cats will stay on the first floor.
Modern And Spacious
The overall size of The Refined Feline modern cat tree for large cats is 31″ wide x 15″ deep x 62″ tall. It provides cats with all the space they need for climbing and perching. The unit has multiple purposes. It is here to make your cats feel relaxed and warm and for them to play and jump up and down the platforms.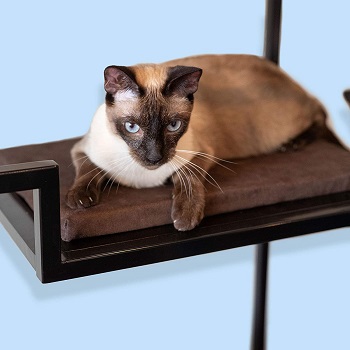 Soft Cushions Included
Each floor of this tree includes a cushion. They are made of micro-suede coverings. The cushions are removable and easy to wash (they can be machine-washed). This unit is one of the best cat trees for multiple cats. Both quality and price are high.
In Short:
choose between four color variations
this is a multi-level and multi-cat tree
each platform includes a soft cushion
the design is wide and modern
suitable for all cats sizes and breeds
BEST CONDO MODERN CAT TREES FOR LARGE CATS
TopKitch Unicorn Activity Cat Tower
Amusing Design
The impressive design of the Topkitch crazy cat tree will attract everyone's attention. Households with children will surely like this tree. It is space-saving and of a compact size. Ideally, get this tree if you have one indoor cat of any size or breed.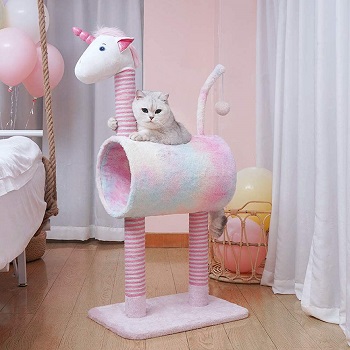 Includes Sisal Posts
As well as the other short cat trees on this list, this model includes scratching posts to help your cat maintain its claws healthy and strong. The sisal posts help to make this tree well-balanced too. This unusual cat tree is great for your small or large cat to climb and rest on it.
Reliable And Stable
You should always check if the tree you like is safe and stable enough. You wouldn't want your tree to collapse when your cat jumps on or off of it. Topkitch's modern cat tree for large cats is a reliable, firm, and steady unit. It will fit one large cat or two small ones.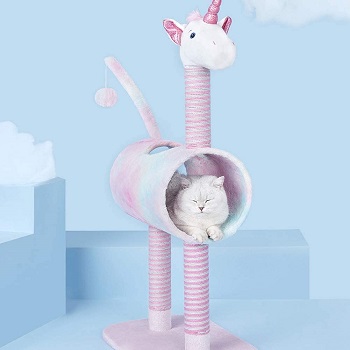 Soft Cat Condo
There is a spacious cat condo included that will provide enough rest time for your lovely cat. The interactive hanging pompon comes included, along with the condo. The toy hangs from the unicorn's tail. It swings back and forth and keeps cats occupied.
In Short:
interesting and attractive cat tree design
this cat tree is shaped like a unicorn
suitable for cats of all sizes and breeds
small size but sturdy and durable
includes a cat tunnel and an interactive toy
BEST WALL MODERN CAT TREES FOR LARGE CATS
7 Ruby Road Mounted Cat Hammock Steps
Wall Mounted Shelves
A perfect alternative for modern cat trees for large cats is this set of two wall steps and a wall hammock. If you have a lack of space at home and were looking for a cat tree for small spaces, then you might like this set of car furniture as well.

Roomy And Cozy
Indoor cats of all sizes will get to climb the two steps and sleep inside of a hammock. All three units support cats of all sizes and breeds. Cats that love to spend time in high spaces will particularly enjoy these units.
Saves Your Furniture
If you are tired of your cats scratching your sofas and couches, then consider getting a unit with scratching posts included. The 7 Ruby Road steps are wrapped in jute top allowing your cat to scratch and climb easier. Scratching is cats' natural instinct and these units will reduce furniture scratching.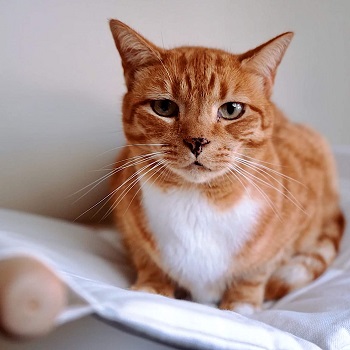 Easy To Mount
It will be easy and quick to mount these modern cat furniture units to the wall. Also, the pieces can grow with your cat. If you have a kitten or a small cat, space the steps and the hammock close to one another. Space the units further apart when your cat grows into a large cat.
In Short:
modern wall-mounted shelves
three-piece wall cat furniture
includes two steps and a hammock
a modern version of a cat tree
saves space and is ideal for small rooms
BEST BIG MODERN CAT TREES FOR LARGE CATS
Made 4 Pets All-In-One Cat Tower
Sleek And Stylish Design
The modern tree by Made 4 Pets comes in gray color. It has wood-grain coverings and looks stunning and elegant. There are no traditional carpets, so this tree will look even nicer. The tree is well-balanced. It has two heavy bases that keep the tree stable.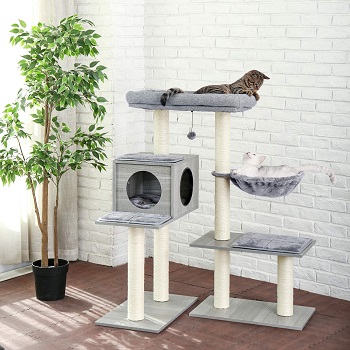 Multi-Purpose Cat Tree
Thanks to the multiple platforms and scratching columns, your cats will get to climb this tree and maintain their claws healthy at the same time. The top perch includes a teasing cat toy. It hangs from up above and attracts your cat's attention by swinging back and forth.
Ideal Resting Space
This unit includes one big cat condo. It will fit either one large cat or two small ones. The condo has two entrances and allows your cat to feel safe, and relaxed. Apart from that, the tree has another basket and includes soft mats on the platforms that keep your cat warm.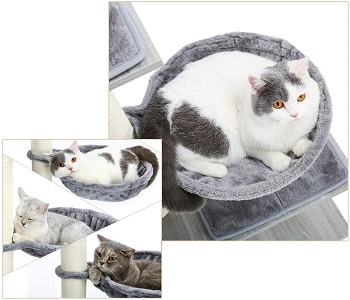 Firm And Sturdy Framing
This modern cat tree for large cats is built from CARB-certified natural particleboards. The seven posts are wrapped in sisal. They ensure the tree's stability. This unit is sturdy and will accommodate up to three large cats at the same time.
In Short:
gray, modern, elegant, and sleek design
large tree with two heavy bases
this unit is well-proportioned and stable
it will accommodate multiple cats
cozy, warm, fun, and entertaining unit
BEST TALL MODERN CAT TREES FOR LARGE CATS
Zoovila White Folding Cat Tower Tree
Easily-Foldable Design
The tall tree for large cats by Zoovila comes in white color. It is a rather unusual tree for cats. It is shaped like ladders. The unit comes with a foldable design which helps when you decide to store it. This white cat tree saves space when you don't need it.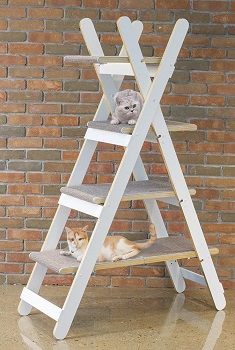 Use It Outdoors Too
This is a weatherproof cat tree as well, which means that you can use it both indoors and outdoors. However, if you decide to place it outside, it is recommendable that you place the unit on your terrace or balcony (in a covered area).
Ideal For Scratchers
The platforms of this modern cat tree for large cats are entirely carpeted with Polypropylene Yarn. The material is skin-friendly and pet-friendly. It is an alternative to scratching posts. Cats can maintain their claws healthy anyway.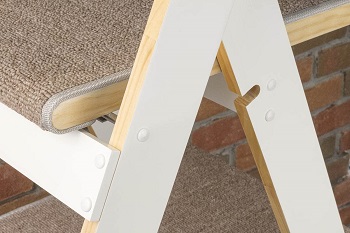 Useful Details
The overall dimensions of this tree are approximately 40.16 x 16.85 x 60.24". The tree will hold cats of all sizes, ages, and breeds. The maximum holding weight is up to two to three large cats at the same time. The unit is long-lasting and firm.
In Short:
the design is unique and modern
this tree is easy to fold and unfold
saves space when it is not in use
it will hold cats of all sizes and breeds
it can be used outdoor and indoor
BEST CARPETED MODERN CAT TREES FOR LARGE CATS
Feandrea Walnut Wood Cat Condo Tree
Medium-Sized Tree
Lastly, we have prepared a nice cat tree that will attract everyone's attention with its stylish and modern design. The tree has a wide base and two large platforms. It includes a condo and a cat basket. It comes in low-key brown and white color. It is medium-sized.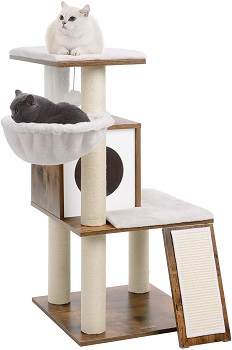 Soft And Covered Surfaces
The platforms and the basket are covered in soft and skin-friendly plush. Cats love such material because it reminds them of the times when they used to knead their mother's fur to stimulate milk. This unit will keep cats warm, safe, and comfortable.
High-Quality Material
The Feandrea modern cat tree for large cats is made of engineered wood of premium quality. It is heavy-based, sturdy, and stable. The tree is going to last a long time. It is hard to tip over or break. Two large cats can stay on this tree at the same time.
For Two Cats
The unit is ideal for two large cats, which is its bearing capacity. It will hold up to three medium-sized cats as well. It has got all that cats need – platforms, a condo, a basket, and scratching posts. The unit is fun and comfortable. The price is medium.
In Short:
soft, warm, and comfortable cat tree
includes a cat condo and a cat basket
it comes with multiple scratching posts
ideal for two cats of larger size
the tree comes in low-key brown and white
How To Pick: Modern Cat Trees For Large Cats
Before you go, we invite you to check out our buying guide. We made it to help you bring the right decision and buy a cat tree that will meet all of your cat's needs. In the paragraphs below, we talk about the modern design, the material that your new unit should be made of, the content and features that a cat tree should include, and more. Read on and see if one of the six reviewed models could be your cat's new favorite piece of furniture.
Unique And Stylish Design – Modern cat furniture has become more popular over the last few years. Cat owners with indoor cats know how important it is for their fur friends to stay active on a daily basis. Also, they want to get a tree that will blend in nicely with their home decor. There are many modern models of cat trees and towers available on the market. Such units are elegant and functional. A fully-equipped cat tree will include perches, platforms, scratching posts, condos, and teasing toys. On the other hand, there are simpler cat tree models that satisfy minimalist home decor too.
Sturdy, Strong, And Firm Material – A cat tree or tower made of quality materials is the best investment that you can make. Units made of firm and strong material will not only last longer, but they will be more stable and much safer for you cats. Before you buy, make sure that the material used for building the tree is strong and pet-friendly. The carpets or scratching posts should be made of natural or skin-friendly material.
Extras And Cat Condos – In our opinion, every tree for cats must include scratching posts. It is important for cats to scratch for many reasons – to maintain their claws healthy and strong, to stretch after waking up from a nap or to leave a visual mark. Apart from the posts, a perfect tree will include some of the following: multiple levels with perches, baskets, hammocks, or a cat condo. A teasing toy is always a plus. It keeps cats occupied.
Fun And Entertaining – Every cat is different. Know your cat's personality. Note that not every cat finds certain content fun. Tall and multi-level trees are usually perfect for cats that love to jump, climb, and rest in high places. Cats with such a personality feel confident and safe if they can keep an eye on their surrounding from an elevated perch. If you have playful and social cats, get them a tree that will make them happy, occupied, and keep them active. If you have senior, shy or cuddly cats, a shorter version with limited content will be just as fun!
Cozy And Warm – Have you ever caught your cat kneading a fluffy blanket or pajamas? Most cats love soft and warm materials such as plush. It reminds them of their mother's fur that they used to knead to stimulate milk. If your cat loves to cuddle and kneads often, consider buying a carpeted tree or a modern cat tree for large cats that is covered in plush, faux fur material, or includes soft cushions. Your best friend will be grateful.