Looking for the best cat trees for small spaces such as small apartments and rooms?
Check out these cool six models and read all the details about each one. In the end, you will find our buying guide. It will help you choose the best model for your household.
The Summary
6 Best Cat Trees For Small Apartment
Best Of Best: 67i Cat Tree Small Apartment
Simple Design
This cat tree consists of a bottom round platform, a column wrapped in natural sisal rope material, and an elevated perch. The perch is supported by the scratching column. There is a dangling cat toy included that keeps cats occupied.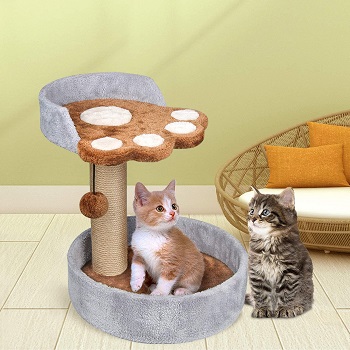 Quality Material
This cat tree for small spaces by 67i manufacturer is made of fine material – compressed cardboard and high-density tubes. The unit is stable and stands without wobbling. It is covered in soft plush fabric to keep cats safe and warm.
Easy To Put Together
There is literally no assembly process. All you need to do is put the pieces together. It will take you no more than a few minutes. No tools are required and one adult can do the job with no hassle.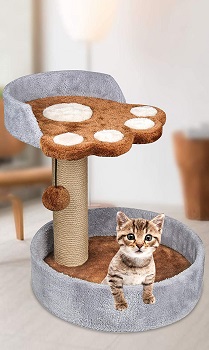 Size And Capacity
The size of this short cat tree is 13-inch L/ 13-inch W/ 14.96-in/H. It is a unit that will accommodate cats up to 12 lb. Get this tree if you have two kittens or smaller-sized cats at home. It will keep them happy and relaxed.
In Short:
small cat tree with a simple design
includes a round base platform
there are a post and an elevated perch
this unit is ideal for small cats
a sturdy and stable short unit
Best Carpeted: PetPals Cat Furniture For Small Spaces
Handmade Construction
The PetPals' cat tree is made with a handmade paper rope and felt. The material is pet-friendly and non-toxic. It is a cat tree that is ideal for small cats that love to perch, lounge, and scratch a lot.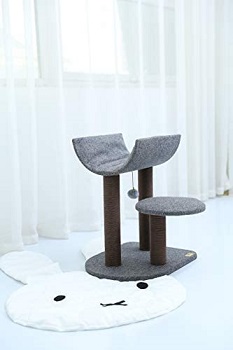 What It Includes
The unit includes a wide baseboard with three columns. There is an elevated platform and a perch included. A dangling toy hangs from the perch. It is here to keep your cats occupied. This is a minimalist cat tree.
Size And Weight Limit
The measures of the PetPals' cat tree for small apartments is about Size 20-inch L/ 15.5-inch W/ 23-in. This is a perfect cat tree size for cats up to 15 lbs. We suggest you use this cat tower for small spaces if you have one adult cat of medium size.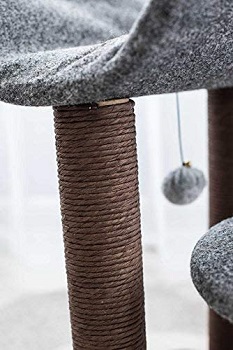 Useful To Know
This is another unit that requires a quick and easy assemble. Put the pieces together in less than 10 minutes. The assembly requires tools. The tools are included in the package as well as the instructions.
In Short:
made of paper rope and felt
ideal for one adult cat
includes scratching columns
comes with a platform and a perch
very easy to set it up
Best Fun: Feandrea Small Cat Tower Small Homes
Simple White Design
Feandrea's small white cat tower comes with a simple design. It is one of the best cat trees for small apartments. Although it is not big in size, it includes all the content that is necessary to make cats happy and active.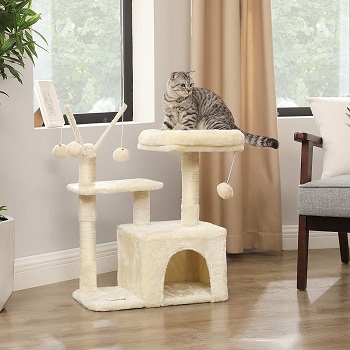 Amusing And Interactive
This unit comes with multiple dangling cat toys. There are here to attract your cat's attention by swinging back and forth. The unit includes scratching posts as well. They help to sharpen the claws and keep them strong and healthy.
For Cozy Nappings
A roomy and spacious cat condo is included. It will be an ideal private space for cats that love privacy. The unit is covered in plush material. It is cozy and keeps cats warm and relaxed. This unit comes in white and you will instantly notice when it is time for cleaning.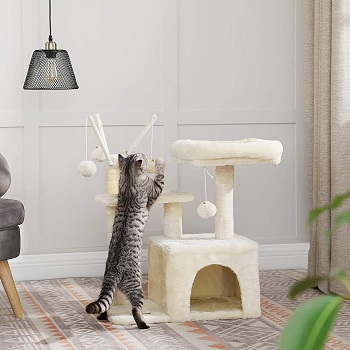 Choose Between Three Colors
If you don't like the white color, you can get this cat tree for small spaces in two more neutral colors – light gray and smoky gray. Pick the color that best looks with your home decor and match this cat tree with your furniture.
In Short:
minimalist and simple cat tree design
the unit comes in three colors
the white model is simple to clean
includes a spacious cat condo
there are multiple dangling toys
Best Tall: Big Nose Wall Tall Cat Tree
Wall Mounted Tree
The Big Nose cat tree is tall and gets mounted on any wall in your home. It is modern and space-saving. The unit includes three levels – two platforms and one cozy cat basket. If you get two of the same units, you can create a floor-to-ceiling cat tree.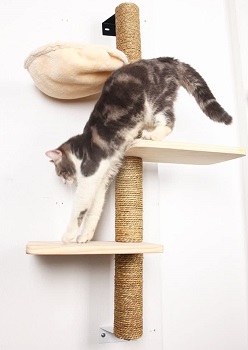 Sturdy And Firm
Such a unit is an ideal for small spaces. Mount it on your wall and allow your cats to play and jump on this tree. It is stable and long-lasting. The unit is made of sturdy material and it gets installed with 2.75" stainless steel screws.
For Climbing
Cats that love to climb and scratch a lot will love this unit. Most cats love to stay in high locations. This tree will hold cats of almost all sizes (up to 15 lbs per platform). This tall cat tree large cats and small cats allows your fur friends to jump between levels with no problems.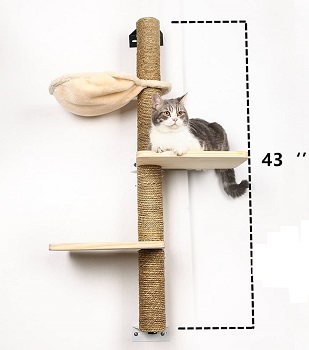 Safe And Pet-Friendly
The unit is made of natural material – thick solid pine wood, jute rolling, and soft and skin-friendly hammock. All the material is completely safe for your cats. This tall cat tree for small spaces will keep your lovely fur friends satisfied and happy.
In Short:
gets mounted on the wall to save space
made of natural solid pine wood
ideal for climbing and scratching
includes three levels
the weight limit is 15 lbs per platform
Best With Perch: Go Pet Club Tower Witch Perch
Stable Baseboard
The base of this small cat tree is made of wood. This makes the whole unit more stable. It prevents the tree from wobbling when cats jump off of the tree or on it from the distance. This unit is sturdy and strong.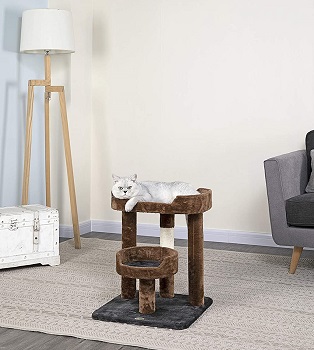 Simple Design
The Go Pet Club is surely one of the best cat trees for small apartments. Its simple design will make this unit blend in nicely with almost any home decor. The unit comes in black and brown. It includes one small perch and another larger one.
Measures And Capacity
The size of this small sturdy cat tower is 19.25″W x 19.25″L x 23″H. The unit will be ideal for households with one medium-sized cat and another smaller-sized one. The unit can accommodate both cats at the same time with no tipping over.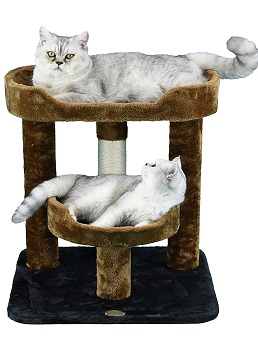 For Big Sleepers
This best cat tree for small spaces by Go Pet Club is ideal for senior cats or those with a shy and calm personality. Cats that love to perch, lounge, and rest will love this unit for sure. It is comfortable and keeps cats warm.
In Short:
simple and minimalist cat tree
the unit includes two perches
for two small and medium-sized cats
comes in black and brown colors
stands on a wooden baseboard
Best Cheap: Paws And Pals Cheap Tower For Cats
For Sleep And Scratch
This cat tree is simple but functional. It is attractive and elegant. It comes in white color and look nice in any elegant and modern home. It is perfect for one cat. The unit includes a cozy perch and scratching posts to keep your cat's nails strong.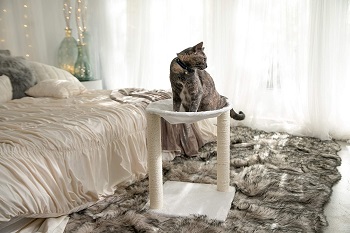 Interactive Toy
There is one dangling toy included. It hangs from the perch. It is here to attract your cat's attention by swinging forth and back. Some cats don't like such toys, but those that do can stay occupied for hours.
Easy To Put Together
Assemble this cat tree for small spaces in no more than a few minutes. Fasten the four screws into place. The size of this small tree is approximately 16" L x 16" W x20" H inches. The unit is ideal for one adult cat or medium size.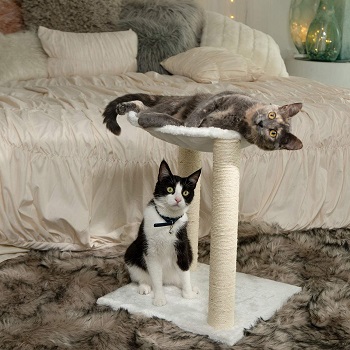 Useful Details
Clean this unit with a lint roller or a vacuum. Get rid of cat hair in no time. Maintain it clean regularly. It is important for your cat's health. This nice cat tree is here to promote healthy behavior and help you save your furniture from scratching.
In Short:
simple and elegant cat tree design
includes a perch, posts, and a toy
simple to put together
ideal for one adult cat
keeps your cat happy and healthy
How To Pick: Cat Trees For Small Spaces
In order to buy the best cat tree for a small apartment, you need to get a smaller version or a tall narrow cat tree. Usually, such units will be ideal for smaller-sized cats or households with one medium-sized cat. They require a simple, but quick assembly and are usually easy to clean. Read on and find out why we suggest you buy such a cat tree online.
Space Saving Cat Trees – Small cat trees are ideal for saving space. They fit anywhere – next to any wall, a window, or under it. You can put such a tree in an unoccupied corner as well. Some tall cat trees are space-saving as well, especially those that get mounted on the wall. They look attractive too and are perfect for cats that love to climb.
For Small Cats Or One Cat – Usually, cat trees for small apartments will accommodate one cat of any size. However, if you have more than one cat and your cats love to play a lot, then get a tall cat tree. Be sure you know your cat's needs and habits. Buy a cat tree that will not only save space but keep cats safe and satisfied.
Easy To Set Up – Almost all cat trees need to be put together or installed. Most often, you will need no more than 5 to 10 minutes to put together a small cat tree. Taller versions require 15 to 30 minutes. Detailed instructions are always included and the tools and hardware as well.
Simple To Keep Clean – If you buy a carpeted cat tree, use a lint roller or a vacuum to get rid of cat hair. If you buy a tree without covers, dust off the surface with a cleaning cloth. Be sure that you don't use any toxic detergent. Some units include removable carpets and cushions that are machine-washable.
Buy Online – We suggest that you buy your cat tree for small spaces online. We think that the best offer is found on the Internet. However, be sure that the unit is made of the quality and pet-friendly materials. Also, buy from a manufacturer that you trust and check only reliable online webshops.
To Sum Up
To conclude, we consider the Feandrea Small Cat Tower the best cat tree for small spaces. This fun cat tree is here to keep cats occupied and entertained. At the same time, this unit will be a cozy and private napping space for your lovely friends. It includes a big cat condo and it is soft and warm.