Are you in search of interesting, cool, and fun cat trees?
Then check out our article and read more about the best small, large, with ladder, and more models. See our buyer's guide and learn how to pick the model that will meet all of your cat's needs.
The Summary
6 Top Fun Cat Trees
BEST OF BEST FUN CAT TREES
Catry Fun Cat Tower
Interesting Design
Catry's fun cat tree is shaped like a sunflower. It is a cat tree like no other. It comes with a wide and heavy base that keeps the unit stable. There is a scratching column included and a large cat bed that includes an interactive dangling cat toy.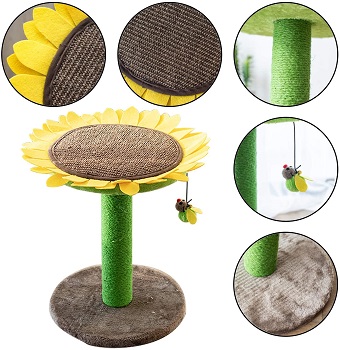 Two Purposes
The sunflower cat bed will be your feline's new favorite sleeping zone. It is comfortable, spacious, and fits one adult cat with no problem. The bed has another purpose. It can be turned into a large scratching pad. It will help to keep your cat's claws healthy and strong.
The Quality
This short cat tree is made of MDF baseboard, jute, fleece, sisal, and felt. It comes in grey, green, and yellow. This tree is stable and long-lasting. It is a cat tree for one adult cat of medium size. The tree's price is medium and the overall customer satisfaction is very high!
Encourages Healthy Behavior
Thanks to Catry's sunflower cat tree, your lovely fur friend will be able to scratch and sharpen its claws without damaging your furniture. Such a unit will keep your cat occupied and encourage its natural instincts. Also, the dangling toy will attract your cat's attention and keep it active.
In Short:
cute sunflower cat tree design
interesting and functional 2 in 1 unit
a cozy and spacious cat bed
large sisal scratching post
includes a dangling toy
BEST TOWER FUN CAT TREES
Topkitch Interesting Cat Tree
Zebra Cat Tree
The Topkitch cat tree is shaped like a small zebra. It caught our eye immediately. It is a fun cat tree that children and adults love. This cat tree saves space and is perfect for small apartments. It is a great unit for households with one indoor adult cat.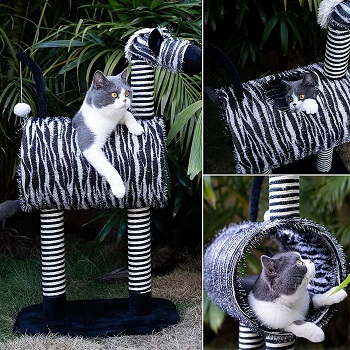 The Scratching Columns
This unit includes three scratching columns wrapped in rough sisal material. The posts will help to maintain your cat's claws strong and help to satisfy its natural needs. Apart from that, the three columns will keep the tree well-proportioned and stable.
The Cat Condo
This cat tree by Topkitch comes with one spacious and big cat condo. It is covered in soft plush fabric material and provides your cat with a comfortable and private sleeping environment.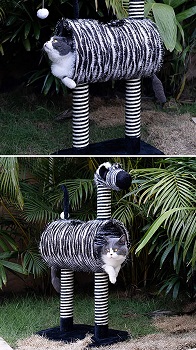 Fun Cat Toy
One dangling cat toy is included and it hangs from the elastic tail. Both tail and the toy will swing back and forth. This will attract your cat's attention and keep it occupied for hours. This tree is ideal for cuddly cats that love to scratch and play.
In Short:
zebra-shaped medium cat tree
includes three scratching posts
a dangling cat toy is included
comes with a spacious cat condo
stable and well-balanced cat tree
BEST LARGE FUN CAT TREES
Superjare Fun Cat Furniture Tree
Interesting Design
The Superjare cat tree includes a heavy and wide baseboard with a ground-floor cat condo. The tree is well-proportioned and supported by multiple columns. There are elevated perches included, another cat condo, a basket, and hanging ropes too.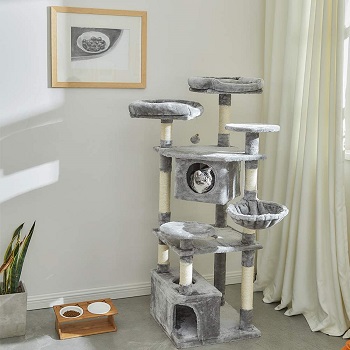 For Active Cats
Cats that love to play, explore and climb will love this unit. It is tall and large and includes all the content they need to stay active and occupied on a daily basis. This tree will be your cats' new favorite indoor cat playground and a comfy and private sleeping space.
Sturdy And Quality Material
This fun cat tree is made of carb-certified particleboard. It is sturdy, firm, and durable. It is covered with a skin-friendly plush material that keeps cats warm and cozy. This unit comes in light and dark grey colors. Choose the one that you like most.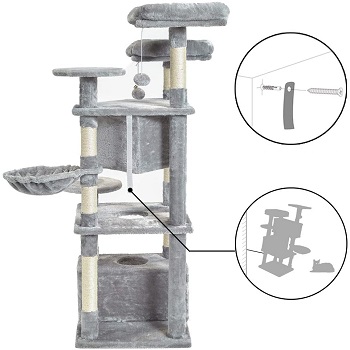 Sisal Scratching Posts
This tree's columns are covered in rough sisal material. It is the best material to help to keep your cat's nails and claws healthy. Thanks to this unit, your cat will choose not to scratch and damage your furniture. The scratching columns help with climbing as well.
In Short:
large and tall cat tree design
choose between two colors
the tree includes posts and perches
there are two cat condos
ideal for scratchers and climbers
BEST LADDER FUN CAT TREES
Kinbor Large Cat Tree
Multi-Level Cat Tree
Kinbor's tall and spacious cat tree comes with multiple levels. It is an ideal cat tree with a multi-cat household. Cats that love to climb and explore will feel happy and satisfied. The unit comes with all the necessary content to make your cat feel rested and occupied.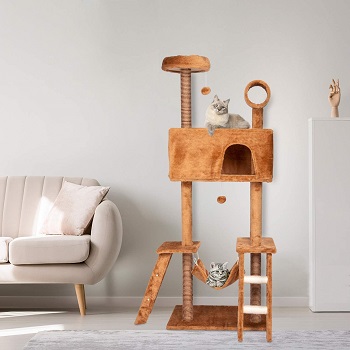 Cozy Condo And Hammock
There is one spacious and cozy cat condo included. It is perfect for cats that love to sleep in a comfortable and private space. The condo includes a large entrance and there is enough space for up to two small-sized cats. Apart from that, the unit includes a hammock and an elevated perch.
Fun Content
There is plenty of fun and amusing content included. Your cats will love to climb the scratching columns and ladders. There are two interactive hanging toys included that attract cats' attention. A top cat tunnel and an elevated perch will make it easier for your cat to observe the surrounding.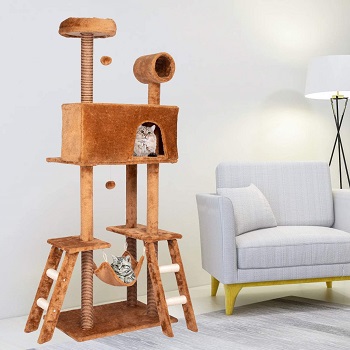 Simple To Put Together
Kindor's fun cat tree for adult cats needs to be setup. The assembly of this fun cat tree is easy and fast. The package includes detailed instructions and all the tools and accessories. It is suggested that you do the assembly with another adult.
In Short:
a tall and multi-cat tree
includes a spacious cat condo
fun tree with ladders and posts
ideal for cats that love heights
easy to put together
BEST WALL FUN CAT TREES
Big Nose Condo Cat Fun Tree
Modern Design
If you like unusual and attractive furniture, you might like this wall-mount cat tree. It includes a cat condo and a large scratching column. Cats that love to climb, stay in high places, and observe their surrounding will enjoy this fun cat tree for sure.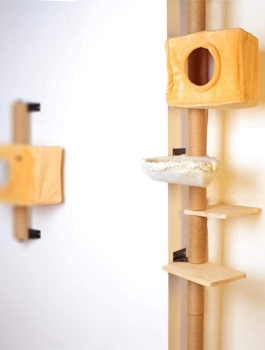 Easy To Mount
The Big Nose interesting cat tree gets mounted on the wall easily. The instructions are included and the installation lasts no more than 20 minutes. The stainless steel screws are included. They ensure the unit's durability and stability.
Eco-Friendly And Space-Saving
Such a cool and attractive cat tree will save space. It is a perfect space-saving cat tree for small apartments or rooms. It is functional and keeps your cats happy and active. This tree is pet-friendly. It is made of natural material (MDF, solid wood, pinewood).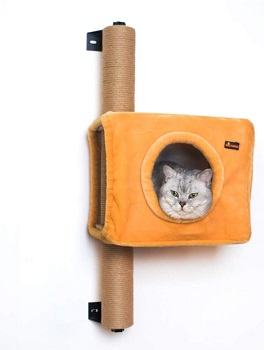 Jute Scratching Column
Jute is one of the best material for scratching. It allows cats to scratch easily and to climb with no problems. It is completely safe for cats and prevents injuries. This unit's posts are durable and thick and keep your cat's claws healthy.
In Short:
modern wall-mounted tree
it includes a roomy cat condo
the unit is ideal for small spaces
made of all-natural material
comes with jute scratching columns
BEST FOR LARGE CATS FUN CAT TREES
MSmask Fun Tower For Cats
Multiple Purposes
This multi-level cat tree by MSMask is another unit that includes all that cats need for a happy and healthy life. It is a unit with cozy and fun content at once. This is a cat tree that will keep active cats occupied. It is a cozy unit as well and includes condos and perches.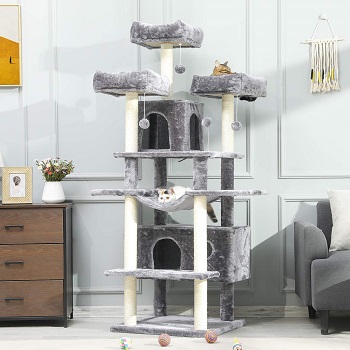 For Scratchers And Climbers
If your cats are active and playful, this fun cat tree by MSmask will make them happy and keep them active. This unit is perfect for cats that love to climb and scratch. It includes three elevated perches, interactive toys, and multiple scratching columns.
Stable And Long-Lasing
The MSmask cat tree comes with a big and wide baseboard. It can be easily strengthened with battens at the bottom. This will keep your new cat tree stable and in one place. Small, medium and large cats can jump off of the tree without wobbling.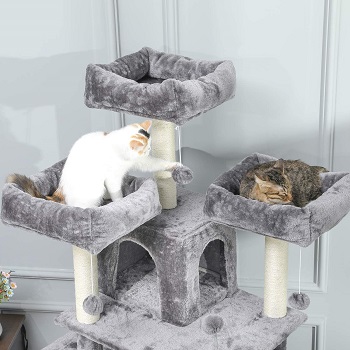 Easy To Keep Clean
Keep the unit clean regularly. It is important for your cats' health. The perches' edges can easily be put down which allows you to clean the corners. Vacuum the tree from time to time and get rid of cat hair.
In Short:
multi-functional cat tree
ideal for cats that love to climb
includes perches and condos
stable and durable construction
easy to clean and vacuum
How To Pick: Fun Cat Trees
Before you buy just any fun cat tree, make sure that you consider your cat's needs. Not every cat is the same. Some cats will be satisfied with a condo and a scratching post, while others require a tall and spacious indoor playground. Be sure to buy a quality unit that is made of long-lasting material. Read on and find out more.
Keep Your Cat Healthy –  A cat tree is an ideal piece of equipment for indoor cats or cats that prefer staying inside most of the time. Such units keep your cats active and attract their attention with the content they come with. Know your cat's habits, needs, and possibilities before your get the right model.
The Appropriate Model – There is a large variety of cat trees on the market today. What is fun for your cat, may not be fun for another cat. This is why you should consider your cat's personality before buying a cat tree. For example, short cat trees are perfect for calm, cuddly, shy, or senior cats. Tall, large, and spacious units will meet all the needs of multiple and active cats.
Adequate Content – Fun and amusing cat trees come with an elaborate design. Such units will include a condo, scratching posts, interactive toys, perches, platforms, and many more. There are a few simpler versions that your cuddly cat might find fun. Simple cat trees will most often include a condo, a post, and a platform or two. Make sure you know what your fur friend needs.
Quality And Safety – The unit that you should look for must be made of the quality and long-lasting material. Getting a cat tree that is made of strong material will keep your cats safe and save you money. If you have one or two cats, then a unit made of MDF, veneer, or particleboard is just fine. However, if you have multiple and playful cats at home, consider getting a wooden cat tree. Such units are hard to break or overturn.
Assembly And Cleaning – Almost all fun cat trees require a quick and easy assembly. Most of the time, one adult is enough to do the job properly. Also, the detailed instructions are included as well as the tools and all hardware. Make sure to keep clean your new unit. It is important for cats to stay in a healthy and clean environment.