Have you been looking for a flower cat tree that will look attractive in your household?
In our article, we have listed the best six models and divided them into different categories. Also, we wrote a small buyer's guide. The information that we provide in this article will help you choose the best unit for your cats.
The Summary
Top 6 Flower Cat Trees
BEST OF BEST FLOWER CAT TOWER
Yaqeen Flower Cat Tower
Creative And Colorful
Yaqueen's cat tree is a colorful and interesting unit. It includes a wide and heavy grass-like base. There is a spacious cat condo included and two flower perches. This cat tree is ideal for small to medium-sized cats. It invites them to climb and scratch.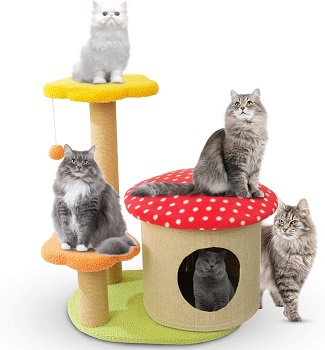 Roomy Cat Condo
The mushroom-like ground floor cat condo that is included is spacious and cozy. Shy or calm cats with love sleeping and resting inside of it. It keeps cats warm and comfortable. Add a soft cushion if you wish and make your cats feel safe and relaxed.
Two Elevated Perches
Yaqeen's flower cat tree comes with two elevated perches. They are supported by the columns. The columns are wrapped with an easy-to-scratch material. It is simple for cats to climb or jump to the perches. The top perch includes a hanging toy ball as well.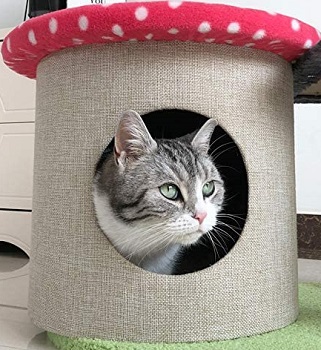 Easy To Setup
A simple and quick assembly is required. This cat tree is equipped with instructions for a quick setup. One person can do the job with no problem. This multi-cat tree can hold up to three kittens or two medium-sized adult cats.
In Short:
colorful and fun cat tree design
includes two elevated perches
it comes with a cozy cat condo
simple and easy assembly is required
the package provides setup instructions
BEST SMALL FLOWER CAT TREE
Prevue Flower Power Cat Tree
Three Floors
This cat tree made by Prevue manufacturer has three levels. There is the wide ground floor base, the first-floor large platform, and a top elevated flower-shaped perch. This tree is of smaller size and it will fit into any household, no matter the size.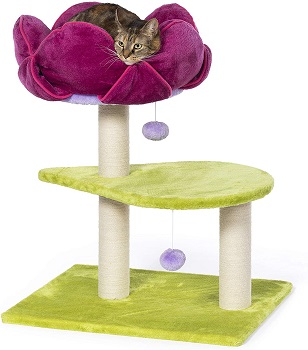 Cozy Flower Perch
The ultra-soft flower-like top perch will fit cats of almost all sizes. This velvet perch is ideal for cats that love to stay in higher places. The unit is entirely covered with a skin-friendly plush fabric. It keeps cats warm and comfortable.
Jute Posts
Prevue's flower cat tower includes three scratching posts. They are wrapped in rough jute rope. Their texture attracts cats and makes them want to scratch to maintain the nails strong and healthy. The two hanging balls are included as well.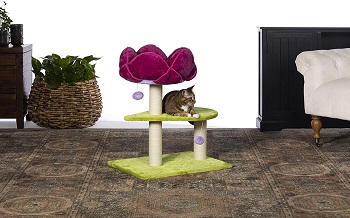 Useful Details
The Prevue Flower Power cat tree measures 23 ½" Long, 17 ¾" Wide, and 28 3/8" High. It is a 3-tier cat tree of a smaller size. It will be a saver for small apartments or households with up to three cats at a lack of space.
In Short:
this unit has three levels
wide baseboard keeps it stable
includes a cozy top velvet perch
comes with 3 jute posts
two dangling balls are included
BEST SUNFLOWER FLOWER CAT TOWER
Catry Sunflower Cat Tree
Sunflower Design
The Catry's sunflower cat tree is what makes it different, unusual, and interesting. This special cat tree has multiple functions. It has a heavy board base that keeps the unit stable and a sunflower perch. This tree will catch the eye of every visitor.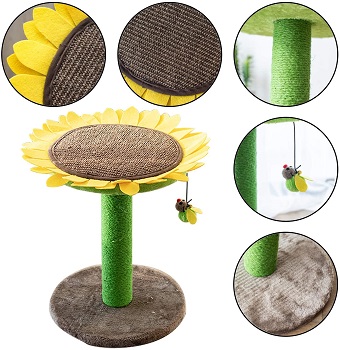 Functional Cat Tree
This tree has a dual function. It will be your cat's favorite scratching place. The flower can be turned into a scratching post or a cat bed at any time. It provides more climbing and scratching possibilities for your lovely fur friend.
For Active Cats
Multi-cat or active-cat households with a lack of space will love this flower cat tower. The sisal-covered scratching posts will attract your cats' attention and help them to keep their claws sharp. There is a teasing mouse included too. It keeps cats occupied for hours.
Long-Lasting And Firm
This unusual cat tree is made of MDF, fleece, jute, sisal, and felt. The combination of these materials makes the tree long-lasting and durable. It is a stable, pet-friendly, and skin-friendly unit that cats simply adore.
In Short:
interesting sunflower design
heavy and stable baseboard
sisal and jute scratching post
dual function of the cat bed
for active cats that love to scratch
BEST CONDO FLOWER CAT TREE
Furrytail Scratching Tree For Cats
Unique Design
Furrytail's flower cat tree includes a ground floor cat condo, a first-floor platform, and two top elevated perches. The tree is well balanced and comes with multiple columns. The columns are wrapped with natural and rough sisal material.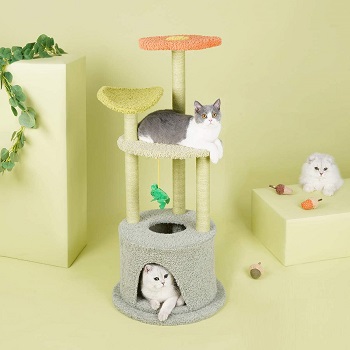 Multiple Purposes
Your lovely cats will adore staying on this medium cat tree. It is going to be their new favorite playing zone and sleeping space at the same time. The unit keeps cats active and promotes healthy behavior. It invites them to scratch, climb, and jump.
Comfortable And Safe
This tree is almost entirely covered in ultra-soft and smooth velvet fabric. It is skin-friendly and keeps cats warm and cozy. The cat condo is spacious. It includes one large front entrance and a top opening that your cats will use as a second entrance or a window.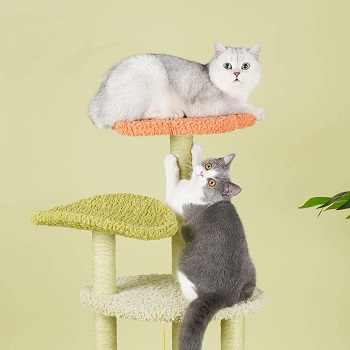 Size And Capacity
The tree's overall size is about L x W x H: 19x19x44 inch. It will fit into any household. Place it in an unoccupied corner or under the window. The tree's capacity is up to three medium-sized cats. This tree keeps cats safe and it is hard to overturn.
In Short:
unique and interesting design
this tree is of medium size
includes a ground floor cat condo
there are two elevated perches
the tree will hold up to 3 cats
BEST WITH PERCH FLOWER CAT TOWER
Fukumaru Medium Flower Tree
For Scratchers
Fukumaru's cat tree includes two large columns that are wrapped in sisal rope. If you want to prevent your cats from damaging your favorite furniture, then think getting a cat tree with scratching posts is the best solution.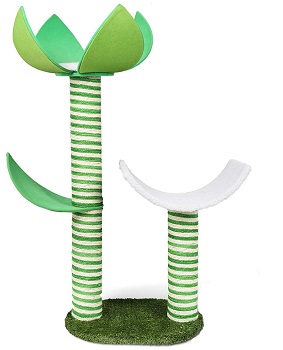 For Three Cats
This flower cat tower is perfect for owners of two or three cats. It includes elevated and perches. Two of them are flower-shaped, and the third one looks like a leaf. The tree is stable and its baseboard is heavy. It prevents wobbling and tipping over.
The Measures
The overall dimensions of the Fukumaru flower-shaped cat tree are 19.7" (L) 15.7" (W) 43.3" (H). The tree comes in white and green colors. This is sort of like an artistic cat tree. It will look attractive in modern and stylish households.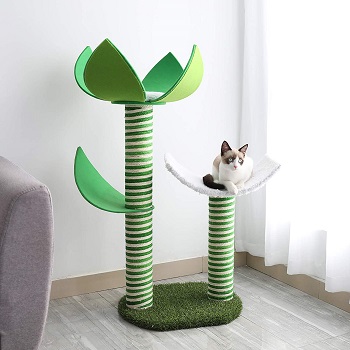 The Installation
This flower cat tree by Fukumaru gets assembled in less than 10 minutes. It is a no-tool installation. The screws are included as well as the step-by-step instructions. One adult person will put the pieces together easily and in no time.
In Short:
ideal cat tree for up to three cats
there are three perches included
comes in green and white colors
includes scratching posts
put the pieces together in 10 minutes
BEST CACTUS FLOWER CAT TREE
BeiXiaoFen Cactus Flower Scratching Tree
Saves Your Furniture
Cats are big scratchers. They scratch for many different reasons. Not only to sharpen their claws but also to stretch after waking up from a nap. Another reason is to mark their territory and live their scent. If your cats don't have an adequate scratching post, they will soon find an alternative.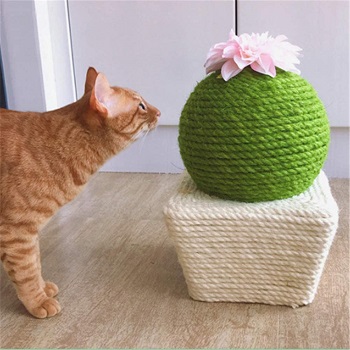 Eco-Friendly Material
BeiXiaoFen's flower tree for cats is entirely covered with eco-friendly sisal rope material. Its rough texture attracts cats and makes them want to scratch this tree and not your furniture. This unit is durable and it will help your cats to climb and jump the tree as well.
Promotes Healthy Behavior
It is hard to make your indoor cats stop scratching your furniture. It is their natural instinct. However, this cat nail file scratching post tree is here to help. It is not only a scratching tree but also a unit to play and rest on.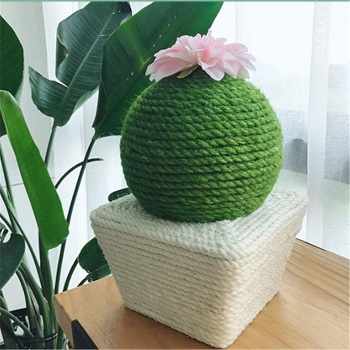 Stable And Affordable
This tree is stable and well-proportioned. It is not easy to overturn. Cats can climb it and jump off of it without problems. This cactus flower cat tree measures 9.06″ x 9.06″ x 13.39″. It is small and fits everywhere. Its cost is pretty affordable too.
In Short:
keeps your furniture undamaged
encourages natural instincts
stable and eco-friendly unit
ideal for scratching and climbing
it measures 9.06″ x 9.06″ x 13.39″
How To Pick: Flower Cat Tree
In order to pick the best flower cat tree for your lovely cats, follow our tips. Make sure you like the design. You probably want your new unit to match your home decor. Apart from that, know how big of a cat tree your cat needs. Ensure the quality is fine and get a tree that includes scratching posts.
Interesting Design – Flower-shaped cat trees are unique, cool, and fun. Households with children will particularly like to have such a unit at home. Cat trees with flower perches or beds are creative and multi-functional. They are pleasing to the eye, and keep your indoor cats happy, active, and occupied at the same time.
Size And Capacity – You might have one cuddly cat at home, or you an owner of multiple and active cats. Before buying a cat tree, make sure you know what your cats love. Short cat trees will be perfect for one or two senior cats or those with calm personalities. However, make sure that you get a medium or large cat tree if your cats love to play, run, jump, and scratch a lot. Also, don't forget to check the tree's maximum holding weight.
The Tree's Quality – Another thing that you should always take into consideration is the quality of the material that the tree is made from. In our opinion, natural and solid wood cat trees are the best and most durable. However, units made of particleboard, veneer, and MDF are fine as well. As long as you are using your cat tree properly, it should last.
Scratching Posts – Most flower cat towers and trees will include scratching posts and boards. It is important that your cat has a special place to scratch. This will not only help to maintain their claws healthy and strong, but it will safe your furniture from scratches.
Extra Features – Apart from the posts and perches, your new flower cat tree may come with a condo, multiple levels, and interactive toys. If your cats are social and love to play, get them a cat tree with a hanging ball that swings back and forth. It will help to keep your indoor cats safe, active, and occupied for hours.