Looking for a solid wood cat tree that will blend nicely into your contemporary home decor and last you a long time?
If you don't know how to pick the right model, then keep on reading!
Our article brings you tips on how to choose the right wood cat tree real for your cat. Also, we have listed the best models we could find online. We have divided them into different categories. See which solid cat tree we liked best. Read more about the carpeted, modern, large, and small models, and learn all about the best tree for kittens.
The Summary
Best 6 Solid Wood Cat Trees
BEST OF BEST TREE REAL WOOD
Armarkat Solid Wood Cat Tree
Stable And Firm Cat Tree
Armarkat tree is constructed of Pinus Sylvestris. We are talking about Scots pine. The tree is wrapped in natural sisal rope. The base is wide and keeps the tree stable. There are multiple platforms and scratching columns that make this tree well-balanced.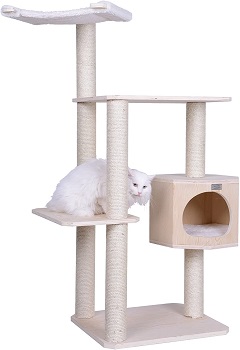 Easy To Clean
The cleaning is simple. The benefit of the tree's light color is that it shows you when it is the right time to clean the unit. Simply vacuum the cat's fur from the sisal or dust off the platforms with a clean cloth.
Includes A Soft Cushions
Apart from various platforms, this multi-level cat tree includes a spacious cat conto. A soft and warm cat cushion comes with the package. It perfectly fits the condo. It is easy to remove the cushion when it requires to be washed.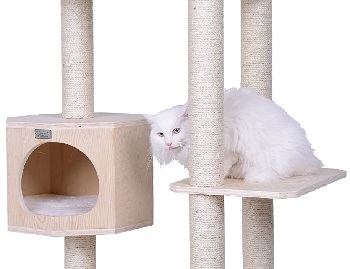 Tools For Setup Included
The assembly for this cat tree real wood is required. It is simple and quick to install this tree. All the necessary tools and instructions are included. Armarkat's wood cat tree assembled size is 36.00 x 32.00 x 54.00 inches. The unit's net weight is approx 40 pounds.
In Short:
Armarkat's tree is made of Pinus Sylvestris wood
tree's pillars and posts are covered in sisal
the tree has multiple levels
comes with one spacious condo
a removable cushion fits the condo ideally
simple and quick to clean and setup
BEST CARPETED SOLID WOOD CAT TREE
New Cat Condos Solid Cat Tree
Made In USA
This tree is made of high-quality materials – solid wood, plush carpet, sisal rope, and sonic tubes. This unit is handcrafted in the USA. The tree needs to be assembled. The setup is easy and fast and tools are required. The assembled size of the New Cat Condos cat tree is 20″W x 20″ D x 50″H.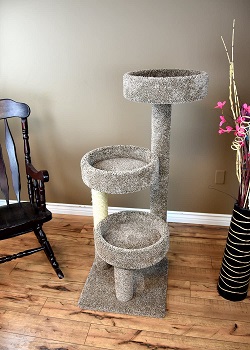 Neutral Colors
This solid wood cat tree comes in beige, grey, and mixed combinations of these two colors. It is a neutral cat tree with a nice appearance. It looks nice and it comes with a simple design. The base is wide and there are three raised perches supported by columns.
For Multiple Cats Households
This tree will be able to hold up to three or four adult cats of up to medium to large size. If you want to make sure that this solid cat tree won't collapse, we suggest you place it next to a wall. It will add extra stability in case two large cats jump off the tree at the same time.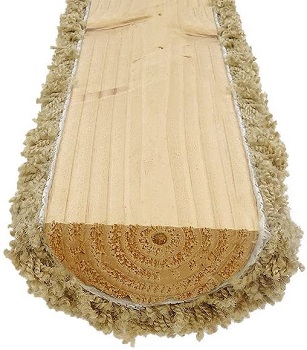 Useful To Know
New Cat Condos grey cat tree is a cat tree real wood that is made of premium-quality materials. Its neutral color will look nice in any modern and elegant household. The tree's cost is pricy. However, there is no doubt that this is a long-lasting wood cat tree.
In Short:
this tree is built in the USA
it comes with a simple design
the tree includes neutral colors
there are three raised perches
New Cat Condos fits up to 3-4 cats
BEST LARGE TREE REAL WOOD
Lazy Buddy Wood Cat Tower
Exquisite Design
Lazy Buddie's solid wood cat tree is tall, large, and spacious. It looks beautiful and it fits in nicely into any sophisticated and modern home decor. This tree requires a lot of space. It has multiple platforms, various perches, a cat basket, a hanging rope, and a spacious cat condo.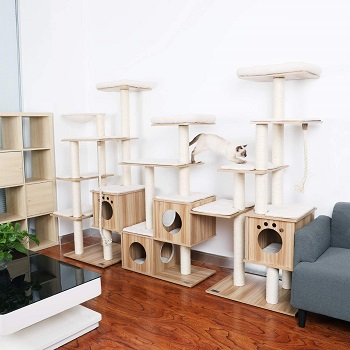 Solid Wood Cat Condo
Cats are big sleepers. Getting them a cozy tree with a condo is a big plus. Lazy Buddy cat tree real wood includes one spacious cat condo with two paw-shaped large entrances. The condo will keep your cats safe and provide them with private sleeping space.
Removable Mats
Each platform includes a removable mat. By simply removing the mats, you can clean the tree's surface more easily and wash the mats in a washing machine. Also, this unit will be a great solution for cat owners that prefer no-carpet cat trees.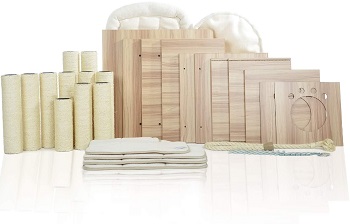 High Quality And Price
The material used to build this solid wood cat tower is CARB-certified natural particleboard and durable natural sisal. This tree is firm and sturdy. It is stable and includes anti-toppling fittings. When it comes to your best fur friends' safety, don't hesitate to spend more than a penny.
In Short:
nice-looking cat tree with multiple levels
the tree includes a spacious cat condo
ideal for sleepers and climbers
the tree is made of top-quality materials
safe, strong, firm, and stable cat tree
the cost of this tree is high
BEST SMALL SOLID WOOD CAT TREE
Pawhut Cat Tree Real Wood
Luxurious And Stylish
This tree is another example of beautiful Pawhut's solid wood cat furniture. The unit is made of a dark wood veneer, it includes white pads and beige sisal posts. The combination of light and dark colors makes this unit not only a luxury cat tree but also a nice home decoration.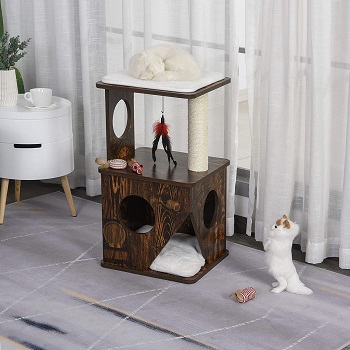 Cat Tree With Condo
This is a 2 in 1 unit – a climbing and scratching wooden cat tree and a cozy and spacious cat condo. This tree is perfect for cats that love to sleep and scratch a lot. The condo includes a large entrance and two circular windows. It will fit even two cats.
Size And Capacity
The overall size of the PawHut solid wood cat tree is 15″ L x 15″ W x 28.25″ H. It is advisable to use this tree for up to 2 cats that weigh no more than 9 lbs. The tree is made of safe and pet-friendly material. It is sturdy and steady.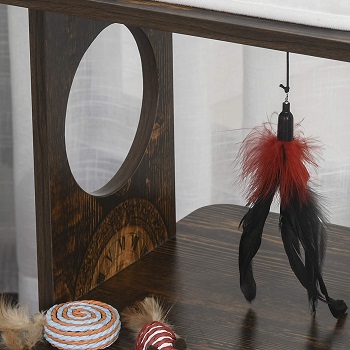 Cushions And Scratching Posts
There are two cushions included in the package. One for the top platform, and the other one for the condo. Besides that, this cat tree made of real wood comes with one scratching column and an interactive toy that hangs from the top perch.
In Short:
fancy and stylish cat tree design
made of dark wood veneer
comes with a perch and a cat condo
it includes two white cushions
a sisal scratching column supports the perch
a hanging toy swings from the perch
BEST FOR KITTENS TREE REAL WOOD
Tangkula Solid Wood Cat Tower
Optimal Small-Cat Tree
Tagnkula tree is perfect for cats of small size or for your playful kittens. The tree is not recommendable to get if you have large or overweight cats. The tree may not be safe enough for them and it might tip over easily. This unit measures 27'' x 19'' x 46'' (L x W x H).
Striking Design
This nice cat tree is made of solid engineered wood. It has 3 layers, a balcony, and a cat condo. The wooden sticks that you can find on the second floor make the unit more stable and protect it from collapsing. The material is easy to clean. Simply use a clean cloth to dust off the surface.
Steady And Durable
Tangkula solid wood cat tree is made of engineered wood, MDF, sisal, sponge, and PVC. The combination of all of the listed material makes the unit firm, as long as it is used properly. If you are concerned about your cats' safety, place the tree near a wall.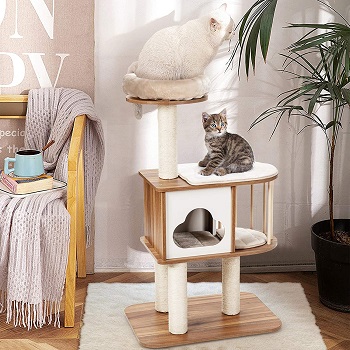 For Scratcher Cats
Cats' natural instinct is to scratch. They scratch for many reasons. Some of them are to mark their territory or to stretch their bodies, especially after waking up from a nap. If you want to avoid your furniture from being damaged, get your cats a tree with many sisal scratching posts. Tangukla tree has four sisal scratching pillars.
In Short:
a perfect small-cat tree real wood
made of a combination of top-quality materials
the design is attractive and nice-looking
includes a balcony and a cat condo
removable cushions and pads are included
promotes healthy and active cat life
BEST MODERN SOLID WOOD CAT TREE
Catry Cat Tree Sturdy And Firm
Four Floors
Catry's wooden cat tree has four floors. Each floor is different. The wide ground floor comes with no carpet. It keeps the unit steady and stable. The first floor features a carpeted perch. On the second floor, your cats will get to play and rest inside of a cozy tunnel. The carpeted top platform is ideal for cats that love heights.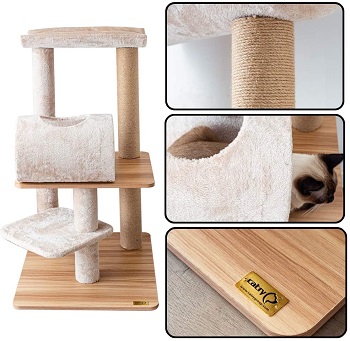 Skin-Friendly Material
This is a medium cat tree that is going to keep your cats warm and cozy. It is made of laminated wood. The platforms and covered in soft and pet-friendly material. The scratching columns are made of non-toxic paper rope. The columns help to maintain your cat's paws healthy.
Features A Fun Tunnel
The tunnel included on the second floor comes with 3 large openings. Two on both of the sides, and one on the top. Cats will get to play hide and seek or simply rest inside of the tunnel. The tunnel will fit one cat at a time. All the Catry's solid wood cat furniture included within this tree is pet-friendly, steady, and safe.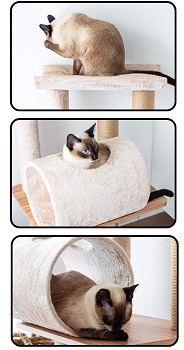 Important To Know
Catry's solid wood cat tree measures 23″L x 19″W x 40″H. The tree needs to be set up. The instructions and the user manual are provided within the package. Also, you will find the tools that are necessary for the assembly. This tree will hold up to three adult cats of medium size.
In Short:
this is a four-floor medium cat tree
the tree holds up to three adult cats
perches, platforms, and a tunnel are carpeted
the tree needs to be assembled
tools and instructions for the setup are included
How To Pick: Solid Wood Cat Trees
Cat trees made of real wood are surely the sturdiest and firmest. They will last for a long time and hold cats of almost all sizes and breeds. Before you buy it, be sure that you considered your cat's personality. Not every cat likes to climb high places and not every cat tree is suitable for more than one cat. Read on and see which cat tree might be the right one for your household.
Benefits Of Wooden Cat Trees – Getting a cat tower or tree that is made of wood will look nice in your home. Wooden and rustic cat trees last longer and hold more weight. The natural material is safer for your cats' health. Moreover, cats tend not to damage the wood. Since wooden units are made of quality material, they are often pricy.
Stable And Durable – The wooden trees for cats come with a heavy and wide base which makes them stable. Such units don't wobble when your cats jump on the tree or off of it. Your cats can play, climb, and run up and down the tree. Be sure that the unit you are getting holds all the cats you have. Check the carrying capacity before you buy.
Ideal For Playful Cats – Households with more than one active and social cat will most probably love tall cat trees made of wood. Tall wooden cat towers and trees will resist cats playing and climbing for many years. The only downside is that these units are slippery. So, make sure that you get a tree with carpets.
Small For Shy Cats – If your cats prefer to hide under the bed, then a smaller-sized wood cat tree will be great for your home. Short cat trees are ideal for one or two shy, old, or cuddly cats. They will prefer resting on a perch or inside of a cat condo. Also, small wooden trees are difficult to overturn.
Extra And Fun Content – All cat tree real wood models include content that will make your cat feel cozy, warm, happy, and occupied. There are models that come with raised perches and multiple platforms. Many solid wood cat trees include hanging toys and scratching ropes and pillars. Also, you will probably like to get a tree with a cat condo included that will keep your fur friend comfortable.
To Sum Up
Among the six solid wood cat trees that we have reviewed in this article, we consider the Lazy Buddy wood cat tower a number one pick. The main reasons are clear. The unit is tall, which is ideal for active cats. It is spacious, which means that it fits multiple cats. It has removable mats, which makes it an easily-washable cat tree. If you liked this unit as well, we invite you to check out our article about tall cat trees for large cats.